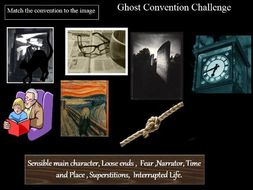 Year 7 Halloween Story - Reading and genre conventions
Opening lesson in a series of 7 other lessons based upon writing ghost stories and reading fiction in ghost story genre.

Skills for commenting upon genre conventions are present in this lesson and this fits in with scheme which has been put into bundle. The main focus of the lesson is on the story 'Hollow Hearts for Halloween'.

The story may well take the good part of single hour lesson and has been adapted from M.R. James's 'Lost Hearts'. The intent of the story is grip the imagination and demonstrate how the conventions of ghost story writing are used in stories.

This could be stretched over two lessons and there are differentiated learning resources for learners also.

Perfect for Halloween spooks!
Read more