Author on Tes: A passion for English and literary studies
English and literary guru Kunle Abrahams, aka Kunyeo, discusses how his love of teaching inspired his resources.
Tell us a little about your teaching background.
I've been an educator for over 24 years. I started out studying English and literary studies and went on to complete two Masters' degree qualifications in Book Publishing/Development and Language and Communication Arts. I followed this with a Post Graduate Diploma in Education and have been privileged to spend most of my working life in the classroom. In my current position, I'm teaching the Cambridge English curriculum.
What do you enjoy most about teaching?
I have a passion and desire to make learning fun for all students. I wrote two postgraduate dissertations on reading habits among children and since then I've gone on to explore the power of creative writing in reaching and engaging children in learning.
What made you decide to become a Tes author?
I was introduced to Tes some six years ago by a friend. At the time there weren't many resources for Cambridge International Examination Advanced Level Literature in English, so I was motivated to contribute resources that teachers in this category would find helpful.
Tell us about the resource you're most proud of.
One resource that I'm most proud of is an e-book, Critical analysis to 32 songs of ourselves poems because it brought out my best in terms of creativity and resilience. My most downloaded model essay on Silas Marner is also gratifying, having been downloaded 475 times.
What are your tips for new authors?
· Chart a new course; write on a subject that not many have delved into.
· Write with both teachers and students in mind.
· Be clear and unambiguous about your topic and subject.
· Write consistently, because the more you write, the better you'll become.
· Use feedbacks or review of your resources to improve and get better.
Quick links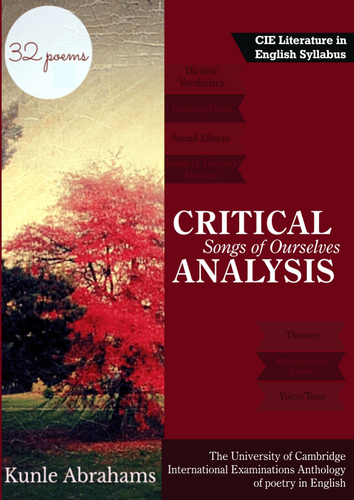 This e-book, would among other functions help and encourage students writing the Poetry ,Paper 3 part of the CIE have a deeper appreciation and informed response to poetry .Incidentally, this section of the paper often poses a lot of challenges to most students and it is my hope that they would be guided by the analyses of all the poems set in the syllabus.
For clarity and classification sake, each poem is analyzed under the following headings: Content/Form, Subject Matter/Themes, Sound Effects, Tone/Mood Atmosphere, Diction/Vocabulary and Imagery/Literary Devices. Based on experience and having taught the syllabus for more than 20 years, questions asked in the CIE do not exceed this range. With the inclusion of the poems, it would be easier for the reader/candidate to make quick reference and comparison where needed.
LIST OF POEMS ANALYSED
1. Song: Why So Pale and Wan, Fond Lover?- Sir John Suckling

2. What Thing Is Love?- George Peele

3. Sonnet 11- Lady Mary Wroth

4. Song: Weep You No More, Sad Fountains- Anonymous

5. When I Was Fair And Young- Queen Elizabeth I

6. They Flee From Me, That Sometime Did Me Seek- Sir Thomas Wyatt

7. Sonnet 61- Michael Drayton

8. Song: Go, Lovely Rose!- Edmund Waller

9. No Crooked Leg, No Bleared Eye- Queen Elizabeth I

10. Sonnet 31- Sir Philip Sidney

11. Written The Night Before His Execution- Chidiock Tichbourne

12. The Author's Epitaph, Made By Himself- Sir Walter Raleigh

13. A Litany In Time Of Plague- Thomas Nashe

14. Sonnet 19- Lady Mary Wroth

15. From Underwoods- Ben Jonson

16. A Song- Thomas Carew

17. Walsingham- Sir Walter Raleigh

18. The Flowers That on The Banks and Walks Did Grow- Aemilia Lanyer

19. Come Live with me, and be my Love- Christopher Marlowe

20. Sonnet 54- Edmund Spenser

21. What is Our Life?- Sir Walter Raleigh

22. Sonnet 75- Edmund Spenser

23. Song: Spring, The Sweet Spring- Thomas Nashe

24. Sonnet 18- William Shakespeare

25. Sonnet 73- William Shakespeare

26. The Procession of The Seasons- Edmund Spenser

27. The Man of Life Upright- Thomas Campion

28. A Mind Content- Robert Greene

29. I Grieve, and Dare Not Show my Discontent- Queen Elizabeth I

30. Song: To Celia- Ben Jonson

31. Golden Slumbers- Thomas Dekker

32. A Farewell To The Reader- Isabella Whitney
By
Kunle Abrahams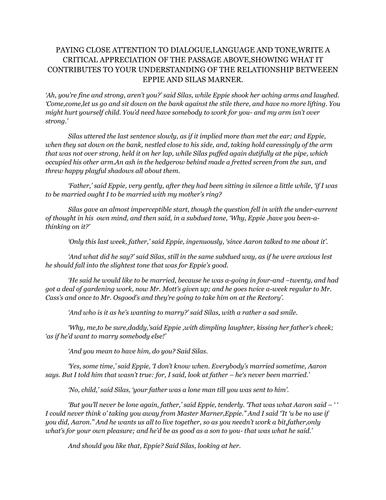 This is a model essay that is context-based on George Orwell's Silas Marner.
By
Kunle Abrahams