Author on Tes: Coding - the language of fun
Technology geek Simon Pykett, aka nerdoftheday, shows how technology-based subjects aren't all about staring into a screen, by using Lego and pop culture to capture his students' imagination.
What do you enjoy most about teaching?
I've been teaching technology-based subjects for around 13 years. At that time I'd become interested in the varying code languages of the internet. Teaching a subject that you're passionate about is a truly rewarding experience. I know that my students will take the knowledge that they've gained and do something amazing with it, and that alone makes every day worthwhile.
What are some of the ways you teach technology concepts?
I love Lego and use it a great deal in the classroom. Just this week, three of my students have finished building a huge 6 x 6 truck that they're very proud of. It's taken them over three weeks of intensive communication, teamwork and numeracy skills, let alone the physical building of the tangible product. The pride that something like this generates among the young people is great and it's something that they can call their own.
What resource are you most proud of and how do you use it in the classroom?
Being a massive geek also means that my students unavoidably are; they love some of the resources that I create as inevitably, it supports their learning. I've created a Star Wars themed slide that includes the music and yellow scrolling text that features at the beginning of each movie. The text can easily be edited to your own needs and by launching the presentation, all the required revision notes are there. It makes an excellent mid-session plenary. I've also created the Block Busters themed game show board – I place exam-based revision content on each shape, and as the blue or white team gets each one, they find themselves traversing all over the board. It creates a huge element of competition and they all learn a great deal from it too.
What are your tips for making technology based subjects engaging for students?
Computer science can be hit or miss with the students, they seem to love it or find it utterly pointless. I've had my battles with students who want to become engineers, mechanics or join the forces. What I've learnt over the years is that it's important that students can see the link between how binary helps their numeracy skills, and how reading and writing code develops their reasoning and logic pathways. Making the subject fun is also really important – to grab the attention of those who look like they're slipping away. Using lead learners in your classroom culture – their peers who support them both inside and outside the classroom – is also vital to their own success. I love inquisitive minds and the daily challenge. I also love playing with Lego and RC vehicles, and finding productive and rewarding ways to use this in my IT suite. Happily, my students love it too, so I must be doing something right.
Quick links
Block Busters themed game show board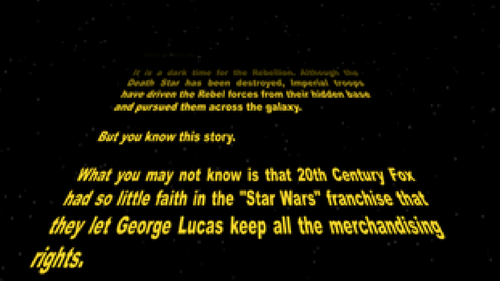 This wonderful and highly effective Powerpoint Slide is a faithful reproduction of the original Star Wars scrolling text that appears in the film.

It includes the music and is easily editable to whatever you need it for.
By
nerdoftheday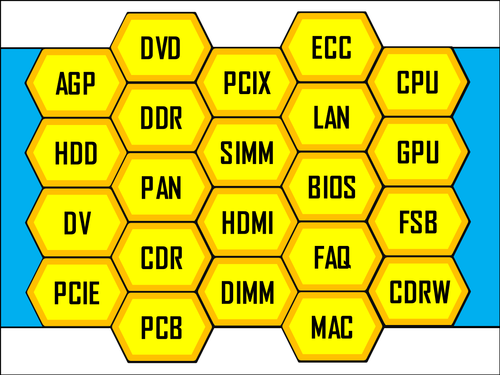 Blockbusters was/is a British TV Quiz game that was very popular with students in the eighties. It has changed somewhat now however this interactive interface works really well with starters, plenaries and looks like the original screen from the game show.

This is as close to the original Blockbusters interface as I could get and is completely interactive. You can use it as a starter or plenary for any department and change the topic to whatever you like. It works really well with a group of any size and age. I use a Lego man for a day as a prize which is blue-tacked to the top of the winners computer screen with a large group of 18+ trainee computer technicians who really enjoy this as a resource.

Please note that this is a template for you to edit - even though it comes with instructions, it is ultimately up to you to make the changes that you need to fit in with your teaching. Please don't leave negative feedback if you do not have the time to be able to make changes to it. The instructions have also been added below.

I would really appreciate a comment or a rating on this resource.

INSTRUCTIONS

Hit F5 or click VIEW. You can see that each hexagon is made up of three layers.

1 - Bottom (white) layer
2 - Middle (blue) layer
3 - Top (yellow/letters) layer

When the yellow layer (#3) is tapped (on smartboard) or clicked with a mouse, it will fade out to reveal layer # 2. When layer # 2 is clicked or tapped, it will also fade out to reveal layer # 1. Layer #3 is fully editable with regards to the letters or numbers that you wish to add. This particular version that you have has been used with IT hardware acronyms. The learner chooses and guesses an acronym and of they get it right, they gain a point for either the blue or white team.

This resource comes with no questions – it is up to you to change the text that is presented on layer #3. This resource is designed for use on a PC with Powerpoint and can be adapted for use in any department.

I have also added and included a Chrsitmas Quiz with full questions and answers.

By
nerdoftheday