Author on Tes: Helping teachers to be creative in the classroom
Leila Rasarathnam reveals how she calls on her experience from before she became a teacher to engage her students and create inspiring resources.
Tell us about your professional background and what you enjoy the most about teaching?
After completing my degree in communication design, I worked as a Keyworker in the NHS with adults, children with learning difficulties and mental health issues. I also worked as a freelance graphic designer, coached basketball and worked with homeless teenagers in Manchester.
I became a teacher in 2009. The first half of my career was spent in a mainstream setting in Hemel Hempstead where I taught KS3 to A-level in all D&T specialisms. I currently work in a PRU as a HoD. We have a variety of students with SEN. The smaller setting and behaviours make it exciting and challenging. This job combines my training and my previous experience in the NHS and with homelessness.
The thing I most enjoy about my job is inspiring young people who have been uninspired by education. Recently a former student came to tell me she got into University to study graphic design. This student had been a school refuser prior to coming to us and missed a large amount of her education. Although a high percentage of my students from mainstream would go on to study graphics, this was one of my greater achievements.
How do you incorporate your graphic design skills into your resources?
I'm passionate about creating resources, and as a teacher of D&T it's important for me to keep up to date with new and emerging technologies. I use the Adobe Creative Suite to produce my resources, this way I can produce my own illustrations which is something I have always really enjoyed. It also means that when they're downloaded, they can be blown up and printed in any size without any distortion or pixelation.
What resource are you most proud of and how do you use it in the classroom?
I have a few resources that I'm really proud of, however, the one that I'm most proud of is my British Values poster. An LSA came to me with a list of words that staff and students came up with relating to Britain. I used the words to create the Union Jack. I use this in my lessons to promote diversity, also, when I teach design it's very useful to refer to the different fonts I've used within the image.
What are your top tips for creating classroom resources?
1. Be creative, colour is a good way of getting your students engaged...
2. Not all ideas are new ones, think of ways to develop and improve old concepts.
3. If you make a resource well, you won't have to make it again.
4. If you struggle with spelling, grammar and punctuation, always ask someone to check over it!
I intend to produce resources that save others time and help enable teachers in all subject areas to be creative in the classroom, feel free to look at my page and tell me what you think!

Quick links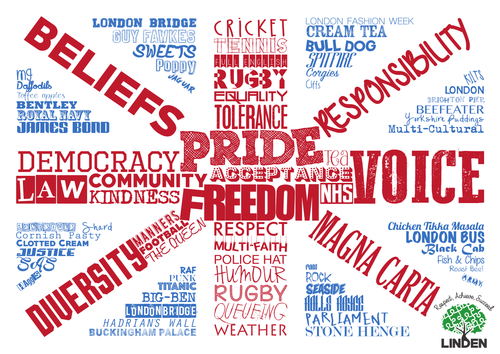 A poster with the words from our students at the centre alongside the words that we should be using in schools to promote Britishness and British Values. We have it as an A3 Poster in our form rooms as well as a big display in the main hall. Please select the option print to fit when printing.

Would be great to see how you use it, follow me on twitter: @razfromcav

:)
By
leilarasarathnam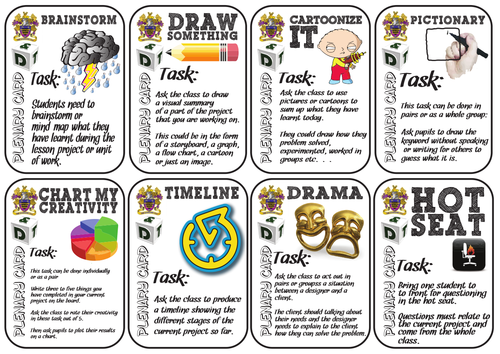 Here are 48 plenaries I have tried to design the cards for pupils to use in order to promote student leadership in lessons. I also use them myself to promote variety in my lessons.

I cut them out and laminated them in order to produce a deck of cards pupils pick out 4 cards and deliver one of those 4 activities.

Although I have adapted these tasks for technology, many of them are generic and can be used in your own way across all subjects.

I hope you find these useful. (Apologies for the apostrophe error I will correct this if I get time)

Would be great to see how you use it, follow me on twitter: @razfromcav

Enjoy
By
leilarasarathnam
Life without levels posters, I have broken down the ares of the K33 curriculum and made each category into a poster. There is a grid which I stick into the learners books to show them where they are and what they need to do to move on.

Each poster shows how the learner can get from 'Emerging' to 'Developing' to 'Secure' then to 'Master' (I did not choose these words, this is what our school is using instead of levels). As it is hard to measure from each section of the curriculum I have put the actual statement from the curriculum and watered it down backwards (I hope this makes sense!)

Hope this works for you!

Enjoy...
By
leilarasarathnam