Using nature to inspire and engage students in creative thinking
Tes author Asa Jomard shows how biomimicry can boost students' observation skills, creativity and critical thinking.
What is Biomimicry?
Bio means life, and mimicry means to mimic life and nature. Biomimicry offers an opportunity to bring learning outdoors – nature-watching is a fun way to hunt for ideas and solve problems. Biomimicry is an exciting way to inspire young students to be creative, curious and to observe the world. Students come to understand how animals and plants can be used as a platform upon which ideas, buildings and inventions can be developed; with the focus shifting from observing to being inspired to solve problems or to invent things.
What is at the heart of this approach to learning?
Biomimicry is not aimed at learning names of animals or plants. It's about observing behaviours and functions and using these as a stepping stone for ideas. Students can investigate owls to form their own ideas for innovation and design. There are no right or wrong answers or solutions, and the projects are intended to inspire a playful and creative approach towards problem solving.
How can teachers use biomimicry in the classroom?
Lessons about biomimicry require a brave approach to teaching as they mean a move away from teachers asking questions and looking for answers. Instead young learners are given an opportunity to shape and explore their own ideas. Biomimicry and bioinspiration are constantly evolving and new ideas are explored to solve problems and design sustainable solutions, like architecture based on animals and their habitats.
What impact should teachers and students see?
Biomimicry creates a positive learning atmosphere, builds confidence and gives nature a value. Students will be filled with awe for nature while they explore curious questions, and use their observations to create, draw and build models of their ideas. Teaching students to be Ladybird detectives (for example) and use creative techniques to solve everyday problems, designing things and make innovations by studying nature, is just a different way to use imagination. Biomimicry is a great brain workout and gives students the tools they will need to solve problems in the future.
Quick links
A great introduction to biomimicry. Fun exercises and tips to encourage young children to look at owls and to get ideas for 'innovations and design'.
By
asajomard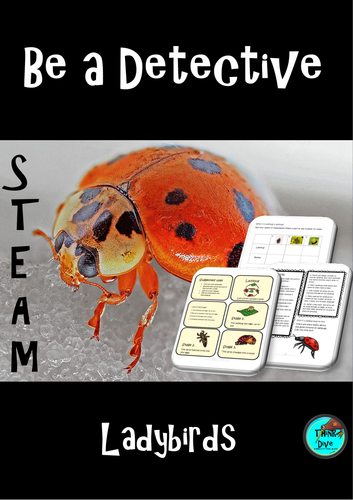 Ladybirds are found all over the world. There are 22-spotted yellow ladybirds and striped ladybirds.

There are also lots of things to be excited about when looking at the life-cycle of ladybirds. And many students love to think about the different stages.

In this booklet students are also asked to observe animals with the goal of getting inspiration for new ideas. Hopefully, these activities will make the learning fun and engaging.

This package contains:
1. Cards
2. Can you identify the different stages?
3. What is the connection between a larva and a ladybird?
4. What do larvae and ladybirds eat?
5. Fun Facts
6. Metamorphosis Poem
7. Ladybirds words - make your own dictionary
8. Ask the larva Sparkling Questions about pupa and ladybirds
9. Larvae are. . .
10. Ladybirds are. . .
11. Life cycle
12. When is a ladybird a ladybird? Make a tally
13. Can you fill in the different parts of the ladybird
14. My Ladybird Gallery
15. Ladybirds and aphids, and ladybirds everywhere
16. Think diving for a ladybird detective - pest control
17. Think diving for a ladybird detective - ladybirds wings
18. Reflection - assessment

By
asajomard
Building and making things capture children's imagination. How can you use a lotus flower to make a cosy reading nook? Why would you want to build a floating city? And how can an ant be used to build a huge garbage machine?

Students learn to explore dreams and use these dreams to solve problems. Biomimicry is an exciting way to inspire young children to be creative, curious and to observe the world. By combining these two topics, projects that use a problem solving approach have been designed. The projects are intended to inspire a playful and creative approach towards architecture and design. Children come to understand how animals and plants can be used as a platform upon which ideas and inventions can be developed.

1. Introduction to biomimicry and using prior knowledge
2. Smart cities
3. Floating city
4. Reading or relaxing nook
5. Describe a honeycomb
6. Skyscrapers
6. Draw a house plan
7. Acrostic poem
8. Imagination challenge snails
9. Design a house inspired by shells and snails
10. Futuristic car
11. Story writing - futuristic car
12. Dinosaur bridge
13. Garbage machine
14. Cool rainproof house
15. Song about ants
16. Build a tree house
17. Green living house
18. How to use biomimicry in the classroom
19. Links and book tips.
20. Two posters
By
asajomard