Anti-bullying resources for international students
Lesson ideas, posters and worksheets to raise awareness on different forms of bullying
With 2 out of 10 teenagers in the US reporting that they have experienced bullying, devoting some time to generate a discussion among students is crucial. We have put together a collection of presentations, worksheets and bundles to help you create an anti-bullying culture in your class.
Explain bullying
Try out these resources to talk about the impact, causes and ways of dealing with bullies and ensure pupils have a good understanding of the reality of bullying.
Cyber-bullying
Internet safety is a major concern when it comes to adolescents. Start a debate with your students on the dangers of cyberbullying and encourage them to reflect on realistic scenarios.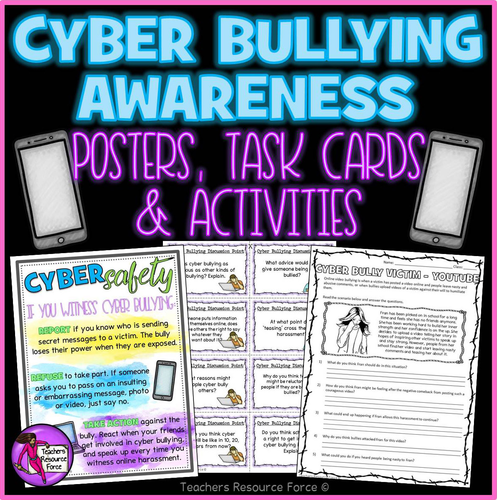 Do you want to educate your students about the dangers of Cyber Bullying? It is a rising problem among teenagers and young people in this age of social media, so this resource will offer your students the opportunity to consider the dangers and effects of cyber bullying by encouraging them to discuss and reflect on realistic scenarios.

I have used this resource on different groups of students from year 7-10 and it has proven effective for all ages. It's interesting that each age group has brought out its own conversations from this resource.

I find it shocking how many young people (especially those below the required age of 13 to even have a social media account) are suffering from cyber bullying online and don't yet have the skills to handle it. This resource has made a significant difference to my students and I can only hope they go on to spread the word to others!

I hope that my resources save you hours and hours of time: something we always sacrifice so much of as teachers. ❤

*********************************************************************************************************

• If you choose to download this resource, please take the time to leave a rating - I do really value your feedback and I always look forward to reading what you think about my resources! If you have any questions about this resource or anything else, you can email me at TeachersResourceForce@yahoo.com.

• Be the first to know when I upload new resources, discounts and freebies by following my page!
By
TeachersResourceForce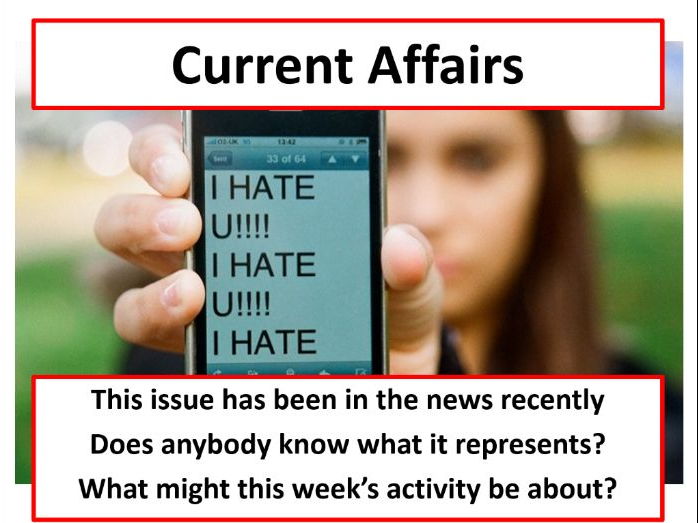 An engaging current affairs activity with videos, questions and a debate. New topical activity uploaded weekly! Please email me at josephcauldwell@mosslands.wirral.sch.uk if you would like the weekly PPT sent directly to your inbox. Please leave a review if you find this useful!
By
joecauldwell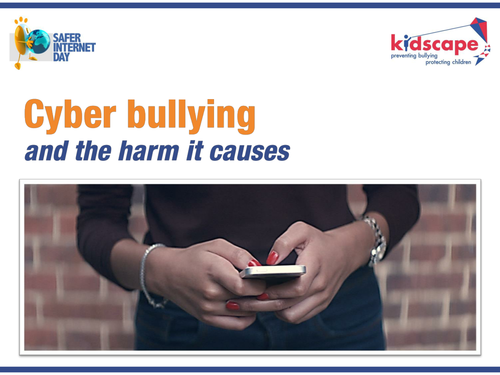 Key Stage 3 and above powerpoint presentation on the consequences of cyber bullying and what young people can do to protect themselves.

Topics include:

- What is bullying
- What is cyber bullying
- Bully/target/bystander descriptions
- A look at Kidscape's cyber bullying campaign video #DontSayDontSend
- The difference between 'banter' and threatening behaviour
- The consequences of cyber bullying
- How to deal with and prevent cyber bullying



By
KidscapeCharity
Fancy a bundle?
Check out these bundles that include posters, visual prompts and scripts about bullying and antisocial behaviour.
This is a cross curricular teaching resource for talking about friendship, family and bullying. It provides you with the images you can use to discuss sensitive topics with your class. The anti-bullying posters could be printed off and shown all around your school. Likewise, they could be used to inspire a class to create their own, more personal and targetted versions.
By
Peter Fogarty
3 short scripts lasting a couple of minutes long, look at various types of bullying and bullies. A workshop is included in the first script to assist your students to understand what they can do to help stop bullying;
-Shaken & not stirred
-The little you
-Girl R skets
By
DionneDawsonAuthor