Celebrating 20 years of Harry Potter in class
Hand-picked English and maths resources to help you conjure up Pottermania among your KS2 and KS3 students
For those of us that grew up with the books, it's hard to believe that Harry Potter and the Philosopher's Stone will be 20 years old on 26 June this year. As new generations of young readers explore JK Rowling's spellbinding world for the first time, we've consulted the Sorting Hat and picked out some of our favourite resources to help you to celebrate the upcoming anniversary in class.
So pick up your quills, unroll your parchment and get ready to spend a day in Hogwarts with this selection of themed English and maths resources.

English resources
Get pupils practising inference and retrieval using this adaptable comprehension task, complete with activity letters signed by Dumbledore. Alternatively, delve into descriptive techniques with this creative writing lesson, which gets students examining extracts from the books before writing their own enchanting passage. 
Dive into the realms of non-fiction and challenge your class to write a non-chronological report on a mythical beast, referring to this handy exemplar as inspiration. And, once completed, why not encourage them to channel their inner Rita Skeeter by writing a newspaper article using this simple template as a guideline?
Maths resources
Use this engaging lesson, complete with worksheets, to encourage pupils to practise all four operations while exchanging Muggle money into sickles, knuts and galleons. Further challenge them with this stimulating potions investigation, in which they'll use their knowledge of multiplication and factors to transform their beloved teachers into frogs! 
Inject a little magic into your lessons by getting students to cast spells through the conversion of fractions with these differentiated worksheets . Or, develop younger pupils' understanding of bus timetables with this themed task, set in the grounds of Hogwarts.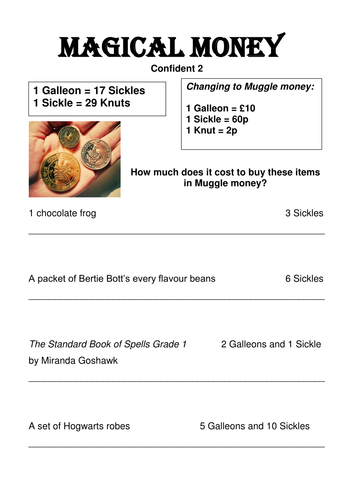 PPT is the introduction to a lesson on exchanging money - Wizard money for Muggle money. Using division in introduction to work out exchange rate, then multiplication and addition to change money.
By
HelenSQ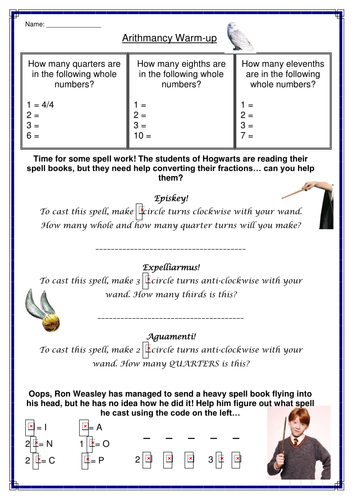 I designed these resources for a Harry Potter themed lesson with Y7 on converting mixed and improper fractions. There are bronze, silver and gold versions of the main worksheet to differentiate by ability. The Cauldron worksheet is meant to hit literacy targets, whilst allowing children to design their own fraction-potion. The idea is that on the left of the potion they write a mixed fraction followed by an ingredient of their choice, and on the right they must convert it to an improper fraction. e.g. '1 1/2 eyeballs = 3/2 eyeballs'. The pupils loved it, and produced some amazing work!
By
CaptainLoui
Used with a Year 5 below average numeracy group. Used with a Harry Potter videogame map that I then drew on the bus route (visual aid only, not needed for the worksheet to be completed). Range of questions based on the timetable at the top of the sheet.
By
selinaj