English: Festive language and literature lessons
Bring Christmas into your English classroom with these one-off language and literary lessons
With a packed curriculum, it's sometimes hard to find time to both plan and teach seasonal literature. But this year it can and will be possible, thanks to the generosity of teachers (aka Christmas elves) on Tes.
We've pulled together a collection of one-off lessons and activity ideas to help you spread festive joy, while introducing or consolidating key learning about poetic devices, figurative language and much more.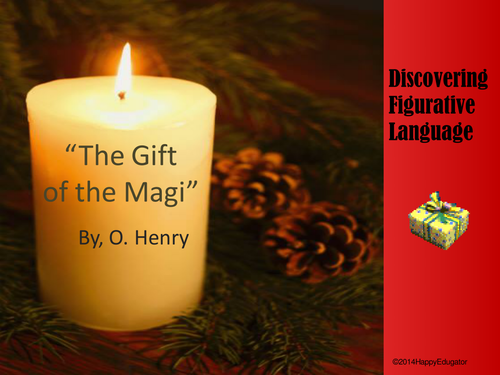 The Gift of the Magi PowerPoint. Animated PowerPoint on The Gift of the Magi by O. Henry, a classic Christmas story that is a good resource for the holidays. Focus on figurative language. Complete lesson with before, during, and after reading activities. Includes background information about the author, twelve critical vocabulary words, review of foreshadowing and suspense, and a link to read the story online. Students close read to find foreshadowing and suspense, and focus rereading on discovering figurative language. Includes definitions and examples of figurative language in the story, such as metaphor, simile, personification, hyperbole, and idiom. Discussion questions, explanations with examples of irony and allusion, and concludes with a short story writing activity with a 100 point rubric. Includes a quick interactive comprehension check.
- HappyEdugator
By
Happyedugator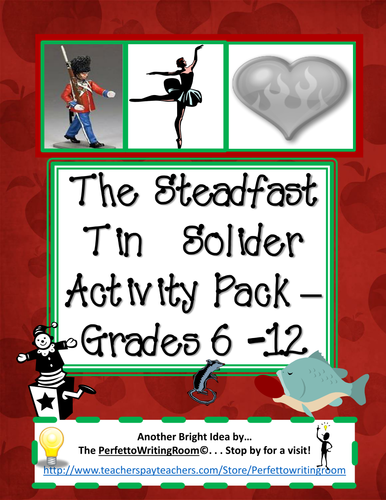 The Steadfast Tin Soldier is an often overlooked tale that was originally written for children, but has been analyzed for years by critics for its many themes ranging from politics, love, socioeconomic status and more. THIS COMMON CORE UNIT is IDEAL for middle and high school students grades 6 through 12, this packet is a PERFECT SCAFFOLD, with close reading and critical thinking questions that prepare students to write an essay. Our "Rewrite the Ending" activity is also chock full of critical thinking activities, including a pre-write and an activity where students write about their own process and writing decisions. We also think you'll enjoy the rubric and two corresponding writing samples that provide students the opportunity to compare and contrast the samples against each other and an analysis sheet before it's time to start their own outline.

In this very organized 47-page pack, 3-Major-Activity Package you will receive:

• MAJOR ACTIVITY Close Reading, Critical Thinking, and Comprehension
• Answer KEY
• MAJOR ACTIVITY – Rewrite the Ending: Teacher and Student Handout, Pre-Write, Alternate Ending, Rewrite (Lined and Unlined), Discussion Questions about Writing

• MAJOR ESSAY ACTIVITY – This activity is really several activities in one, all specially created to prepare students for facility in writing a nuanced essay.

This includes overviews for both,Teacher and Student, directions, a rubric, a comparison activity with two writing samples so students may discern writing expectations, and a pre-write sheet (organizer) for the essay.

• The full story "The Steadfast Tin Soldier" is included for your convenience.

• All Applicable Common Core Standards, broken down by each activity.

• Freebie, secret handout for you our customer in thanks for your purchase.

Your students will learn a lot, and we hope this is a story they will cherish for years to come.


You May Also Enjoy:The Writer's Workshop for High School, an 8-Day Common Core Unit.

The Elves and the Shoemaker – Writing and Critical Thinking Activity Pack Gr. 6 - 12.

Gift of the Magi, Complete Activity Pack Grades 6-12.

Dr. Heidegger's Experiment, Complete Story Packet, Activities, Quiz and Keys.
By
PerfettoWritingRoom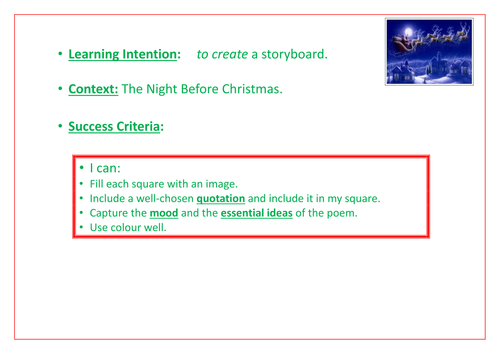 This is a fun resource to explore poetry and some of the techniques used in literature and encourage pupils to write their own poems and storyboard a famous Christmas poem. Use around Christmas time with classes.
By
aisling1967