Geography: How to sort next year's planning before the end of term
One geography teacher explains how you can free yourself up for the summer by getting ahead on planning for the new year this term
As the current academic year starts to wind down (ha!), my thoughts inevitably turn towards planning for next year. For my KS3 classes, this might involve refreshing existing units. But, as we're still only halfway through teaching the new specifications for GCSE and A-level, I'll definitely need to spend time creating resources for my examination classes.
Thankfully, this doesn't have to be as time-consuming as it sounds. In fact, I'm pretty sure I'll be sorted before the summer holidays. What's the secret? Knowing where to look for support.
Planning new units
With the new Year 10 and 12 courses in the bag, I can now turn my attention to those for Years 11 and 13. When writing a new scheme of work, there are a handful of things I always aim to do.
Firstly, I make sure I have the specification next to me. Sometimes, student-friendly versions can be easier to digest. I also find it helps to have a copy of each of the textbooks published for that specification, just so I can be sure I've covered everything.
To keep planning focused, I find it useful to include a slide detailing the part of the specification we're covering at the beginning of each lesson presentation. This GCSE climate change unit takes things one step further by including the learning objective on almost every slide, while this short scheme on rivers offers success criteria based on different grade boundaries, ensuring all learners know what to aim for from the start.
To end up with something as comprehensive and engaging as this A-level unit on diverse places, I find that research is key. As well as checking out web-based forums in which teachers are discussing and sharing resources, I also participate in the online training offered by exam boards. Investing time in this gives me confidence that I'm on the right lines with my own planning.
Taking care of homework
Like most teachers, I pledge to be more organised and efficient every year. One of my biggest successes was the creation of dedicated homework booklets for each year group. These save me precious minutes rifling through exercise books looking for specific tasks to mark.
Homework booklets lend themselves well to consolidating learning at KS3, especially when it comes to practising key skills such as analysing maps. But they can also work for your exam classes too. This workbook on coasts is structured in such a way that it can be useful for revision later on in the year.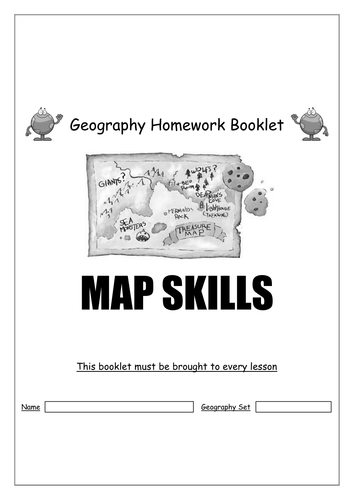 A map skills homework booklet for use with KS3 Geography classes.

An amalgamation of worksheets I have gathered over the years to create a comprehensive and easy to mark Map Skills Homework Booklet!
By
sbladen
This is a booklet covering the whole of the coastal zone with questions, gap fills, illustration etc activities to be used as homework or revision.
By
Fintan Douglas