Putting the 'A' in Steam lessons
Savvy Steam coordinator, Robert Bulmer, offers his inspirational ideas for making the transition from teaching Stem to Steam
Like many teachers, I'm very familiar with Stem. But just imagine my surprise when I accepted a job offer and spotted that the additional responsibility of Steam coordinator. Was it just a typo? Apparently not.
We all know that Stem is a well-known curriculum using four disciplines, science, technology, engineering and maths, to solve problems based on real-world scenarios. Ultimately, the inclusion of 'A' for 'arts' turns Stem to Steam, with the goal of enabling true innovation and a new way of thinking creatively.
Here are just some of the ways that I'm planning on making the transition in the new academic year:
Use art lessons as your starting point and add in Stem subjects
Photographic manipulation is a great way of getting to know a group of students. Start by taking a look at a few different artists; as I'm in Italy, we are taking a closer look at the works of Michelangelo, Leonardo da Vinci and Raphael. Ask pupils to choose a painting which inspires them and take a selfie that mirrors the pose in the picture. They can then experiment with manipulation software using tools such as the 'magic wand' and 'lasso' to create their very own masterpiece.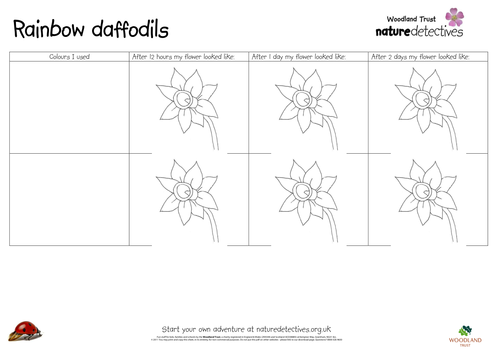 This arty experiment shows how plants use 'capillary action&' to take water up their stems to the petals. Keep a diary so that you can compare the results you get with different colours over a few days. How about trying to make a rainbow of flowers? You can mix different food colouring together to create different shades. Instead of using daffodils, why not try using carrot tops or cress seeds? It&';s easy peasy! Bring the outdoors into your classroom with this inspiring activity from the Woodland Trust's nature detectives website.
By
naturedetectives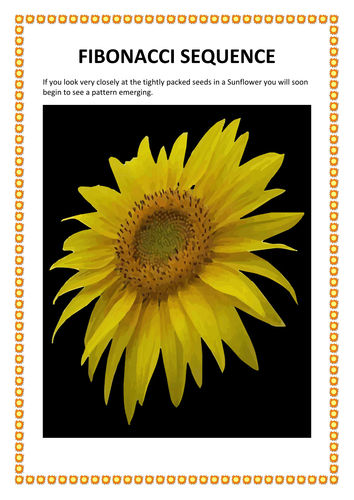 This unit of work had been designed to compliment the SUNFLOWERS SCIENCE/LITERACY - UNIT OF WORK. These units of work include everything you will ever need to complete a topic on Sunflowers. This part of the unit covers the Numeracy/Art aspects of the topic with close links to Science. Numeracy has a Powerpoint presentation that starts the investigation into Fibonacci patterns. There is also activities that cover; measuring and shape sorting activities, estimating and fun money/costing activities. An enrichment Art activity explores the 15 Sunflowers by Van Gogh and the pupils are then challenged to solve some thought provoking time/date related word problems.This work can be completed in class or set as an extended homework activity.
By
crigdon
Rethink classic Stem lesson ideas and find ways to add art into them
One of the most famous tried-and-tested Stem projects is to design and build a catapult or a projectile launcher. Students have to simultaneously use knowledge of angles and distance, basic trigonometry, geometry, ratios, engineering, critical thinking and teamwork to formulate and implement their designs. To add an element of art, my classes examine the work of Da Vinci, in particular his inventions, and explore how these are conveyed through detailed working drawings. It's historical Steam in action!
Twenty weeks of engaging ⭐STEM / STEAM⭐ independent tasks are included in this engaging bundle designed for students aged 8 - 12 years old. This is excellent for covering both DIGITAL TECHNOLOGIES and DESIGN AND TECHNOLOGIES. All with ABSOLUTELY NO PREP REQUIRED!!

Just print out and away you go... All instructions are easy to follow and will involve students completing all tasks at home. Answer sheets included.

TASKS INCLUDED
✔ Decoding Binary
✔ Visual Representation of Recycling data at home
✔ Understanding Pixels, bytes and Sprites
✔ Algorithmic Sleuths and code breaking
✔ Creating digital images with numbers
✔ Identifying technologies that changed our world
✔ Mapping and co-ordinates with BOLTS
✔ Write your name in Binary
✔ Code Cracking
✔ Technology Keytword search
✔ Following Algorithms
✔ Coding Challenge
✔ Make your won Codes and Encryption
✔ Analyzing data and Inferring
✔ Recording sounds as images.
✔ Bottle Toss Challenge
✔ Timeline of technological evolution task
✔ Paper Plane challenge task
✔ Which shapes are the strongest?
✔ Design a Virtual Reality Controller

Best of all if you buy in NOW you will receive ALL FUTURE ADDITIONS FOR FREE we regularly add more tasks. These additions will incur a greater expense for late adopters as THE PRICE WILL RISE.
By
Innovativeteachingideas
To support pupils taking part in Save the Children's Den Day, use these resources to challenge children to build a structure that stands, out of everyday materials.

The accompanying presentations for KS1 and KS2 can be used to help children learn about the impact of natural disasters and how families can lose their homes.

These resources have been specifically designed to use for Save the Children's Den Day on Friday 16 June. Schools around the UK will be building dens out of everyday materials and raising money to help give more children around the world a safe place to shelter.

Sign up at denday.org for your free fundraising kit with everything you need to take part.
By
s_pirouet
Investigate the unity between art and science in everyday life
Steam, as with Stem, is all about grounding critical thinking and problem-solving within real world examples. Continuing with theme of great artists, classes can explore perspective and composition and use their findings and 3D software to produce architectural models of their dream homes. Alternatively, investigate Da Vinci's anatomical studies to give learners a greater understanding of ergonomics and anthropometrics, as well as how products are designed to suit peoples' specific needs.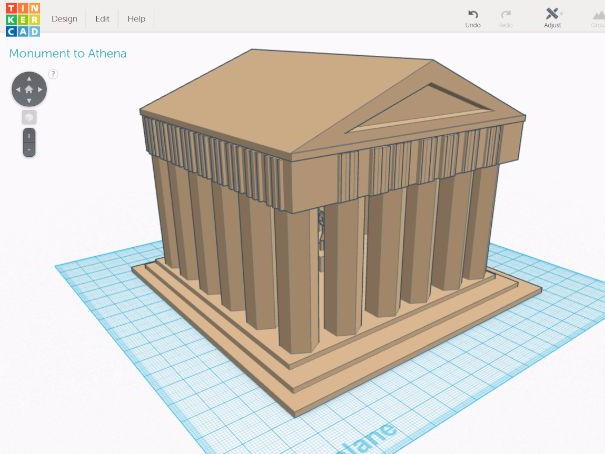 In the Designing Greek Monuments in 3D lesson, students design new monuments to honor events in Greek history, Greek gods, or another aspect of Ancient Greece. After sketching their design on paper, students create their designs in 3D using the web-based modeling tool TinkerCad. Finally, students explain their creations in a short essay to accompany their designs.

Topics addressed:
Architectural style of monuments in Ancient Greece
Historical and cultural significance of Greek monuments
Primary CT concept: abstraction. Students distill information about a Greek god or an event in Greek history into a relatively simple 3D design that symbolizes their chosen topic.

Students will be able to:
Design an architectural structure to represent a Greek god or event in Greek history
Create a monument in 3D using TinkerCad
Explain how their monument symbolizes their chosen topic

Materials:
PowerPoint presentation
Student worksheet
TinkerCad

Prep:
Create a Google Doc assignment in Google Classroom where students can write their short essay and share the link to their monument in TinkerCad
Familiarize yourself with TinkerCad for thirty minutes or so, to better support students who have questions while learning how to create models in 3D

Suggested lesson breakdown:
This activity can be run in one longer period, or split over two shorter periods.
10min – activity introduction with PowerPoint presentation
15min – students (individually) select a topic for their monument and draw their 2D sketch on the worksheet
5min – walk students through logging into TinkerCad
10min – students (individually) work through TinkerCad introductory lessons
40min – students create their monuments using TinkerCad
10min – students write a short two-paragraph essay explaining how their design relates to their selected topic
By
Eli Sheldon
A downloadable booklet of fun science activities using everyday ingredients, with notes for teachers. This booklet contains step-by-step instructions for science activities and experiments that are safe and easy to do in the classroom or at home.
By
Science Museum Learning
Next steps
Art adds a new dimension to the creativity and flair that Stem seeks to promote, therefore adding the 'A' can only be a positive step. This is a chance to really think outside the box with much greater scope for experimentation. Steam activities encourage the use of different, unconventional materials and the opportunity for students to learn many new and exciting skills. For me, the aim is to include performing arts and drama with scope for set design, puppeteering and animation for a complete cross-curricular extravaganza!