Starting points for R U OK? Day
Promote mental well-being, stamp out bullying and build emotional intelligence with these hand-picked activities
R U OK? Day falls on the 14 September this year. Designed to raise awareness of mental health and the importance of connecting with others, its message is is particularly relevant within schools, where the stresses of academic life and bullying may leave some students feeling isolated.
So, to help you mark the date we've selected some of our favourite resources, that will help you to encourage reflection, empathy and kindness in learners.
Anti-bullying
Unfortunately some form of bullying is almost inevitable within schools, and it can have a detrimental effect on a learner's confidence. Help to stamp it out by identifying what bullying looks like and the negative consequences it has with this reflective exercise, before learning how Socrates dealt with vicious rumours using this comprehensive presentation.
Continue to give your students the tools they need to solve conflicts and stand up to bullying with this innovative board game, which presents pupils with a selection of real-life scenarios to negotiate. Or why not encourage them create a positive self-motto in order to raise their self-esteem, using this handy worksheet?
This exercise uses effective participation and reflective learning to learn ways of identifying when a situation could be described as bullying and increase understanding of the effects that bullying has.
By
LoudmouthEducation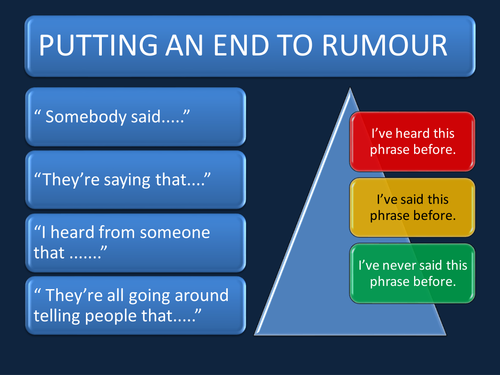 Resource focusses on how rumours affect people. Includes useful story of how Socrates dealt with vicious rumours. Great for tutor time, assemblies and Citizenship.
Feedback pls :)
By
ACOYEAR8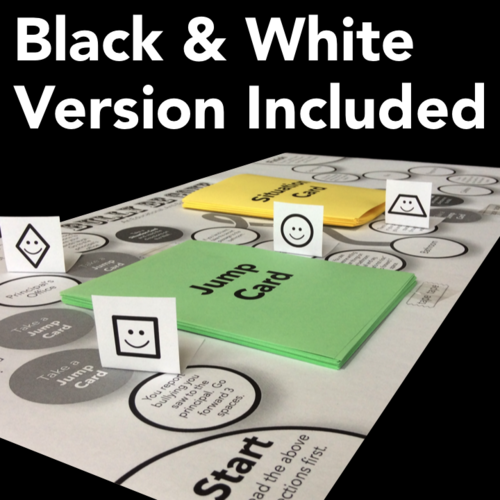 This anti-bullying activity will help make your school bully-free! Educational and fun, this anti-bullying game is perfect as a bullying lesson or for indoor recess.
The game presents children with real-life scenarios. They'll learn to solve conflicts, stand up to bullies, and report bullying to adults.
My students have been playing this game for years and love it!
Playing "Bully Be Gone" takes about 20 minutes. When done, students can play again if they have time. Two to six students can play. If you'd like everyone in the class to play at once, just print multiple copies of the game!
Print the game on normal-sized paper. Let students assemble the game themselves in only 10 minutes!
The anti-bullying strategies conveyed in this game are informed by Bullying at School: What We Know and What We Can Do, by Dan Olweus; Bullied: What Every Parent, Teacher and Kid Needs to Know about Ending the Cycle of Fear, by Carrie Goldman; and The Bully, the Bullied, and the Bystander, by Barbara Coloroso.
By
Jenny Sweet
Emotional intelligence and well-being
Develop emotional intelligence in younger learners and introduce them to the different feelings people have with the help of this simple sorting activity. Once completed, further stimulate discussions about emotions with this thought-provoking presentation, which prompts students to think about how they would react to a series of real-life scenarios.  
Mental well-being is a core component of remaining emotionally healthy. Help pupils understand what that entails and ways in which they can maintain a positive headspace with this selection of tasks. Alternatively, why not refer to this exercise pack, jam-packed with activities to help young people build resilience and find happiness?
Supports objectives for Primary SEAL 'Good To Be Me' Theme and useful for PSHE and Mentoring too! Funky slides with interesting questions which are ideal for stimulating discussion in groups or whole class. Would love to know how other people get on using it!
By
Kate Hennessy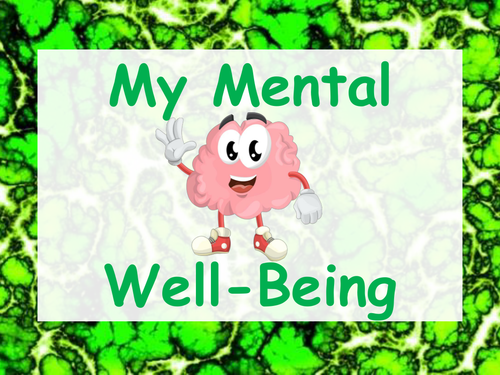 Good mental well-being has become harder to maintain as life becomes increasingly hectic. That's why it must be our priority to help pupils to understand their own mental well-being and know how to improve it.

This great presentation is full of ideas, starters, suggested activities and examples aimed at supporting pupils to improve and maintain a healthy mental well-being. Activities range from thinking about what makes them happy to designing their own happy place to setting goals to thinking about how helping others can lead to being a happier person.

The activities are suitable to support a 10 week programme on mental well-being, which should become a priority in every curriculum.

Any questions, please just ask.
By
landoflearning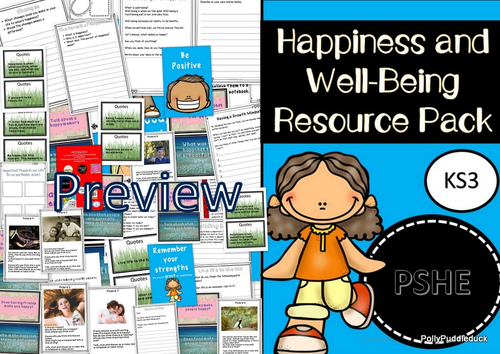 This is the KS3 version of my Happiness and Well-Being Resource Pack
Students need to be able to thrive and grow into mature, responsible and stable adults.
They need to be taught to believe in themselves and in life itself.
Download this Resource Pack today to teach students about 'The Pursuit of Happiness' and how they can achieve their goals.
Covers different areas of learning such as;
-Relationships
-Emotions
-Resilient Thinking
-Energy and Emotions
-Goals and Achievements
-Strengths and Weaknesses
-Happiness and how to achieve it
This is an EXTENSIVE pack (whole unit).
Includes over 80 pages
-One presentation
-Over 20 worksheets
-Task cards and writing prompts
-Writing Templates
-Literacy Templates (these can also used for CLL and PSHE)
Download includes (2 resource packs- 1 presentation and 1 set of worksheets /printables)
You can find the KS1/KS2 pack below by clicking on the following link.
https://www.tes.com/teaching-resource/happiness-and-wellbeing-resource-pack-pshe-unit-of-work-ks1-ks2-11172811
By
PollyPuddleduck