Tes Maths: Assessing pupil progress
Ensure students are on track with their learning with this selection of assessment ideas and homework packs
Doesn't time fly? With a month's worth of teaching under your belt, it's time to make sure that your pupils have really grasped everything they've learnt so far. To help you we've hand-picked a selection of assessments, quizzes and booklets that will enable you to quickly evaluate the extent of your students' understanding.
A big thank you as always must go to the talented members of the Tes maths community, whose resources continue to provide new and imaginative ways to help students cement their understanding.

Craig Barton, Tes Maths Adviser
Mixed topic testing
From adaptable homework booklets to multiple choice quizzes, ensure that your students are regularly practicing their all-important retrieval skills with these exercise ideas. Designed to assess areas of misunderstanding across a range of key topics, there's no better way to keep an eye on pupils' general progress.
 
Topic-specific assessments
Some subject areas require a little more attention that others, so why not assess your students' comprehension of key themes with the help of these assignments? Covering fractions, algebra and transformations these easily adaptable exercises are ideal as low-stakes tests when consolidating learners' understanding.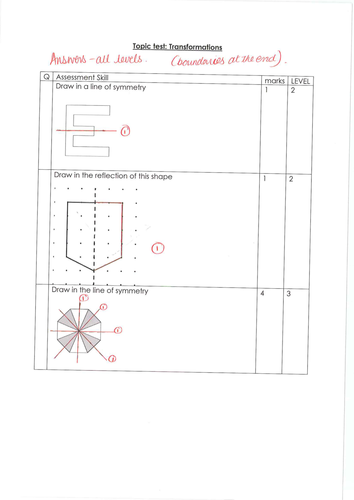 Here are end of topic test for transformation split into 2-4, 3-6 and 4-7. Mark scheme with level boundaries are included. Feel free to use and abuse. I would love your feedback. Thanks in advance.
By
Japleen Kaur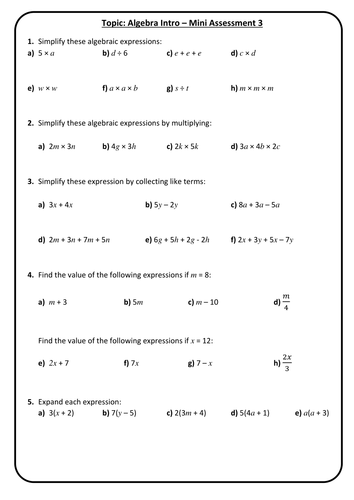 Useful end of topic summary test + answers. Complete with marking grid to give students easy to read feedback, tips for improvement and extension work.

Great for showing comprehension, then progress if students are given time to make correction or attempt the extension based on teacher feedback.

In this test:

Form expressions
Simplify expressions
Simple substitution
Expand a single bracket

Lots of other topics and levels available.
By
maths_and_quizzes
10 minutes quick assessments are put together to be used as a starter or plenary. It gives quick feedback to teacher as well as students. Resources are designed keeping FE students in mind.
Any further suggestions are welcome as I will be putting together similar assessments for Geometry and Data for GCSE Maths.
By
manisha2011
Post-16 resources
End-of-topic assessments don't always have to be in the standard format. Challenge students to identify false statements about modulus graphs, spot and correct common differentiation mistakes, or work together on an in-class project with these alternative exercises and adaptable booklets.