Early years middle east resources
Keeping your class engaged with new and interesting classroom resources is vital in helping them reach their potential. With Tes Resources you'll never be short of teaching ideas. We have a range of tried and tested materials created by teachers for teachers, from early years through to A level.

Breathe new life into your lesson plans with our primary and secondary classroom resources. Whether you're looking for fun maths worksheets or brand new guided reading activities, we have thousands of free and premium resources for you to download. From early years to primary, you'll find phonics worksheets and numeracy games and all you need to revise for Sats. From secondary to post-16, we have everything from French lessons to algebra activities, as well as GCSE revision guides and more.
Read more
Summary of Mughal Era- pictorial descriptions- Rare Photos Of Indian Mutiny-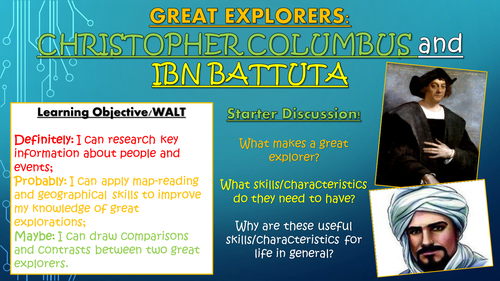 Within this varied, interesting, and engaging lesson, students aim to build their knowledge of two of history's most famous explorers: Christopher Columbus and Ibn Battuta. Students utilise their independent learning skills to research the two travelers, utilise map-reading and geographical skills to improve their knowledge of their journeys, and draw comparisons and contrasts between the two. The lesson follows a clear and logical learning journey, which requires students to: - Consider the skills and characteristics required to be a learner, and apply them to real life contexts; - Share what they already know about the two explorers, and use their curiosity to devise new questions about them; - Employ their independent learning skills to find out the key events and journeys in the lives of the two explorers; - Plot the locations of their expeditions on a world map, and consider questions about their journeys based upon what they see; - Compare and contrast the key features of each explorer, using connectives and key facts; - Peer assess each others' learning using the simple but appropriate success criteria. Included in this lesson are: - Comprehensive, informative, whole-lesson PowerPoint presentation; - Helpful recording template for the research task; - World map for tracking their expeditions, with questions as an extension task; - Helpful and thorough teacher guidance/ lesson plan document, to assist implementation; - Cut-out copies of the learning objectives, to save time in the lesson. All images are licensed for commercial use, and are cited on the final slide.