Early years English language learning resources: war and peace
Keeping your class engaged with new and interesting classroom resources is vital in helping them reach their potential. With Tes Resources you'll never be short of teaching ideas. We have a range of tried and tested materials created by teachers for teachers, from early years through to A level.

Breathe new life into your lesson plans with our primary and secondary classroom resources. Whether you're looking for fun maths worksheets or brand new guided reading activities, we have thousands of free and premium resources for you to download. From early years to primary, you'll find phonics worksheets and numeracy games and all you need to revise for Sats. From secondary to post-16, we have everything from French lessons to algebra activities, as well as GCSE revision guides and more.
Read more
A bundle of summer worksheets poetry, reading, story starts, comprehensionnumeracy
A mega bundle of 11 great resources for National Poetry Day on 28th September. Save 70% when you buy this bundle. Analysing poems, poetry anthologies, Summer poetry, Autumn poetryand comprehension pack, Poetry prompts and starters, war poetry, Victorian poetry, Christmas poetry and sea themed poetry. Many of the poems are original and written by me a published author of poetry and short stories. Suitable for both key stages, for good and poorer readers.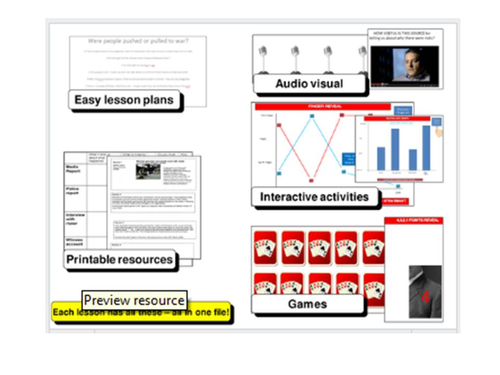 Here you get over 100 fully-prepared, buzzy lessons. They all have a very simple plan, resources, images, worksheets and such like all embedded into 120 easy-to-follow PowerPoints. The PowerPoints are even numbered so you can just follow the course through from start-to-finish! Each file is a FULL lesson and includes: Easy to follow lesson plan Printable resources Very engaging slides Audio and visual Using my degree-level computer skills, I have made these resources to be very slick and visually appealing. These are high quality resources that have helped me to be rated as 'Outstanding' in every observation. Please grab a bargain! (I've also added some other popular files for good measure)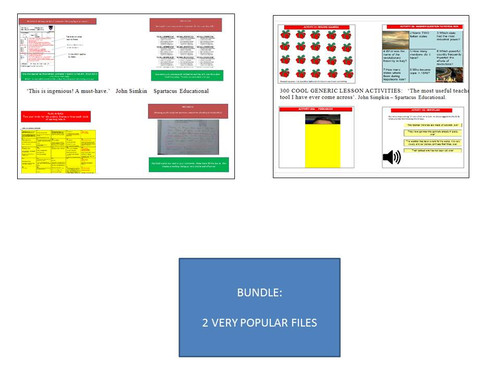 BUNDLE: Create lessons in seconds with this HUGE PowerPoint of animated lesson activities. There are HUNDREDS of templates that you can over-type in seconds to create engaging lesson material. Highly praised by John Simpkin of Spartacus Educational and Mark Warner of Teaching Ideas. I am very confident you will like this. If you do, please click on my profile to see my other popular resources. Thanks (This file also has a bank of PowerPoint timers - it's the most useful planning tool ever!) The size of the file should show you how much stuff there is! Without sounding overly confident - it's the best resource out there! There are also 50 marking ideas that will bust your marking-time - some ingenious stuff! These are my two most popular files, bundled together to save you money and hassle! Many thanks Copyright T.Taylor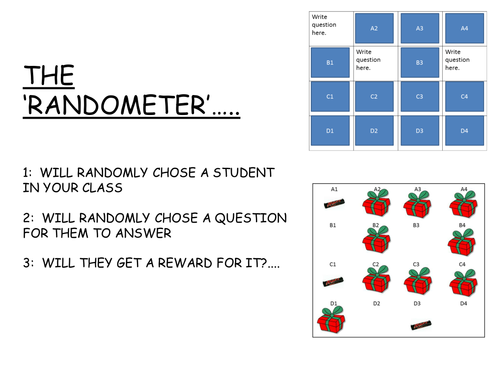 This randomises your class so a random pupil will be asked a question. It also randomises what question they will answer. It will also determine if they get a reward!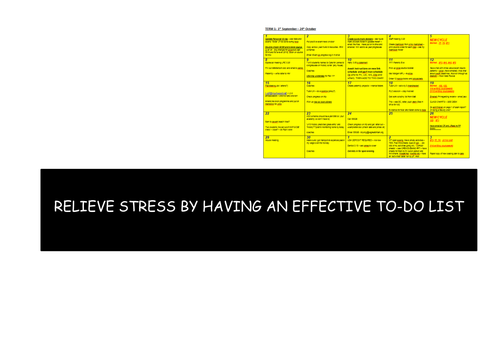 Over the years, I have perfected how to manage a huge workload. The key is to have a good to-do-list template. Follow my personal template and follow the simple 9 instructions to lighten your workload. You will find that you hardly ever feel stressed about workload again. Your capacity for work will also increase. You will never carry anything in your head again. You can leave work without taking anything home in your head!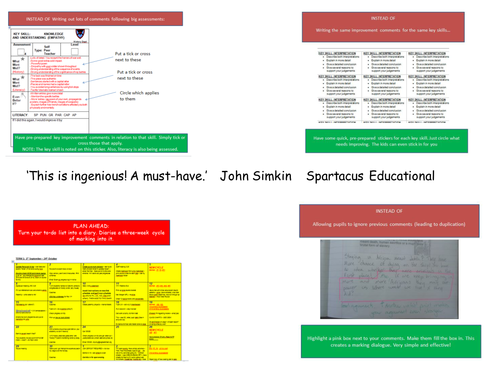 You will save countless hours of marking time with these ingenious ideas. INSTEAD OF......(common mistake), try................(new time saving solution!) These are highly praised and have been adopted at whole-school levels. 50 great ideas with scanned examples (If you search '300 lesson activities - you will see that my products are popular here on TES. This product is just as good!).