Early years French resources: religion, philosophy and ethics
Keeping your class engaged with new and interesting classroom resources is vital in helping them reach their potential. With Tes Resources you'll never be short of teaching ideas. We have a range of tried and tested materials created by teachers for teachers, from early years through to A level.

Breathe new life into your lesson plans with our primary and secondary classroom resources. Whether you're looking for fun maths worksheets or brand new guided reading activities, we have thousands of free and premium resources for you to download. From early years to primary, you'll find phonics worksheets and numeracy games and all you need to revise for Sats. From secondary to post-16, we have everything from French lessons to algebra activities, as well as GCSE revision guides and more.
Read more
Religion, philosophy and ethics
PowerPoint presentations, Flashcards, French Advent Calendar, games ... Everything you need for your students this December.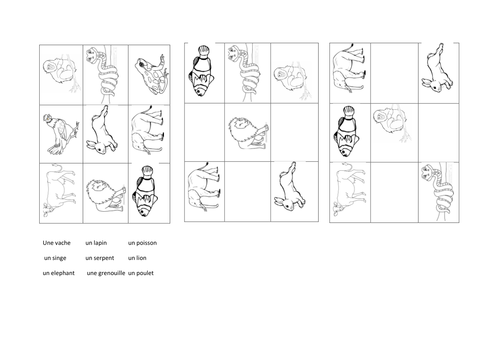 set of animal bingo cards - i used them for learning french vocab, for working on signalong and in an rme/phse lesson about caring for animals
Are you learning French? Are you looking for a fun way to learn French? I have developed a way to learn different languages based on my experience as an ESL teacher. This pack has 57 different settings for students to talk about in French. The worksheets themselves are in English and the students do need to translate the places and objects they see into French. At the end of the session, the students can play a fun game of word bingo to show they have mastered that day's vocabulary. Try it, it is a lot of fun for everyone!
Here is a fun, multicultural, cross curricular set of resources for Halloween. There are maths resources, different language resources, photos about how people celebrate Halloween and even a phonics sheet about Halloween.
A bundle of all my current French Lesson Plans & Resources currently listed - 15 lessons and resources in total covering a range of basic topics suitable for KS1 or lower KS2. Topics included are: Introductions and Numbers Colours Weather Age and Months Days of the Week Seasons Farm Animals Pets Food In My Pencil Case Where I Live Transport Parts of the Body Clothes Easter All lessons follow a similar pattern and activities. Each lesson plan contains 3 sections (lasting approx 1 hour depending on your group size, ability and how long you decide to spend on certain parts): an introduction - circle time activity main - interactive games, flash card activities and practical group activities independent activity and goodbye - time to complete independent worksheets and activities and say goodbye. The planning is fairly flexible you can spend longer on some parts than others, do activities as a whole class or print multiple resources and work as smaller groups - whatever works for your group of children! Some of the resources are in Word and PDF format so that you can edit if necessary. All the images I use are free to use and distribute with CCO licenses: CC0 1.0 Universal (CC0 1.0) Public Domain Dedication
A collection of 5 fun French Easter Resources, that also helps revise basic vocab e.g. colours and numbers. I have included the number recognition worksheet as a word doc so that you can edit the numbers or change the order to suit the ability of your group should you wish. Suitable for KS1 and lower KS2 Includes: French Easter Word Search Number recognition Flash Cards Easter Vocab Match Words to Pictures Easter theme French Colour by Numbers Easter Egg All the images I use are free to use and distribute with CCO licenses: CC0 1.0 Universal (CC0 1.0) Public Domain Dedication
Everything you need to get a Halloween week of lessons moving! Lots of different language lessons, fun photos and songs. Something for everyone!
Use this teaching resource to have fun teaching French during Halloween. I also added some Halloween Themed worksheets for writing numbers to 10. The Alphabet is in English but students could translate them into French for additional practice. I also added another presentation about how to take these worksheets and use them in 31 different ways in the classroom (after you have added the French words to them!) You could look at it directly as a presentation and discuss the different skeletons being shown in each of the photos. You could print off and laminate the photos to make an interesting, eye-catching display about the Halloween Skeleton Counting Song. The students could also take the laminated photos and sort them into different groups of skeletons. The students can then discuss what they think each skeleton was saying or thinking. The photos could also be used as prompts for creative writing, factual writing or descriptive writing.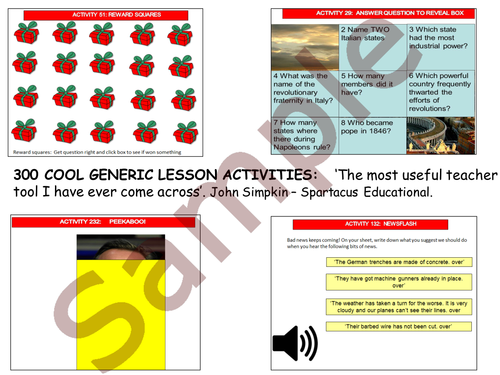 This is a 25% sample of my very popular resource. The full resource can be found by searching for '300 generic lesson activities'. (Following its success in the summer sale, I have kept the sale price of £3). The description for the full file is as follows: Create lessons in seconds with this HUGE PowerPoint of animated lesson activities. There are HUNDREDS of templates that you can over-type in seconds to create engaging lesson material. Highly praised by John Simpkin of Spartacus Educational and Mark Warner of Teaching Ideas. I am very confident you will like this. If you do, please click on my profile to see my other popular resources. Thanks (This file also has a bank of PowerPoint timers) The size of the file should show you how much stuff there is! Without sounding overly confident - it's the best resource out there! Many thanks Copyright T.Taylor