Early years German resources: nouns and pronouns
Keeping your class engaged with new and interesting classroom resources is vital in helping them reach their potential. With Tes Resources you'll never be short of teaching ideas. We have a range of tried and tested materials created by teachers for teachers, from early years through to A level.

Breathe new life into your lesson plans with our primary and secondary classroom resources. Whether you're looking for fun maths worksheets or brand new guided reading activities, we have thousands of free and premium resources for you to download. From early years to primary, you'll find phonics worksheets and numeracy games and all you need to revise for Sats. From secondary to post-16, we have everything from French lessons to algebra activities, as well as GCSE revision guides and more.
Read more
Here is an activity for all age ranges learning the different body parts. Print off the body parts cards and stick them around the room. Pupils get the skeleton that they have to label using the clues. Rewards can be given for quickest. Extension activity to find plurals in a dictionary. Enjoy!
A Bundle of our most popular KS3 Resource packs. Packs included: Die Grundlagen Meine Familie Die Ferien Das Haus
Are you are German NQT or are you getting a new class room next year? Here are my favourite displays and posters to decorate your new German teaching area!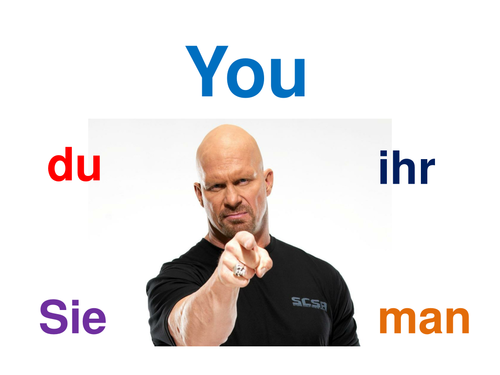 "Powerpoint" in which the different forms of you ("du" / "ihr" / "Sie" / "man") are revealed one step at a time. Students can be asked to speculate before each reveal.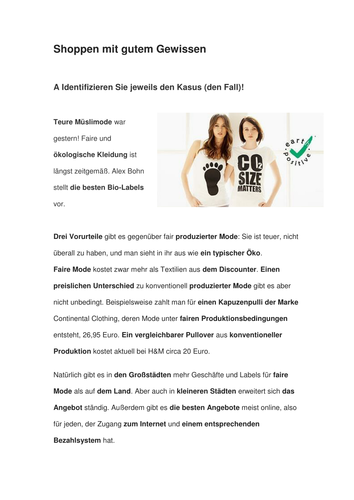 A text about Bio-Mode in which students must (i) analyse and explain the the case of a series of highlighted articles and nouns in the first part of the text and (ii) supply the correct article in the second part of the text. Solution also provided for part (ii)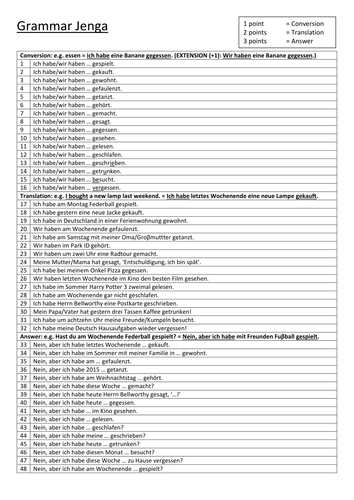 1. Purchase enough Mini-Jenga sets (Topple Tower) for each group of 4 in your class (= £1 each)! 2. Label each wooden block with a number (1-48?)! 3. Assign to each number a challenge: e.g. grammar (conversion [spielen = gespielt]/translation [spielen = to play]/answer [Hast du am Freitag Federball gespielt?]) e.g. vocabulary (conversion [spielen = das Spiel]/translation (Wir haben am Samstag das Spiel verloren! =We lost the game on Saturday!)/sentence [spielen = Ich spiele Samstags mit Freunden im Park Fussball!]) e.g. pronunciation (word [verlieren = /fe-lear-r£n])/sentence prominence/intonation) 4. Provide each student group with the challenge sheet and the answer sheet. 5. Ascribe points to Easy (1), hard (2) and harder (3) tasks and students tally their scores. 6. Play Jenga as per normal, but the winner is the one with the most points from the challenges. My thanks to Emilie Burguin for her inspiration!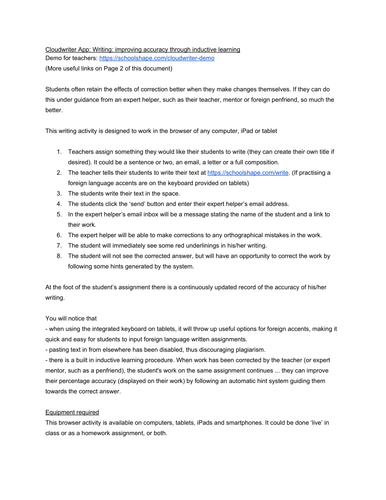 Students often retain the effects of correction better when they make changes themselves. If they can do this under guidance from an expert helper, such as their teacher, mentor or foreign penfriend, so much the better. This writing activity is designed to work in the browser of any computer, iPad or tablet Teachers assign something they would like their students to write (they can create their own title if desired). It could be a sentence or two, an email, a letter or a full composition. The teacher tells their students to write their text at https://schoolshape.com/write. (If practising a foreign language accents are on the keyboard provided on tablets) The students write their text in the space. The students click the 'send' button and enter their expert helper's email address. In the expert helper's email inbox will be a message stating the name of the student and a link to their work. The expert helper will be able to make corrections to any orthographical mistakes in the work. The student will immediately see some red underlinings in his/her writing. The student will not see the corrected answer, but will have an opportunity to correct the work by following some hints generated by the system. At the foot of the student's assignment there is a continuously updated record of the accuracy of his/her writing. You will notice that - when using the integrated keyboard on tablets, it will throw up useful options for foreign accents, making it quick and easy for students to input foreign language written assignments. - pasting text in from elsewhere has been disabled, thus discouraging plagiarism. - there is a built in inductive learning procedure. When work has been corrected by the teacher (or expert mentor, such as a penfriend), the student's work on the same assignment continues ... they can improve their percentage accuracy (displayed on their work) by following an automatic hint system guiding them towards the correct answer. Equipment required This browser activity is available on computers, tablets, iPads and smartphones. It could be done 'live' in class or as a homework assignment, or both.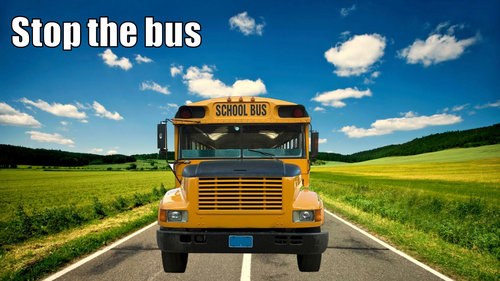 A game that can be used as a plenary or to identify key terms for a lesson. I often use 'fun' categories, followed by a couple more serious ones. I have included a tutorial of how to play and a blank sheet to print out. Students are required to think of words for each category and as soon as they have filled in all the categories in a horizontal line they need to shout 'stop the bus' everyone needs to put their pens down and they can score points by putting original words in. Teacher or student to pick the letter that the whole class use. Please see tutorial for more detail. Only trouble I have had is trying to score the class as a whole when they play individually. I often just use the person who has said stop the bus first.