Early years German resources: weather and climate
Keeping your class engaged with new and interesting classroom resources is vital in helping them reach their potential. With Tes Resources you'll never be short of teaching ideas. We have a range of tried and tested materials created by teachers for teachers, from early years through to A level.

Breathe new life into your lesson plans with our primary and secondary classroom resources. Whether you're looking for fun maths worksheets or brand new guided reading activities, we have thousands of free and premium resources for you to download. From early years to primary, you'll find phonics worksheets and numeracy games and all you need to revise for Sats. From secondary to post-16, we have everything from French lessons to algebra activities, as well as GCSE revision guides and more.
Read more
A Bundle of our most popular KS3 Resource packs. Packs included: Die Grundlagen Meine Familie Die Ferien Das Haus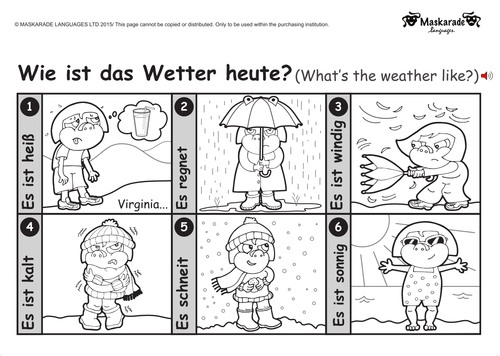 CLOTHES, WEATHER & HOLIDAY Printable activity worksheets to teach pupils Year 1 and 2 German about: • Clothes • What's the weather like? • Beach holidays Song • Es regnet, wenn es/ It rains when it wants to • Wenn du fröhlich bist,/ If you're happy and you know it • Alle meine Entchen schwimmen auf dem See/All my ducklings are swimming in the lake PDF Activity worksheets USABLE ON WHITEBOARD Includes: AUDIO CONTENT To access audio use Adobe Reader and double click on the sound icon. Also available in French, Spanish and English (EAL/ EFL). Cosmoville series.