Early years Korean resources: holidays, travel and tourism
Keeping your class engaged with new and interesting classroom resources is vital in helping them reach their potential. With Tes Resources you'll never be short of teaching ideas. We have a range of tried and tested materials created by teachers for teachers, from early years through to A level.

Breathe new life into your lesson plans with our primary and secondary classroom resources. Whether you're looking for fun maths worksheets or brand new guided reading activities, we have thousands of free and premium resources for you to download. From early years to primary, you'll find phonics worksheets and numeracy games and all you need to revise for Sats. From secondary to post-16, we have everything from French lessons to algebra activities, as well as GCSE revision guides and more.
Read more
Holidays, travel and tourism
5x travel and transport lessons/worksheets that use reading, writing, speaking and listening. Suitable for EFL and TEFL students.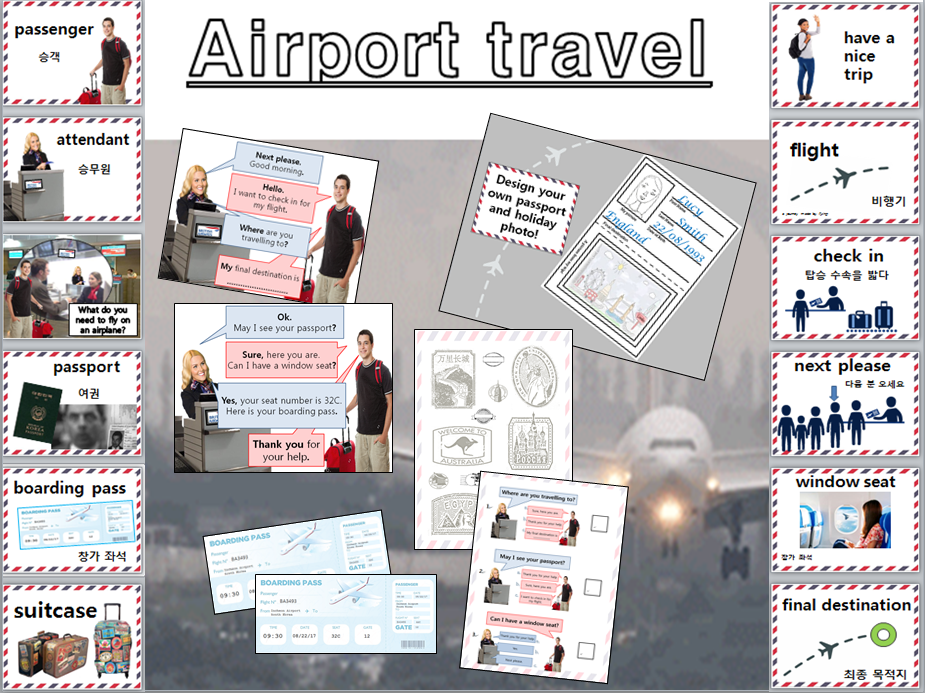 Suitable for EFL, TEFL and KS2 students. The powerpoint has Korean/English translations but can be adapted easily. The lesson focuses on the dialogue/role-play between a passenger and an attendant: *showing a passport, *asking for a window seat * receiving a boarding pass The worksheets include: *Vocabulary list and cutting/sticking/matching activity *Create your own passport and holiday photo *Short comprehension questions *Colour in the travel stamps
This was originally taught to Korean Middle School EFL students for a fun art and craft/cooking camp however it is written entirely in English. The aim of this summer camp is for the students to have fun and to learn about different countries and cultures around the world. Each day will focus on a different country and we will learn some facts, look at famous places, food and do an art and craft activity associated with the country. At the start of each day students will guess the country. When I reveal the flag they must copy it onto their 'passport' sheet. If students behave well or win a task they receive a sticker on their passport. The student with the most stickers at the end of the camp will win a prize. Day 1: Introduce the summer camp and different monuments and buildings around the world. Today focuses on lots of games and team building activities so that everyone gets to know each other.  Activity 1: Icebreaker Students are given a 'passport worksheet where they write their name, age, favorite food, favorite place in Korea and three places they would like to visit in the future. They should complete this quite quickly 5-10 minutes. When everyone has finished I pass the ball and when they catch it the student must say something about themselves and introduce themselves to the rest of the class.  Team game (1): Guess where it is from Students look at the famous buildings/monuments from around the world. In teams they must guess which country they think it is from. The team with the most correct will win travel stickers in their passport.  Team game (2): Build a tower In teams students have 30minutes to build a monument/tower using only dried spaghetti, peppero sticks and marshmallows. They have to work together as a team and at the end they can win points based on how tall, how wide and how unique their building is. The winning team gains stickers for their passport.  Lunch Students are given cooked sausage, cucumbers, crackers and cube cheese. Individually on their plate they have to cut slices and try to build the tallest tower. The person with the tallest 'tower' wins a sticker for their passport. They can then eat these and the snacks from earlier for lunch.  Team game (3): Jenga race In teams students take it in turns to race forwards and take a block out of the jenga tower. They must then run back to their team and try to build another structure. The team with the tallest structure at the end (whose original building hasn't fallen over!) are the winners and gain stickers for their passports.  Art and Crafts Using clay, students must make a small keyring or magnet in the shape of a famous building or monument from the lesson. Seoul Tower, Eiffel Tower, Pyramid, Big Ben etc.