45Uploads
27k+Views
3k+Downloads This is the mark criteria for AQA NEA1 Food Investigation Task. I give this out to pupils prior to completing the task.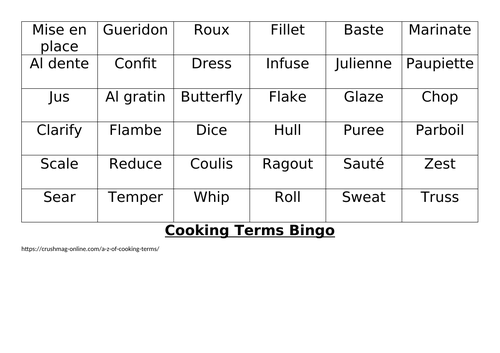 Bingo card. I used this with my hospitality and catering year 10 class, as a cover lesson. They watched an episode of Masterchef and were asked to mark their cards for every word or phrase they heard. Card includes cooking terms. Can be adapted for any topic or subject area.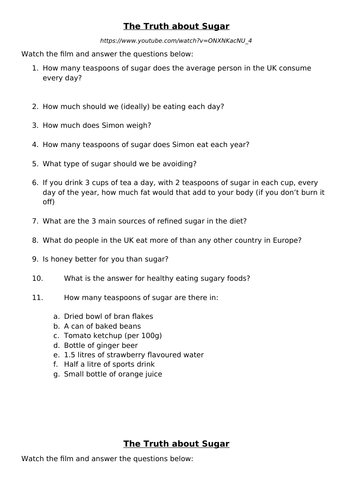 Great for a cover lesson. Questions and answers to go with the BBC documentary "The Truth about Sugar"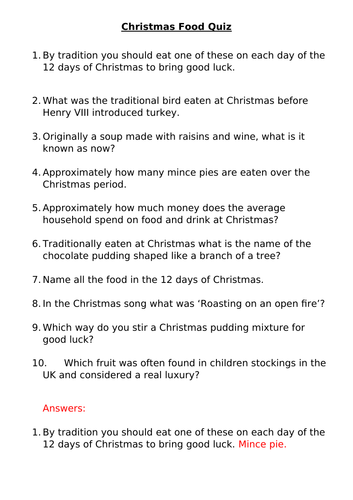 10 food related questions with a christmas theme. Can be printed off and given to pupils. Answers provided. Good for end of term activity or starter activity. Excel spreadsheet for NEA marks. Does all the calculations you need. You just need to add pupils names and target grades.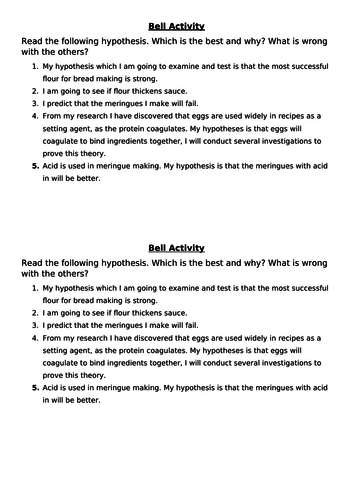 Quick task to get pupils to identify good and bad hypothesis before writing one for their NEA1 Food Investigation Task (AQA)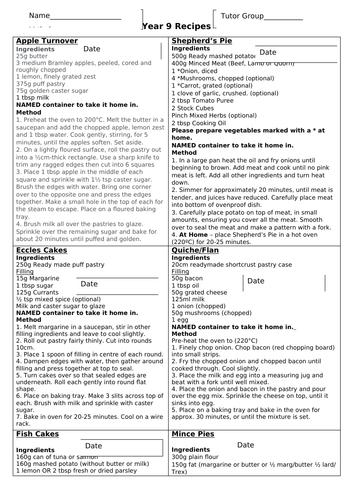 8 tried and tested recipes for year 9 pupils, includes ingredients and methods along with a space for the pupils to write the dates they will be cooking.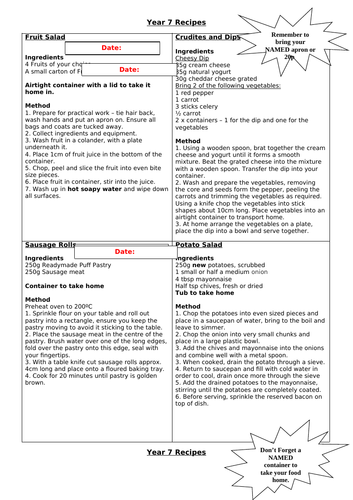 8 tried and tested recipes on a sheet to hand out to pupils, with list of ingredients required and methods. Also included is a space for the pupils to write the date they are cooking each recipe. I have also recipe sheets for other year groups, and a bundle with year 7-10.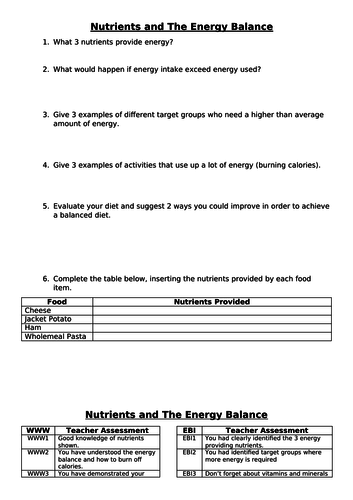 Short assessment (6 questions) or can be done as a written Q&A task in class. Includes a quick marking tool with WWW and EBI, Fix it and levels. Can be used for year 8 or 9 or as revision/recap for GCSE Food Preparation and Nutrition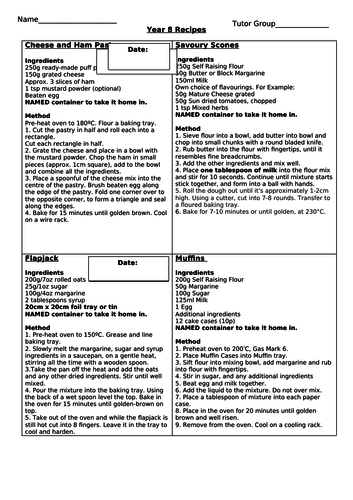 8 tried and tested recipes on a sheet to hand out to the pupils, with ingredient list and methods, also includes a space for the pupils to write the dates they are cooking. I use this recipe with year 10's. They make a batch in pairs and divide the mixture between 2 10cm tins. We use steamed sponge pudding tins, as they are small and don't require long in the oven. You can get Simpsons sponge tins from Morrisons, but historically we used Heinz (can't find them in the shops). The pupils then have half a lesson marzipaning the cakes, half a lesson flat icing and then just before Christmas we put on santa hats, listen to Christmas music and decorate them. We have a competition that the staff judge to choose the top 3 cakes. The kids love it, brings back some old Christmas traditions as well as teaching them finishing techniques.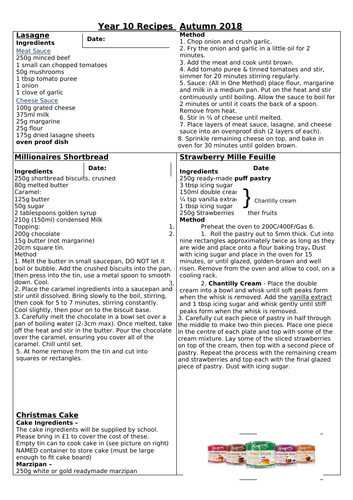 Recipes used with year 10 pupils in the autumn term. With one hour lessons I was looking for specific skills to develop, so some recipes use standard components (e.g. they have made pastry before so using a ready made pastry case for lemon meringue). Also includes a Christmas cake recipe that we make in small steamed sponge tins, I make a competition of it and it teaches them finishing techniques, the tradition of Christmas cakes and is also fun.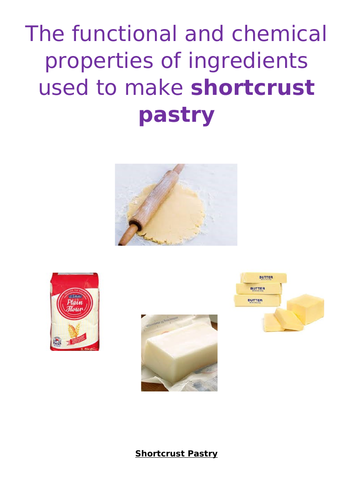 Information handout I have produced for my year 11 pupils to understand the functional and chemical properties of the ingredients used in shortcrust pastry to help them plan NEA1.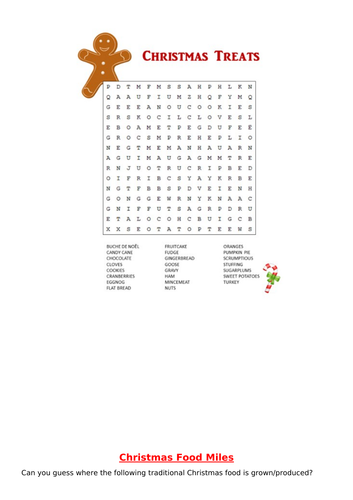 I use this activity with my year 7's. It requires them to research where all the ingredients for their Christmas lunch come from, and calculate the total food miles. It is a one hour lesson activity, and includes a wordsearch starter. A computer room will be required.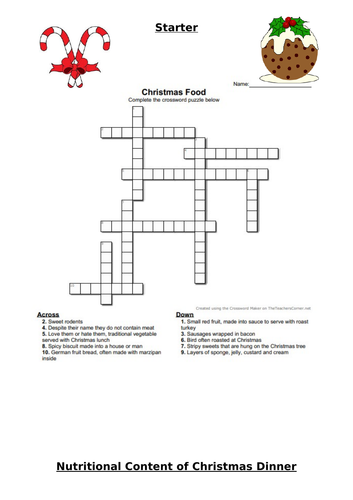 I do this lesson with my year 8's, as we have been working on nutrients. It will require a computer room and involves researching the calorie content of a range of Christmas lunch foods, and calculating the total amount of calories in their Christmas lunch. There is a crossword starter and an extension task, to work out how long it will take to burn these calories off. Should fill a one hour lesson nicely.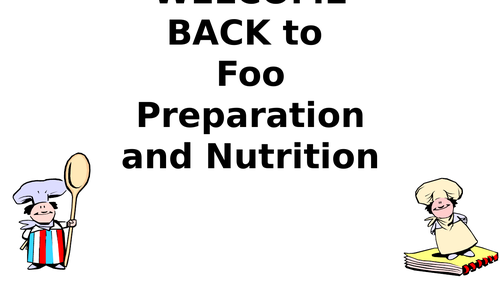 I have put this lesson together to introduce the new requirements of Food Preparation and Nutrition AQA assessment for 2021. There is a starter that recap their knowledge and I have allowed time for questions, as I am sure there will be many.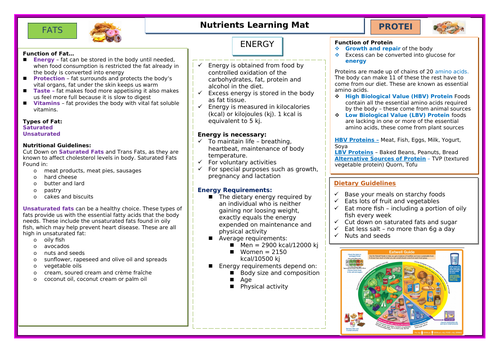 Easy reference for pupils to look at with summary of macro and micro nutrients. Can be edited. I laminate mine on A3 and leave on the desks.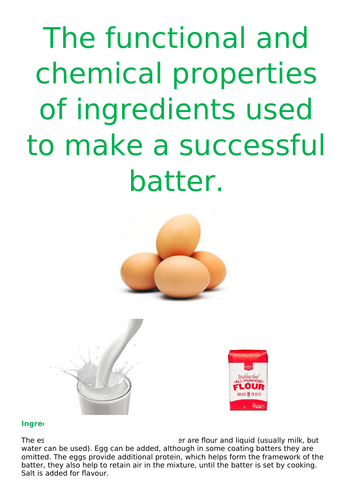 Information to help year 11 students with their research for NEA1 on the Functional and Chemical Properties of batters.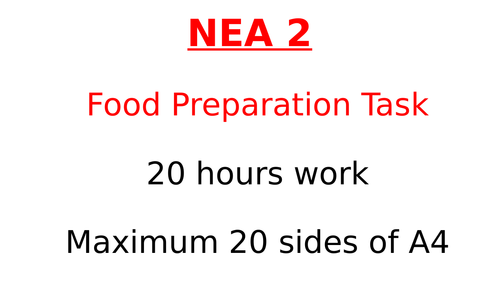 This is a power point I have put together to introduce to the year 11's to the NEA Food Preparation task. I have included guidance to help the students choose the right theme for them.