LinkyThinks Resources
LinkyThinks creates fun, playful and beautifully designed resources for both classrooms and home learning.
29Uploads
15k+Views
3k+Downloads
LinkyThinks creates fun, playful and beautifully designed resources for both classrooms and home learning. Slow Writing has gained popularity in recent years for it's simplicity in creating balance and variation in children's writing. This resource gives a clear and simple introduction to the concept and provides playful flashcards to use at home or in the classroom. These adaptable tools can be used in a range of ways, according to the chosen style of teaching. All of the mini comprehensions available on LinkyThinks' Comprehending Comprehension, complete with in-depth answer sheets. Now available as a bundle, at a lower cost than purchasing them individually.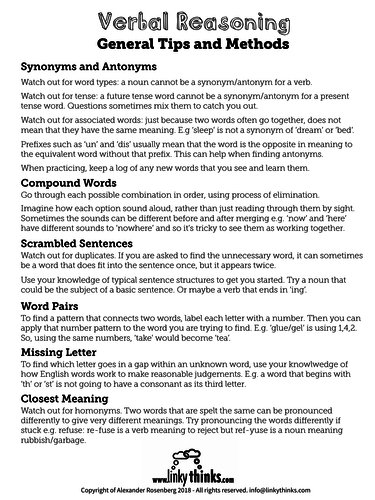 When it comes to verbal reasoning, it can seem like you're either good at it, or you're not. But big improvements can be made with an understanding of how these tests work and applying a confident method. Here is a simple guide to help you on your way.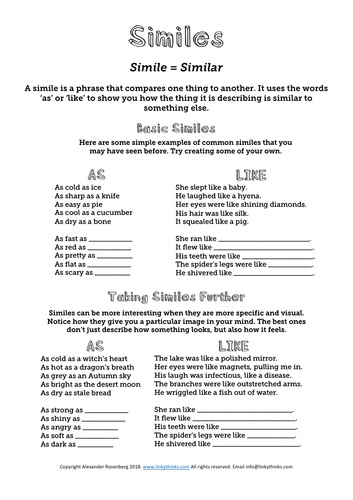 A gentle introductory worksheet to strengthen confidence with forming similes. In two main steps, it shows how to create basic and more advanced similes, using 'as' and 'like.' From the highly acclaimed Comprehending Comprehension resource, here is an excerpt that is possibly one of the most important and often tricky aspects of reading comprehension: inference. Here, it's taught as taking the role of a detective, finding clues and figuring out hidden meanings. For those who want to use Comprehending Comprehension selectively, here is a great chapter to focus on. Mind Maps are often used without any structure or logic. It may be a nice way to play with ideas in a more visual way than a list, but with some method behind it, a mind map can be a very effective tool for planning or pre-planning. This layout works in stages, to help students (and adults!) organise their thoughts into topics, themes and descriptive qualities. This is the perfect introductory method for early creative writing planning. There are two differentiated examples included, with titles, 'The Pet Shop' and 'The Haunted House.' The Story Mountain is a simple template for basic narratives, popular when giving children a sense of how a story arc can be structured into beginnings, middles and endings. This beautifully illustrated version is vibrant and approachable, incorporating more detail and explanation into the format. For English practice in a hurry, here's a bundle of single-page worksheets, with original mini-texts for comprehension, verbal reasoning practice and a range of SPAG activities. Each one comes with its own answer sheet with guides and explanations, for ease in marking. These make great homework activities in small chunks, or easy filler activities in lesson time. Comprehension questions cover both written-form and multiple choice questions. Now available all in one bundle, for a cheaper price than paying individually. Comprehending Comprehension is a highly successful book, bringing a playful concept to reading comprehension. Dispensing with abstract terms such as 'inference', 'retrieval' and 'deduction', the resource conveys the idea that each question type sets the student a 'job. From here, children learn the demands of each question type and how to structure each one appropriately. With illustrated cartoon characters, mini-texts, practice questions and a marking activity called 'get inside the examiner's mind', practice, experience and self-awareness are consolidated. "Comprehending Comprehension is a superb product. Through a highly creative and engaging format, which all students can relate to, its exciting content and visually stimulating presentation is encouraging and, at times, really amusing – a must for learning! Alexander is a highly successful tutor and has gained the respect of his many tutees, their families and his teaching colleagues alike. We are delighted to be supporting his fresh approach to comprehension." Lorrae Jaderberg and Katie Krais, Joint Managing Directors, JK Educate *"…It made English fun and interesting for my daughter, Ella. She jumped from the middle to the top group in her class and her 11+ results were fantastic! She has been offered places from her top three school choices and two of them were academic scholarships! We loved watching our daughter progress and were very grateful for such a refreshing approach…" * Melissa Stephens, Ella's mum For those who want the written guides and practice, separated out into chapters, rather than the full E-book, here it is. Each question type is explained with its corresponding cartoon character, mini-text and practice questions. This includes the self-marking 'Examiner's Mind' activities for each section. All of the LinkyThinks creative writing tools and exercises in one place. Enough activities, worksheets and ideas to sustain a whole bunch of writing lessons, keeping them fresh and fun in the process. 'Show, Don't Tell' is the best way to encourage more descriptive, emotive writing that engages the reader in emotions. Here is a lovely, simple, illustrated guide to introduce the concept.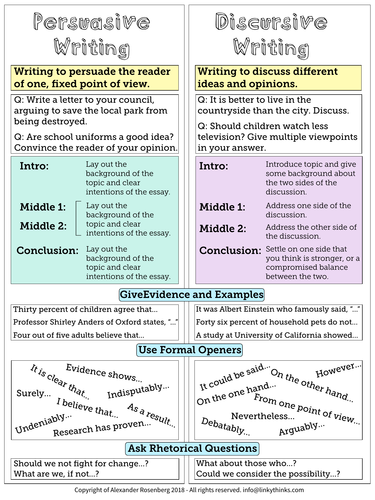 What is the difference between persuasive writing and discursive writing? What are they for? How are they structured differently? What kinds of language should be used in each? Here is a handy guide to both, comparing their different features, with a bunch of stylish openers to get you into the appropriate writing styles. Using a playful poem, here is another set of gentle extension questions for retrieval. Using a mini text, this is a perfect homework task, complete with a thorough answer sheet for marking. One of the hardest aspects of comprehension is the analysis of literary devices and literary effects. This mini comprehension tests those skills to a high level, using a poetic text about an ancient tree. The task comes complete with a thorough marking sheet, to demonstrate where points can be gained from well-structured answers. After learning the basics of inference, here is a passage which uses a written letter, with a range of inferential questions to consolidate the concept of 'detective' work in comprehension. Comes complete with a thorough answer sheet, explaining where marks can be gained. After learning the basics of inference, here is a lovely text about two woodland creatures, with a range of inferential questions to consolidate the concept of 'detective' work in comprehension. Comes complete with a thorough answer sheet, explaining where marks can be gained. A mini text, with a bunch of retrieval questions and a comprehensive marking sheet. A great test of the basics of reading comprehension, using a playful passage about a heroic pigeon. A common comprehension question involves expressing information from the text 'in your own words.' This mini comprehension tests those skills in a variety of ways. It includes a rigorous marking sheet to demonstrate where answers can gain highest marks for rewording and eloquence. Understanding and recognising metaphors is one thing. Designing your own is another. Until you have a working knowledge of how metaphors function, they can often obscure a literary image, rather than paint a vivid picture for the reader. These worksheets introduce students into effective metaphors and break down their effects. Then, they show you how they can be made and how you can do the same. There is also an extra worksheet on the ways metaphors can become messy or confusing if not used carefully. In four simple steps, these worksheets will give you and your students the confidence and experience to use beautiful figurative phrases with ease.