LinkyThinks Resources
LinkyThinks creates fun, playful and beautifully designed resources for both classrooms and home learning.
39Uploads
982Views
164Downloads
LinkyThinks creates fun, playful and beautifully designed resources for both classrooms and home learning. All of the LinkyThinks word wheels in one place. Cheaper than purchasing them individually, here you can download them all in one go and turn them into a lovely little booklet. Just print, cut along the dotted lines and staple them together at the folding flap. The perfect place to store all of your most impressive words and phrases. The Story Mountain is a simple template for basic narratives, popular when giving children a sense of how a story arc can be structured into beginnings, middles and endings. This beautifully illustrated version is vibrant and approachable, incorporating more detail and explanation into the format. A really easy 'life-hack' for mature writing, is to think about rhythm. By simply varying the lengths of each sentence, being mindful of how each differs from the last, a piece of writing will go from stale to stylish. This resource contains a simple demonstration of the concept, with a fun, cutting-and-sticking activity to go with it. This allows for some top-standard modeling before students apply the concept to their own work. How best to start a sentence? How to welcome your reader into a paragraph without using 'I', 'then', 'so' or starting with the subject of the sentence? This neat word wheel provides multiple options for each, allowing you to vary your openers and keep each sentence feeling fresh and balanced. Perfect for both primary and secondary levels, in enhancing the quality of creative writing.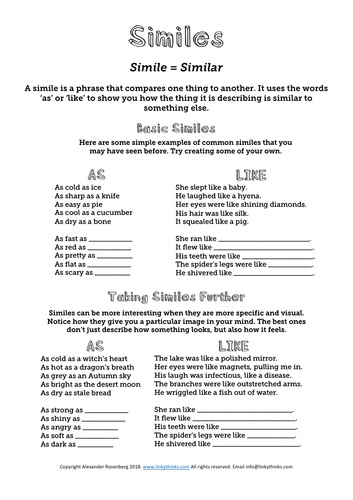 A gentle introductory worksheet to strengthen confidence with forming similes. In two main steps, it shows how to create basic and more advanced similes, using 'as' and 'like.'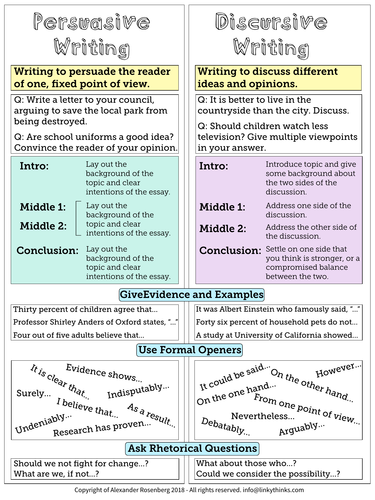 What is the difference between persuasive writing and discursive writing? What are they for? How are they structured differently? What kinds of language should be used in each? Here is a handy guide to both, comparing their different features, with a bunch of stylish openers to get you into the appropriate writing styles. A colour is often such a simple (and sometimes boring) choice for description. So if you are going to describe colour, it should be specific, vivid and interesting. Many children lack the vocabulary to describe specific colours, so opt for simple 'blue', 'red', 'green' etc. This beautifully colour-coded word wheel not only provides more options, but shows the different hues available. As children learn to describe the world around them, they need the tools to express what they see, hear, touch, smell and taste. This is a great step in developing their writing. Use this word wheel to broaden their sensory vocabulary and describe the experience of the world around them in their writing. Tired of reading the same, dull verbs from your students? The key to using verbs effectively is specificity. It brings action and drama to their writing and allows them to convey mood and tone in subtle ways. Why 'walk' when you can 'amble', 'waddle', 'stroll', 'scurry' or 'swagger'? Use this word wheel to equip your students with options and they will never look back to boring, non-specific verbs. The perfect accompaniment to your 'Show, Don't Tell' activities, this word wheel not only gives a range of emotive behaviours and actions, but models the placement of them in effective sentences and phrases. Never read, 'I was sad' again, with a plethora of empathic, beautiful emotions at your students' fingertips. The perfect tool for enhancing and expanding ways of opening sentences and paragraphs. A bunch of ambitious alternatives to starting a sentence with 'I', 'Then', 'But' or other tired habits. For 'mag-pieing' ideas and trying on more advanced options for size, these word wheels are a life-hack for more inviting, mature creative writing.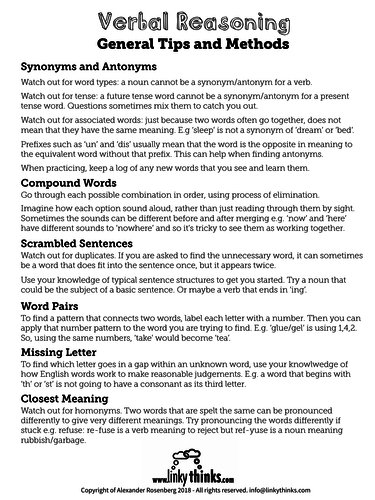 When it comes to verbal reasoning, it can seem like you're either good at it, or you're not. But big improvements can be made with an understanding of how these tests work and applying a confident method. Here is a simple guide to help you on your way. A four-step logging system for collecting, defining, learning and remembering new vocabulary. Using the 'Walk the Dog, Stroke the Cat' system (word, definition, synonym, context), this word wheel can be printed out multiple times to create a lovely, circular vocabulary booklet. All of the LinkyThinks creative writing tools and exercises in one place. Enough activities, worksheets and ideas to sustain a whole bunch of writing lessons, keeping them fresh and fun in the process. 'Show, Don't Tell' is the best way to encourage more descriptive, emotive writing that engages the reader in emotions. Here is a lovely, simple, illustrated guide to introduce the concept. For English practice in a hurry, here's a bundle of single-page worksheets, with original mini-texts for comprehension, verbal reasoning practice and a range of SPAG activities. Each one comes with its own answer sheet with guides and explanations, for ease in marking. These make great homework activities in small chunks, or easy filler activities in lesson time. Comprehension questions cover both written-form and multiple choice questions. Now available all in one bundle, for a cheaper price than paying individually. How best to learn/teach the correct uses of colons and semi-colons? Possibly the most confused and misused punctuation of all! Here's how: the LinkyThinks videos and worksheet guides. They use emoji faces to give a simple, funny explanation of where these pesky punctuation parks should go. The winking eyes represent the semi-colon and give a clue to their job. The staring eyes represent colons and tell you what they are looking out for. Use these videos as classroom presentation tools or fun, playful revision at home. Slow Writing has gained popularity in recent years for it's simplicity in creating balance and variation in children's writing. This resource gives a clear and simple introduction to the concept and provides playful flashcards to use at home or in the classroom. These adaptable tools can be used in a range of ways, according to the chosen style of teaching. From the highly acclaimed Comprehending Comprehension resource, here is an excerpt that is possibly one of the most important and often tricky aspects of reading comprehension: inference. Here, it's taught as taking the role of a detective, finding clues and figuring out hidden meanings. For those who want to use Comprehending Comprehension selectively, here is a great chapter to focus on. Using a playful poem, here is another set of gentle extension questions for retrieval. Using a mini text, this is a perfect homework task, complete with a thorough answer sheet for marking.