80Uploads
29k+Views
9k+Downloads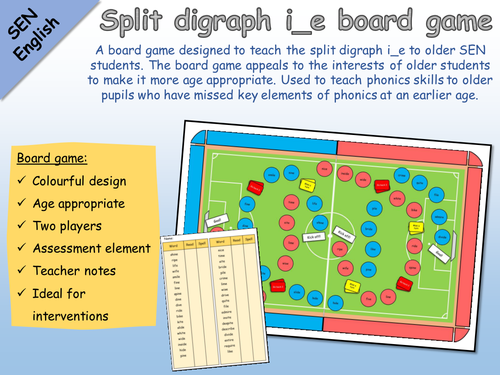 A board game designed to teach the split digraph e_e to older SEN students. The board game appeals to the interests of older students to make it more age appropriate. Used to teach phonics skills to older pupils who have missed key elements of phonics at an earlier age. Board game: Colourful design Age appropriate Two players Assessment element Teacher notes Ideal for interventions

Whole lesson / Revision - Geography - AQA Geography A - Water on the Land Long and cross profiles, erosion, transportation and deposition. A revision lesson looking at - key idea: the shape of river valleys changes as rivers flow downstream due to the dominance of different processes. Several activities which result in written work or annotated diagrams - perfect for revision! Key points, diagrams and animations help explain / revisit learning. Whole lesson: Snappy starter > Key points explained > Animated diagrams > Transportation poster > Literacy activity > Diagrams > Teacher notes / lesson plan > Fully resourced and ready to go! All of our premium resources have received a 5/5* review as of 25th January 2017! www.acornteachingresources.com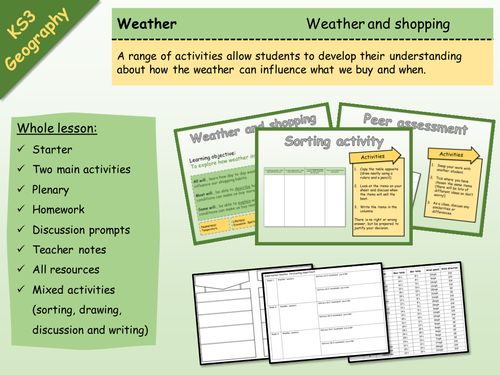 A range of activities allow students to develop their understanding about how the weather can influence what we buy and when. Whole lesson: Starter Two main activities Plenary Homework Discussion prompts Teacher notes All resources Mixed activities (sorting, drawing, discussion and writing)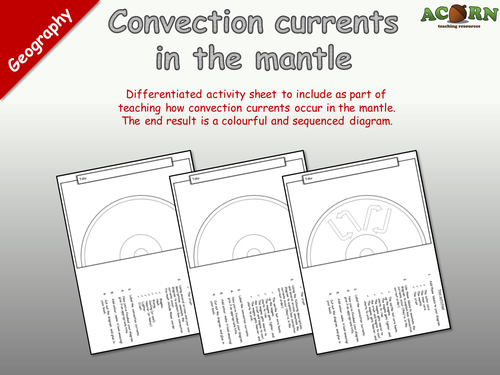 "Differentiated activity sheet to include as part of teaching how convection currents occur in the mantle. The end result is a colourful and sequenced diagram." An activity requiring students to draw an annotated diagram to show how and why convection currents occur in the mantel. The sheet has several activities built around this including; labeling the key features, adding arrows, explaining the processes, including a title and colouring it in. There are three versions to suit higher, middle and lower ability groups / students.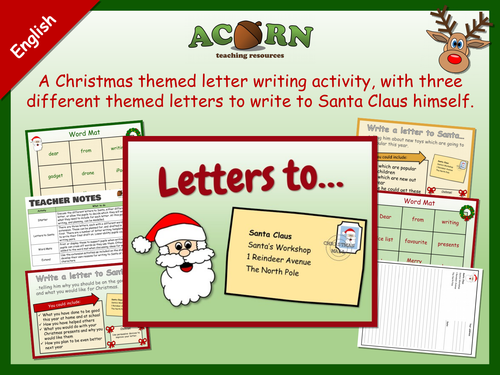 Letters to Santa - English lesson - Christmas writing activities A Christmas themed letter writing activity, with three different themed letters to write to Santa Claus himself. There are three letters, each with a different word mat and extension. There are a number of letter writing templates for the pupils to write their final draft on. Fully resourced, visually attractive and ready to teach. Ideal for fun end of term lessons / teach key skills from the curriculum.

A whole Christmas themed lesson where pupils can practise their persuasive writing skills by applying for jobs at the North Pole. Great end of term literacy activity for a range of ages and abilities. Fully resourced and ready to teach with a range of visually attractive resources. Includes teacher notes and lesson plan.

- 11 Christmas themed newspaper templates with headlines and planning sheets - Includes a blank templates for students to create their own - Perfect for end of year Festive fun - Create a literacy link to any Christmas topic - Great display work

A range of activities with the aim of teaching students about the Saffir-Simpson hurricane wind scale. Visually attractive, differentiated and fully resourced for a range of abilities. Whole lesson: snappy starter, varied activities, key points, class discussion, assessment opportunities, a homework task and lesson evaluation. All resources included, along with lesson plan and teacher notes. This lesson has planned activities which show the teacher and the students their progress throughout.

- 3 Easter themed acrostic poems to use as examples / teaching elements. - 5 Easter themed poem templates (also in black & white) for students to write their work up on (great for display). Intended to be used as elements within, or as a full lesson.

Three labelled PPT diagrams to include in a lesson, to help when teaching... - Cliffs and wave cut platforms - Caves, arches, stacks and stumps - Headlands and bays Three worksheets to help students learn or demonstrate understanding. The worksheets have several tasks to help the students complete the diagram and link it to the processes of erosion. As of the 20th January, every single review we've had for a premium resource has been 5/5*

Types of rainfall (animations and activity sheets) These are lesson elements intended to be used in the teaching of weather/climate and types of rainfall. - Three colourful animations to introduce / teach convectional, frontal and relief rainfall. - Three activity sheets with diagrams / written work. - Three outline activity sheets which can be used with higher ability students, or to assess. All reviews for our premium resources have been 5/5 (As of February 20th 2017)

Ideal for KS3 and KS4. Could be used to teach or consolidate. Six tiles are jumbled up on the sheet - the students need to cut these out and arrange them in the correct sequence. The next task is to write a description underneath each tile - there is a word-box to help the students explain each stage. Prior knowledge / understanding will be needed to complete. Could be used as a mystery – see if students can work out why the oxbow lake formed before you explain. Two version are included; one in colour and one in outline black & white. Every review we've had for a premium resource has been 5/5* (As of February 21st 2017)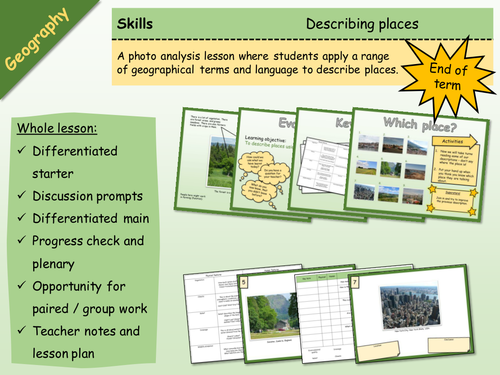 A big lesson with lots of opportunity for differentiation and engagement, as well as paired or group work. Basically, students learn how to describe places, and then apply this skill. It would work well as a skills building lesson in KS3, or as an end of term type lesson with either KS3 or KS4. There are differentiated resources for lower and higher, and a number of ways in which the activities could be undertaken (which are in the lesson plan). There are teacher notes and a lesson plan. The activities are clear, and there are Superstar extension activities. --- The main aim is… This is a big lesson which could be used as an end of term activity, or as a skills building lesson. Students either learn or develop their geographical terminology and then apply / demonstrate using photos of actual places. Key ideas and content… We can describe places using geographical language. It is more effective to use the correct key terms and descriptive language. To differentiate… Pass the sheets round on a timer, with the challenge of either adding more key terms or improving existing ones. Stick the sheets on the wall around the room, give each student a different key term to look for. Students go round the room. Insist on certain terms being applied. To extend… Insist on a description of features which aren't necessarily visible. Students find their own photos and analyse them. Peer assessment. There are some tricky terms in the key terms activity, use to stretch students. To assess… Discussion points. The work produced. Peer assessment opportunity.

Another theme from our Senses Poem lessons. Fully resourced and ready to go! Our Autumn Senses poem was featured by the TES in their blog and received a 5* review. All reviews for our paid products have been 5/5 (As of February 22nd 2017). A whole lesson to support students in planning and composing their own Spring senses poem. Differentiated resources and a range of activities to support all learners. This is a large lesson and could be taught over several sessions. The end result can be used for display work. Whole lesson: Starter including example poem Differentiated writing frames Shared writing activity Peer feedback opportunity Teacher notes / lesson plan Poetic devices explainers / practise Photo stimuli Display frames Created by Acorn Teaching Resources - www.acornteachingresources.com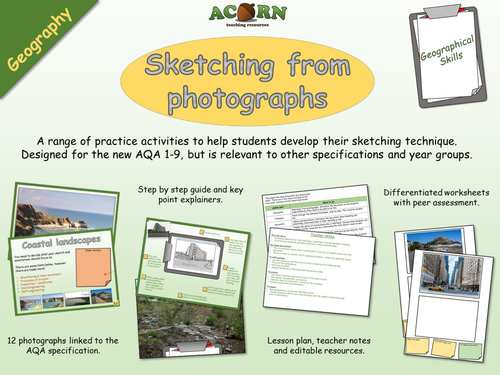 A range of practice activities to help students develop their sketching technique. Designed for the new AQA 1-9, but is relevant to other specifications and year groups. The lesson would be particularly useful to a GCSE group before they do their fieldwork, and will also be suitable for a KS3 class. There are also detailed 'key points' so students understand why they need to know how to sketch, and what technique makes it effective. On top of the field sketching there is a focus on application of key terms. The lesson has a range of visual resources, all relevant to the new 1-9 GCSE. A free wallchart is available to download at https://www.tes.com/teaching-resource/geography-geographical-skills-sketching-wall-display-11486949 The main aim is… To develop and practice field sketching / sketching from photographs technique. To effectively annotate and label sketches to show understanding. Key ideas and content… This is a practical lesson which would benefit from lots of student interaction and discussion. There are links to content, but it would work without – solely as a sketching lesson. To differentiate… Use the resources with the picture above a blank box for weaker groups. Focus on the same photos. Print the checklist. Display the photos on the board and discuss as a class. To extend… This lesson could be used several times in the same format. The teacher can add their own photos. Take the class on a local visit to practice the technique. Provide word banks for annotations. To assess… Peer assessment is woven into the main activity. Teacher should be able to see visual progress with the quality of sketching and level of annotations. All reviews for our premium resources have been 5/5 (as of 17th January 2017) www.acornteachingresources.com

Sequencing activity: River landforms - waterfalls This is suited to KS3 but does work with KS4 - you'll need to add more detail (processes of erosion etc.). There are four slides to help the teacher explain the processes involved and introduce the keywords. The activity sheet requires students to complete three activities. 1. Cut out and arrange the tiles. 2. Add the labels from the sheet. 3. Add the descriptions from the sheet. There is also an animated consolidation slide to allow teacher/students to check accuracy. For higher ability - ask the students to underline the key terms, add more key terms and write their own descriptions. Two version of the sheet are included; one in colour and one in outline black & white. Every review we've received for a premium resource has been 5/5* (As of February 20th 2017)

Two activity sheets intended to be used as part of a lesson. The theme of the lesson should be along the lines of 'Life in a squatter settlement', and could be taught with KS3 or KS4 students. Resource 1: the effects on peoples lives The main aim is for students to appreciate how the conditions / characteristics of a squatter settlement affect people's lives. The task is for students to complete the sheet in a few different ways. There are nine problems / effects associated with living in a squatter settlement. For each effect, they must list the associated problems, and for several, also draw the problem. Ask the students the question – how would this affect your life if you lived there? There will be some repetition. There are three blank cards as well, these are intended for higher ability students, or for the teacher to edit so as to include a problem which may be appropriate to the theme of their teaching. Higher ability students can cut the cards out afterwards and glue them in their exercise books – this is an opportunity to identify links between the problems. There are several, and the whole activity is very open ended. Students could also sort their ideas into social, political and economic – they could use three different colours and a key to show this. There are some answers on the next sheet, although there are many more. Resource 2: the informal economy of a squatter settlement The main aim is for students to appreciate how people can earn money within a squatter settlement. The focus should be on how the work is informal and doesn't contribute to the tax base / official figures. This kind of work can be contained within a squatter settlement, but not necessarily so. This is an opportunity to draw a strong link to rural-urban migration; how the residents are often uneducated and unskilled, but wanting and needing to work. The task is simple, for each form of employment, the student must draw an appropriate illustration. Model for lower ability, ask higher ability to include speech bubbles, or some form of written communication. Use as an opportunity to clear up any misunderstanding about what each term means. All reviews for our paid resources have been 5/5* (as of March 19th 2017)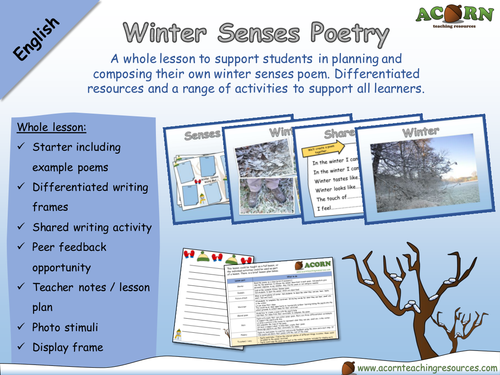 Another theme from our Senses Poem lessons. Fully resourced and ready to go! Our Autumn Senses poem was featured by TES in their blog and received a 5* review. All reviews for our paid products have been 5/5 (As of January 27th 2017). A whole lesson to support students in planning and composing their own winter senses poem. Differentiated resources and a range of activities to support all learners. Whole lesson: Starter including example poems Differentiated writing frames Shared writing activity Peer feedback opportunity Teacher notes / lesson plan Photo stimuli Display frame Created by Acorn Teaching Resources - www.acornteachingresources.com

A whole lesson intended to teach students the processes within, and the stages of, the water cycle. Includes varied activities, differentiated worksheets and animated diagrams. Lesson plan, teacher notes and a homework also included. The main aim is… To understand the processes of the water cycle To understand where and why these processes are taking place To understand the sequence / stages of the water cycle Key ideas and content… Evaporation, transpiration, condensation, precipitation, surface run-off The water cycle is continuous To differentiate… See lesson plan / use the varied worksheets Get the students up in groups to talk through the water cycle using the PowerPoint animation – before moving on to the diagram activities Students can act (see lesson plan – alternative activities) To extend… Set the summary activity as homework / or the research activity for higher ability groups To assess… Students could act out the stages – choose at random for higher ability. Use the summary activity as a piece of work to assess understanding. Every review we've received for a premium resource has been 5/5* (As of February 20th 2017)

An introduction to the subject – whole lesson. There are a range of activities which will show progress and develop vocabulary throughout the lesson. The main aim is… An introduction to the subject of geography. To appreciate there are lots of topics within geography. Key ideas and content… Place is the main theme, and ties the subject together. We study both the natural and the man made. There are links and connections between the different topic areas. To differentiate… See lesson plan – red for lower and green for higher. The acrostics could be used instead of the literacy activity. Students could add to the word box as a pair or table. To extend… See lesson plan. Students could research other topic areas and create their own activity. This is intended as an introductory lesson – other activities could easily be included to further develop understanding. To assess… Use the literacy activity. www.acornteachingresource.com All reviews for our premium resources have been 5/5* (as of 3rd March 2017)