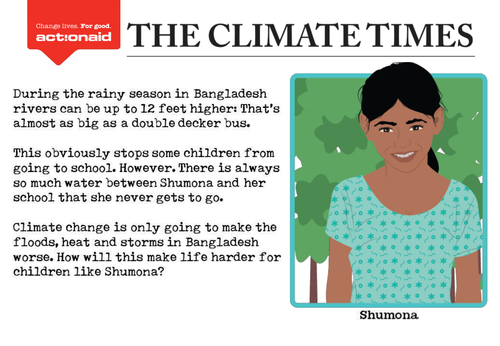 Part of our suite of resources on floods and climate change in Bangladesh "Living in a world of water" Get the news-hounds in your classroom to sniff out a scoop. How could climate change stop more children like Shumona from going to school? Using an interactive presentation, pupils research a story and then write their own article. You can access more related resources here: http://po.st/BGDFloods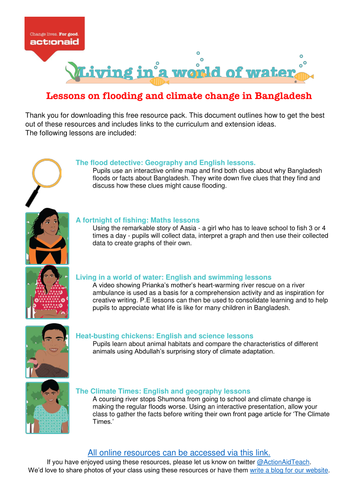 Part of our suite of resources on floods and climate change in Bangladesh "Living in a world of water". Your pupils follow Aasia's story via an interactive map whilst collecting data. After interpreting a graph, they then represent their data on a graph of their own. You can access this interactive map and other resources here: http://po.st/BGDFloods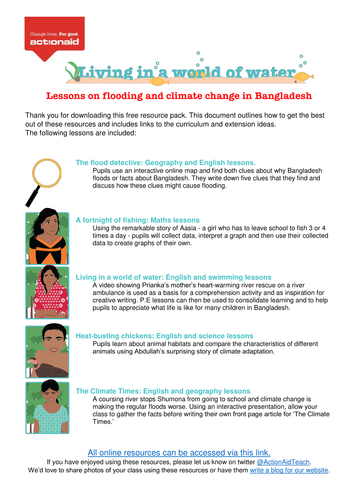 Part of our suite of resources on floods and climate change in Bangladesh "Living in a world of water". Pupils watch Prianka's remarkable story of river rescue whilst completing a comprehension worksheet. After, pupils write their own story: What would it be like if my home-town became a 'world of water'? In the teacher's resource there is included a follow-up swimming lesson too! You can watch Prianka's video and access other resources here: http://po.st/BGDFloods
Explore Brazil: the largest country in South America with our bank of curriculum-linked resources. Meet the people of Rio, discover the role of the Amazon rainforest in our climate, and explore the complexities of deforestation. Packed with factsheets, stunning photopacks and a variety of activities. Go to www.actionaid.org.uk/school-resources to sign up to receive our monthly schools resources email
Find out what life is like for eight-year-old twins Samir and Samira, growing up in one of the country's most dangerous favelas. Follow the twins as they share a day in their lives with supporting activities which encourage pupils to explore the similarities and differences between growing up in Maré favela, Brazil and in the UK. Go to www.actionaid.org.uk/school-resources to sign up for our monthly schools resources email
Four stories with great photos of women from around the world who have fought against violence and inequality to lead their communities. Go to www.actionaid.org.uk/school-resources to sign up for our monthly schools resources email
Our Key Stage 2-4 PowerPoint and infographics poster will help pupils to understand how taking away a person's rights impacts on their life and on their community. The resources explore how statistics relate to the real world, using the stories of women and men who are working towards gender equality around the world. Go to www.actionaid.org.uk/school-resources to sign up for our monthly schools resources email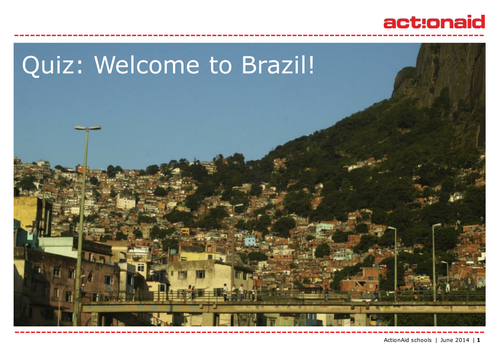 Do your pupils know their olás from their tchaus? How much do they think the World Cup has cost to host? All will be revealed in our fun PowerPoint quiz designed to introduce pupils to the country of Brazil. Go to www.actionaid.org.uk/school-resources to sign up for our monthly schools resources email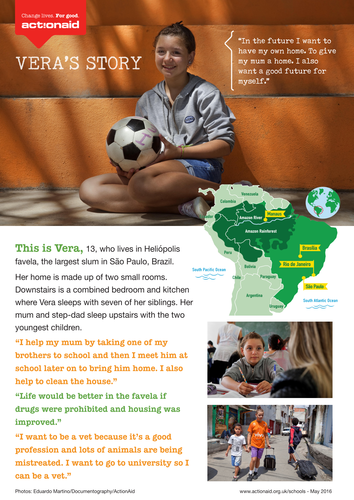 Meet Vera, 13, who lives in a slum in Rio de Janiero, Brazil. Find out what Vera's day-to-day life is like and what she thinks of the World Cup being hosted by her country. This KS2-5 case study class handout/poster introduces Vera and her family, tells her story in her own words and gives a selection of facts about Brazil. The PDF has been designed to be printed as an A2 class poster, but can be printed as A4 handouts. Go to www.actionaid.org.uk/school-resources to sign up for our monthly schools resources email
As the number of people fleeing Syria to escape the civil war reaches two million, this teaching resource encourages pupils to compare and contrast their lives with that of Israa, a 13-year-old Syrian refugee, living with her family in Zaatari Refugee Camp, northern Jordan. Pupils will find out what life was like for Israa before and after the civil war started and try to put themselves in her shoes by writing a newspaper article of blog post about her story. Suggested for KS2 Citizenship and English lessons. Also available to download is a classroom poster of Israa's story, in her own words. Go to www.actionaid.org.uk/school-resources to sign up for our monthly schools resources email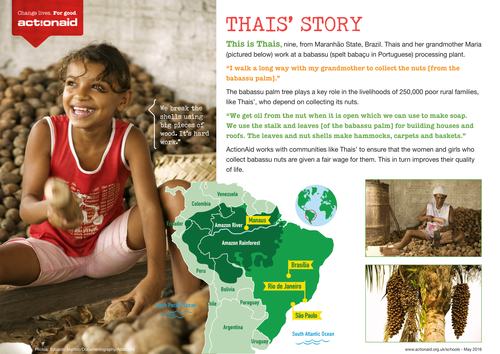 Meet Thais who lives in Brazil. This KS2-5 case study class handout/poster introduces Thais, tells her story in her own words and gives a selection of facts about Brazil. The PDF has been designed to be printed as an A2 class poster, but can be printed as A4 handouts. Go to www.actionaid.org.uk/school-resources to sign up for our monthly schools resources email
Explore Brazil with our flexible bank of curriculum-linked resources. Packed with colourful factsheets, stunning photopacks and a variety of activities. Go to www.actionaid.org.uk/school-resources to sign up to receive our monthly schools resources email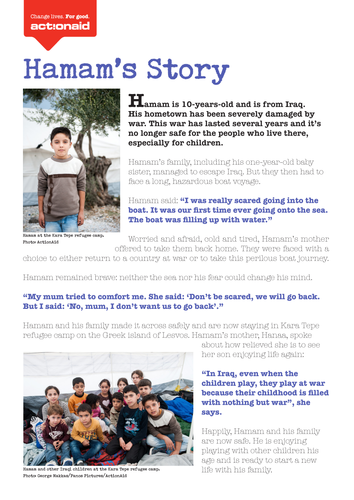 Liven up your literacy lessons with gripping stories and colourful activities that show what life is like for many child refugees. Use these resources to build literacy and empathy, and to help your class to answer questions such as: How is life different for child refugees? And, if you were a refugee, what would you take with you? To view our other resources on a variety of topics, please visit: https://www.actionaid.org.uk/school-resources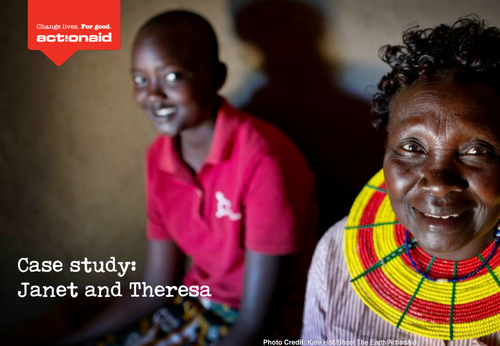 Female genital mutilation is often shrouded in secrecy and may feel like a difficult and sensitive topic to tackle in the classroom. These resources focus on dispelling myths around female genital mutilation and on the powerful stories of girls, women and men who have been affected by this practise and are working to eradicate it. Go to www.actionaid.org.uk/school-resources to sign up for our monthly schools resources email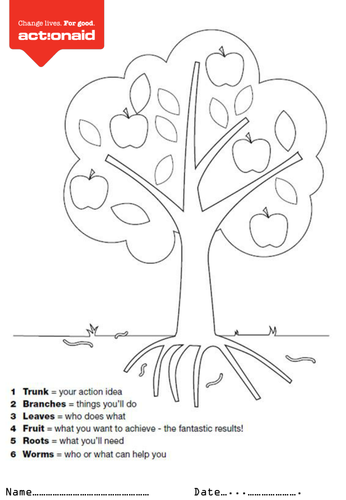 Did you know, bananas are the world's most popular fruit? This Fairtrade Fortnight find out how supermarket pricing is trapping banana growers and their families in a cycle of poverty before pupils complete an action tree to encourage friends and family to eat more Fairtrade bananas. Go to www.actionaid.org.uk/school-resources to sign up for our monthly schools resources email.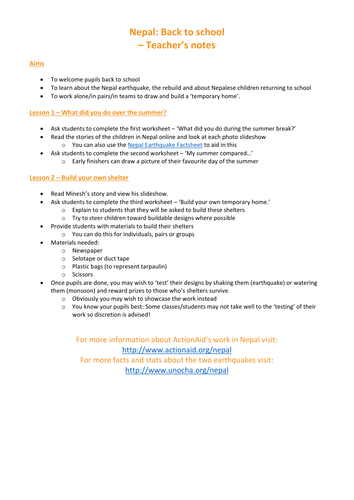 Welcome your students back to class with this great set of 'back to school' resources. Accompanying our colourful worksheets and slideshows are stories from the children of Nepal as they return to school following the two massive earthquakes which struck their country in 2015. To view the slideshows which accompany these resources, please visit: www.actionaid.org.uk/school-resources/slideshow/8221/nepal-back-to-school Go to www.actionaid.org.uk/school-resources to sign up for our monthly schools resources email
Bring 2016 and the winter term to a festive close with our brand new Christmas board game, "School Run!" Help four children to navigate the board, collecting the items they need to get to school before Christmas. Whether as an educational tool or as a bit of festive fun, this game is perfectly pitched to keep your pupils enjoying lessons right into the New Year. For more resources like this one, visit: www.actionaid.org.uk/schools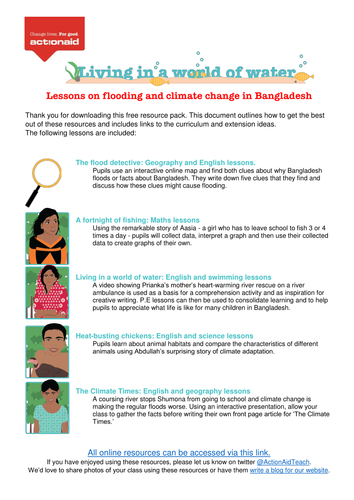 Part of our suite of resources on floods and climate change in Bangladesh "Living in a world of water". This resource comes with an interactive online map to help your class answer "Why does Bangladesh flood?" You can access this map and other resources here: http://po.st/BGDFloods
"These lessons help children to realise that there is unfairness in the world, but also that they have the means and the education to try to stop it." Y6 teacher, Ms.Thomson To get your class thinking about fairness, equality and community we've teamed up with SAPERE, the creators of 'Philosophy for Children' (P4C) resources. Using the subject of tax avoidance, this resource is made up of age-appropriate activities which have been written with your pupils in mind.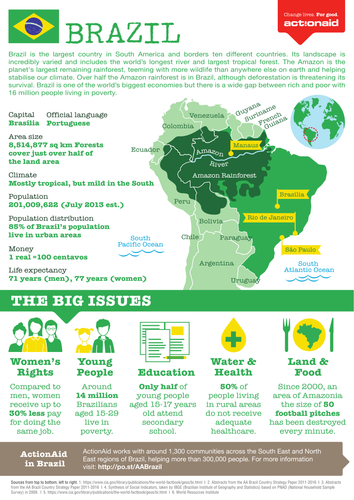 This simple and colourful factsheet is a great starting point for lessons on Brazil. Includes a map and key country information, as well as the big issues the country faces. Also links with our Explore Brazil resources. Can be used as an A4 handout or larger printed poster. Go to www.actionaid.org.uk/school-resources to sign up to receive our monthly schools resources email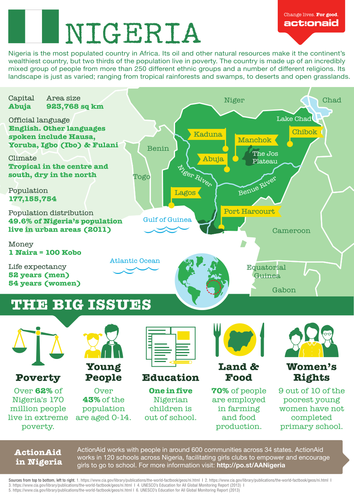 This simple and colourful factsheet is a great starting point for lessons on Nigeria. Includes a map and key country information, as well as the big issues the country faces. Can be used as an A4 handout or larger printed poster. Go to www.actionaid.org.uk/school-resources to sign up to receive our monthly schools resources email
Discover day-to-day life at Vidyodaya School, near Chembakolli in southern India. Key Stage 2 classes will discover a typical day at the school including lessons, playtime, and even what the children have in their lunch boxes. For more like this, visit: www.actionaid.org.uk/schools
Discover the different types of houses in Chembakolli with photos of homes made in distinctive local styles and materials. Use the worksheets included in your download to encourage Key Stage 1 and 2 pupils to think about their own homes and to build their very own Chembakolli house. For more resources like this, visit www.actionaid.org.uk/schools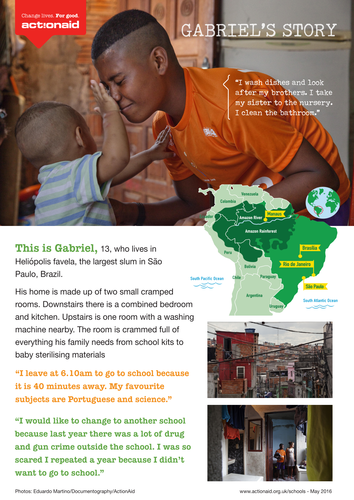 Meet Gabriel who lives in Brazil. This KS2-5 case study class handout/poster introduces Gabriel, tells his story in his own words and gives a selection of facts about Brazil. The PDF has been designed to be printed as an A2 class poster, but can be printed as A4 handouts. Go to www.actionaid.org.uk/school-resources to sign up for our monthly schools resources email