37Uploads
15k+Views
3k+Downloads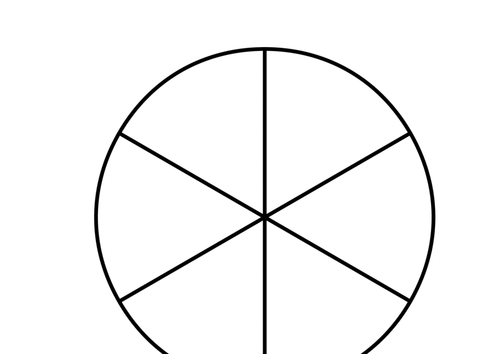 I created this lesson for a job interview and received great feedback. The bundle includes: 1. PowerPoint 2. Fingerprint hand out 3. Language device 6-part circle 4. Language device table 5. Sentence starters If you are looking for extensive quotes, themes and motifs then this booklet is not for you. I created this booklet for my low ability year 8, who love the horror genre! The booklet includes: 1. Inference tasks 2. Simple plot 3. Setting comparisons and questions 4. Character profile of the Woman in Black herself 5. Wanted poster exercise (read and retrieve) 6. Persuasive speech. The booklet is basic and has a simply layout. I have also included a PDF copy of an easier version of The Woman in Black novel. A collection of lessons and PPs for a reluctant low ability year 9 set.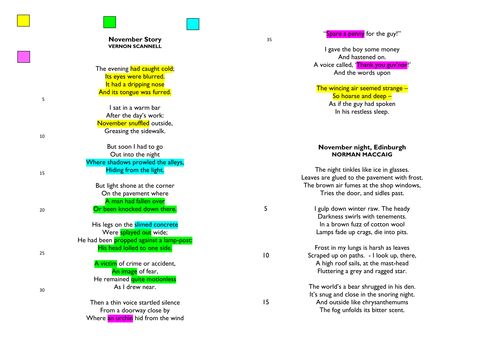 I created a resource for my year 11s for their Unseen Poetry lesson: 1. Copy of November Story 2. Copy of November Night. Edinburgh 3. Exam questions and response boxes 4. Exam responses to analyse (one paragraph per question has been completed) 5. Mark schemes for part a and b. I also included a simplified AO checklist beside each one too 6. Mark a practice paragraph response. I have produced this resource for my low ability year 11s. The extract used is from Twelve Years a Slave and is shorter than an average AQA extract. The questions and bullet points also use simple language, although I have tried to keep them as similar as possible. This doesn't include a mark scheme.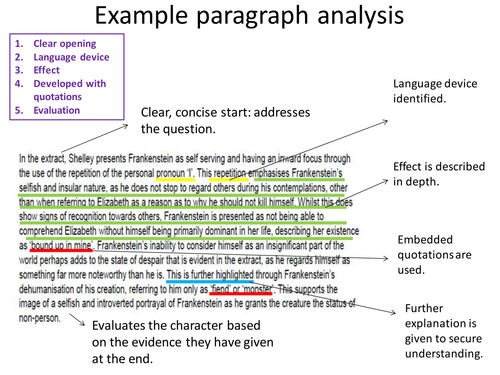 Here is a selection of extracts from The Lovely Bones and some example essay responses.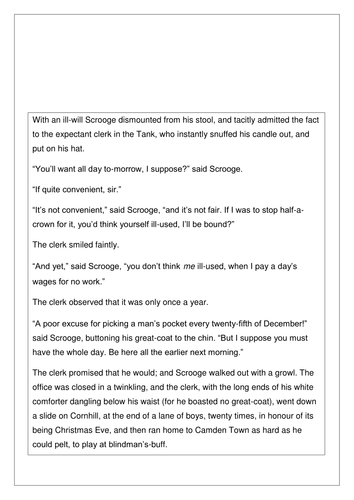 An exam paper that I have created based around AQA GCSE English Language Paper 1. There isn't a marking scheme attached. A collection of lessons and resources built around the topic theme of 'The Unexplained and Magical'. The resource includes: 1. Bermuda Triangle 2. Black Dahlia 3. Dracula 4. Gothic Analysis 5. Gothic Fairy Tale 6. Enfield Poltergeist 7. The Lovely Bones 8. The Tell Tale Heart 9. The Woman in Black 10. UFO Topics include exam based activities and invite group work and discussion. My group loved gruesome details and mysteries, so I know this won't be to everyone's taste. Enjoy :) A small unit of work based around the topic of American Civil Rights: 1. Claude McKay 2. Elizabeth Eckford 3. Langston Hughes 4. Martin Luther King 5. The Help 6. Twelve Years a Slave 7. Uncle Tom's Cabin The units include examination preparation using poetry, fiction, non-fiction and film.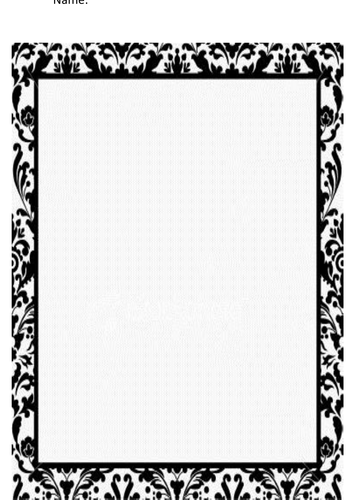 I collated all of the key terms for both papers and created a booklet for my students, that also includes a few vocabulary lists (other words for 'happy' or 'upset' etc). I have also listed other phrases for the dreaded 'this shows...'.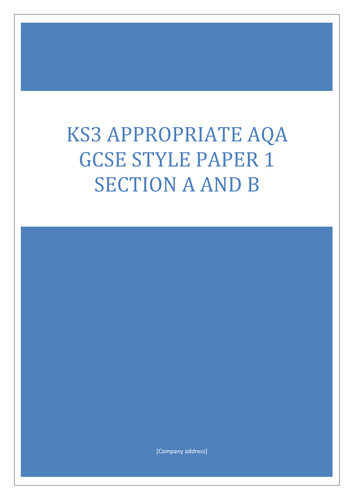 Here you have an exam paper that is tailored to the AQA GCSE English Language Paper 1. All questions are included (Section A&B) and a generic marking scheme from AQA. Please note there is NO INDICATIVE CONTENT.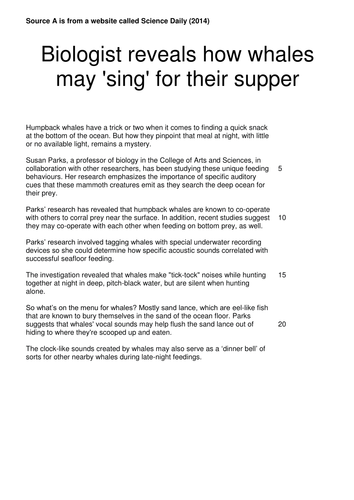 Here is an examination I have put together for my year 11s for homework. It is based around AQA English Language Paper 2 and includes a simplified generic AQA mark scheme.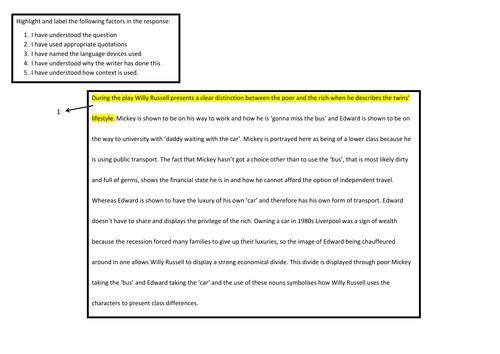 The assessment question is: How does Russell use the characters of Mickey and Edward in Blood Brothers to explore ideas about class? There are various resources here: a planning table, PP, target marking sheets and an example paragraph (for post-assessment reflection).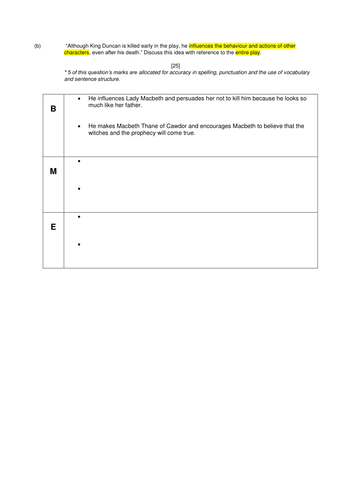 A resource made to encourage my reluctant year 11 to read and analyse Macbeth. The extract is for part (a) of the question and part (b) requires looking at the full text. I have used BME (beginning, middle and end) to encourage my class to track the whole play and not just part.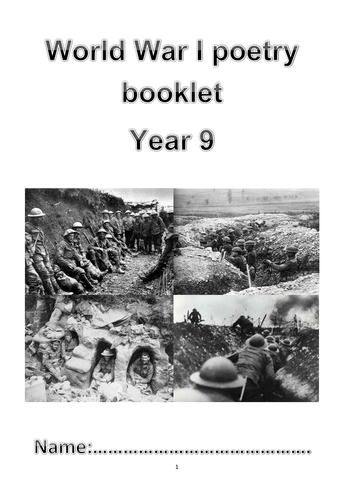 This booklet was created for my low ability year 9s to use and work through. It's an introductory booklet to WW1 and includes: 1. An introduction 2. Propaganda 3. Harry Patch 4. Poppies 5. Poetry techniques 6. WW1 Poets 7. Poet research project 8. Dulce et Decorum Est poem 9. Trench Idyll poem 10. Suicide in the trenches poem 11. In Flander's Fields poem 12. Who's for the game? poem 13. A lost war poem 14. Two small poem passages (perfect for starters) Here is a collection of lessons, hand outs and assessments. I also typed up a simple version of the novel and have included that too. AQA advised that teaching Jekyll and Hyde should consist of 10 key moments, and this is what my scheme of work centers around. Each key moment has a print out and a PP. Not all PowerPoints have more than one slide, some have been made purely so that we can annotate and work together as a class. i created a tracker for my class, perfect for revision! I hope you find it helpful! 12 lessons fully resourced with PowerPoints, worksheets and mark schemes. The 12 lessons consist of formal and informal letters, PACS planning (purpose,audience, content and style) and review writing. The last two lessons of the SOW are more creative and interactive with a group review. Enjoy :)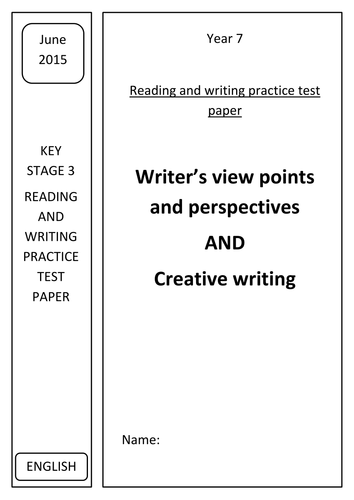 This exam paper is perfect for the new AQA GCSE English Language Paper 2 (Writer's view points and perspectives and Creative writing). The sources are based around the novel Street Cat Bob and an article about an unusual cat called Macavity.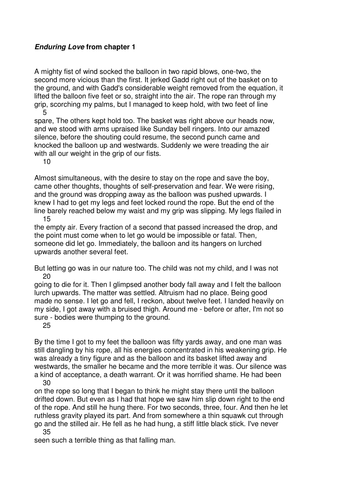 An AQA GCSE English Language Paper 1 with a section A and B based on an extract from Enduring Love.