Alenamai's Shop
A Year 6 Teacher with literacy and maths resources to share.
226Uploads
25k+Views
2k+Downloads
A Year 6 Teacher with literacy and maths resources to share.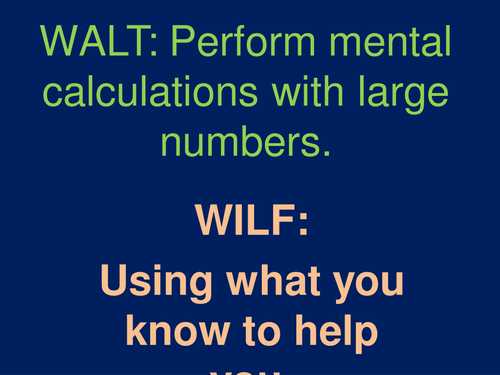 A Power Point to teach mental calculation with large numbers using known number facts.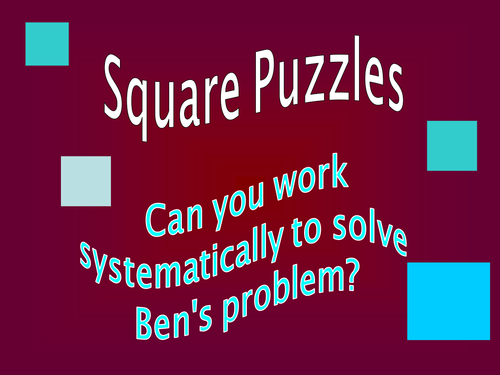 A Powerpoint to teach children how to work systematically and use jottings to investigate square numbers in a practical context. Can be extended beyond 12 x 12 for more able learners and can lead to basic algebra writing rules for the next numbers in the sequence.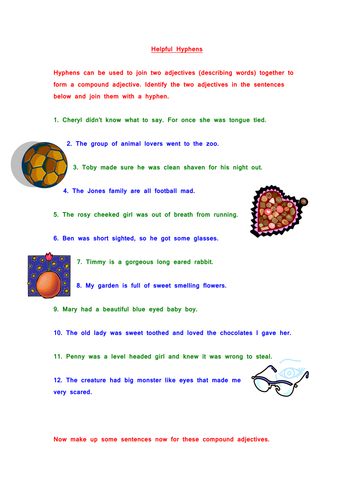 A set of sentences as a worksheet with missing hyphens. Can be used as a homework assessment or class GaPS lesson. Has an extension activity for compound adjectives and can be further extended by children thinking up other compound adjectives.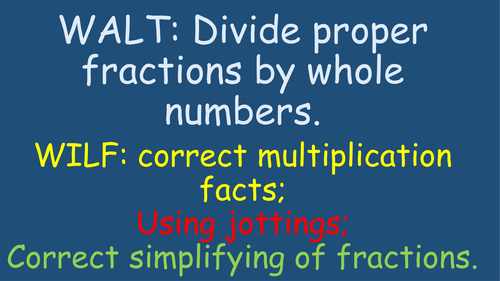 A Powerpoint to teach how to divide fractions by whole numbers. Suitable for Year 6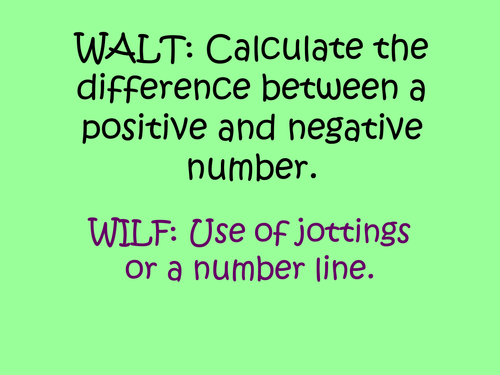 A powerpoint with problems involving counting on or backwards across zero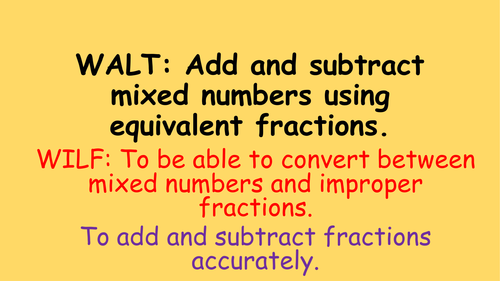 A Powerpoint to teach adding and subtracting fractions including mixed numbers. With a recap slide on how to convert mixed numbers to improper fractions with answers.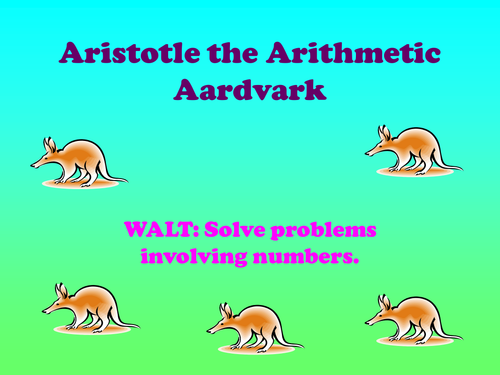 A two slide powerpoint with plenty of room to extend more able. Activity teaches using and applying and using trial and error methods.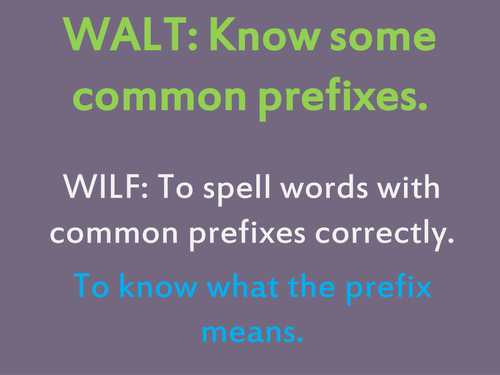 A powerpoint which focuses on using the common prefixes: re, mis, dis, un, im, in and anti. Starts by recapping what a prefix is. Includes slides where children are asked to choose a suitable prefix to make a new word and use dictionaries to look up what prefixes mean.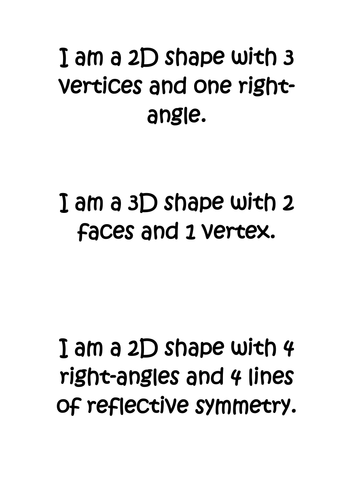 Some questions about 2D and 3D shape properties suitable for Key Stage 2. Great as an assessment of what the children have learned.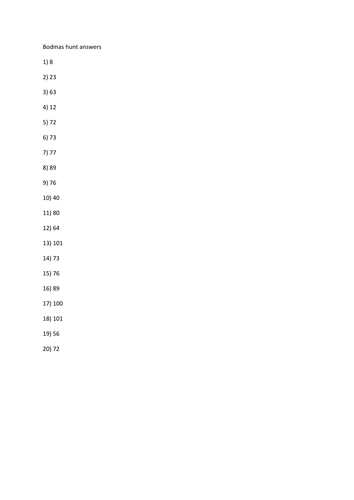 20 BODMAS questions that can be made into a hunt/feely box game or shrunk to make a worksheet or used on an interactive whiteboard. Comes with a separate answer sheet.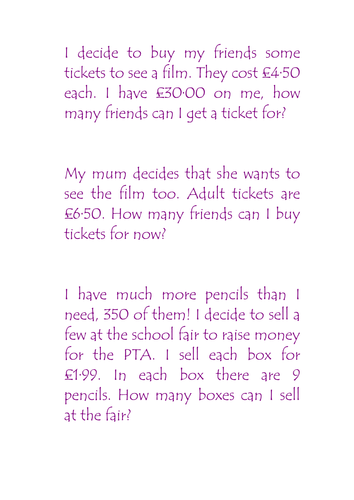 Real-life worded problems involving children deciding whether to round up or down after division. Suitable for Year 6.

A set of problems for children to draw 2D shapes with given dimensions. Suitable for Year 6.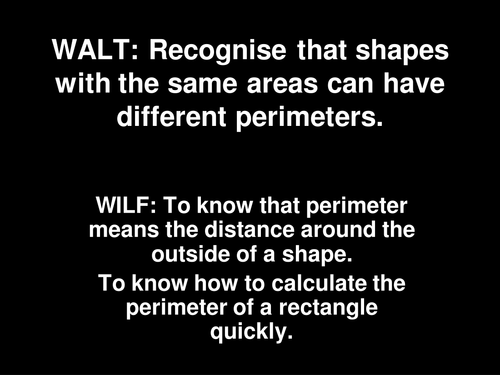 A powerpoint to highlight and teach that shapes with the same area do not have to have the same perimeter.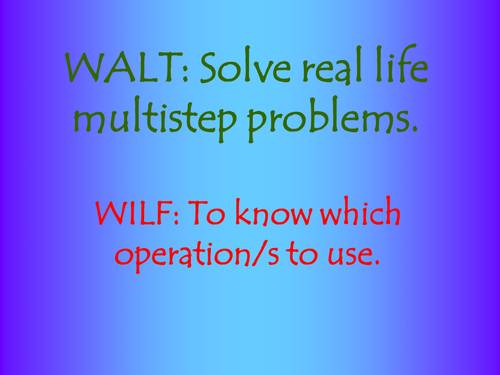 Some multistep word problems for year 5 and 6 involving calculating amounts of money.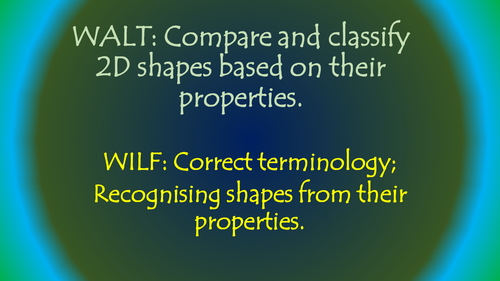 A resource to teach about classifying 2D shapes according to their properties. Using a vast array of language, including parallel and perpendicular lines.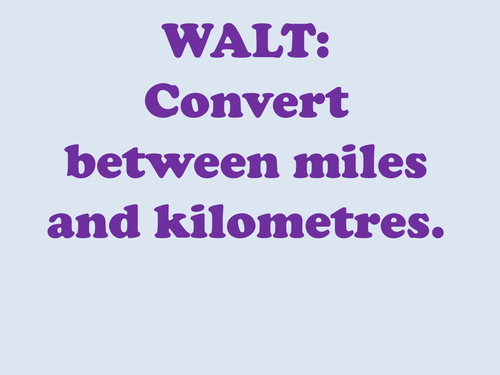 A powerpoint to teach children to convert roughly between miles and kilometres by using the fact 5 miles = roughly 8km. Some questions for children to answer with answers.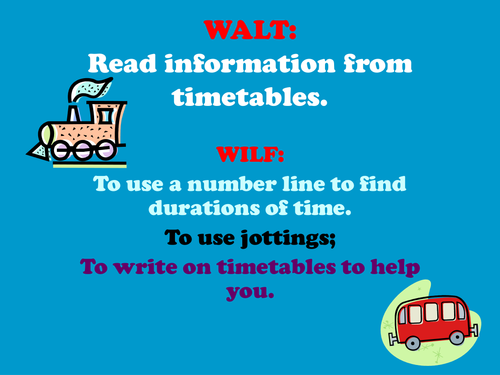 A Powerpoint activity to teach reading form timetables. Complete with answers and example tables.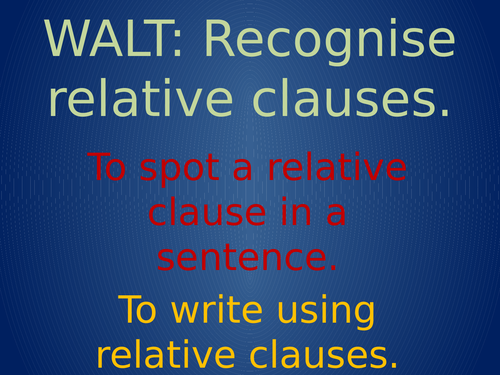 A Powerpoint for introducing what a relative clause is. Suitable for year 5 and 6.