4Uploads
245Views
4Downloads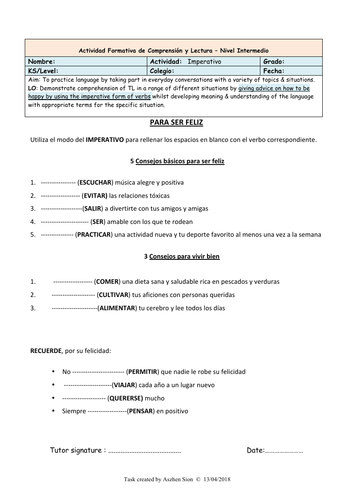 This is an activity aimed for Intermediate students of the language o those who have studied it in the past in which students will be able to practice the imperative of the verbs. The resource is meant to be use as a formative task. Ideally the infinitive of the verbs and relevant vocabulary seen in this task should have been identified in classroom previous the setting up of this task. Alternatively, students could work in groups or pairs and try to guess the meaning of the verbs and vocabulary. This task has an estimated time of approximately 20 or 25 minutes. To complete the activity students should read aloud the sentences and perhaps as an extra task they could also write some of their own ideas to be happy.
This resource is aimed for students who have studied the language before for at least two years and want to develop skills by giving instructions and commands. Suitable for secondary students and adult learners. It contains two pages, one to be completed by students. The second page contains the correct answers. Best used as assessment but also as a formative activity to revise the imperative form of verbs by giving instructions on how to cook a Spanish tortilla. Students are first introduced to vocabulary and verbs, allowing them some time to read and complete task. Afterwards they can swap the papers with their peers and correct each other answers, which can be displayed on board. The task should be completed by reading instructions aloud. LO: Students will be able to demonstrate appropriate conjugation of verbs by practicing those in related task and by practicing phonetics. By the end of the they will all know how to cook a Spanish tortilla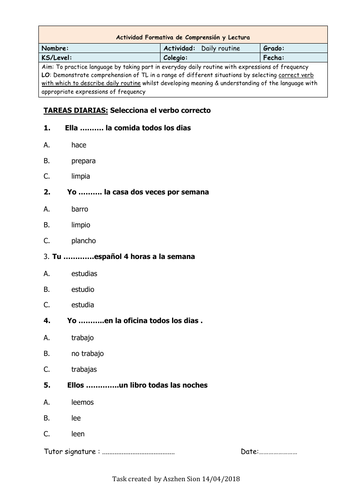 This task is aimed to Beginners students plus or those who have learnt the language in the past and want to recall on specific learning by practising daily routine sentences and appropriate verbs as well as expressions of frequency. Students will be able to identify or recall specific language that is used in daily routine. The task is meant to be use as a formative task but can also be set up as an assessment task. The estimated time to complete this activity is approximately 20-25 minutes. Students could be introduced to the topic and vocabulary previously or alternatively they could try to guess meaning or vocabulary in pairs. To complete this activity students could read the sentences aloud and as an extra task they could try to translate into English.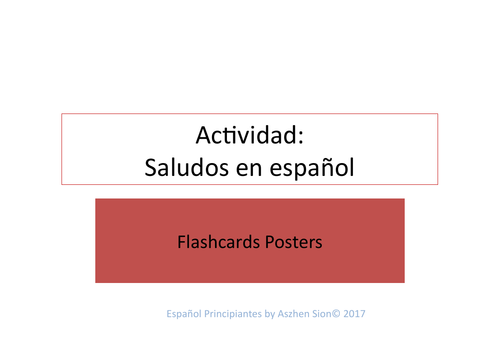 This resource is aimed for Beginners students of Spanish language at any age. It contains slides with images and basic greetings with a formative matching task that can be used in classroom after greeting have been introduced to students. Ideally, the posters can be printed in colour and be displayed in classroom to facilitate easy access all the time.