Innovate. Educate
Young teacher, passionate about pedagogy!
117Uploads
43k+Views
22k+Downloads
Young teacher, passionate about pedagogy!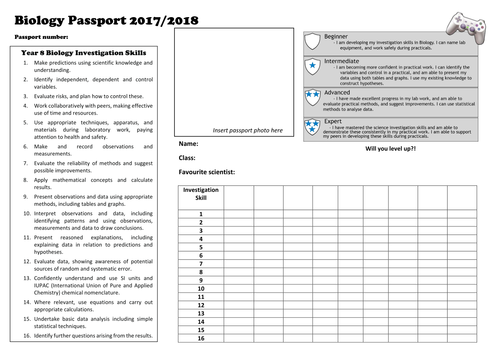 Used with my high ability year 8 class - taught separate sciences so this passport is titled Biology, which can obviously be amended. Glued the passport into the front of their books, and added their 'passport photo' in which they drew themselves as scientists. Investigation skills linked heavily to the KS3 National Curriculum. Following a practical students write the data in the table heading, and tick off the skills they have developed/demonstrated. Could enhance this with a red amber green system to show the progress they are making towards a skill. When writing up a practical I encourage them to finish with a reflection in which they link back to these skills. I found previously they struggled to describe skills so this gives them a prompt. Aim to demonstrate each skill through a range of different practicals across the year, such that by then end they may hope to achieve 'expert' status. I produced this to link to the idea of the new A-level CPAC criteria and the idea of demonstrating mastery of practical techniques. With each new book they may receive a new passport.