11Uploads
2k+Views
257Downloads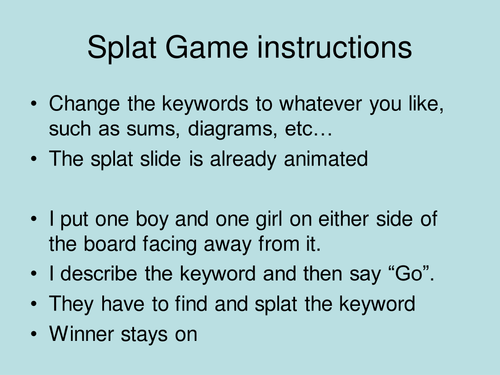 This presentation could be used across a wide range of ages and abilities. It is an animated version of the splat game, where students try to be the first to 'splat' their hand down on a keyword following a verbal description. The presentation is animated, making it more tricky to splat the words as they move around the screen. To customise the presentation, simply edit the words to match the topic of your choice!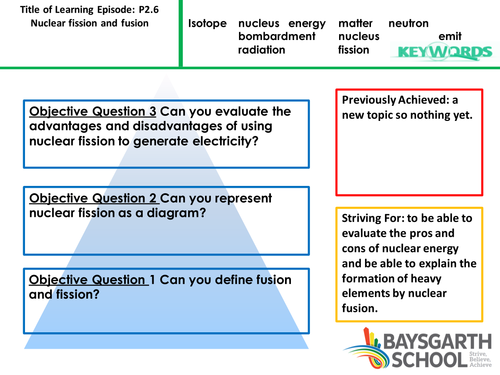 A powerpoint presentation/complete lesson aimed at 14-16 year old students. The lesson begins by engaging students with some thought provoking video clips on the frequency of nuclear testing since the 1940s and nuclear disasters that have occurred in the past. The lesson then moves on to explain the process of nuclear fission through simple animated diagrams. The lesson concludes by looking at examples of equations that show decay via nuclear fission. A plenary slide is included at the end to allow time for reflection.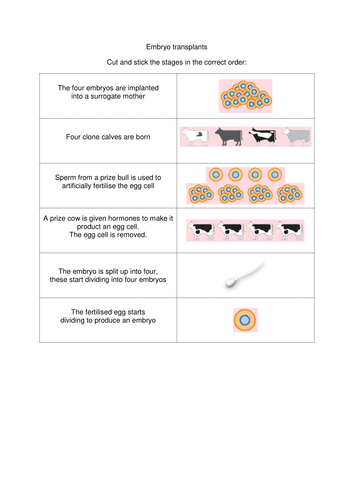 This resource consists of both a powerpoint presentation and a worksheet cut-and-stick activity designed to help students understand the principles of cloning. The presentation covers all major aspects of cloning along with plenty of 'food for thought' regarding the ethical considerations that need to be understood.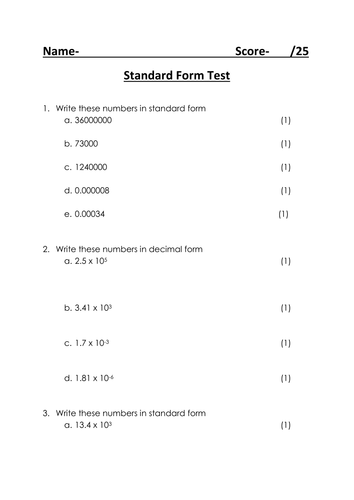 A test aimed at A-Level/Higher tier GCSE Biology students (but just as applicable to any of the sciences), this document provides a six question/twenty five mark assessment on standard form. Students often struggle with mastery of standard form in exam questions; this assessment would be best given at the end of a lesson(s) on standard form as a way of checking that the key points have been understood. Key words: Test, assessment, revision, standard form, decimal, indices, biology, maths, physics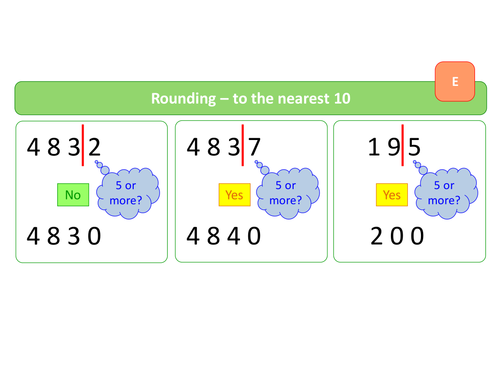 This powerpoint presentation provides a very clear way of showing how numbers are either rounded up or down depending on their decimals. The presentation can be used with a wide range of different audiences, ages and abilities. It provides step by step animated examples followed by a series of questions that students can tackle once they feel confident. Key words: Maths, rounding, decimals, fraction, significant figures, decimal places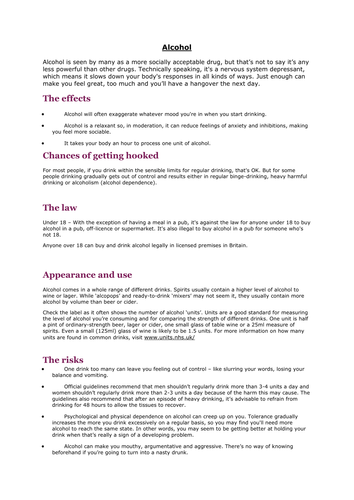 A complete set of resources aimed at KS4 students to learn about what drugs are, the difference between medicinal and recreational drugs and the effects on the body. The resources include a powerpoint presentation that provides the prompts for discussion along with various information sheets that students can use as a stimulus for discussion (including cocaine, ecstasy, heroin, poppers, solvents, alcohol, cannabis, tobacco and nicotine.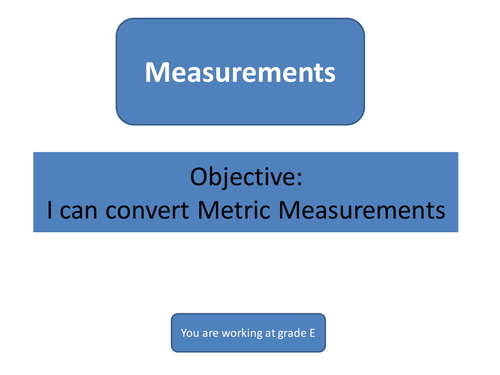 A self-contained lesson via powerpoint that looks at conversions from metric to imperial measurements. The lesson begins by asking students about simple measurements of different items that they are familiar with. It then build on the idea that there is often more than one unit of measurement for any item and that conversions are sometimes necessary. The lesson concludes with various examples and exercises that encourage students to hone their skills with unit conversions.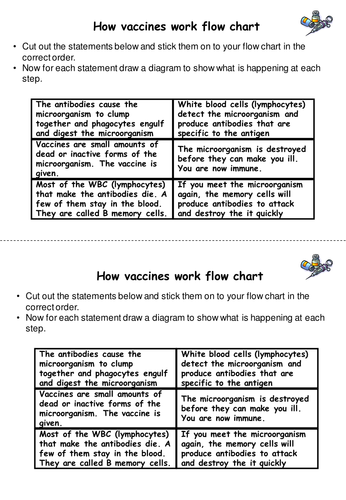 An activity aimed at GCSE Biology students, requiring statements about the vaccination process to be sequenced into the correct order. This resource includes a powerpoint format template for the statements which can be cut out and then sequenced. It also has a powerpoint format template for a storyboard that requires students to draw images that illustrate each statement. The second powerpoint is differentiated to include some templates with statements or illustrations already added. Key words: Vaccination, phagocyte, lymphocyte, memory cells, antibodies, pathogen, injection, attenuated, disease
A self contained lesson in a powerpoint presentation that covers the basics of shape, area, perimeter and measurements. Students are asked to consider why making measurements of shapes are important, followed by practice of basic skills. The lesson concludes with applied examples such as calculating the area of coverage from a heart shape in a Valentine's day card.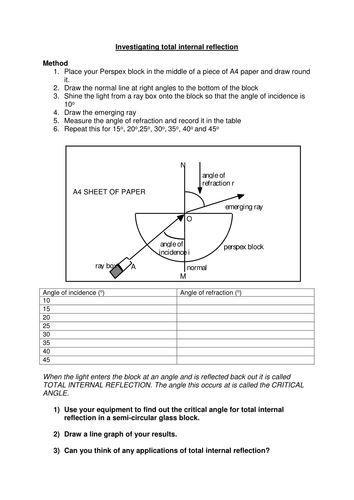 A simple worksheet that contains all the instructions a student needs to observe and measure total internal reflection. Key words: Total internal reflection, physics, light, reflection, refraction, angle, light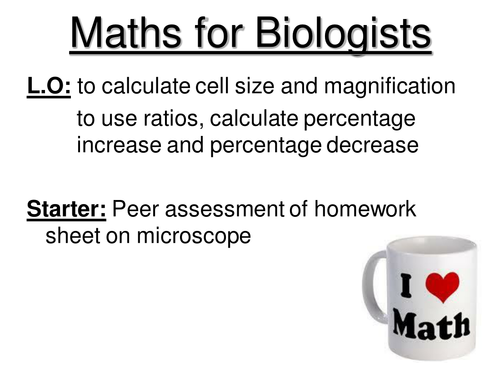 This is a resource aimed at A-Level or higher tier GCSE biologists and focuses on the key mathematical skills required in biology. Calculating magnification, ratios and percentage change are dealt with via worked examples. The resource can be used as a presentation or printed off as a study guide. Key words: Calculations, Maths, Biology, Ratio, Percentage, Magnification