65Uploads
18k+Views
32k+Downloads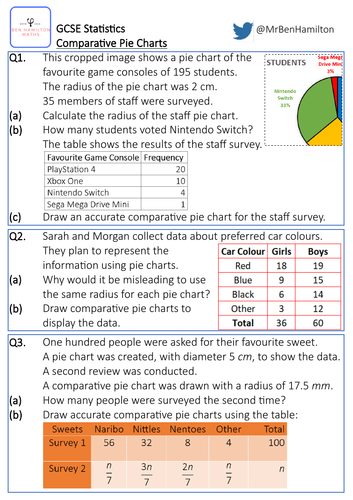 The skill of creating and interpreting comparative pie charts is an essential component of the GCSE Statistics syllabus. Drawing comparative pie charts is a skill with which students struggle. This worksheet is designed to give extra practice, alongside requiring thought and problem solving skill for later questions. Enjoy! Ben Hamilton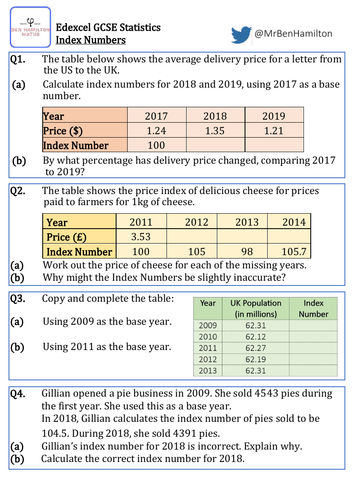 GCSE Statistics - Basic Index Numbers Objective: master the skill of calculating basic index numbers (AO1), reason mathematically (AO2) and problem solve with worded problems and procedural fluency (AO3). Other topics include: N/A Take the time to leave a review. It really helps :) All the best, Ben Hamilton Feeling generous? You can buy me a cuppa: https://www.buymeacoffee.com/BenHam45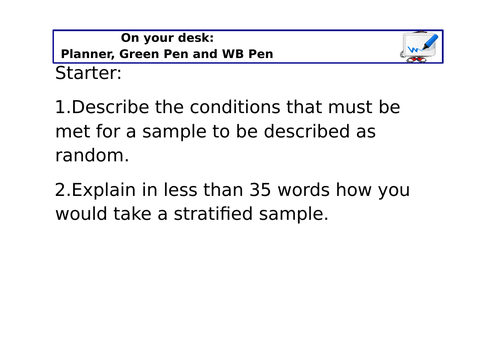 A fully resourced scheme of work for unit 2 of the Edexcel GCSE statistics course. It has been designed for the higher tier, but can easily be adapted for foundation students. I've credited numerous TES authors and mathematicians for their work, but please inform me if I have missed anything. Update (31st March 2020)(4th February 2020) - Detailed MTP/SOL added and the end of term project complete. Please leave a rating and share amongst colleagues. Feeling generous? You can buy me a cuppa: https://www.buymeacoffee.com/BenHam45 Cheers, Ben Hamilton #Please note that I teach using SMART Notebook. I've converted the lessons into powerpoint, but these may need some formatting changes!#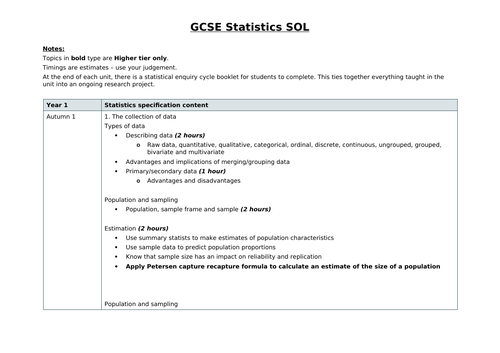 A fully resourced scheme of work for unit 1 of the Edexcel GCSE statistics course. It has been designed for the higher tier, but can easily be adapted for foundation students. I've credited numerous TES authors and mathematicians for their work, but please inform me if I have missed anything. Please leave a rating and share amongst colleagues. Feeling generous? You can buy me a cuppa: https://www.buymeacoffee.com/BenHam45 Cheers, Ben Hamilton #Please note that I teach using SMART Notebook. I've converted the lessons into powerpoint, but these may need some formatting changes!#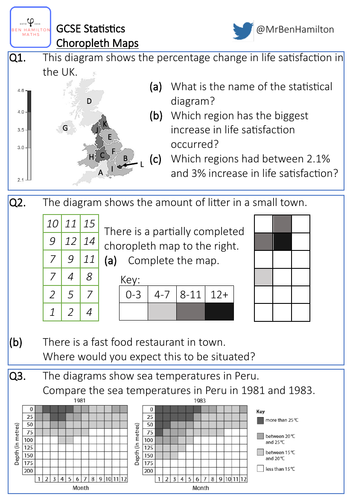 A worksheet to facilitate the learning of choropleth maps - creating and interpreting is an essential component of the GCSE Statistics syllabus. There are minimal resources available for this topic of GCSE Statistics, so I hope you find this resource useful. Enjoy! Ben Hamilton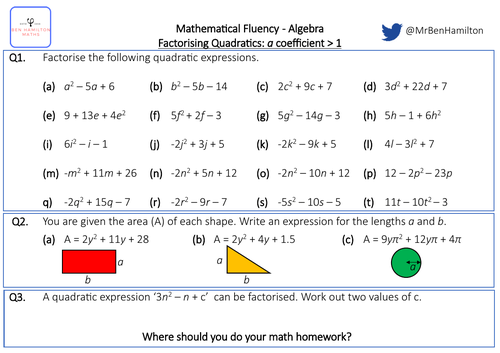 The objective of this worksheet is to encourage students to master the skill of factorising harder quadratic expressions before interleaving this topic with other mathematical concepts, including; writing quadratic expressions in the form ax2 + bx + c and area of shape. Please take the time to leave a review and leave a comment. Hope this resources inspires great learning. Mr. Hamilton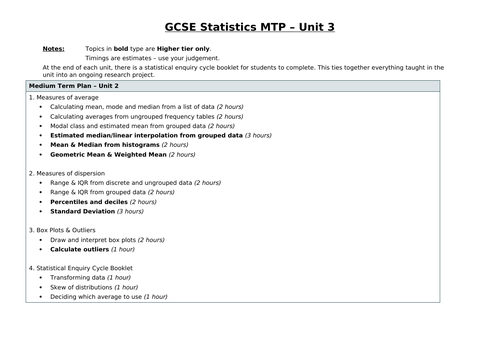 A fully resourced scheme of work for unit 3 of the Edexcel GCSE statistics course. It has been designed for the higher tier, but can easily be adapted for foundation students. I've credited numerous TES authors and mathematicians for their work, but please inform me if I have missed anything. I also have worksheets for many of the chapters in this SOW which you can find in my TES page https://www.tes.com/teaching-resources/shop/BenHamilton45 Please leave a rating and share amongst colleagues. Feeling generous? You can buy me a cuppa: https://www.buymeacoffee.com/BenHam45 Cheers, Ben Hamilton #Please note that I teach using SMART Notebook. I've converted the lessons into powerpoint, but these may need some formatting changes!#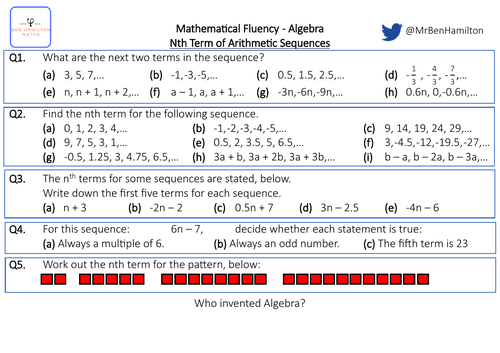 The objective of this worksheet is to encourage students to master the skill of calculating the nth term of an arithmetic sequence before interleaving this topic with other mathematical concepts, including recognising the relationship between sequences and patterns. Please take the time to leave a review and leave a comment. Hope this resources inspires great learning. Mr. Hamilton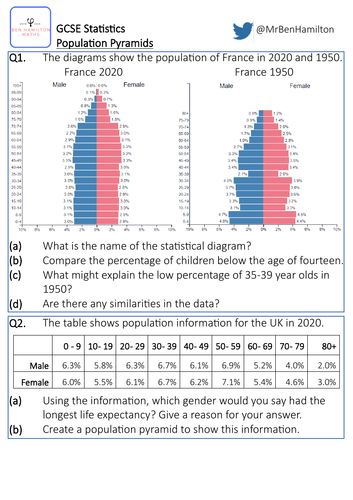 The skill of creating and interpreting population pyramids is an essential component of the GCSE Statistics syllabus. There are scare resources available for this topic of GCSE Statistics, so I hope you find this resource useful. Enjoy! Ben Hamilton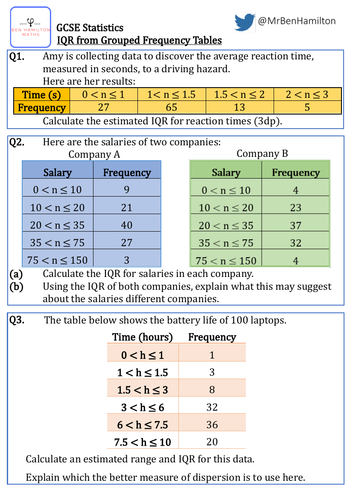 GCSE Statistics - Interquartile Range Grouped Data Reasoning Resource Objective: master the skill of calculating an estimated Interquartile Range from a grouped frequency table using linear interpolation (AO1), reason mathematically (AO2) and problem solve in the specific context of the this skill, particularly asking students to explain their answers (AO3). Other topics include: N/A Take the time to leave a review. It really helps :) All the best, Ben Hamilton Feeling generous? You can buy me a cuppa: https://www.buymeacoffee.com/BenHam45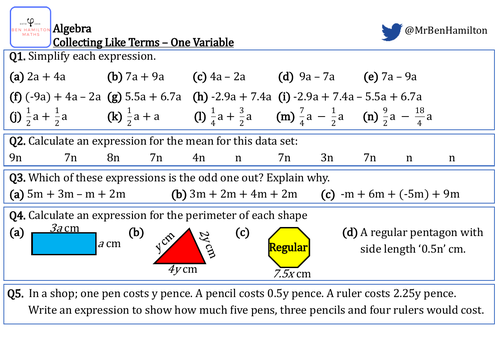 Collecting Like Terms Reasoning Worksheet: Add & subtract Decimals & Fractions, Mean and Perimeter. Objective: aid pupils to master the skill of collecting like terms (AO1), reason mathematically (AO2) and problem solve in the specific context of collecting like terms (AO3). Other topics include: adding and subtracting decimals, calculating the mean and perimeter and area work. Take the time to leave a review. It really helps :) All the best, Ben Hamilton Feeling generous? You could buy me a cuppa: https://www.buymeacoffee.com/BenHam45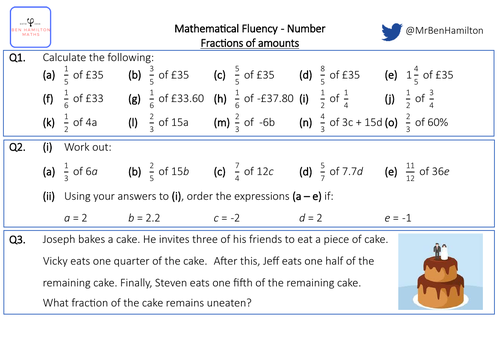 A fraction of amounts (or quantities) worksheet designed to develop fluency and mathematical reasoning. This worksheet is interleaved with: Dividing Algebraic Expressions, Negative Numbers, Substitution and Ordering Numbers. There is a problem solving question at the end. Can be used as the main class activity or as a home learning sheet. Could be differentiated by choosing appropriate questions for students to focus on. Enjoy this free resource, leave a review and be sure to check out my collection of reasoning worksheets. Cheers, Ben Hamilton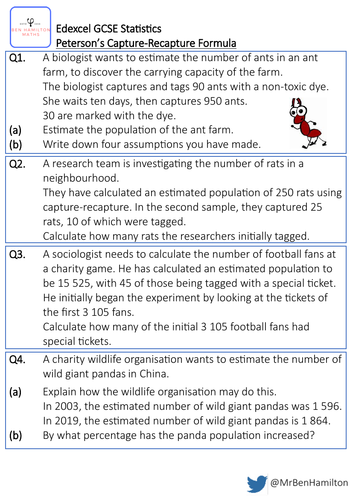 Capture-recapture is a key component of the GCSE Statistics syllabus. It features in Edexcel GCSE Higher Tier mathematics, too. This worksheet is useful to develop proportional reasoning using the capture-recapture formula.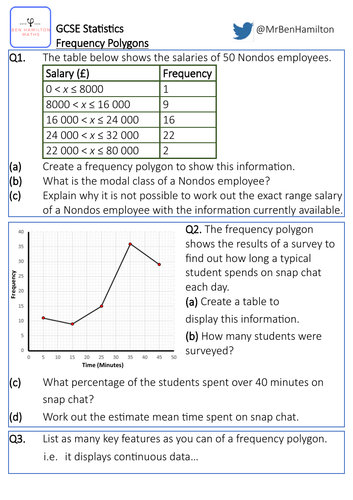 A worksheet to facilitate the learning of frequency polygons - creating and interpreting is an essential component of the GCSE Statistics syllabus. There are minimal resources available for this topic of GCSE Statistics, so I hope you find this resource useful. Enjoy this free resource, leave a review and be sure to check out my collection of reasoning worksheets. Cheers, Ben Hamilton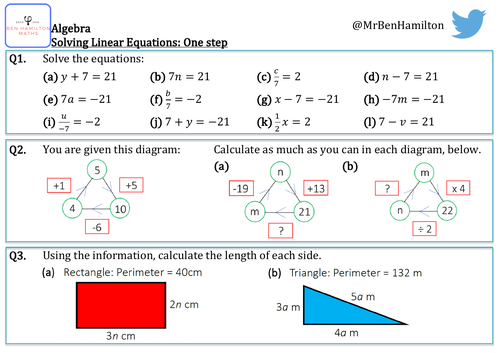 Solving Linear Equations (One Step) Reasoning Resource: With Perimeter & Problem Solving Objective: master the skill of solving linear equations with one-step of calculation (AO1), reason mathematically (AO2) and problem solve in the specific context of perimeter (AO3). Other topics include: Perimeter Take the time to leave a review. It really helps :) All the best, Ben Hamilton **Feeling generous? You can buy me a cuppa: **https://www.buymeacoffee.com/BenHam45 Edit: 9th June 2020 Changed the sequence of questions for Q1 and updated answers.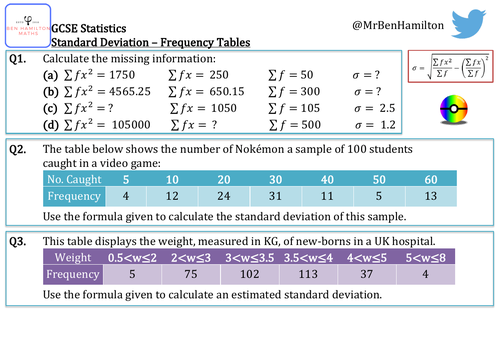 GCSE Statistics - Standard Deviation From a Frequency Table Objective: master the skill of calculating standard deviation from a list (AO1). Take the time to leave a review. It really helps :) All the best, Ben Hamilton Feeling generous? You can buy me a cuppa: https://www.buymeacoffee.com/BenHam45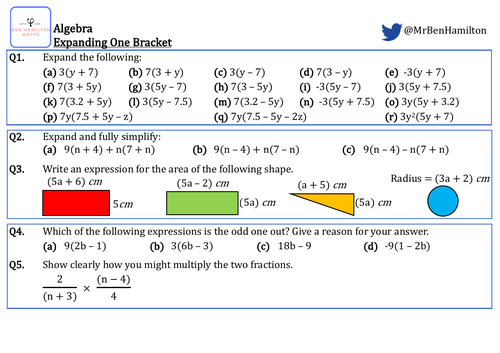 Expanding One Bracket Reasoning Resource: Multiplying decimals, Area & Perimeter & Substitution Objective: aid pupils to master the skill of expanding one bracket (AO1), reason mathematically (AO2) and problem solve in the specific context of multiplying decimals, area & perimeter & substitution. (AO3). Other topics include: multiplying decimals, area and perimeter & substitution. Take the time to leave a review. It really helps :) All the best, Ben Hamilton Feeling generous? You could buy me a cuppa: https://www.buymeacoffee.com/BenHam45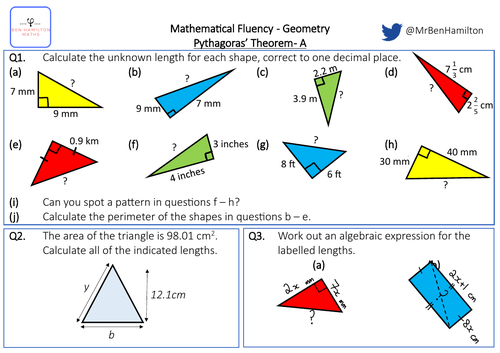 The objective of this worksheet is to encourage students to master the skill of using Pythagoras' theorem to find missing hypotenuse lengths before interleaving this topic with other mathematical concepts, including perimeter, area of triangles and algebraic expansion. Please take the time to leave a review and leave a comment. Hope this resources inspires great learning. Mr. Hamilton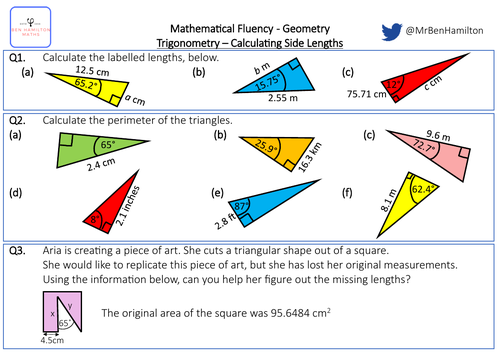 The objective of this worksheet is to encourage students to master the skill calculating missing lengths using trigonometric ratio before interleaving this topic with other mathematical concepts, including perimeter, Pythagoras' theorem and area. Please take the time to leave a review and leave a comment. Hope this resources inspires great learning. Mr. Hamilton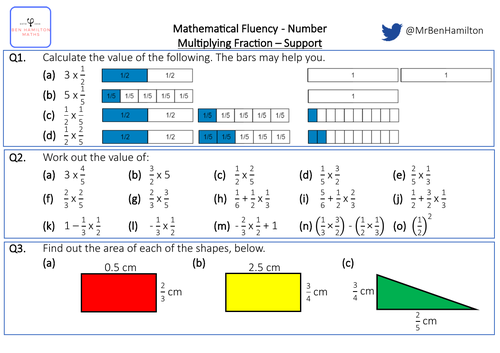 The objective of this worksheet is to scaffold the skill of multiplying fractions before interleaving this topic with other mathematical concepts, including working with negative numbers and calculating area. Please take the time to leave a review and leave a comment. Hope this resources inspires great learning. Mr. Hamilton