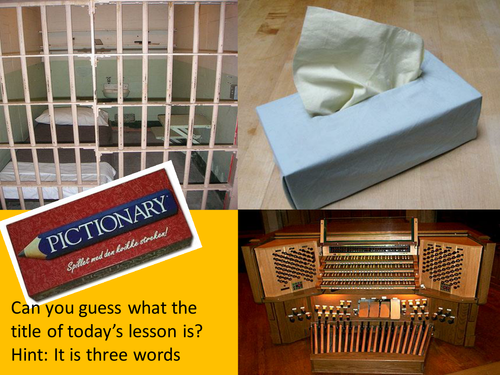 KS3 Biology Cells unit for Y7 Learning Objectives: To be able to describe different levels of organisation of cells in an organism ALL: will be able identify a group of cells as a tissue MOST: will describe organs as structures of tissues. SOME: will explain the importance of the different tissues in the organs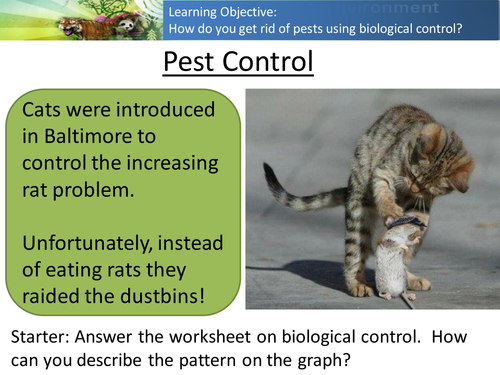 Presentation and Activity for KS3 Biology Pest control Learning Objective: How do you get rid of pests using biological control? ALL will explain what is meant by a pesticide (level 4) MOST will identify problems of using pesticides (level 5) SOME will evaluate the benefits of using biological control (level 6)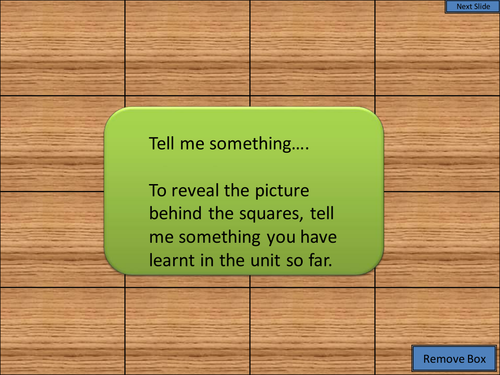 KS3 Biology How Science Works Lesson on estimating populations sizes of animals and plants Learning Objective: To carry out data collection of plants To draw a graph of results ALL: will use a quadrat to calculate percentage of grass (level 4) MOST: will draw a distribution graph (level 5) SOME: will make suggestions why the population may fluctuate (level 6)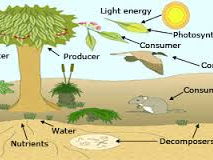 Includes a complete set of activities, practicals, presentations, test, SOW, check-list - save 55%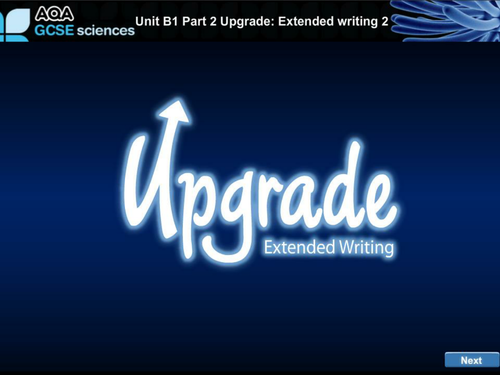 Presentation and worksheet for the 6 mark extended response questions from AQA - allows peer assessment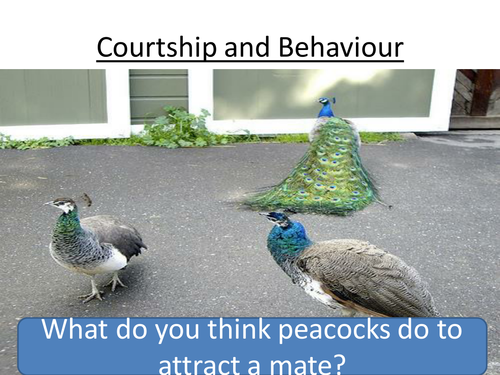 Presentation & Activities for Y7 Reproduction Lesson Learning Objective: What is the role of courtship in successful mating and reproducing? ALL: will identify different ways animals display courtship behaviour (level 4) MOST: will explain the purpose of courtship (level 5/6) SOME will elaborate how a dominant male has an advantage in a harem (level 7)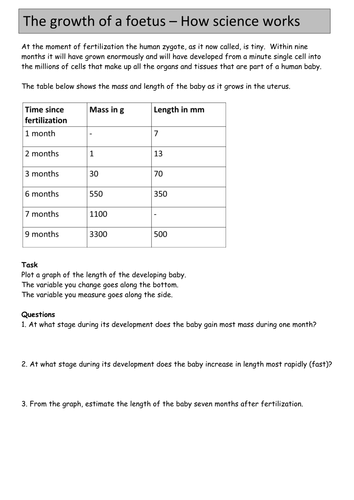 Presentation & Activities for Y7 Reproduction Lesson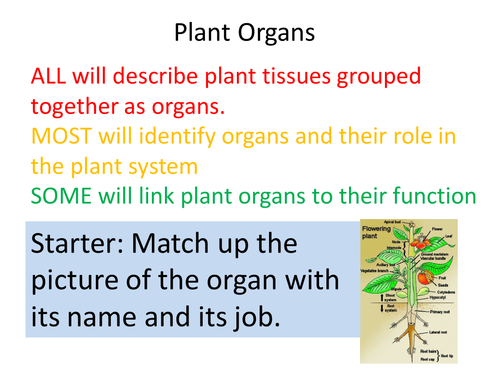 Year 7 Lesson on Plant Organs ALL will describe plant tissues grouped together as organs. MOST will identify organs and their role in the plant system SOME will link plant organs to their function
KS3 Biology Lesson on Predator Adaptations Presentation & Video Learning Objective: How are predators adapted to survive? ALL will explain why the key features are important to an animal's survival (level 4) MOST will explain the benefit of protective colouration and mimicry (level 5) SOME will expand to suggest other features that allow predators to adapt for survival (level 6)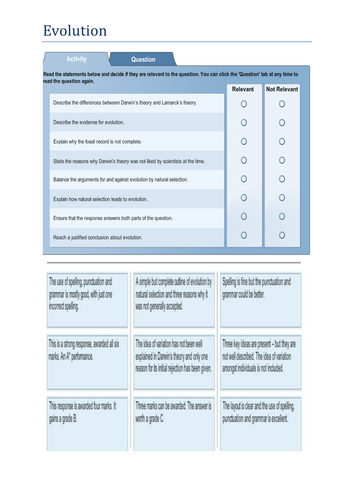 Presentation and task sheet for the extended response question - allows peer assessment
Learning Objective: To record the length in development of foetus. ALL will read a table to describe the growing foetus MOST will be able to record the data in a graph. SOME will use their graph to read patterns in data. How science works skills: Independent variable, dependent variable, continuous variables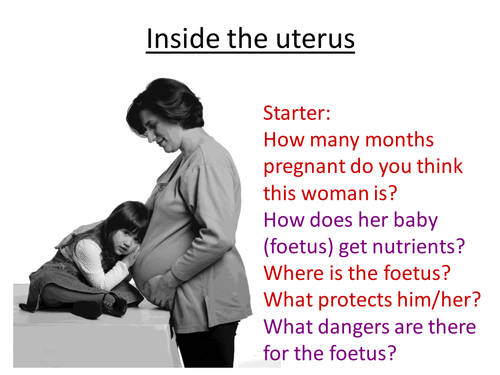 Learning Objective: What dangers are there for the foetus? ALL will identify that substances can be passed to the foetus in the uterus. MOST will explain the role of the placenta SOME will make connections between taking substances during pregnancy and low birth weights.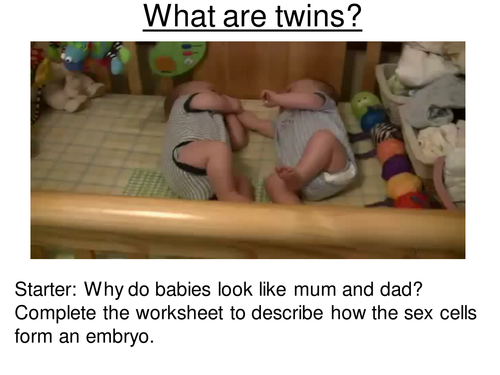 Presentation & Activity To differentiate between types of twins ALL: will identify types of twins MOST: will explain how each are formed SOME: will use the information to discuss how conjoined twins are formed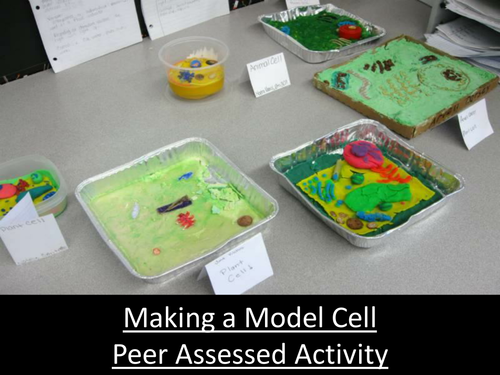 Presentation + activity on creating a model cell out of everyday materials - for Y7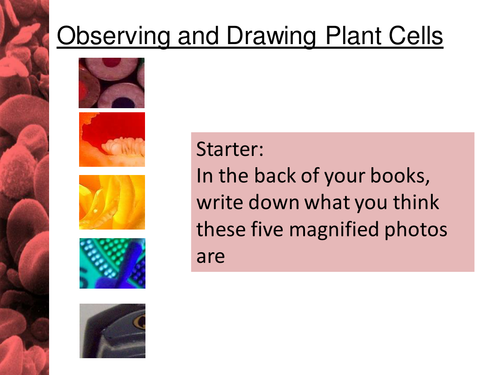 Presentation + practical on plant cells for Y7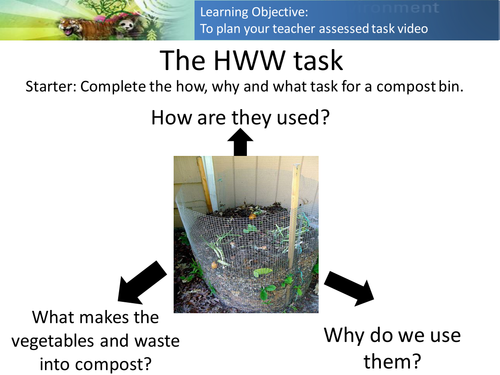 2 versions of activity for students to consolidate knowledge of interdependence unit. Contains instructions on how to make and peer assess videos.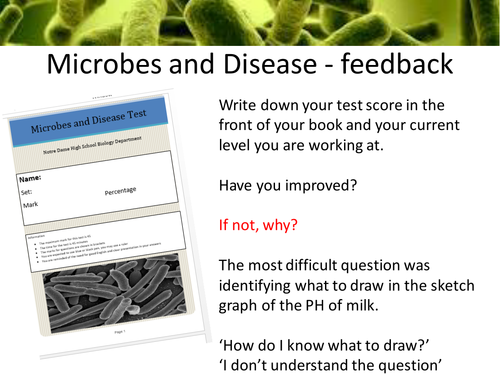 Learning Objective: How is energy transferred in a food web? Powerpoint and Worksheets suitable for KS3 with quiz and homework sheet included. ALL: will use prior knowledge to identify producers, consumers and secondary consumers in a food web (level 4) MOST: will construct a food web in a habitat (level 5) SOME: will identify ways that the food web can be changed as a result of biotic and abiotic features (level 6/7)
Admin documents to go with the Interdependence SOW & revision & test with MS Biology KS3 - details of each lesson below - can be bought as a bundle Who killed cock robin? Level 4 I can identify the producer and consumer in a food chain Level 5 I can draw a food web of a habitat Level 6 I can explain what happens to the organisms in a food web if one organism disappears Grouping species level 4 I know the characteristics of the plant and animal kingdom level 5 I can explain why different species cannot breed level 6 I can interpret keys to classify plants A place to live Level 4 I know animals may be different in different climates/seasons Level 5 I can identify how organisms are adapted to environmental conditions Level 6 I can highlight specific adaptations that allow organisms to have an advantage for survival Populations Level 4 I can describe ways samples of population size can be collected and estimated Level 5 I am able to identify factors that affect population size Level 6 can predict the effect of key factors on the growth of population using models Distribution of plants Level 4 will use a quadrat to calculate percentage of grass Level 5 will draw a distribution graph Level 6 will make suggestions why the population may fluctuate Design a predator Level 4 will explain why the key features are important to an animal's survival Level 5 will explain the benefit of protective colouration and mimicry Level 6 will expand to suggest other features that allow predators to adapt for survival What affects population size? Level 4 will describe the key factors that affect population size Level 5 will use a simple model to study a community Level 6 will be able to use the predator-prey curve to describe changes in the population Pest control Level 4 will explain what is meant by a pesticide Level 5 will identify problems of using pesticides Level 6 will evaluate the benefits of using biological control Recycling by rotters Level 4 explain why materials decay and list the conditions that speed up decay Level 5 describe how the decay process releases substances that help plants to grow Level 6 will explain why it is important to put nutrients back in the soil Film of the school field Level 4 will make a plan using the success criteria Level 5 will draw a storyboard and script to prepare to shoot the film next lesson Level 6 will use evidence from previous lessons and extend knowledge using independent research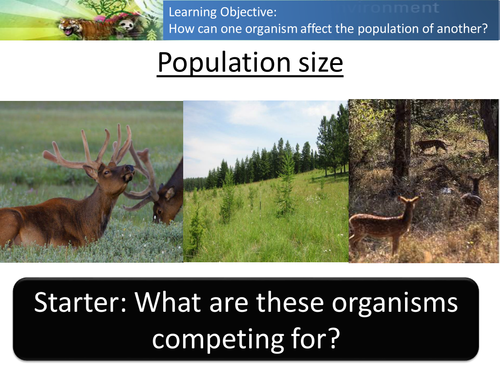 KS3 Biology Predator Prey and Population Size Learning Objective: How one organism can affect the population size of another organism ALL will describe the key factors that affect population size (levels 4-5) MOST will use a simple model to study a community (levels 5-6) SOME will be able to use the predator-prey curve to describe changes in the population (level 7) HSW: Analysing patterns from a graph
KS3 Biology - Decay and Recycling Lesson - presentation, activity and film clip Learning Objectives: To describe the role of microbes in recycling To investigate what is in leaf litter All: explain why materials decay and list the conditions that speed up decay (level 4) Most: describe how the decay process releases substances that help plants to grow (level 5) Some: will explain why it is important to put nutrients back in the soil (level 6)