FishyTeacher's Shop
I am a primary grades special education teacher based in the U.S.
54Uploads
56k+Views
6k+Downloads
I am a primary grades special education teacher based in the U.S.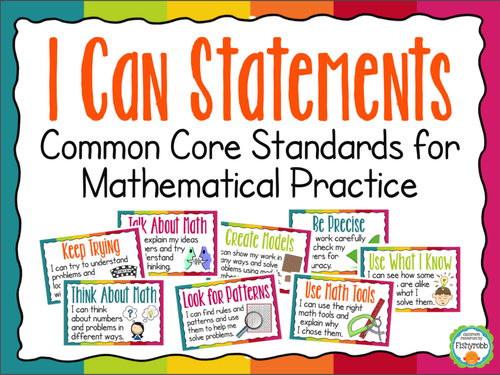 This is a set of kid-friendly "I Can" statement posters that support the 8 Common Core Standards for Mathematical Practice. These posters are provided in four formats: color half-page, color full-page, black and white half-page, and black and white full-page. The actual standard number is also listed on each for easy reference. This is a set of 5 different fractions games for partners. • Fraction Action - Identify fractions of a whole. Students match fractions to circle fraction models. • Triple Threat - Identify fractions of a set or group. • Fill 'Em Up - Identify fractions of a whole and build whole units using fractional parts. • Model Match Up - Compare and match models of like fractions (Match the circle model to the number line model of the same fraction.) • All Star Fractions - Compare fractions on a number line and determine which is greater. Can be differentiated by having higher level students find equivalent fractions with different denominators.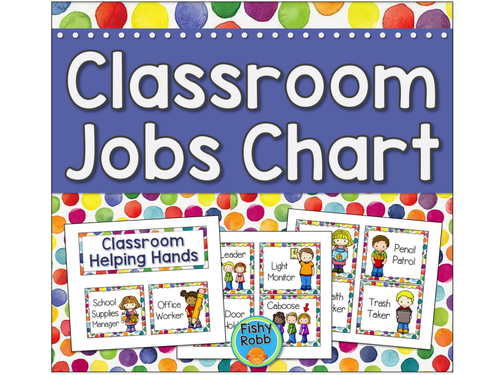 This is a classroom jobs set with a colorful polka dot background! Includes 20 job cards, job chart title card, and blank (editable) name tags. The jobs included are: line leader door holder caboose light monitor mail carrier lunch helper clean team plant care zoo keeper paper passer teacher's helper chair stacker library manager substitute trash taker lunch helper weather reporter calendar helper pencil patrol sub There are also blank job cards are in Powerpoint format in case you need to make more. This resource will introduce your students to multiplication using arrays and repeated addition. Includes: • Arrays Poster • Repeated Addition Poster • Multiplication Poster • 12 Real-Life Arrays Photo Cards • 32 Sorting and Matching Cards (math center) • Arrays Worksheet/Assessment For the sorting and matching activity, students will match arrays with the corresponding repeated addition, multiplication, and product cards.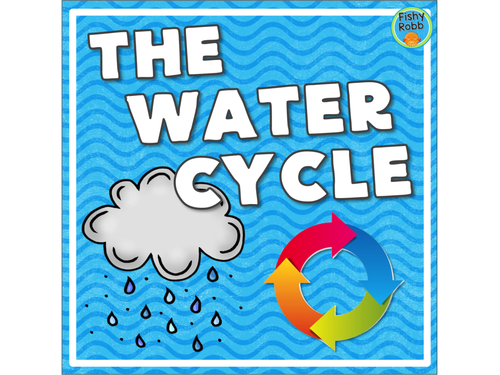 This water cycle resource will be a great supplement to your unit. Includes: Vocabulary Cards - Separate word and definition cards can be used for a matching activity, to introduce vocabulary during instruction, or for display in a pocket chart. Task Cards (12) - Students will answer multiple-choice questions about the water cycle. These can be used for centers, Scoot, whole group review, or assessment. Includes recording sheet and answer key. Water Cycle Diagram - Students will cut out the vocabulary words and glue them into the correct spot on the diagram to show the stages of the water cycle. Water Cycle Foldable - Vocabulary foldable for interactive notebooks. Includes steps in the water cycle and definitions. This close reading resource includes an original informative text about the Loch Ness Monster along with close reading task cards, student response sheets, an adjective/adverb sort using words from the passage, and answer keys. Skills: main idea and details, cause and effect, text features, prefixes, word meaning, context clues, and making inferences. With ELA standards putting a heavy emphasis on non-fiction, being able to use text features is essential to reading success. This is a set of 14 posters plus two corresponding activities to help students identify, understand, and use text features. Each poster includes an illustrated example and definition. I created these as a visual support for my class. They hang in my room all year where students refer to them often. The activity pages include: • Reading response worksheet that gives students practice identifying and using text features found in a book • Cut-and-paste worksheet which requires students to glue the correct definition next to the corresponding text feature • Student reference sheet that also doubles as an answer key for the cut-and-paste worksheet Text features included in this set: • diagram • table of contents • heading • boldface type (also provided as "Bold Print") • map • timeline • glossary • index • caption • graph • bullet points • sidebar • illustration/photo • italics Learn about penguins while practicing essential reading comprehension skills including main idea, context clues, vocabulary, and text features. Topics covered: • What are penguins? • Habitats • Diet • Predators • Penguin families • Types of penguins Students will: Read each page, using context clues to fill in the missing information. Determine main idea and choose the correct title for each chapter (cut and paste). Complete the table of contents by adding the titles in the correct spot (cut and paste). Use the glossary to understand new vocabulary about penguins. Complete a word search. Includes links to supplemental websites and videos about penguins.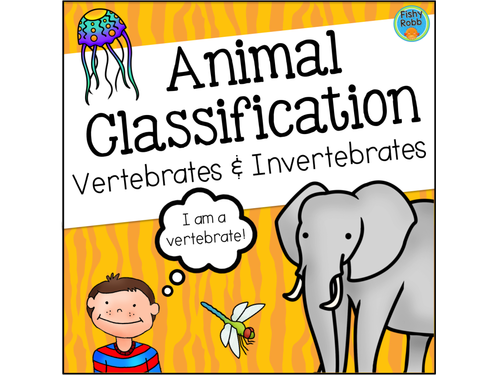 Animal classification can be fun with this pack of games and activities! Includes: Vertebrate and Invertebrate Vocabulary Posters Animal Classification Tic-Tac-Toe: 2-person game, students determine if animals are vertebrates and invertebrates. Guess Who Game: Quick review game that takes just a few minutes to play. Use classification clues to figure out the animal. Animal Classification Sort: Cut and paste activity for sorting animals according to type. Animal Classification Flap Book: Foldable for interactive notebooks. Vertebrates Sort: Sort animals according to the type of vertebrate they are. Warm or Cold Blooded: Sort types of vertebrates according to warm or cold blooded and write examples of each.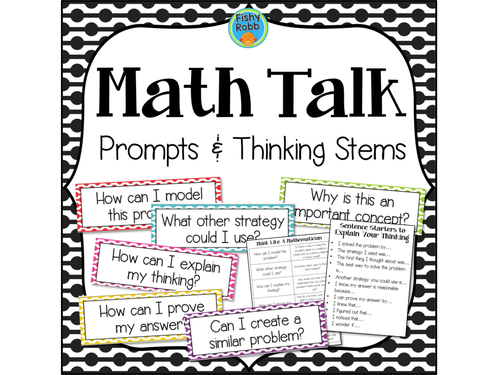 Engage your students in authentic math talk with these prompts and thinking stems. Includes: • Math Talk Display/Posters: Think Like A Mathematician Title and 6 Math Talk Prompts • Math Talk Reference Sheet– Includes the same prompts as the posters along with clarifying questions. Can be used as a teacher guide or for students to refer to. • Explain Your Thinking Sentence Stems – reference sheet for student folders Get your students citing text evidence with this set of posters, bookmarks, and reference sheet. Posters - 5 text evidence sentence stems with examples to help students respond to their reading (provided in both color and black and white) Bookmarks - Black and white bookmarks with useful text evidence stems Reference Sheet - includes stems and examples from the posters in a condensed one-page sheet for student folders This resource includes a variety of activities for learning verb tenses. Includes: • Posters/Anchor Charts (past, present, future) • Verb Tense Sentence Sort • Verb Tense Word Sort • Ninja News Writing Activity (Students will demonstrate knowledge of tenses by writing short news articles about an event that happened yesterday, an event today, and an upcoming event. • Task Cards (identify the tense being used) • Worksheet/Assessment & Answer Key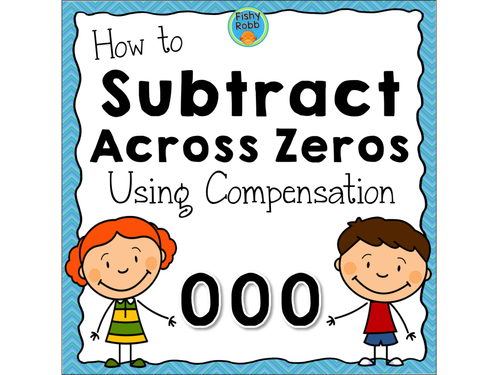 This resource teaches subtracting across zeros using the compensation strategy. Includes: Powerpoint Slideshow - Explains how to use compensation to subtract across zeros without having to regroup. Practice Page - Provides students with guided skill practice Exit Tickets - Use to gauge student understanding Students who have difficulty subtracting across zeros using the standard algorithm will often have an easier time using the compensation strategy.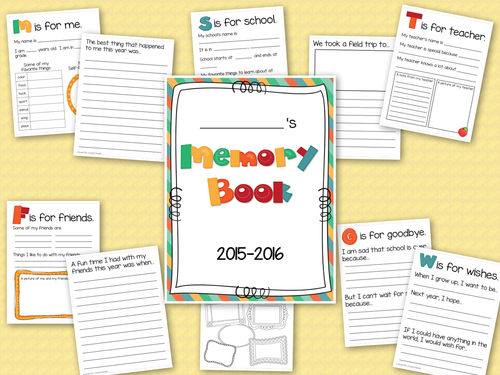 This interactive memory book is the perfect way to wrap up your school year! Pages include: • Cover • M is for Me - all about the student: name, age, grade, favorite/favourite things (pages with both spellings provided), self portrait. • Writing page - The best thing that happened this year was... • S is for School - school name, school information, favorite and least favorite subjects, drawing of my school • Writing page - We took a field trip to... • T is for Teacher - teacher's name, my teacher is special because..., a note from my teacher, picture of my teacher • F is for Friends - spots to write friends' names, things I like to do with my friends, a picture of me and my friends • Writing page - A fun time I had with my friends this year was when... • A is for Autographs - spots for friends to sign their names or write short notes • More autographs • G is for Goodbye - I am sad school is over because..., But I can't wait for summer because... • W is for Wishes - When I grow up I want to be..., Next year I hope..., If I could have anything, I would wish for... • Extra covers for future years through 2020 • Extra pages with UK spelling This memory book is appropriate for primary grades (k to 2, or reception to year 2).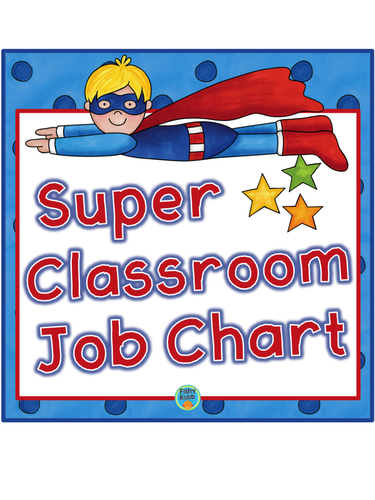 This classroom jobs set includes 20 job cards, job chart title card, and blank (editable) name tags with a superhero theme. The jobs included are: line leader door holder line caboose lights monitor mail carrier lunch helper clean team zoo keeper paper passer teacher's helper chair stacker library manager substitute trash taker office worker pledge leader weather reporter calendar helper pencil patrol substitute worker There are blank job cards as well in case you need to make more.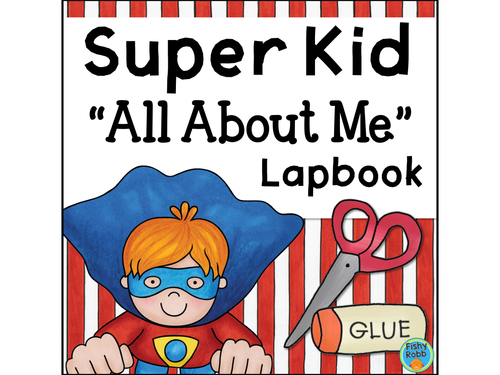 Your students will love creating this All About Me lapbook with a super kid theme! All you need is a file folder for each student. Includes foldables and components (in both US and British spelling) for: • Self-portrait • Favorite color/Favourite colour • Favorite/Favourite food • Friends • Family • More Favorite/Favourite Things (book, tv show, song) • Birthday • When I Grow Up • I'm Super Because... • Super Girl and Super Boy toppers • Cover title The "My Family" house is a pocket that holds sentence strips for students to write what they love about each family member. This is a fast-paced fractions game for small groups. It consists of 112 cards showing fractions in number form, word form, part of a whole, and part of a group. After the cards are dealt, students quickly turn them over, trying to find matches as fast as they can. This game can be timed or students can play until all matches have been made. Instructions are also provided for two other games/activities using the cards. The games can be differentiated by reducing the number of cards that are included or focusing only on fractions with certain denominators. These cards can also be used for instructional purposes such as illustrating equivalent fractions. This primary economics unit has everything you need to teach your students about goods and services. Includes: • Goods and Services Vocabulary Posters • Consumers and Producers Vocabulary Posters • Supply, Demand, and Barter Vocabulary Posters • Goods and Services Picture Sort • Writing About Goods and Services • Cut-and-Glue Word Sort • Reading Comprehension Passage • Goods and Services Flap Book • Consumer and Producer Flap Book • Community Services Matching Game • Services In My Town Color & Write Book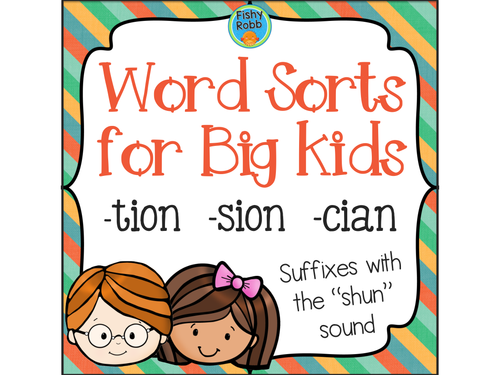 This resource will help students learn suffixes that make the "shun" sound. They will sort the words according to which suffix each should end with. Definition cards are included to help build vocabulary and reinforce the meaning of each suffix. Includes: • TION, SION, and CIAN heading cards • 23 Word Cards for sorting and adding the correct suffix • 23 Definition Cards • Recording Sheets • Cut & Paste Worksheet - Students add the correct suffix to each word and glue in the corresponding definition. • Answer Keys These can be used for just learning the spelling patterns or for reinforcing word meaning as well. Engage your students in critical thinking with these mystery number task cards! Each task card requires students to guess a two-digit mystery number based on place value and greater than/less than clues. These cards are a fun way to practice place value and number sense skills up to 100 and are a great challenge early finishers. Includes 24 task cards, recording sheet, and answer key.