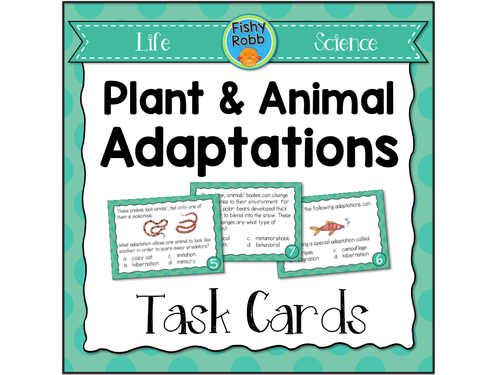 These task cards will test your students' knowledge of plant and animal adaptations. Questions cover behavioral and physical adaptations. Students will identify type of adaptations, function of adaptations, and specific adaptations for certain animals and plants. Includes 24 task cards, recording sheet, answer key.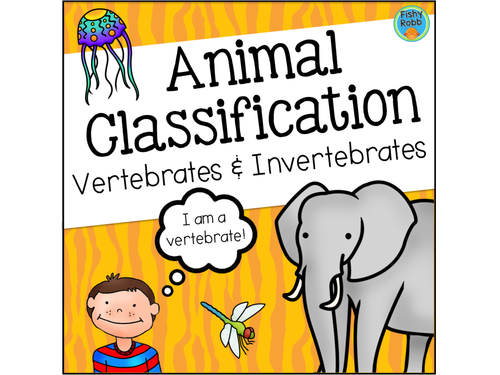 Animal classification can be fun with this pack of games and activities! Includes: Vertebrate and Invertebrate Vocabulary Posters Animal Classification Tic-Tac-Toe: 2-person game, students determine if animals are vertebrates and invertebrates. Guess Who Game: Quick review game that takes just a few minutes to play. Use classification clues to figure out the animal. Animal Classification Sort: Cut and paste activity for sorting animals according to type. Animal Classification Flap Book: Foldable for interactive notebooks. Vertebrates Sort: Sort animals according to the type of vertebrate they are. Warm or Cold Blooded: Sort types of vertebrates according to warm or cold blooded and write examples of each.
This close reading resource includes an original informative text about the Loch Ness Monster along with close reading task cards, student response sheets, an adjective/adverb sort using words from the passage, and answer keys. Skills: main idea and details, cause and effect, text features, prefixes, word meaning, context clues, and making inferences.
Bring some fun to your time unit with this set of centers and games! These activities will get your students telling time to the nearest hour, half hour, quarter hour, 5 minutes, and minute. Just print and use! These games are very easy to learn and are perfect for your math centers. Includes the following activities: Dominoes Match-Up (4 differentiated sets): • Set 1 - time to the hour • Set 2 - time to the half and quarter hour • Set 3 - time to 5 minutes • Set 4 - time to the minute Start with the domino with the green GO sign. Read the digital time and then find the domino with the matching analog clock. When the dominoes are all matched and lined up correctly, the last one will end with a stop sign. "I have, Who Has" Game - Includes 20 cards with time in both digital and analog form. Include hour, half hour, and quarter hour. Telling Time Concentration - 30 cards (15 analog, 15 digital). Students take turns picking cards to make matches. Time to the minute.
Tape diagrams (bar models) are an excellent way to solve multiplication and division problems! This pack will help your students learn to analyze story problems, identify the operation needed, identify the question, use tape diagrams to model and solve, and interpret tape diagrams to write their own story problems. Includes: • Tape diagram teaching posters to guide students in using tape diagrams • Task cards/Matching Activity - Includes 10 problem cards, 10 tape diagram cards, and 10 equation cards. These can be used in a variety of ways. Have students match each problem with the correct tape diagram model and equations. Provide just the story problems and have students solve on their own. Provide just the tape diagram cards and have students create equations and/or story problems to go with them. • 2 Assessments/worksheets and answer key Once your students learn to use tape diagrams, I think you'll see them become much more proficient at problem solving
This is a set of reading comprehension and writing activities about three important figures in women's history: Malala Yousafzai, Susan B. Anthony, and Marie Curie. This pack includes: • 3 biographical reading passages (1 for each person) • 3 sets of text-based question to go with the reading passages • Character Traits activity • Interactive Notebook foldable • Writing prompt • Answer Keys These activities are perfect for women's history month (March in the U.S.), when learning about equal rights, or for integrating social studies into your reading instruction.
This is a set of no-prep reading comprehension and writing activities about three important figures in world history: Mahatma Gandhi, Nelson Mandela, Elie Wiesel. This pack includes: • 3 biographical reading passages (1 for each person) • 3 sets of text-based question to go with the reading passages • Compare and contrast graphic organizer • Interactive notebook activity • Writing prompt • Answer Keys These activities are perfect for integrating social studies into your reading instruction.
Are you looking for a great way to integrate social studies into your reading instruction? This HEROES IN HISTORY bundle will teach your students about twelve important figures in history, civil rights, and government while practicing essential reading comprehension skills. Includes these 3 resources: • Heroes in Black History: Harriet Tubman, George Washington Carver, Thurgood Marshall • Heroes in Women's History: Marie Curie, Susan B. Anthony, Malala Yousafzai • Heroes in World History: Nelson Mandela, Mahatma Gandhi, Elie Wiesel Each set includes: • Biographical reading passages about 3 different influential people • Text-based comprehension questions for each passage • Interactive notebook sorting activity • Writing prompt • Bonus comprehension activity (compare/contrast, character traits, etc.)
This is a set of reading comprehension and writing activities about three important figures in American and Black History: Harriet Tubman, George Washington Carver, and Thurgood Marshall. This pack includes: • 3 biographical reading passages (1 for each person) • 3 sets of text-based question to go with the reading passages • Compare and Contrast activity • Interactive Notebook foldable • Writing prompt • Answer Keys These activities are perfect for Black History month, a study of influential Americans, or for integrating social studies into your reading instruction.
Your students will get plenty of practice identifying main idea and supporting details with this set of no-prep activities! There are 3 different types of worksheets included: SET A: Each page features a short informational passage. Students will read the text and then answer two text-based questions (one true/false and one short response). At the bottom of the page are four sentences to cut out. Students will glue these onto the graphic organizer to show which is the main idea and which are the supporting details. In some of the passages, the main idea is implied rather than explicitly stated. There are plenty of details in the text to help readers determine the main point.The answers to the other questions are found directly in the text. I like to have my students highlight where they found the answers (as pictured on the cover). This shows me that they referred back to the text to find the information. SET B The second set of worksheets feature three different main idea statements. Students cut out the details at the bottom and glue them under the correct main idea. The three main ideas deal with the similar topics, so students will have to read each detail carefully to determine which main idea it supports. SET C These worksheets help students discern between supporting details and non-pertinent information. They will read a short passage and underline or highlight the sentence that does not support the main idea. Each page contains three passages. Includes 11 student worksheets (5 for set A, 3 for set B, 3 for set C) plus answer keys. These work well as homework, in literacy centers, or even for assessment.
This bundle of interactive booklets will give your students valuable reading comprehension practice while learning about fables. Each book features one of Aesop's tales along with text-based questions for students to answer. Many skills are packed into each book including: • character traits • inferencing • prediction • cause/effect • compare/contrast • using context clues to determine word meaning • moral • story sequence On each page, students read part of the story and answer questions by finding text evidence. The fables you will get in this bundle are: • The Fox and the Stork • The Boy Who Cried Wolf • The Dog and His Shadow • The Lion and the Mouse • The Miller, His Son, and Their Donkey • The Tortoise and the Hare These books are great for guided reading or as an independent activity during centers.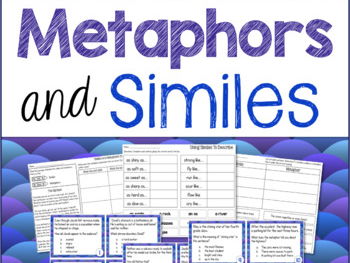 This is a set of task cards and worksheets for teaching metaphors and similes. Students will identify each type of figurative language, find examples within text, and use them in writing. • Task Cards - Includes 12 cards, recording sheets, and answer key. Students will identify similes and metaphors within text and interpret their meanings. • Simile/Metaphor Sort - Cut and paste activity in which students identify which type of figurative language is being used in a sentence. • Similes and Metaphors In Context - Students will read a short passage, finding examples of figurative language, and interpreting their meanings. • Using Similes To Compare - Students will complete similes by choosing the best descriptive phrase. • Describe Yourself With Similes - Students will write an acrostic poem using similes to describe themselves. • Figurative Language In Poetry - Students will read two short poems and identify examples of similes and metaphors. Answer keys are included.
Understanding the scientific process can be tough for kids without plenty of hands-on experience. This candy lab investigation is designed to help them explore what scientists do, the tools they use, and the scientific process. This resource includes a 10-page booklet for students to record their observations, data, and conclusions, plus teacher instructions for completing the lab. The lab includes experiences in: • observing physical properties • classifying • recording data in a bar graph • predicting • variables • using a hand lens, graduated cylinder, thermometer, and clock • drawing conclusions • sharing data • recording data in a line plot The teacher will need to provide the above mentioned tools and individual candies (such as Skittles, M&Ms, Tootsie Rolls, etc.).
This resource is designed to help teach the story elements of setting, characters (protagonist and antagonist), plot, problem (conflict), solution (resolution), theme, and moral. The concepts are presented in the context of familiar fairy tales. Because most students already know these stories well, they can focus on each individual element. Includes: • Story Elements Heading Cards • Story Elements Sorting Cards for each fairy tale • Reading Passages for each fairy tale • Graphic Organizers The fairy tales included are: • The Three Little Pigs • Cinderella • The Three Billy Goats Gruff • The Ugly Duckling • The Mouse and the Lion • Hansel and Gretel The sorting cards are provided in two formats: color-coded and black. The color-coded cards will make it easy to see which elements go with which story. For older or more advanced students, you may want to use set with the all black border so they will have to determine which elements go with which story themselves.
In today's classroom, students must be able to reflect on their own learning. This set of posters will help your students learn to self-rate their level of understanding. There are 4 levels: ✪ novice ✪ learning ✪ skilled ✪ expert Each poster includes descriptors and a hand showing the number. These can be used with any grade level and subject. No prep involved! Just print and hang. Connect with Me! • • • • •
Getting students to remember important vocabulary is always a challenge. This personal vocabulary booklet gives them another way to build their knowledge of any topic or theme you teach. On each page, students will • write the word (or phrase) • add their own illustration, diagram, or other visual • write a definition • categorize the word as an idea, person, place, event, or process The cover has space to write the topic and add an illustration. There is also a table of contents where students will list all of the words in their booklet. This booklet can be used for any subject but is especially great for social studies and science topics.
The Miraculous Journey of Edward Tulane by Kate DiCamillo is a wonderful book for building vocabulary and comprehension and for understanding character traits. This is a set of reading response / novel study activities to go along with the book. 32 vocabulary cards Chapter-by-chapter story map activity Character analysis Compare and Contrast Making Connections Predicting
This is a set of 12 Halloween themed worksheets for math and literacy in kindergarten. Just print and go, no prep needed! These printables will keep student focused on learning during the crazy days surrounding Halloween. Literacy: • Halloween Beginning Sounds • Halloween Color & Read Mini Book • ABC Ghosts (upper/lower case letter match) • Halloween Rhyming Words • Spooky Syllables • Candy Coloring (upper/lower case letter match) Math: • Math Cats - Number, Word, Tally Mark Match Up (1-5) • Halloween Patterns (extending) • Halloween Count & Graph • Trick or Treat Tens Frames • Let's Count 0-9 • Spooky Story Problems
Help your students learn how to choose a "just right" book with this set of posters and bookmarks. The Goldilocks themed visuals teach children how to decide if a book is too hard, too easy, or just right. The posters make a cute bulletin board display in your classroom library!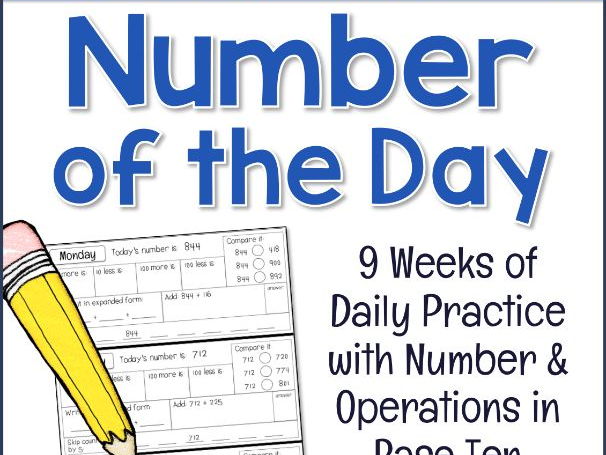 This pack of no-prep Number of the Day activities will strengthen your students' number sense and math skills that fall under the domain of Number & Operations in Base Ten. (This resource is aligned with U.S. 2nd grade NBT standards. See below for specific skills covered or view the standards here: http://www.corestandards.org/Math/Content/2/NBT/) Each day starts with a 2- or 3-digit number. Students will use that number to: • Use mental math to find 10 more, 10 less, 100 more, and 100 less • Add or subtract • Compare using greater than and less than symbols • Write expanded form • Skip count forward and backward by 5s, 10s, and 100s In addition to the above, on Friday students will: • Order the week's numbers from least to greatest • Count base ten blocks These activities start out with only 2-digit numbers in the first week. The numbers increase each week so that students are working with numbers up to 1,000 by the end. Addition and subtraction skills also build and eventually require composing or decomposing numbers. Your purchase will include: • 9 weeks of daily math practice • Answer keys
100 sight words are included in this pack of no-prep printables. Students will color the sight words, trace, write, find, and stamp. Then they will build each word with a cut-and-glue activity. These worksheets make perfect practice for homework, centers, or morning work. Just print and go!
This is a set of colorful posters, banners, and planning sheet to guide your students through the STEM process. Includes: • STEM Process Posters in both A3 and A4 size: Ask, Imagine, Plan, Create, Improve • Banners: Science, Technology, Engineering, Mathematics. Also includes Math (alternate wording), Art, and Mechanics banners. • Planning Sheet for student to use as they work through their projects
This forms of government resource helps students learn to distinguish between a dictatorship and a democracy. Includes: • Democracy Vs. Dictatorship Sort – Includes 22 characteristic cards. Students determine whether they describe a democracy or a dictatorship and sort them under the correct heading. • Graphic Organizers – Includes a Venn Diagram and Double Bubble Map for comparing and contrasting the two forms of government. • Dictatorship or Democracy Task Cards – Includes 6 different scenarios describing a child's daily life. Students decide whether the scenario would take place in a democracy or under a dictatorship. Includes recording sheet and answer key. This works well as a short formative activity.
Understanding prefixes, suffixes, and the Greek and Latin roots that make up our language is essential for building vocabulary. This resource will help students learn to recognize those word parts and their meanings. This 140-page pack includes a complete word wall, a word-of-the-day activity, and word building cards. Students will learn 74 prefixes, 86 roots, and 46 suffixes. The three word wall sets include: • Posters/headings with definitions • Prefix/Suffix/Root cards with definitions of each • Example words for every prefix, suffix, and root The word building cards are smaller versions of the word wall cards but without the definitions. These can be used for instruction and word work activities. The word-of-the-day activity includes a full color graphic organizer and coordinating student worksheet. Student can be given a word to break apart and analyze to discover its meaning. A list of suggested words is also included.