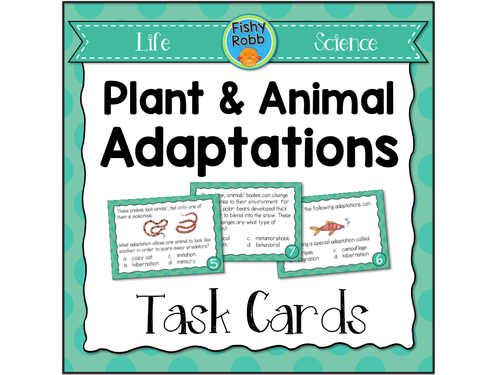 These task cards will test your students' knowledge of plant and animal adaptations. Questions cover behavioral and physical adaptations. Students will identify type of adaptations, function of adaptations, and specific adaptations for certain animals and plants. Includes 24 task cards, recording sheet, answer key.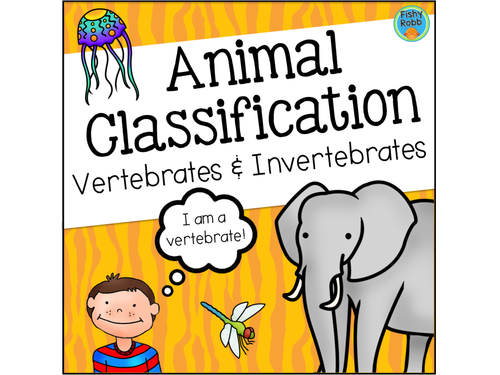 Animal classification can be fun with this pack of games and activities! Includes: Vertebrate and Invertebrate Vocabulary Posters Animal Classification Tic-Tac-Toe: 2-person game, students determine if animals are vertebrates and invertebrates. Guess Who Game: Quick review game that takes just a few minutes to play. Use classification clues to figure out the animal. Animal Classification Sort: Cut and paste activity for sorting animals according to type. Animal Classification Flap Book: Foldable for interactive notebooks. Vertebrates Sort: Sort animals according to the type of vertebrate they are. Warm or Cold Blooded: Sort types of vertebrates according to warm or cold blooded and write examples of each.
This close reading resource includes an original informative text about the Loch Ness Monster along with close reading task cards, student response sheets, an adjective/adverb sort using words from the passage, and answer keys. Skills: main idea and details, cause and effect, text features, prefixes, word meaning, context clues, and making inferences.
Understanding the scientific process can be tough for kids without plenty of hands-on experience. This candy lab investigation is designed to help them explore what scientists do, the tools they use, and the scientific process. This resource includes a 10-page booklet for students to record their observations, data, and conclusions, plus teacher instructions for completing the lab. The lab includes experiences in: • observing physical properties • classifying • recording data in a bar graph • predicting • variables • using a hand lens, graduated cylinder, thermometer, and clock • drawing conclusions • sharing data • recording data in a line plot The teacher will need to provide the above mentioned tools and individual candies (such as Skittles, M&Ms, Tootsie Rolls, etc.).
In today's classroom, students must be able to reflect on their own learning. This set of posters will help your students learn to self-rate their level of understanding. There are 4 levels: ✪ novice ✪ learning ✪ skilled ✪ expert Each poster includes descriptors and a hand showing the number. These can be used with any grade level and subject. No prep involved! Just print and hang. Connect with Me! • • • • •
Getting students to remember important vocabulary is always a challenge. This personal vocabulary booklet gives them another way to build their knowledge of any topic or theme you teach. On each page, students will • write the word (or phrase) • add their own illustration, diagram, or other visual • write a definition • categorize the word as an idea, person, place, event, or process The cover has space to write the topic and add an illustration. There is also a table of contents where students will list all of the words in their booklet. This booklet can be used for any subject but is especially great for social studies and science topics.
Help your students stay organized with this is a weekly student planner! There is one page for each week which includes: • Calendar • Spelling List (up to 15 words) • Important Information • Teacher Comments • Parent Comments The pages are dated for the current school year and will be updated yearly. You can either print the pages as they are and have students write information in or you can use the provided text boxes and moveable "stamps" to add information. The calendar spaces are perfect for recording school events, holidays, or daily behavior. Four different cover options are included. They are provided in both PDF and editable Powerpoint which will allow you to type in the student's name.
The Miraculous Journey of Edward Tulane by Kate DiCamillo is a wonderful book for building vocabulary and comprehension and for understanding character traits. This is a set of reading response / novel study activities to go along with the book. 32 vocabulary cards Chapter-by-chapter story map activity Character analysis Compare and Contrast Making Connections Predicting
This is a set of 12 Halloween themed worksheets for math and literacy in kindergarten. Just print and go, no prep needed! These printables will keep student focused on learning during the crazy days surrounding Halloween. Literacy: • Halloween Beginning Sounds • Halloween Color & Read Mini Book • ABC Ghosts (upper/lower case letter match) • Halloween Rhyming Words • Spooky Syllables • Candy Coloring (upper/lower case letter match) Math: • Math Cats - Number, Word, Tally Mark Match Up (1-5) • Halloween Patterns (extending) • Halloween Count & Graph • Trick or Treat Tens Frames • Let's Count 0-9 • Spooky Story Problems
Help your students learn how to choose a "just right" book with this set of posters and bookmarks. The Goldilocks themed visuals teach children how to decide if a book is too hard, too easy, or just right. The posters make a cute bulletin board display in your classroom library!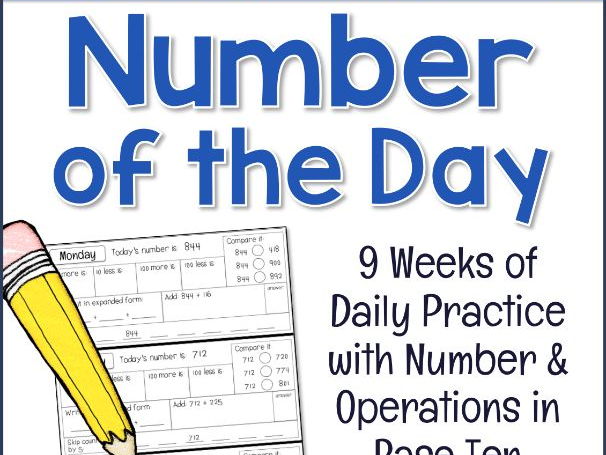 This pack of no-prep Number of the Day activities will strengthen your students' number sense and math skills that fall under the domain of Number & Operations in Base Ten. (This resource is aligned with U.S. 2nd grade NBT standards. See below for specific skills covered or view the standards here: http://www.corestandards.org/Math/Content/2/NBT/) Each day starts with a 2- or 3-digit number. Students will use that number to: • Use mental math to find 10 more, 10 less, 100 more, and 100 less • Add or subtract • Compare using greater than and less than symbols • Write expanded form • Skip count forward and backward by 5s, 10s, and 100s In addition to the above, on Friday students will: • Order the week's numbers from least to greatest • Count base ten blocks These activities start out with only 2-digit numbers in the first week. The numbers increase each week so that students are working with numbers up to 1,000 by the end. Addition and subtraction skills also build and eventually require composing or decomposing numbers. Your purchase will include: • 9 weeks of daily math practice • Answer keys
This resource is designed to help teach the story elements of setting, characters (protagonist and antagonist), plot, problem (conflict), solution (resolution), theme, and moral. The concepts are presented in the context of familiar fairy tales. Because most students already know these stories well, they can focus on each individual element. Includes: • Story Elements Heading Cards • Story Elements Sorting Cards for each fairy tale • Reading Passages for each fairy tale • Graphic Organizers The fairy tales included are: • The Three Little Pigs • Cinderella • The Three Billy Goats Gruff • The Ugly Duckling • The Mouse and the Lion • Hansel and Gretel The sorting cards are provided in two formats: color-coded and black. The color-coded cards will make it easy to see which elements go with which story. For older or more advanced students, you may want to use set with the all black border so they will have to determine which elements go with which story themselves.
100 sight words are included in this pack of no-prep printables. Students will color the sight words, trace, write, find, and stamp. Then they will build each word with a cut-and-glue activity. These worksheets make perfect practice for homework, centers, or morning work. Just print and go!
This is a set of colorful posters, banners, and planning sheet to guide your students through the STEM process. Includes: • STEM Process Posters in both A3 and A4 size: Ask, Imagine, Plan, Create, Improve • Banners: Science, Technology, Engineering, Mathematics. Also includes Math (alternate wording), Art, and Mechanics banners. • Planning Sheet for student to use as they work through their projects
Understanding prefixes, suffixes, and the Greek and Latin roots that make up our language is essential for building vocabulary. This resource will help students learn to recognize those word parts and their meanings. This 140-page pack includes a complete word wall, a word-of-the-day activity, and word building cards. Students will learn 74 prefixes, 86 roots, and 46 suffixes. The three word wall sets include: • Posters/headings with definitions • Prefix/Suffix/Root cards with definitions of each • Example words for every prefix, suffix, and root The word building cards are smaller versions of the word wall cards but without the definitions. These can be used for instruction and word work activities. The word-of-the-day activity includes a full color graphic organizer and coordinating student worksheet. Student can be given a word to break apart and analyze to discover its meaning. A list of suggested words is also included.
This is a set of 11 colour posters in French. They also include the English word below in a smaller font. Bright colours with a neutral black/gray polka dot border coordinate with any classroom theme. Includes: rouge bleu vert jaune orange violet noir blanc gris rose brun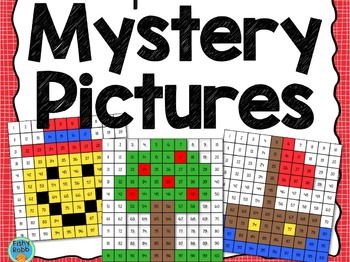 Your students will love practicing their multiplication facts with these mystery colour-by-number picture worksheets! Each page includes a hundred chart and a colouring key. Students must solve the multiplication problems on the key to find out where to place colours on the hundred chart. When solved correctly, the mystery picture will be revealed. The problems involve facts up to 12x12. For larger prime numbers, students will need to have an understanding of the identity property and multiply those numbers by 1. I have also included just a few that require multiplying a larger number by 2 with no regrouping (for example: 2x23). Includes 9 multiplication mystery pictures and answer keys.
This resource focuses on basic division with remainders. It is designed for students just learning the concept. Includes 3 sets of task cards (24 total) with printable manipulatives. The problems all use dividends of 30 or less. This allows students to focus on the process of division with remainders without getting hung up on difficult calculations. The printable manipulatives give them a way to find the solutions in a more concrete way. Also includes recording sheets and answer keys.
Rhyming words are the focus of this phonemic awareness resource. Includes materials for both short- and long-vowel rhyming patterns. These activities work well for centers or independent practice. Includes: • Short Vowel Rhyming Words Cards - 42 picture/word cards featuring short vowel words. These can be used to play concentration, as a simple matching activity, or for instruction. • Long Vowel Rhyming Words Cards - 30 picture/word cards featuring long vowel words. • Short Vowel Rhyming Strips - 15 strips and 30 picture cards. Each strip features a short vowel word and picture in the first box. Students must find the two rhyming word cards to complete each strip. • Long Vowel Rhyming Strips - 11 strips and 22 picture cards featuring long vowel words. • Worksheets - 5 short vowels worksheets (one for each vowel) that ask students to color the pictures that rhyme. 1 long vowel cut-and-paste worksheet (mixed vowel sounds) that asks students to cut out the pictures and glue underneath its rhyming match.
This is a set of 24 visuals for teaching landforms and bodies of water. Each page includes a picture card and a title/definition card. They can be used for a bulletin board display or as a vocabulary matching activity. Includes: • archipelago • bay • beach • butte • canal • canyon • cave • cliff • delta • dune • glacier • hill • island • isthmus • lake • mesa • mountain • ocean • peninsula • plateau • river • valley • volcano • waterfall
This is a set of task cards for finding number patterns using function tables (input/output). Each card includes a partially completed function table. Students must determine the rule and then supply the missing number. These tasks involve multiplication and division. Includes: 24 task cards, student recording sheet, and answer key. Great for math centers, independent practice, or a Scoot game.
24 task cards for finding number patterns using function tables (input/output). Students must determine the rule and supply the missing number. These tasks involve addition and subtraction (both single and double digit) including doubles and doubles plus one. Recording sheet and answer key are included.
This forms of government resource helps students learn to distinguish between a dictatorship and a democracy. Includes: • Democracy Vs. Dictatorship Sort – Includes 22 characteristic cards. Students determine whether they describe a democracy or a dictatorship and sort them under the correct heading. • Graphic Organizers – Includes a Venn Diagram and Double Bubble Map for comparing and contrasting the two forms of government. • Dictatorship or Democracy Task Cards – Includes 6 different scenarios describing a child's daily life. Students decide whether the scenario would take place in a democracy or under a dictatorship. Includes recording sheet and answer key. This works well as a short formative activity.
Each full-page card includes a data set presented in a line plot with 4 questions for students to answer. These questions require students to interpret and compare the data. Each card also contains a QR code for self-checking. Recording sheets and answer keys are included as an alternate. There are 15 line plot cards divided into three sets: Set 1: Categorical Data Set 2: Numerical Data: Whole Numbers Set 3: Numerical Data: Fractions These sets provide differentiated practice and increasing difficulty.