36Uploads
3k+Views
274Downloads
Level 3 BTEC Unit 2- Health and Social care Exam revision lesson. Revision marketplace - set the classroom up with the different stations/ activities Approx 2/ 2.5 hours worth of material Download one of the markschemes from the BTEC website in order to complete one 20min activity. Areas covered: -Mark scheme familiarisation task Professionals who work in H &S Care Organisations that regulate professions in health and social care services Whistle blowing Issues that affect access to services Safeguarding scenario practice for 'Discuss' Question Key legislation
Unit 2 BTEC Health and Social Care Level 3- revision (4 lessons) Revision for the Unit 2 Btec Exam. Focus on: Regulatory bodies - Objectives Recap regulatory bodies : What they do Look at a case study where regulatory bodies have been involved Attempt an exam style question Mark the question using the markscheme Develop the skill of using case studies ( as this is the format used in the exam) Objectives: To utilise a well known case study to recap over some key content needed for the Unit 2 exam To complete revision tasks using the case study To answer an exam style question To mark the exam style question To revise Care plans and the care plan cycle: Create a case scenario and create a care plan Fun element/ competition To complete Quizes as a group- Online links provided in the PPT
BTEC level 3 Children's play, learning and development- Unit 19: Working with children with additional needs. Task 2/ Learning Aim B P4/P5/P6/P7/M2/M3/D1 A PPT to support meeting ALL of the above criteria. Several lessons worth of material.
1 Lesson- 2hrs approx Unit 2: BTEC Health and Social Care- Exam revision- Key terms and practice Q's Objectives: To recap the key exam terms To carry out activities based around using the key terms To complete a practice test Key exam phrases activity- I printed the q's on to large flip chart paper and put them up around the room, asking learners to annotate/ answer the Q. We had discussions about techniques. An interactive lesson. Additional note: to get the best from this lesson plan, it is best to download and have a copy of a practice/past paper from the BTEC website and the Markscheme.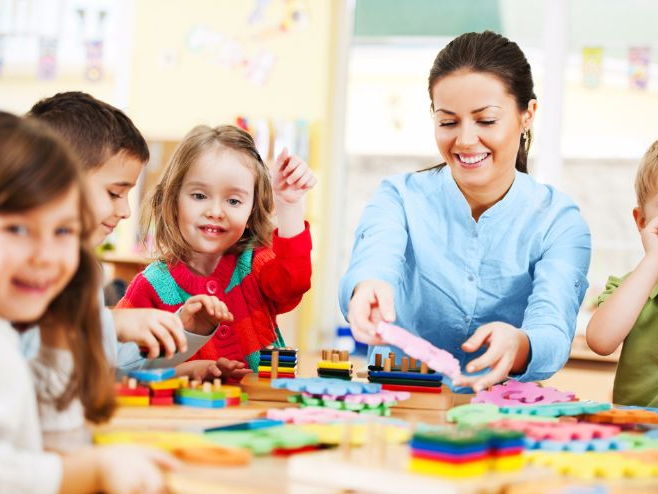 Introduction to preparing for a work placement working with children PPT. Used for L2 and L3 childcare courses. There are 3 lessons work of material. Activities on the PPT for learners to complete. Whole lesson for approx 3hrs worth of time. Objectives covered: By the end of this session you will be able to: Describe how to prepare for your placement Provide examples of how to create a good first impression Be able to say why confidentiality is important Provide ways to maintain confidentiality Be able to identify and explain different childcare provisions The data protection act is also included. Ready to use as an introduction, or could be expanded as required. Could be adapted to be used for Health and Social care courses.
A tutorial PPT about being fit for study. Suitable for college students/ upper secondary school
A PPT looking at: Intro to research methods Key terms linked to RM- Reliability/ Hawthorne/ Validity/ bias etc.... Subjectivity vs Objectivity Covert and overt observation Ethical issues surrounding observations Interpretivist and Positivist approaches Types of data Strengths and weaknesses of methods and approaches Factors affecting the method used Leading questions Triangulation Planned for Sociology, but could be used for Psychology also. PPT with tasks for learners, involving group work. 3 lessons worth of material (approx.)
PPT on ATTACHMENT with activities - prepared for BTEC Childcare. Focus on Bowlby and attachment theory Key stages of attachment Types of attachment The role of the key worker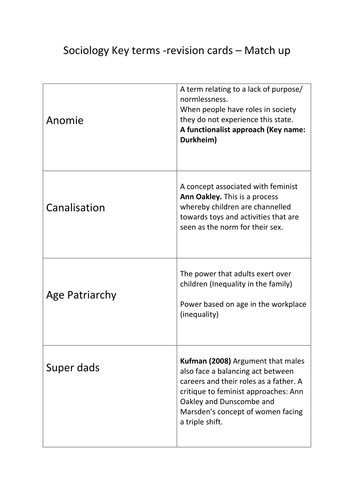 37 key term revision match up cards. Linking a concept to an explanation/ theory/ theorist. By no means an exhaustive list. Could be used as a starter or plenary, or as an exemplar to encourage students to create further cards! A selection of concepts taken from general sociological terms, and those linked to the families and households unit. The Spec I teach is OCR A level- Section A, with the families pathway, but these terms would cross over to other exam boards easily.
Sociology AS lesson approx 1hr 30 mins worth of material. Exploring the family. The lesson objectives are: 1. To be able to describe how sociological approaches view the family- AO1 skills 2. To be able to provide research evidence to support sociological approaches to the family- A02 skills 3. To be able to critically evaluate the sociological approaches ideas about the family – A03 skills An active learner led session, with concept cards to print and use.
The Universal Family…………… really?? Worksheets looking at alternative family types to the nuclear family and Murdocks views. Activity task: What are these types of families? Are they families in your opinion? Do they fit with the Functionalist requirements of what makes a family? What are the stats/ supporting research for them?
Social policy and the Family - group work presentation task looking at social policy and the family. Impact on A02 and A03 skills- after discussing the key family agendas of differing political parties, learners need to make links to sociological theory in terms of evaluation and analysis.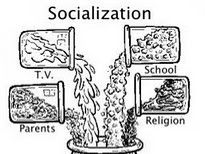 A PPT for OCR (since 2015) A level Sociology, focusing on short answer questions and mark bandings for Socialisation, Culture and Identity. Each 3 are skimmed upon - can be used as consolidation OR introduction Main emphasis is on recall for the short answer Questions Type of culture task also attached Resources is for a 3 hr lesson
A chart to compare theories - Columns include- key theorists/ type of theory/ How society functions/ key terms/ Causes of social change/ criticisms.
Introduction to Sociology SWAY presentation - Would easily cover an initial 3 hr lesson/ first couple of lessons around introduction to Sociology. Covers: What is Sociology with picture cards to discuss as a class/ in groups and feedback relevance Subjectivity and Objectivity Being Human- Whats unique about it? ( with video clip embedded) What is Society? Metaphors for Society task Would easily cover an initial 3 hr lesson/ first couple of lessons around introduction to Sociology.
A workbook introduction to the family What is a family/ household Common beliefs about family Cereal packet family Monogamy Nuclear family Ideology Functionalist - Murdock and Parsons family functions Support and criticisms from other theory/ approaches A general introductory task. 3hrs worth of material (depending on how taught)
Observational techniques: Intro observational task Non participant and participant observation Covert and Overt Hawthorne effect The ethics of observation Things to consider- Reliability etc Advantages and disadvantages Event and time sampling Behavioural categories Mary Ainsworth- Strange situation example Peer review of the strange situation Practice exam Q's
Scheme of Learning and Assessment Schedule for OCR (from 2015) A level Sociology (yr 1)- Families pathway. A full years scheme of work/ learning for OCR Sociology- Families pathway. Online learning, homework and suggested assessments included.
Define the following terms: 2 Marks each Time 45 mins Total /46
Identify the labels given to the students in the scenarios. A starter activity for Labelling
A PPT covering the 3 main types of experimental design Advantages and disadvantages of each design Counter balancing IV and DV recap Questions to get learners to identify the type of experimental design