38Uploads
5k+Views
311Downloads 1 Lesson- 2hrs approx Unit 2: BTEC Health and Social Care- Exam revision- Key terms and practice Q's Objectives: To recap the key exam terms To carry out activities based around using the key terms To complete a practice test Key exam phrases activity- I printed the q's on to large flip chart paper and put them up around the room, asking learners to annotate/ answer the Q. We had discussions about techniques. An interactive lesson. Additional note: to get the best from this lesson plan, it is best to download and have a copy of a practice/past paper from the BTEC website and the Markscheme. Unit 2 BTEC Health and Social Care Level 3- revision (4 lessons) Revision for the Unit 2 Btec Exam. Focus on: Regulatory bodies - Objectives Recap regulatory bodies : What they do Look at a case study where regulatory bodies have been involved Attempt an exam style question Mark the question using the markscheme Develop the skill of using case studies ( as this is the format used in the exam) Objectives: To utilise a well known case study to recap over some key content needed for the Unit 2 exam To complete revision tasks using the case study To answer an exam style question To mark the exam style question To revise Care plans and the care plan cycle: Create a case scenario and create a care plan Fun element/ competition To complete Quizes as a group- Online links provided in the PPT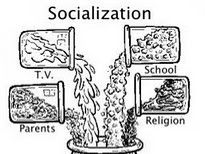 A PPT for OCR (since 2015) A level Sociology, focusing on short answer questions and mark bandings for Socialisation, Culture and Identity. Each 3 are skimmed upon - can be used as consolidation OR introduction Main emphasis is on recall for the short answer Questions Type of culture task also attached Resources is for a 3 hr lesson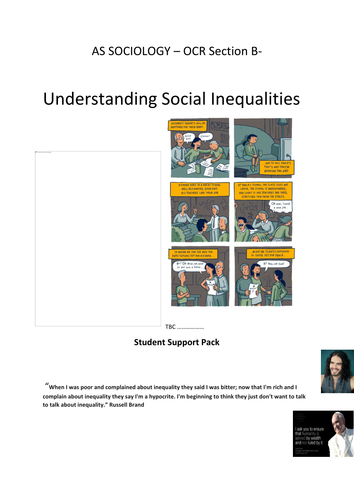 A 29 page COMPLETE tool RESOURCE BOOKLET Covering the WHOLE UNIT of Social inequalities for OCR AS Sociology. Covering ALL 4 areas of Inequality: SOCIAL CLASS/ AGE/ GENDER/ ETHNICITY. All planned for tutors and gapped for learners to complete tasks. Tasks relating to information in the OCR textbook (page numbers provided)/ online research- with direct links provided. Links to key terms/ concepts/ theory and research. Reference to video clips (links provided) Links made to the Research methods section where possible as well ( as exam will combine the two) Level 3 BTEC Unit 2- Health and Social care Exam revision lesson. Revision marketplace - set the classroom up with the different stations/ activities Approx 2/ 2.5 hours worth of material Download one of the markschemes from the BTEC website in order to complete one 20min activity. Areas covered: -Mark scheme familiarisation task Professionals who work in H &S Care Organisations that regulate professions in health and social care services Whistle blowing Issues that affect access to services Safeguarding scenario practice for 'Discuss' Question Key legislation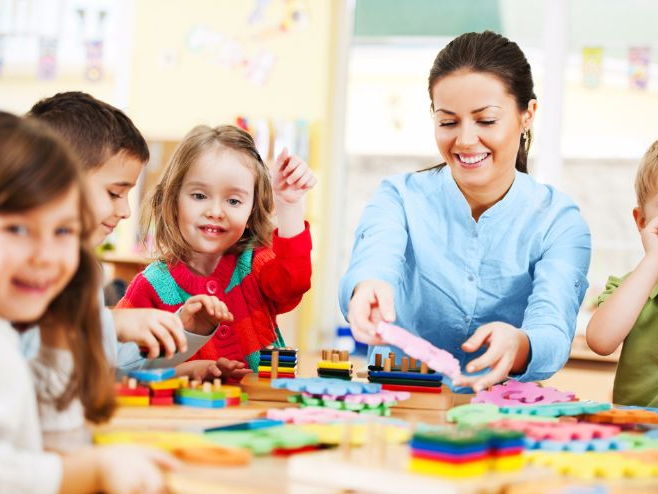 Introduction to preparing for a work placement working with children PPT. Used for L2 and L3 childcare courses. There are 3 lessons work of material. Activities on the PPT for learners to complete. Whole lesson for approx 3hrs worth of time. Objectives covered: By the end of this session you will be able to: Describe how to prepare for your placement Provide examples of how to create a good first impression Be able to say why confidentiality is important Provide ways to maintain confidentiality Be able to identify and explain different childcare provisions The data protection act is also included. Ready to use as an introduction, or could be expanded as required. Could be adapted to be used for Health and Social care courses. Introduction to Sociology SWAY presentation - Would easily cover an initial 3 hr lesson/ first couple of lessons around introduction to Sociology. Covers: What is Sociology with picture cards to discuss as a class/ in groups and feedback relevance Subjectivity and Objectivity Being Human- Whats unique about it? ( with video clip embedded) What is Society? Metaphors for Society task Would easily cover an initial 3 hr lesson/ first couple of lessons around introduction to Sociology. Social policy and the Family - group work presentation task looking at social policy and the family. Impact on A02 and A03 skills- after discussing the key family agendas of differing political parties, learners need to make links to sociological theory in terms of evaluation and analysis. PPT on ATTACHMENT with activities - prepared for BTEC Childcare. Focus on Bowlby and attachment theory Key stages of attachment Types of attachment The role of the key worker A PPT looking at: Intro to research methods Key terms linked to RM- Reliability/ Hawthorne/ Validity/ bias etc.... Subjectivity vs Objectivity Covert and overt observation Ethical issues surrounding observations Interpretivist and Positivist approaches Types of data Strengths and weaknesses of methods and approaches Factors affecting the method used Leading questions Triangulation Planned for Sociology, but could be used for Psychology also. PPT with tasks for learners, involving group work. 3 lessons worth of material (approx.) A 1.5 hr lesson looking at Kholberg's theory of Moral Development. Presented in a Sway. - Starter on what morals are -Video links embedded - Famous Hienz dilemma explored - Stages of moral development discussed - APPFCC task embedded, to cover all aspects of the research study and criticisms - Practice exam Q included Define the following terms: 2 Marks each Time 45 mins Total /46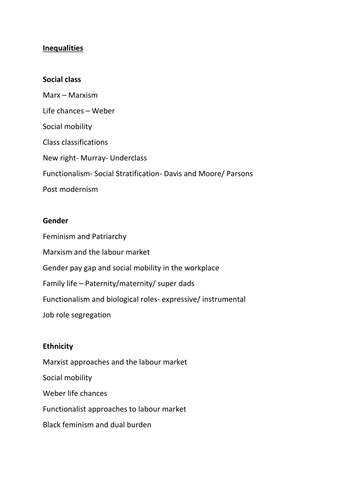 Revision themes for OCR Social Inequalities ( Gender/Social Class/Age/ Ethnicity) A quick revision document illustrating the key approaches to revise for each, with particular emphasis on revising items that can be utilised in a few areas of inequality. A backbone for elaboration, depending on the areas taught.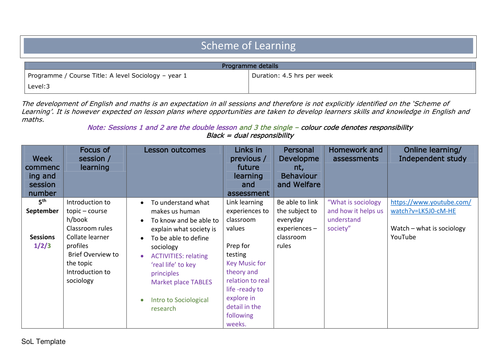 A Level Sociology first year Scheme of work/ learning. Total teaching time= 4.5hr each week. This is a split SOL to fit with divided teaching. A 'double lesson' - 3hrs and a single lesson 1.5hr. This is for co-delivery/ if you wanted to separate delivery. The 3hr slots are based on Socialisation, Culture and Identity, and the single focusing on Research methods. The chosen topic is MEDIA, and this follows on from Research methods and SCI. Introductions and Theory are included at the start of the SOL, before SCI is taught. Social inequalities is embedded within research methods and throughout Identity teaching. A full SOL for the OCR linear A level Spec- year 1. Homework (set each week) / assessment and online learning included in SOL Whats covered in the SWAY (online presentation that can be edited) Objectives: To define Socialisation and the key terms surrounding it To discuss the relationship between gender and socialisation To be able to identify the 4 parts of Oakley's gender socialisation process To be able to apply theory to concepts To be able to evaluate key concepts/ ideas and theory. ALL included. Socialisation introduced initially through the idea of first dates- making the concept accessible to learners/ a bit of fun. Introduction to Sociological theory through music, pictures and ppt! A ppt covering an introduction to ALL 5 ( Marxism, Functionalism, Feminism, Post modernism and Interaction/ Social action approaches) of the main Sociological theories. A 1.5hr lesson, with music to represent theory for discussion and debate. The lesson has 3 parts- main points for each theory, key symbols for each theory- learning through imagery and the music element. From experience, recall of theory is good afterwards- really helps to embed the basics :) The students enjoy the music aspect also. A tutorial PPT about being fit for study. Suitable for college students/ upper secondary school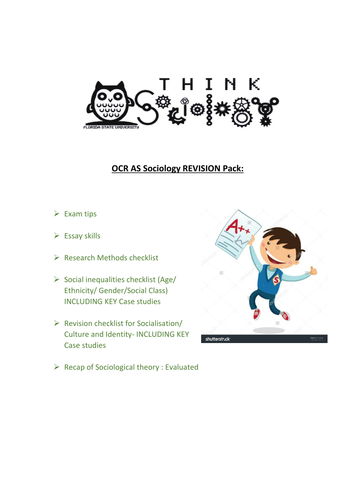 OCR AS Sociology REVISION Pack- A 16 page document covering ALL revision areas: Exam tips Essay skills Research Methods checklist Social inequalities checklist (Age/ Ethnicity/ Gender/Social Class) INCLUDING KEY Case studies Revision checklist for Socialisation/ Culture and Identity- INCLUDING KEY Case studies Recap of Sociological theory : Evaluated