Natural Selection Learning
15Uploads
173Views
33Downloads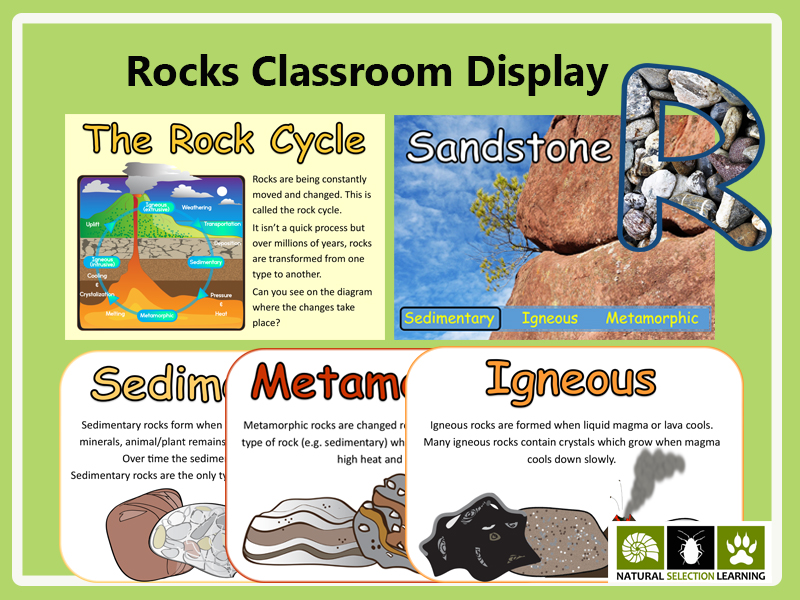 Introduce rocks to your class with these bright and colourful display materials. This pack includes: 8 rock example photos (granite, chalk, sandstone, flint, marble, pumice, limestone, slate). 3 description cards (sedimentary rock, metamorphic rock, igneous rock). Cut out letters with rock design - R, O, C, K, S Rock Cycle Poster Clip art for rock cycle poster and description cards from https://www.teacherspayteachers.com/Store/The-Painted-Crow

A colourful and exciting PowerPoint presentation to introduce the 5 vertebrate animal groups to younger pupils - fish, mammals, amphibians, reptiles and birds. 34 slides in total designed to be used over 1 or several lessons. Ends with a quiz to re-cap knowledge. Please note, this presentation does not cover: -Warm and cold blooded Whales and dolphins Exceptions to the rule (e.g. egg laying mammals)

A simple 1-page printable for re-capping the body parts of a bird.

Find 9 hidden fossil related words which can be found horizontally, vertically, backwards and diagonally. Colour and black/white versions included, along with answers. An ideal filler for early finishers at the end of a lesson.

A simple 1-page printable to re-cap the body parts of a fish.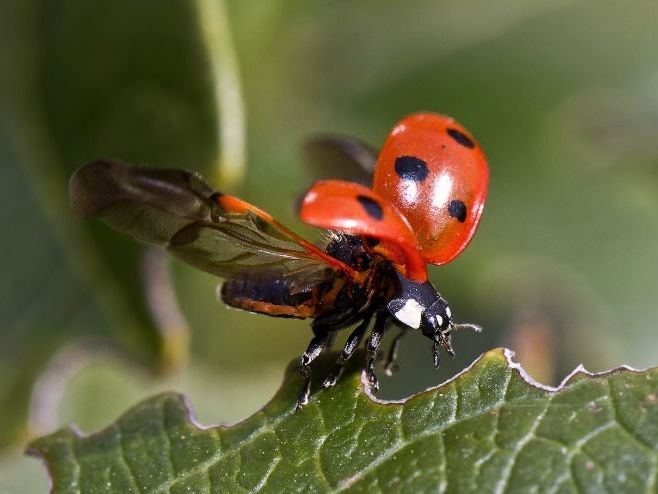 A colourful and informative look at the stages of a ladybird's life cycle. This 15 slide PowerPoint presentation would make an ideal whole class introduction to this well-loved insect. Suitable for KS2.

An informative 20 slide PowerPoint presentation to introduce how fossils can provide evidence about life on Earth millions of years ago. Full of high quality images and questions to get you pupils thinking about what fossils can and can't tell us about the past.

Ideal as a filler for early finishers. 11 words which can be found going forwards, backwards, vertically and diagonally. See my store for related PowerPoint presentation on Darwin's life: https://www.tes.com/teaching-resources/shop/Gdwaters1 Clipart link: http://www.teacherspayteachers.com/Store/Artifex

Help Dr Bones identify the body parts in his X-ray pictures. A fun and interactive way to build on knowledge of the human skeleton - pupils see each picture, identify the body part/bones, and see if they were right on the next slide. This presentation consists of 22 slides.

Three Natural Selection Learning insect life cycle PowerPoint presentations covering: Life cycle of a butterfly Life cycle of a dragonfly Life cycle of a ladybird Full of beautiful images and interesting facts. Ideal as an introduction for KS2 pupils.

Take a colourful and informative journey through the stages of a butterfly's life cycle with this 13 slide PowerPoint presentation. Full of high quality images and interesting facts to capture your pupils' imaginations. Suitable for use as a whole class presentation. Copyright Natural Selection Learning

A colourful look at the life cycle of the flamingo. 11 slides detailing the stages from egg, to chick, to adult. A useful whole class introduction to the life cycle of a bird.

A colourful introduction to the life cycle of a dragonfly for Key Stage 2 pupils. Includes slides on eggs, nymphs, emergence and the adult dragonfly. Ends with a class quiz to reinforce learning.

Have fun with keys by challenging your pupils to identify some Australian animals and breeds of dog using branching keys. This resource pack also contains some blank key templates on a minibeast theme for pupils to have a go at devising their own key questions (with partially completed templates for lower ability/younger pupils if required). Pack contents: Australian Animals Picture Card Australian Animals Key Breeds of Dog Picture Card Breeds of Dog Key 3 x Blank Key Templates (Minibeasts) 3 x Partially Completed Key Templates (Minibeasts) Notes on how to use the resources Copyright Natural Selection Learning

A bright and fun look at the life and work of Charles Darwin, this 20 slide presentation includes discussion points, colourful images and interesting facts. An ideal starting point for KS2 pupils/Darwin Day. Darwin Clipart link: http://www.teacherspayteachers.com/Store/Artifex