Wonder at the World
Creating engaging resources to support primary science.
112Uploads
15k+Views
3k+Downloads
Creating engaging resources to support primary science.

2021 sees Tokyo host the summer Olympic games in Japan. Create excitement with this resource pack, designed for KS2 pupils. Tokyo 2021 PowerPoint (also provided as a pdf). Contains facts about this year's Olympics and Paralympics including new sports, what the medals are made of and how many countries are taking part. It ends with whole class Olympic themed quiz questions. Activity sheets ready to print on A4 paper Pick Me! Suggest a new Olympic sport and write a letter campaigning for its inclusion in the 2024 Games Create an Olympian profile Design a kit for an Olympic runner Design a kit for an Olympic cyclist Create a Games motto Design a medal

An activity where children arrange minibeasts into the garden micro-habitats they would live in. This resource includes: A3 garden print out with microhabitat labels A3 garden print out without labels (micro-habitat labels for children to add included as a separate A4 PDF) 13 garden minibeasts in full colour on A4 sheet Minibeast identification sheet Guidance notes on how the resource could be used, including follow up questions to explore together.

Explore the life cycles of three insects with this PowerPoint presentation bundle (a PDF of each presentation excluding any video content is also included for home learning of those without access to PowerPoint). Butterfly life cycle A 17 slide resource explaining the life cycle stages from egg to adult butterfly. Contains images of several different butterfly species as well as questions to discuss together. Dragonfly life cycle A 20 slide resource exploring the egg, larval and adults stages of the dragonfly life cycle. Ladybird life cycle An 18 slide presentation. Ideal for introducing the life cycle of this well-loved insect to your class. Please note, the PowerPoint text and images cannot be edited.

Kick off a classification topic with this colourful and engaging PowerPoint presentation. This resource will introduce the 5 vertebrate animal groups to younger pupils - fish, mammals, amphibians, reptiles and birds. There are 39 slides in total, designed to be used over 1 or several lessons. It ends with a short quiz to re-cap knowledge. This resource also contains: Sorting activity - 5 A4 cards labelled with each animal group name, plus 24 animal pictures to sort. Print, cut and laminate. Activity booklet - Double sided A4 sheet (black and white) to print and fold in half. A PDF of the PowerPoint presentation is also included.

Why are mammoth bones found in the North Sea? How can a chipped tooth reveal what a giant shark ate? Find out how fossils can unlock the secrets of ancient creatures with this informative 25 slide PowerPoint presentation. Full of high quality images and questions to get your pupils thinking about what fossils can and can't tell us about the past. Curriculum link Evolution and inheritance - statutory requirements Pupils should be taught to: recognise that living things have changed over time and that fossils provide information about living things that inhabited the Earth millions of years ago A pdf of the same presentation is also included for buyers without PowerPoint. Please note, this resource is not editable.

Help Dr Bones identify the body parts in his X-ray pictures. A fun and interactive way to build on knowledge of the human skeleton - pupils see each picture, identify the body part/bones, and see if they were right on the next slide. This presentation consists of 23 slides and is designed to support science at lower KS2.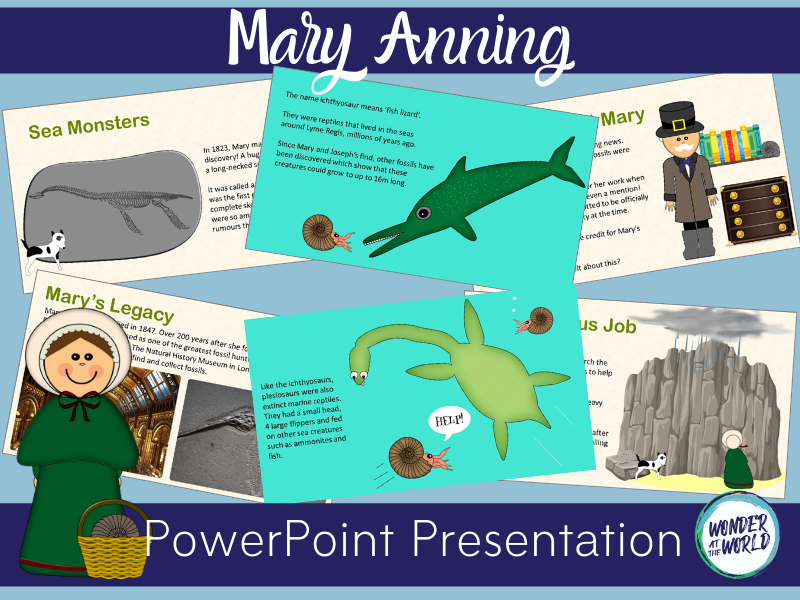 Mary Anning was one of the world's greatest fossil hunters. Despite her humble background, she was a pioneer, although she didn't receive the credit for her achievements that she deserved. Introduce your class to this remarkable British paleontologist with this 15 slide PowerPoint detailing her life and major discoveries including ichthyosaurs, plesiosaurs and winged reptiles! This presentation would complement a rocks and fossils unit, or support learning about women in science. This resource is a PowerPoint. A PDF of the presentation is also included for those without access to Microsoft Office. I also offer a Fossils as Evidence PowerPoint in my shop, suitable for KS2. Find it here

2020 sees the Olypmic Games hosted by Japan. Create a buzz about the event with these six activity sheets, ready to print on A4 paper. Pick Me! Suggest a new Olympic sport and write a letter campaigning for its inclusion in the 2024 Games Create an Olympian profile Design a kit for an Olympic runner Design a kit for an Olympic cyclist Create a Games motto Design an Olympic medal THis resource is also available with accompanying PowerPoint presentation here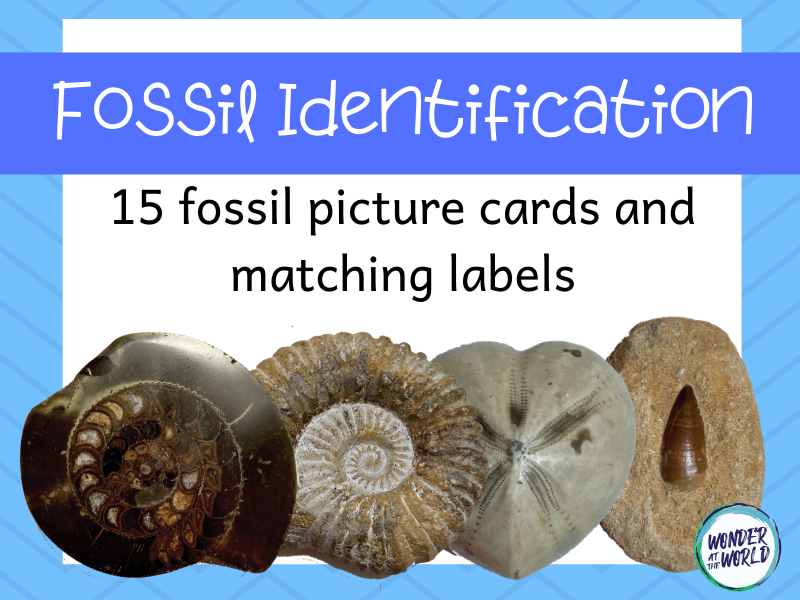 Your class can become palaeontologists! This activity consists of 15 full colour photos of different fossils with labels to match (pcitures can be printed with or without a background). Fossils include ammonites, a mosasaur tooth, megalodon tooth, shells, coral and a plesiosaur backbone. There are 2 sets of labels to choose from (1 set requiring some internet research, the other more descriptive to allow pupils to try to identify without needing to go online). There are instructions and answers included.

Use this cute ladybird craft activity to explain the life cycle of this well-loved insect. This version uses the word 'ladybird' rather than the American English 'ladybug'. This resource is a 3 page PDF. It contains: Black and white template for students to colour, cut and fold. Print on A4 card. Simple instructions A picture to assist with folding

Set your class the challenge of completing 7 days of kindness! Print an activity sheet for each student on letter sized paper. Each stripe on their cup represents a day of the week. For each of the next 7 days they will try to complete an act of kindness. For each one, they can colour in a stripe on their cup (starting at the bottom), and write what they did. By the end of the week, they will have a rainbow striped cup of kindness, ideal for creating a whole class display. Encourage more than one kind act a day - they can just add their favourite to the cup! This resource is a 2-page PDF file (activity sheet and teaching guidelines).

A bright and fun look at the life and work of Charles Darwin, this 20 slide presentation includes discussion points, colourful images and interesting facts. An ideal starting point for introducing natural selection to KS2 pupils or for Darwin Day in February. This resource also includes the presentation as a pdf for buyers without PowerPoint.

Keep your students motivated with home learning with this sparkly Spanish glitter digital sticker set. Just copy and paste or insert into pupils' work (e.g. on Google Classroom/Seesaw). There are 10 stickers in this resource (each a colour png. file with transparent background). This resource is for personal classroom use only and not for resale.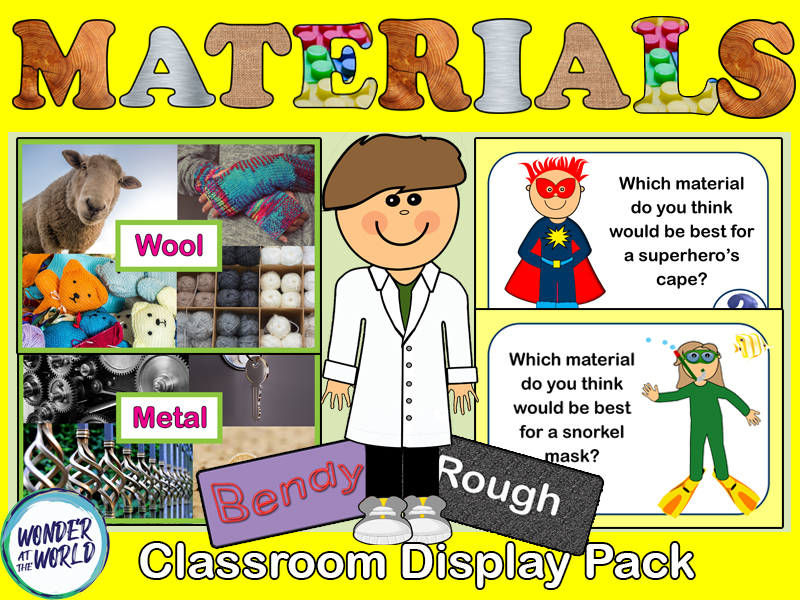 Introduce the topic of materials to your class with this colourful and engaging pack of display materials. This resource includes: Title lettering (MATERIALS). Each letter is presented on an A4 page, to be cut and mounted. 9 A4, full colour posters showing examples of everyday materials (glass, wood, metal, fabric, wool, plastic, ceramic, leather and paper). 9 descriptive words to add to your display if required (presented 3 to a page, to be cut out and mounted) 5 A4 posters with simple questions about the use of materials (e.g. Which material would be best for a superhero's cape?).

Put together the steps to show how an prehistoric ammonite became a fossil. This activity contains: A 5 page PDF including 8 full colour pictures with the corresponding labels. Print, cut out individual pictures/labels and laminate. A 4 page PDF as above but with the labels included on the pictures for lower ability. National Curriculum link: Describe in simple terms how fossils are formed when things that have lived are trapped within rock

Teach the stages of fossilisation with this folding ammonite craft. Print on A4 card ready for pupils to colour and fold like a concertina. When closed, you'll just see the large fossil ammonite but when opened, the fossilisation process will be revealed! You can see a finished example on my Facebook page here. Instructions are provided as well as some questions for discussion.

Get to know your pupils with this all about me foldable craft. There are 9 templates so children can pick one that best matches their hair style. They then draw eyes, eyebrows, skin/hair colour and lips. The inside prompts them to add some information about themselves - name, age, favourite colours, something that makes them smile and something they are good at. Finally, they can cut out the design, and fold (instructions are included for this). Bring the 2 sides of the face together, then gently pull apart to reveal the inside (like a concertina). Minimal prep is needed - just print templates onto A4 card and have coloured pencils in skin/hair/eye tones and scissors available. Glue/tape are not required.

A French Valentines themed colour by numbers. 9 colours are needed to complete the picture (vert, rouge, bleu, noir, gris, jaune, rose, marron, violet). This is a 1 page pdf file (2 of the same picture per page to print and cut in half).

24 editable tray or drawer labels on a superheros theme. Each label is 155mm x 35mm, designed to fit a shallow Gratnells tray, (although you can change the size if required). The resource consists of 2 Word Documents. There is a text box inside each label so you can add each child's name and print. Please also see my superhero reward certificates here

Start an eye-catching science or STEM display with these themed classroom display letters. This resource contains the letters S,C,I,E,N,C,E, each with a science design and chunky black outline. Either use the pdf file to print and go, or re-size using the png files which are high resolution and can be inserted into other documents. Ideal for British Science week or a general STEM display. Please note, both the pdf and png files are contained within a zip file.