41Uploads
16k+Views
4k+Downloads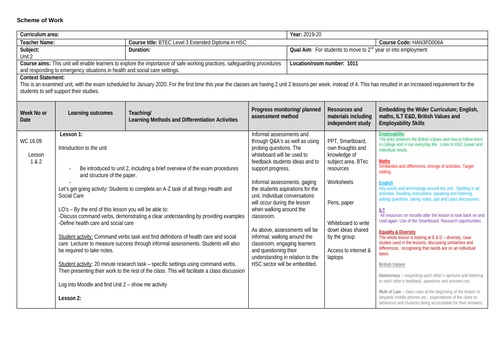 Scheme of work for unit 2 - working in health and social care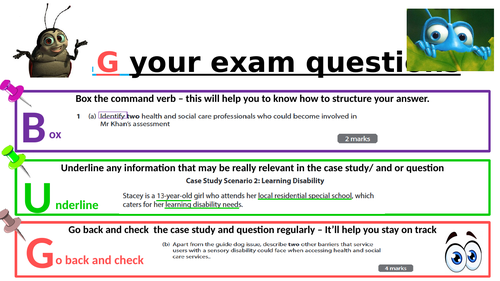 A useful document to support students in REALLY reading their exam question!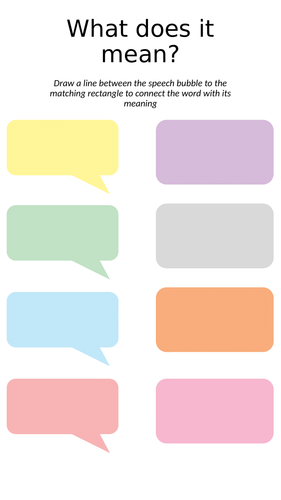 This fully editable worksheet can be used to support students understanding definitions. This worksheet can be used across Key stages and subjects.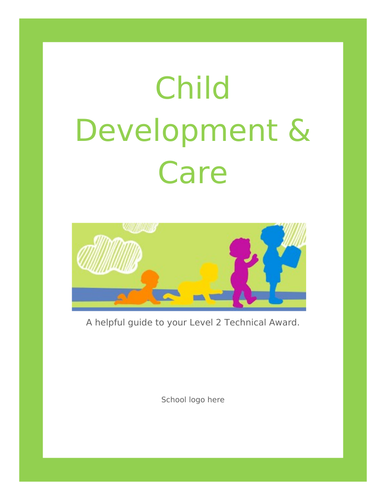 This booklet can be used for open evenings and provided to students over the summer term. Contents Welcome to Child Development and Care Meet your teacher Information from CACHE How is this qualification structured and assessed? How is the qualification graded? How long will it take to complete this qualification? What qualifications compliment this qualification? What related qualifications can you progress to? Assignment and examination command verbs Harvard Referencing Unit 1 information Unit 2 information Unit 3 information Examination Activity: School Vision Statement embedded into Health and Social Care Activity Activity Extension activity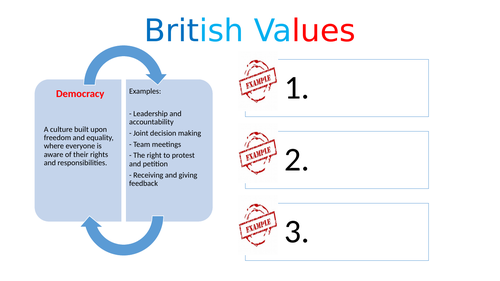 A range of British Value worksheets that can be adapted to suit a range of subject areas as well as a template that can be used to start a display board.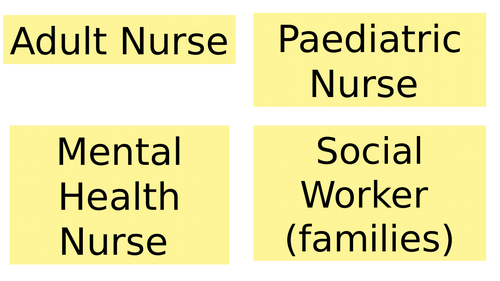 Lettering/ Bunting Jobs This can be fully edited and I use this resource as part of the students units too!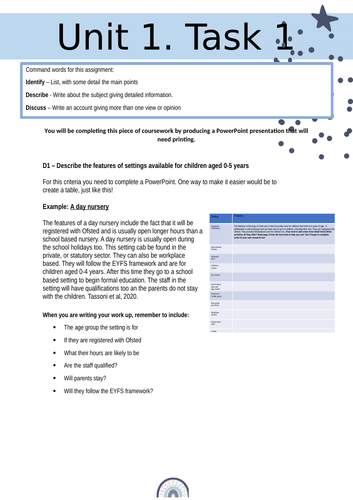 This package of work includes: Lessons for all LO's Resources to accompany the lessons Coursework guidance sheets Scheme of Work Sequencing document for students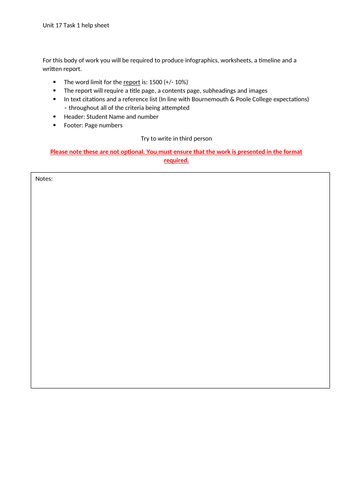 These help sheets will guide students through unit 17 (understanding dementia care) as well as work as a marking guide for teachers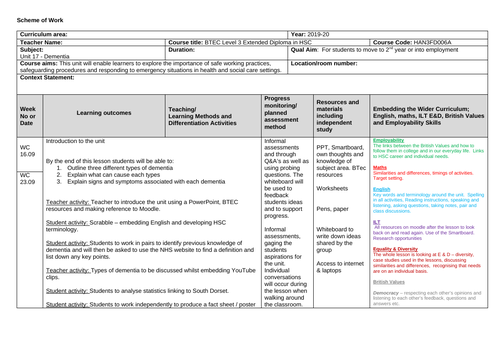 This is a SOW which can be edited to suit the needs of the setting.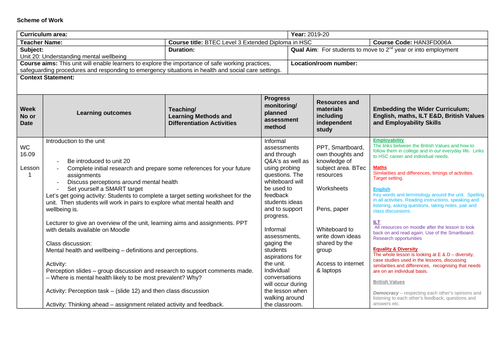 This inludes: Scheme of work Sequencing document Help sheets for assignments Lessons Activities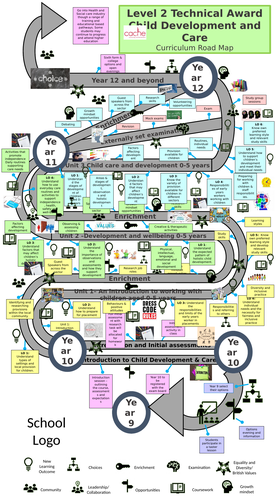 This resource can be fully edited and covers each unit within the qualification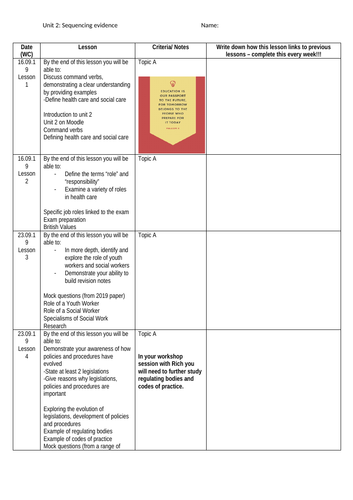 In line with the new Ofsted framework this sequencing document is for students.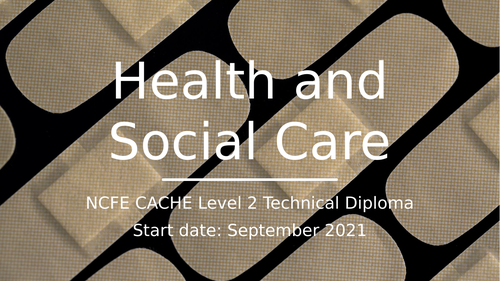 This PowerPoint can be used to accompany the pre-course information booklet available to purchase on here. Ideal for Open Evenings, Social Media and to send to parents/ carers. It can be exported into a video too! This document can be fully edited to suit the needs of the individual setting.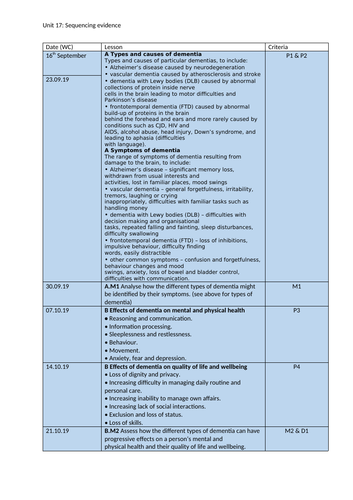 This word document can be provided to students to support their knowledge of sequencing within the unit.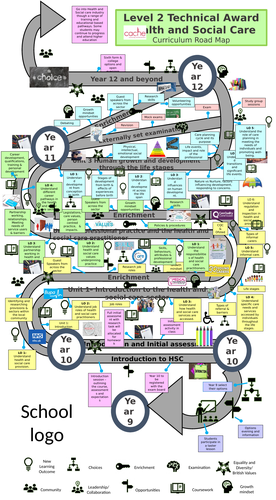 This resource can be fully edited and covers each unit within the qualification.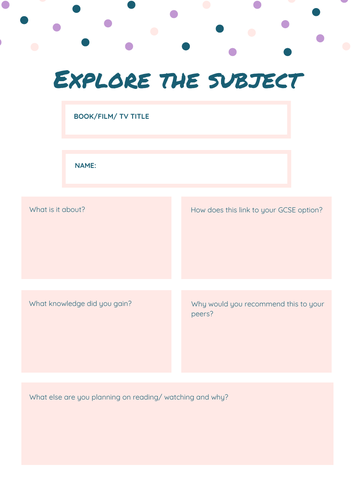 I use this worksheet to support students in reviewing books, films and documentaries linked to Health and Social Care. Great to use as a lockdown activity and can be used to make a display. Could also be used as a homework task or extension task.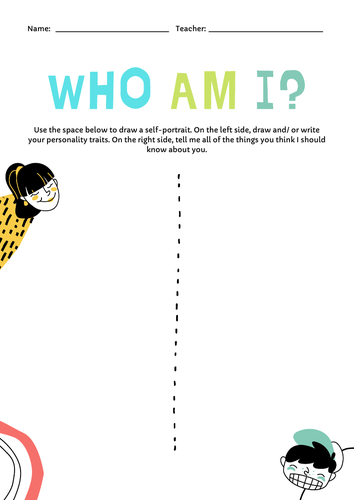 Two worksheets that can be used to support the teacher getting to know their students.