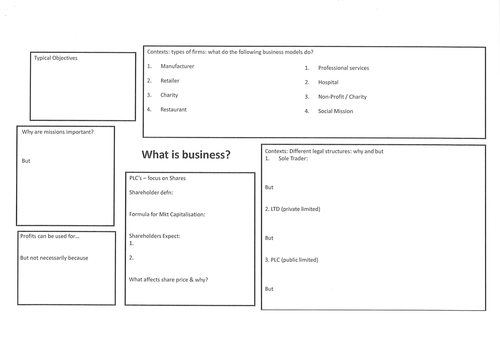 CONSOLIDATION PLACE MATS / REVISION FILL IN THE BLANKS SHEETS covering AQA YEAR 1 content Created for my students to help them consolidate the whole of year 1 content over the summer holidays but would be useful at anypoint before exams Questions that help cover theory, evaluations and some context 6 x SHEETS which will need enlarging up to A3 via photocopy Covering: 1. What is business including legal structures, 2. Markets inc Market Research and STP, 3. Marketing decisions including 7p's, 4. Operational decisions including lean production and network diagrams, 5. Finance decisions including B/E, budgets, cashflow and balance sheets. 6.Human resource decisions including motivation, management styles, HR strategies and organisational structures PDF and WORD format
Lesson designed for AQA business students Year 1. Starts off with video clip then what kind of manager would you be activity / questionairre then Grid theory with questions to stimulate discussion Then scenarios -which is right style to bring out the higher learning discussion, debate and depends on factors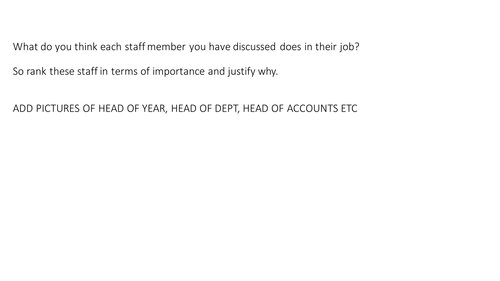 A powerpoint full of roles and questions...fully editable to add you own visuals Scenarios for decisions as different kind of managers why is a leader different Mintzberg videos on management

Designed for Paper 1 short answer sections to help my students revise key theories but in context to help answer the question Theories drawn from the whole 2 years...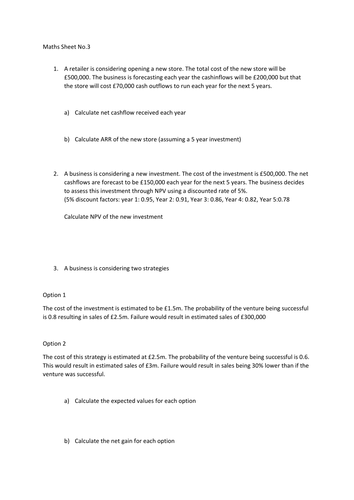 Quick revision calcs for AQA business specification - simple and quick revision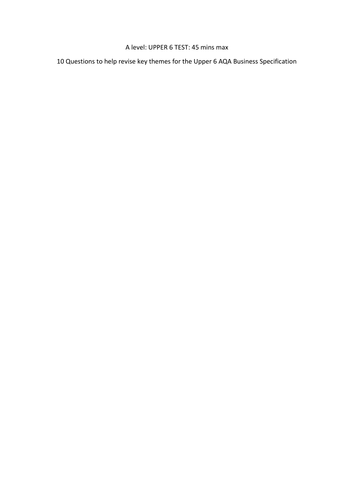 Revision Test with 10 q's on the AQA Alevel Specification Useful for consolidation / recap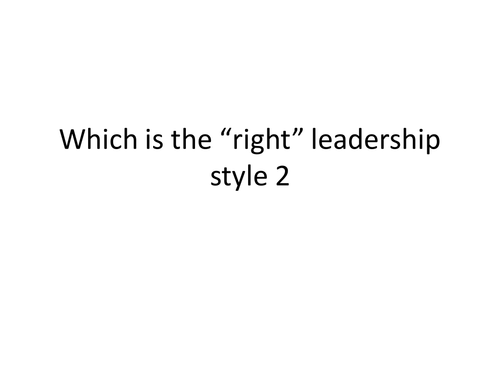 Management Style: Tannenbaum and Schmidt lesson: planned for Year 1 AQA business spec Scenario opener - asking students to come up with how they would make decisions in 6 x scenarios then link to Tannenbaum and Schmidt theory. Then another scenario to build analysis and eval skills & eval depends on arguments. finally a mix and match activity to develop judgement skills. notes on depends on factors Visual Plenary.
Bundle
set of revision fill in place mats/mind maps for Year 1 Set of revision worksheets for Year 2 Set of maths questions Set of fill in theories and contexts sheets 1 x AQA paper 1 style exam 1 x Eduqas paper 2 AS style exam (useful questions for AQA) couple of tests useful for revision
Bundle
2 x Mix and Match Activities 1. essay titles - match the theory to the title 2. theories and contexts/situations - match the context to the theory (year 1 theories) 3. Multiple choice Game based on Million Pound drop - makes multiple choices insightful and fun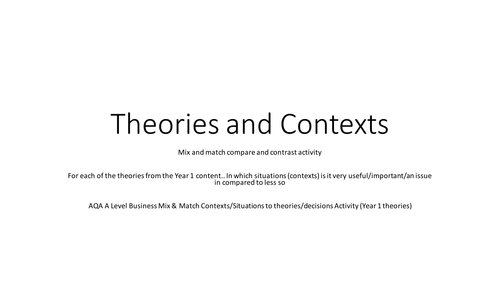 Brand new activity designed for my A Level Business class for revision but also would work for skill building at end of year 1: 52 contexts (slips/boxes) and 32 Slides of the main theory/contexts in the Year 1 of the AQA specification (one theory per slide) on each slide students are asked to identify two contexts - one that could be useful / important / an issue for and one less so... they then need to explain why - so building contextualised analysis skills for short answers and compare and contrast judgment skills for essays. 52 compare and contrast contexts are thought of - which can be cut out so students can have a kinaesthetic activity or printed onto one A3 sheet of paper for quicker identification. fully editable revision or skills building resource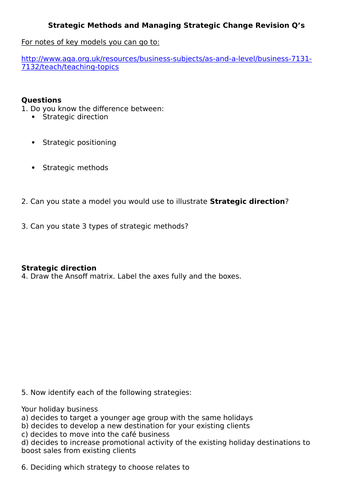 Designed for the Year 2 of the business AQA specification 4 x revision fill in sheets to help students consolidate their knowledge Focuses on all the key areas / theories - focusing on specifics Student feedback was that they were very useful.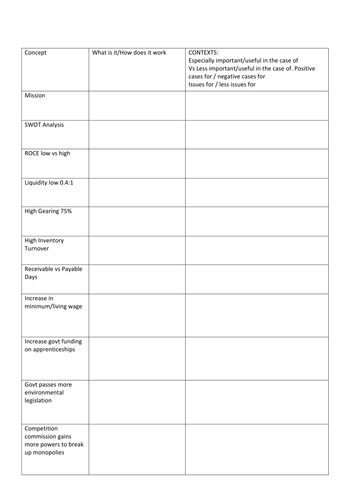 All the concepts for the Year 2 of AQA business spec blank so definitions can be filled in... Then a box for contexts to help students with contexualised analysis. Students to fill in in which situations / cases very important or useful vs less so. Simple design but fully editable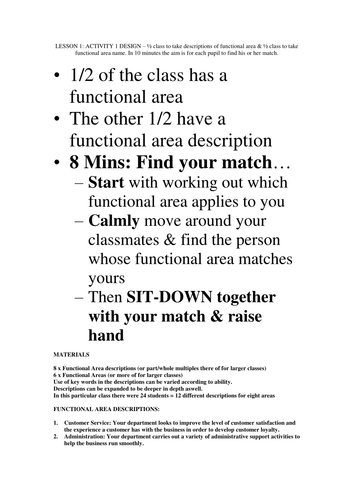 Developed this Kineasthetic starter for Yr 10 Applied GCSE Business Studies as an introduction to functional areas and organisational structure. There is also an element of problem solving as pupils must work out which area applies to them before starting the kineasthetic part. Activity 1 has functional areas & functional area descriptions. Activity 2 can be used for the 2nd half of the class with functional areas é job descriptions. Activity 3 has all the class problem solving before moving around.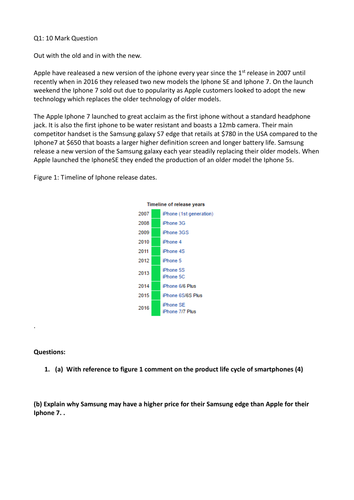 EDUQAS Business AS PAPER 2 Style paper; mark scheme Original paper created - majority of mark scheme also included on file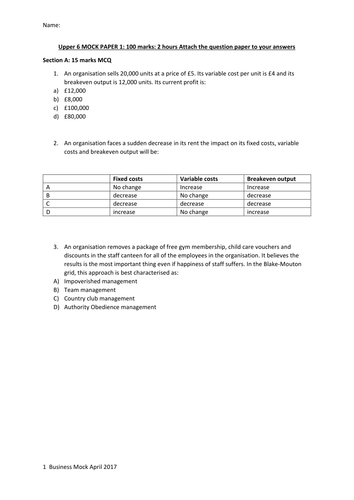 Full Paper 1 style case for the new AQA Business specification Originally created for an internal mock from scratch Can create a mark scheme for it if desired. Useful for revision / exam prep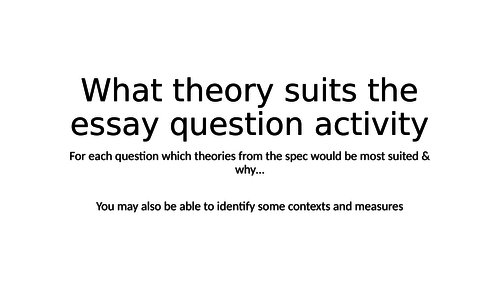 Designed for AQA A level business students for revision 10 different essay titles covering the 2 years of course. Then cut out cards with all the major theories from the 2 years so they can sort and choose the best theory for their arguments - then explain why editable resource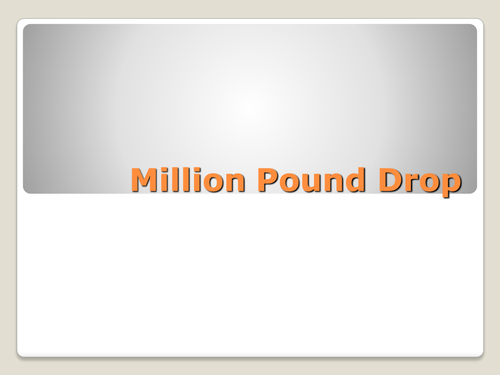 Powerpoint game with MCQ for A level Business AQA Structured so that students cannot leave the game until Q8 Based on the popular TV show million pound drop - Makes MCq and revision fun! EASILY adapted for ANY subject and exam board - just copy and paste in your questions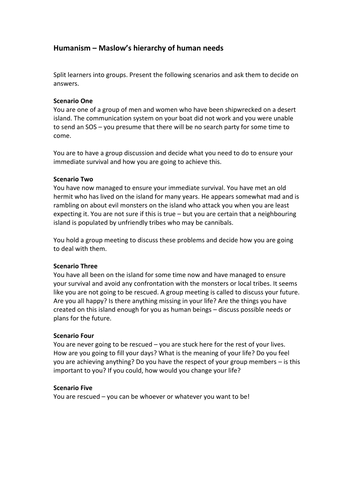 Great activity for students to derive Maslow's hierarchy of needs - put them on the Island and see what happens!
Found this engaged a Year 10 Applied GCSE Business Studies class into the topic of stakeholders and the varying interest and influence on the program as a business. However can be adapted for Post 16 use. The activity can be differentiated through adding or removing stakeholders or even adding to the complexity of stakeholders.
A Simple powerpoint slide that can be accessed by students to drag and drop the different criteria involved in writing a job and person specification in the topic of recruitment. As simple powerpoint can be done either on a pc or ask pupils to cut out and use as a hands on activity. With feedback after from students to ascertain why they have placed the criteria where they have.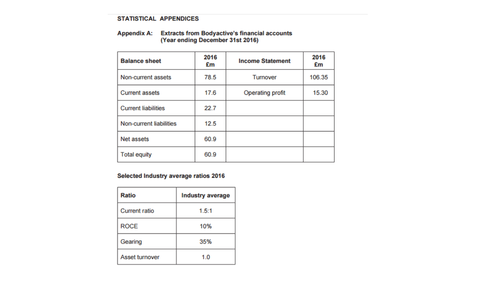 Activity / lesson for revision..