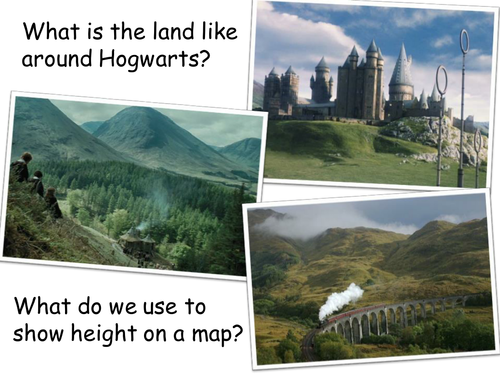 Fun and engaging lesson focusing on how height is shown on map. Focuses mainly on contours however there is a mix and match sheet included which could be used as a plenary if desired. Students build there own contour mountain in pairs. Cardboard and coloured card is needed.
4 lesson bundle focusing on Antarctica as an Extreme Environment. Lessons created to be used at KS3. Lessons include: - Introduction to Antarctica - Animal Adaptations - Extreme Tourism - Antarctica Treaty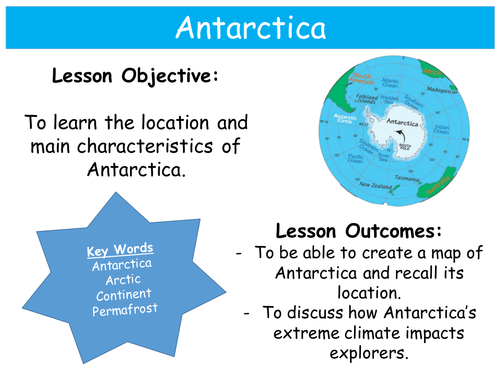 Lesson introducing Antarctica as an Extreme Environment. Lesson includes a quiz, a map from memory and the creation of an 'Antarctica Expedition Kit'.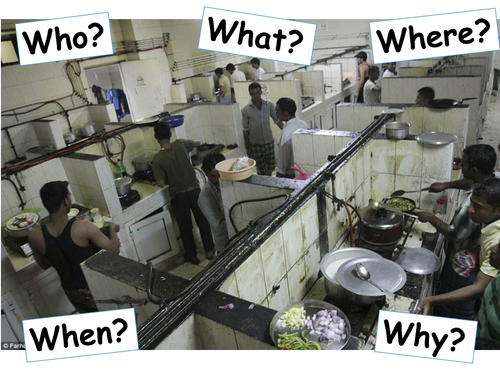 Lesson focusing on the issues of the rapid development of Dubai. Activities include examining a news article and evaluating the issues by ranking them into a diamond 9.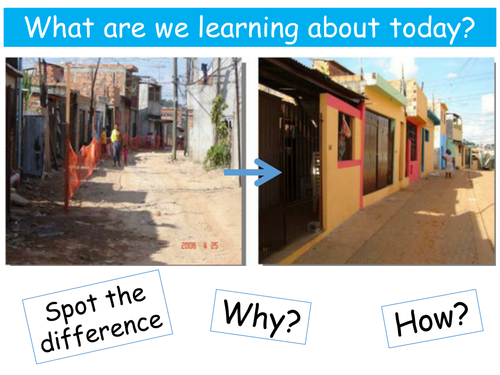 Fun and engaging lesson in which students create there own shanty town dwelling. Students work in groups and imagine themselves as family who has had to move from the countryside to the city and end up living in a shanty town. Opening story focuses on the push and pull factors as to why they needed to move. When students 'arrive' they need to create a model of their own house using scrap materials. Pupils need to be given a kit contain scrap materials e.g. cereal boxes, yogurt pots, carrier bags etc. All details are contained within the lesson plan.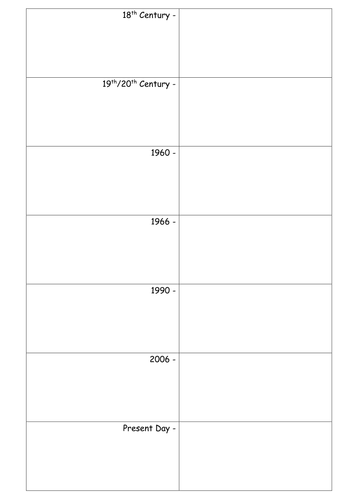 Lesson that focuses on the Rapid Growth of Dubai. First activity maps the location of Dubai labelling both surrounding countries and oceans. Pupils then look at how quickly Dubai has changed over time. Pupils then create a flip book to show this rapid change.
Lesson focuses on Animal Adaptations in Antarctica. Lesson looks at a range of different animals including the Weddell Seal and Emperor Penguins. Activities include a mini quiz, categorisation of behavioural and physical changes for the Weddell Seal and annotating the behavioural adaptations of male Emperor Penguins.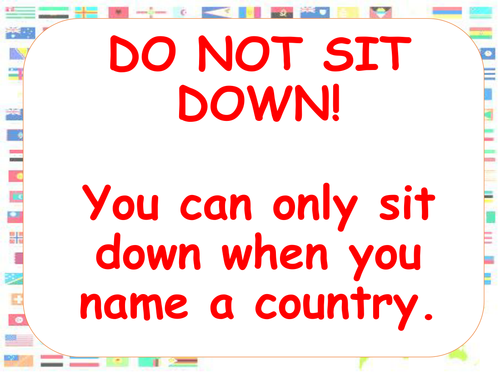 First lesson in Map Skills Unit. Lesson uses an atlas to help students to map different countries around the world. The objectives of the lesson are for pupils to learn the the continents and oceans. Pupils are then given 'facts' about different countries/physical features and need to work out where they are on the world map. Homework sheet also included.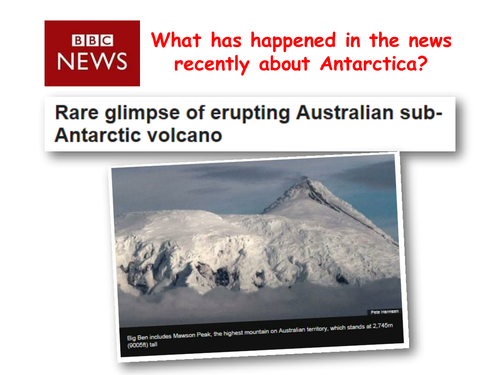 Lesson focusing on the Advantages and Disadvantages of Tourism in Antarctica. Firstly lesson looks at reasons why people would want to visit Antarctica and why its becoming much easier to do so. Then pupils complete a cut and stick activity on the advantages and disadvantages of tourism. Lastly pupils evaluate whether they believe tourism is beneficial or not.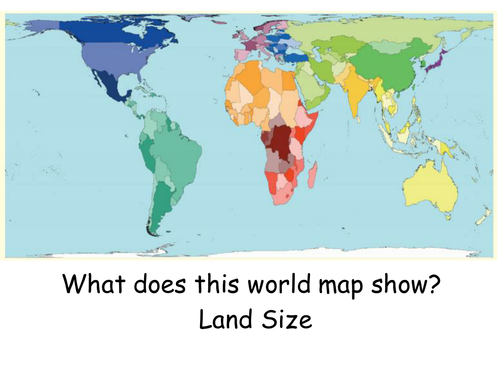 2 Introductory lessons for a unit on 'People and Places'. Lesson focuses on the global distribution of megacities. Activities include a discussion about the Advantages and Disadvantages of living in megacities, introducing the concept of Urbanisation. The pupils then map the 15 fastest growing megacities around the world coloured coding the population statistics. They then create bar charts for 6 different countries (LIC's and HIC's) looking at how the population of these cities are set to grow. This tends to take between 1.30 mins-2 hours. There is also a tarsia pyramid with key words for the unit which can be used as an extension/homework if needed.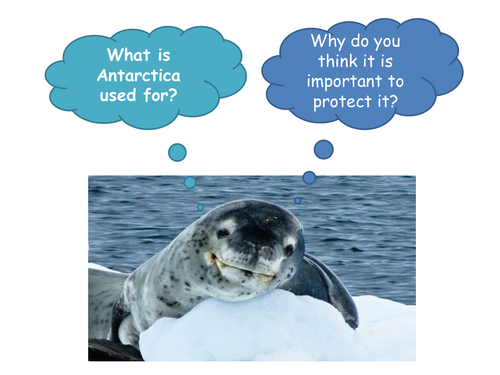 Lesson focusing on the Antarctica Treaty. Activities include a class discussion as to why it is important to protect Antarctica. Pupils then map the countries which have claimed an area of Antarctica and discuss the issues surrounding this. Pupils then rank the 5 main sections of the treaty voting on which area they think is the most important.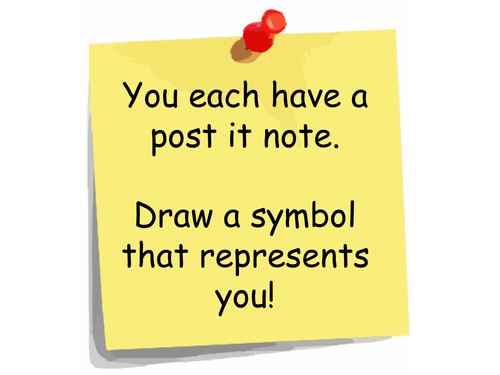 Lesson focusing on familiarising pupils with map symbols used on OS maps. Lesson includes a map symbol story, pupils then use the OS key to create their own story. Lesson ends with map symbol bingo on whiteboards or paper.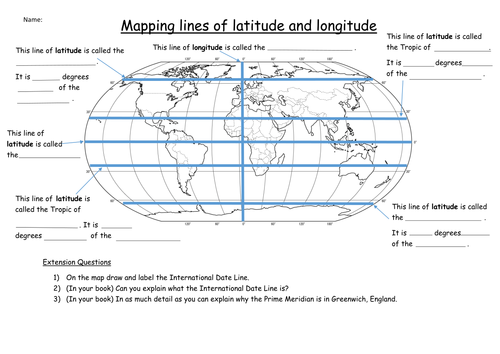 Latitude and Longitude worksheet asking to students to label the main lines of latitude and longitude across the globe. Sheet also contains extension questions which increase in difficulty.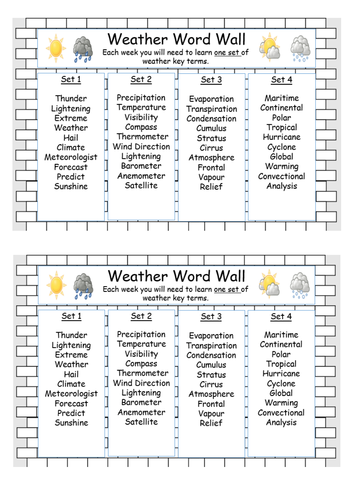 Weather Word Wall used as spelling homework to promote literacy in Geography. Students to glue word wall in at the beginning of a new unit (in this case weather) then learn a new set each week as homework. Spellings can then be peer marked in lesson.