Kayleigh Meyrick's MFL Classroom
Subject Leader of French. TEEP teacher. Lover of languages, learning and life!
83Uploads
88k+Views
91k+Downloads
Subject Leader of French. TEEP teacher. Lover of languages, learning and life!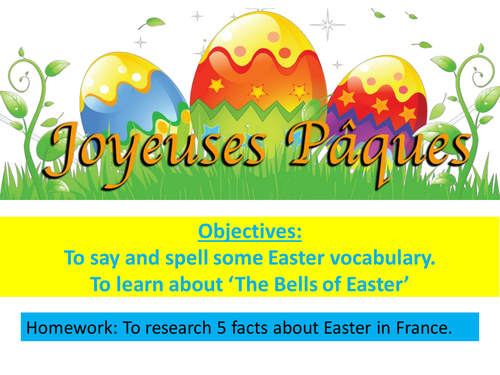 A simple lesson on Easter in France - vocab, a story and a creative activity, A nice way to end the Spring term!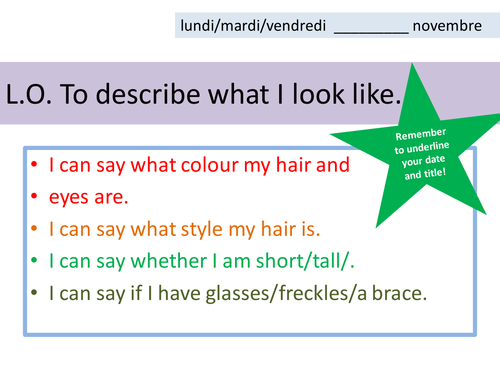 A series of lessons to teach pupils how to describe themselves and their families. The lessons are aimed at year 7 pupils at the beginning of the year as they aim to write a piece of Level 3 writing. Includes homeworks, requires mini whiteboards. Comments and feedback welcomed :)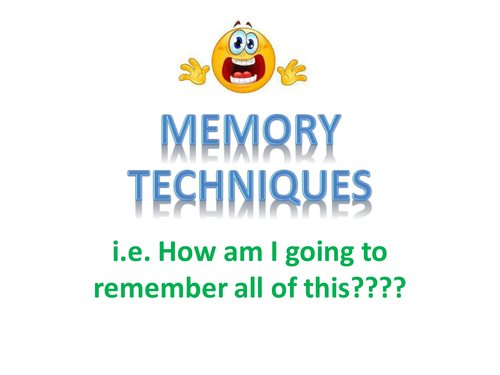 For students who are panicking about learning their controlled coursework. 5 strategies for various learning types - to be shown in class or to be printed as a booklet and sent home as a revision aid. Suitable for all languages.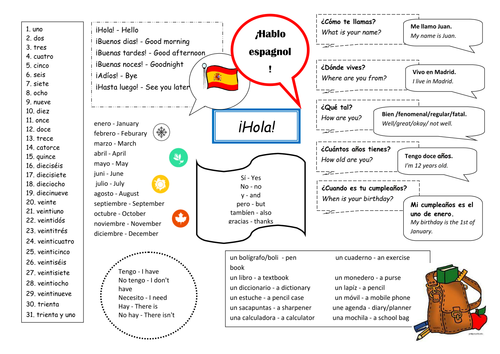 1) This year's SoW overview (to be used alongside Mira 1). 2) Autumn term UoW in more detail. 3) Pupil skills tracker (inspired by rhawkes&' tracker) 4) Pupil&';s learning mat to support Autumn UoW.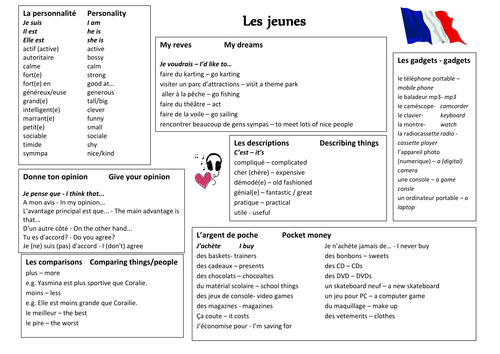 First two lessons for the 'Les Jeunes&' topic (more to follow). See also learning mats and objective checklist. All content adapted from &';Les copains' unit in Expo 2.
Complete with several engaging & differentiated activities. Corresponding resources to be uploaded as I make them.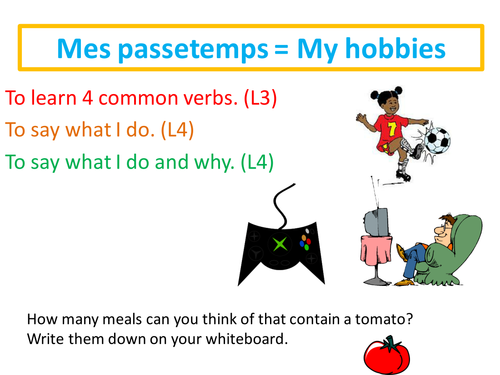 A short series of lessons to teach Year 7 students how to use the Present Tense in context. Topic: Hobbies Key Verbs: JOUER / BAVARDER / FAIRE / REGARDER Grammar Focus: ER verbs + Negatives Homework: Learning irregular : AVOIR/FAIRE/ETRE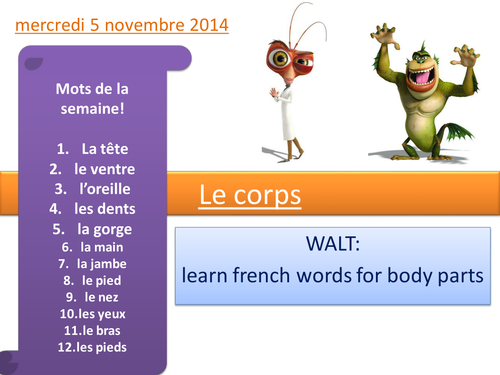 This PPT uses famous monsters to teach students words for parts of the body. The content is taught mostly through speaking and listening games. Resource needed: Mini Whiteboards/Plain paper and marker pens.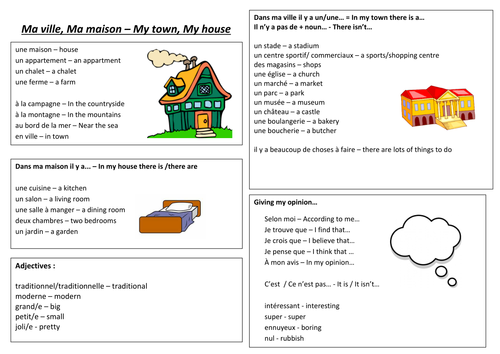 A collection of learning mats on the topics of School, My Town and Holidays to be used in Yr7-9. To be laminated and used on table tops or stuck in books.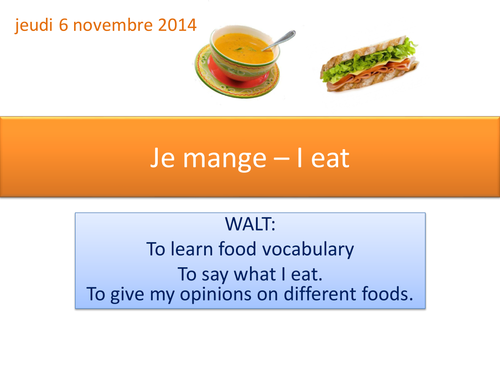 A series of lessons about food leading to a small task based on designing a menu for a French school. Linked to Jamie Oliver's school dinners. *amended version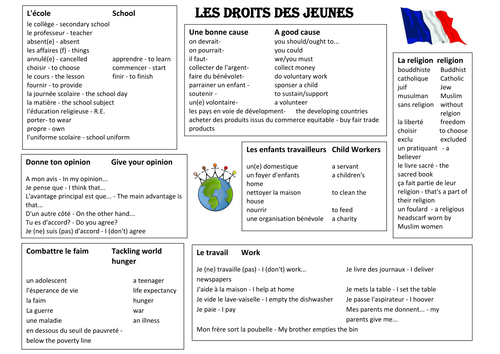 Three lessons from 'Les droits des Jeunes&' module in Expo Rouge 3. The first slide contains made up quotes suggesting that Britain is to adopt elements of the French school system in 2014. This really got my classes going and made the learning really relevant (Although they were not too impressed when they realised I had conned them!) Worksheets are differentiated for Levels 3-5 and the card sort can be done in pairs/small groups. Comments welcome :)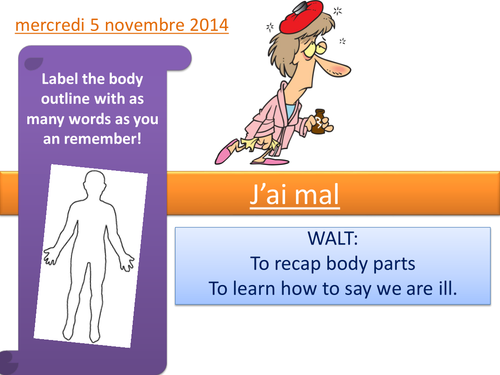 Two lessons to support Expo Rouge 3 Module 3 page 42-43. Lessons include interactive games, sorting activities, reading and vocabulary challenges, a piece of extended writing ideal for marking/leveling and an excellent quality control peer assessment activity.
A fun Spelling Bee / Quiz designed for a KS3 House Event. Could be used for a end of term quiz/activity.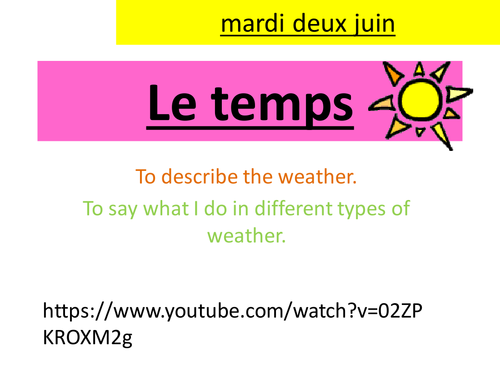 An introduction to weather for Yr7 students. Link with hobbies using 'Quand il pleut...' etc.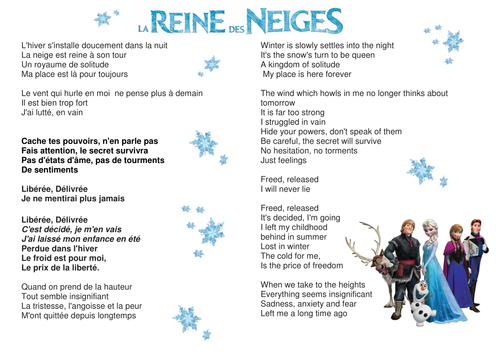 A collection of resources made with the intention of preparing year 7 for a Frozen-themed Christmas assembly. Phonics, singing, word sorts and more.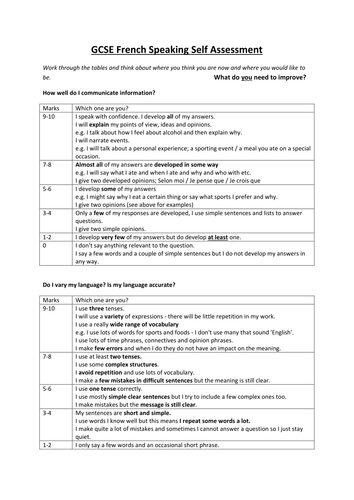 A handy self-assessment worksheet for GCSE students preparing for their French speaking exams. The grids are based on the AQA marking criteria but have been heavily adapted for pupil use. Feedback welcome and appreciated!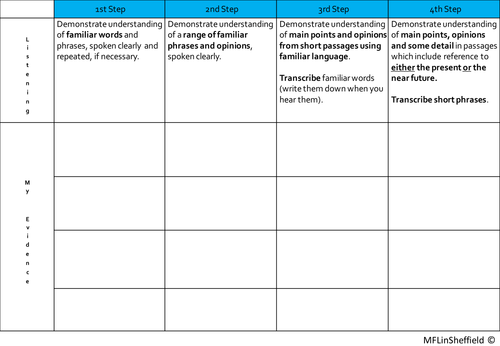 Free resource to support teachers and students as they start the New Spec GCSE. Designed to meet the requirements of the AQA Specification but adapted from the Pearson Progression Scales. Ideal for 'Life After Levels'. Feedback welcome!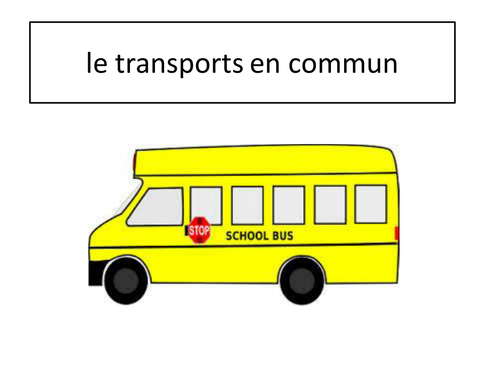 Used for revision purposes leading up to the GCSE Reading and Listening exams. English and French. Easily adaptable for other languages.