Kiteman's Shop
A smattering of resources from individual activities to full cross-curricular projects that I created over 25 years of teaching.
7Uploads
239Views
53Downloads
A smattering of resources from individual activities to full cross-curricular projects that I created over 25 years of teaching.
Perfect for any children needing to get the hang of directions or navigational bearings. The template builds into an octagonal frisbee. One sector is marked as "North", and the rest are blank. Suitable for any child old enough to be competent with scissors & glue, this is probably best-suited to lower KS3 or upper KS2. Your students can add as much information to the frisbee as you wish - the remaining points of the compass, with space to add "NW", "NE" etc, as well as bearing angles. The compass is best printed onto light card, and can be coloured or decorated in any way you (or your students) desire. In your download you get a PDF of the frisbee template (best printed onto light card), and a PDF of instructions written for the adult leading the activity. As well as Maths or Geography, the frisbee can be presented as an Art task (they could research old maps and compass roses as inspiration before the decorate) and works well as a homework, remote learning or homeschool task. The compass frisbee has also been successfully used by Cub Scout groups as part of their map-reading skills.
Half a term's worth of Design & Technology cover lessons! Each lesson focuses on a single design principle, and the students can successfully access the work using only basic drawing equipment and plain paper or their sketchbooks. The download is a single slide-show, but each lesson is completely self-contained and can be delivered by a non-specialist. Most do not need any equipment or preparation, but some might benefit from printing out some slides (each lesson highlights this at the start). Text on the slides is colour-coded (eg text in purple is a discussion point, and the teacher delivering the lesson should pause to let the discussion happen, and try to guide it a little).
This download gives you everything you need to build an authentic medieval castle that fits in the palm of your hand. It can be built for fun, but is an ideal educational exercise. This is an ideal side-project or homework task to go along with the work your students do in class. If you're a parent, this is a perfect addition to home-schooling or remote learning. What you get: A PDF template of all the main parts of a medieval stone keep with keep curtain wall, gate and towers. Illustrated assembly instructions in Word format. What you need: Paper to print it on, scissors or craft knife, glue.
Silent Skies is a cross-curricular educational project, most suited for KS3 students. It uses a central theme of "gliders" to deliver Science, D&T, & Art, and can be used to deliver Enterprise skills as well. Comprising four sections, covering Science, D&T, Art and a combined Graphics/advertising summary section. The first three sections can be delivered in any order, but section four must come last. Suitable for incorporating into normal timetabled lessons, as drop-down sessions or as an afterschool or enrichment activity. For most students, there is a total of approximately 12 hours work in the project, but it could be crammed into 8, and easily extended to 16. All equipment required is normal school equipment (metre rulers, art supplies etc). No specialist materials need to be purchased. What you get: A comprehensive slideshow, containing the instructions and inspirational materials for the work. Note that some slides will need removing before you present to students, and you are welcome to tweak the content to suit your students' needs. Scaffolded worksheets for the recording of Science data The Science and Art sections of the project need specialist staff to deliver them. The D&T section works best if a specialist delivers it, but it can be delivered by reasonably confident non-specialists who have had a chance to look through the materials. The final section can be delivered by any confident member of teaching staff, but would benefit from the input of a Business Studies specialist, or the school's Careers team if you want to emphasise Enterprise as part of the project.
I've been using Poong Sticks for well over a decade in various ways - to teach tool safety in D&T, investigate souns in Science, or just as a fun activity. The downloadable PDF gives you the instructions you need to make them, plus a few tips on ways to use them in lessons. This is a free download - share it any way you like.
MoodMonster is a papercraft project that will allow students who have difficulty expressing their emotions, or asking for help, to communicate more easily with those around them. Once made (and potentially coloured-in), the model sits on the students' desks, and they can change the expression on its face to communicate their own feelings to others. It could also be used in lessons as a sign that a student needs help with the work. The download includes a copy of the template, plus illustrated assembly instructions. Depending on the dexterity and needs of your students, as well as the amount of conversation around the way emotions are expressed, this will take anywhere between 10 minutes and and hour.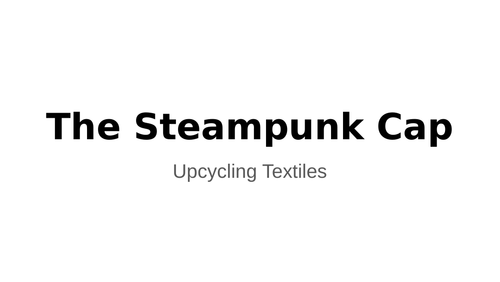 Over thirty slides making up a resource that can be easily delivered by non-specialists or cover teachers in the case of long-term absence. Students will use upcycled fabric to make a simple square hat. If staff are not comfortable demonstrating stitches, links are provided to YouTube videos. There are opportunities for cultural and Art crossovers. It is also suitable for remote learning, should students be absent from school but well enough to access educational materials (eg members of Traveler communities, or unable to be present in class for mental health reasons.)