Kristina George's Shop
Edexcel English Literature and Language SOW and Revision Guides AQA English Lit full SOWs
71Uploads
20k+Views
24k+Downloads
Edexcel English Literature and Language SOW and Revision Guides AQA English Lit full SOWs
This is EVERYTHING I have put together for my top set Year 11 to revise for both of their English Language GCSEs. Fifty page booklet includes: Examples of what the questions look like and frameworks for how to answer Sample questions Sample extracts with questions (3 Fiction extracts and 4 Non- Fiction) Model Answers with marker commentary Planning sheets for comprehensive responses using tried and tested approaches Language and structural analysis frameworks focus on integrated language and structural analysis and using multiple perceptions. Evaluative frameworks focus on where an 'attempt' has been made, how and what works well. Please give me feedback!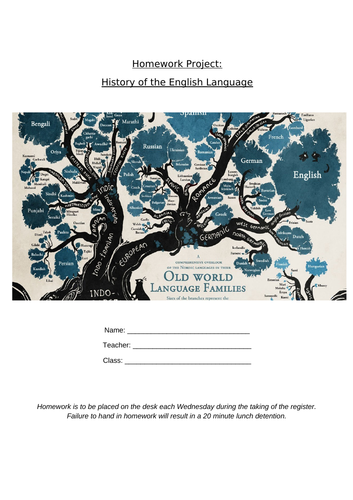 Homework booklet with research tasks as well as activities for a full HT.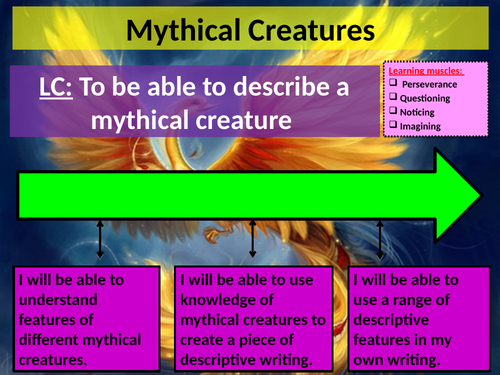 Mythical Creatures Creative Writing Week-long Lesson with vocabulary development, peer assessment.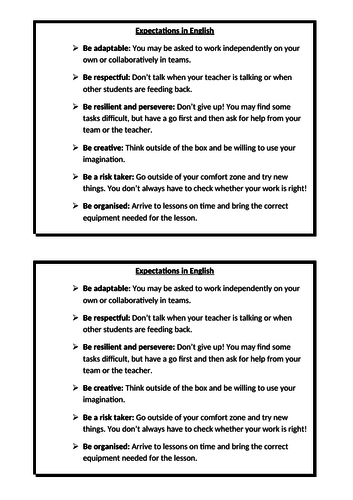 A week of lessons on the influence of Latin to the English language. Lesson sinclude differentiated cooperative learning of tasks, drawing upon spells from Harry Potter too. My class loved this!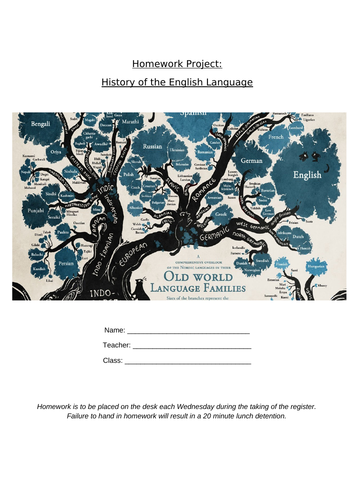 First half of complete SOW on history of the english language includes: Overview of SOW Homework booklet Invasions and language Latin Anglo Axons Beowolf John Agard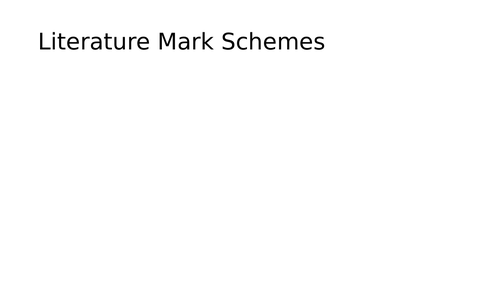 8 Peer and Self assessment Marking Grids for AQA English Literature and Language with space for reflecting on strength and target.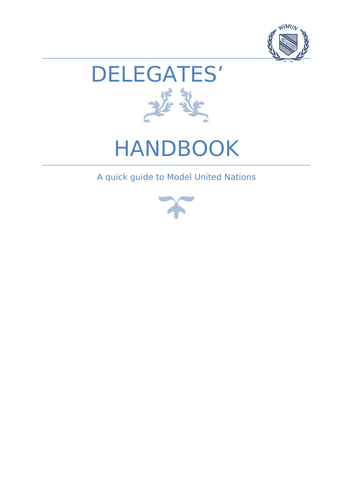 Perfect for preparing your pupils to take part in MUN or an end of HT Mini SOW to develop high tier oracy and debate skills. A mini SOW I created on holding a Model United Nations competition within class. This can last 1-2 weeks. The unit begins with an understanding of Human Rights and why they are important. The unit goes on to teach pupils vocabulary involved in MUN and how to write resolutions as well as how to research your delegation's country and stance on particular issues. Scheme comes with overview of journey of HR How to use preamabulatory clauses Handbook of order of events and specific terminology used at delegations How to write a resolution Researching your country certificates for taking part.
Revision Guides for Edexcel English Language Paper 1 and Paper 2 as well as English Literature Paper 1 Macbeth and An Inspector Calls. Revision Guides include: Writing frameworks Sentence stems Practice Questions and extracts Model Answers and marker commentary Tips to answer the questions
A 12 page reading booklet with challenges to engage students with reading for over the Summer Holidays, I am currently using this with year 7 and incoming Year so so as to set the expectation of a reading culture before our new pupils arrive. Ideal for sending out to incoming Year 7 to welcome them to the school too!
Edexcel Revision flashcards for Conflict Cluster. There is a card per poem with 4 important language quotations, the technique and an inference as well as structural features and inferences. The other side has a summary of the poem's ideas and context. Also comes with tips for answering the question and planning guidance. I made these for my department and I have been flooded with requests to print more for Year 11 for the last two years so hopefully they will be valuable on a wider level! The cards are ordered on PowerPoint so that when they are printed they will be back to back. The ycan be laminated or printed on card.
Revision Guide includes: guidance on questions- examples, tips for answering and sentence stems, frameworks for writing, model answers with marker comment 3 Fiction extracts with questions.
Three lessons addressing how to answer Edexcel English Language Paper 2, Questions 7a and 7b.
Great for getting pupils to learn the most important quotations and cross reference quotations across different themes and ideas!
Great for getting pupils to learn the most important quotations and cross reference quotations across different themes and ideas!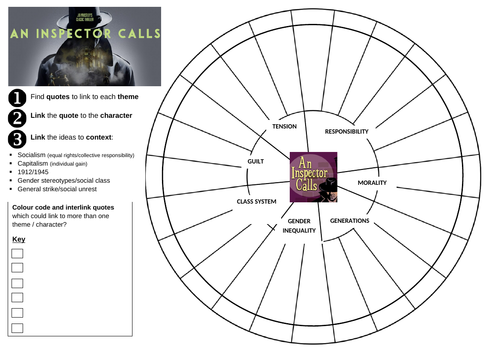 Great resource for learning the most important quotations and using them across different ideas, themes and characters!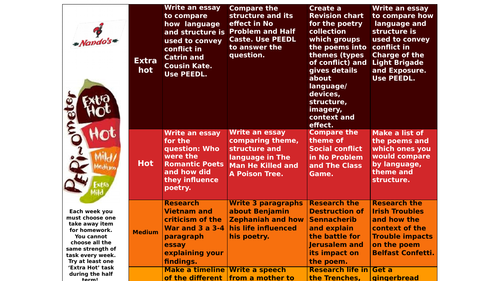 Nandos menu style differentiated homework to accompany teaching of the Edexcel Conflict Poetry cluster.
This is a tried and tested scaffold for answering Edexcel GCSE English Literature for the evaluative question on ideas, themes and characters. The resource is a scaffold for extended writing with a model answer and prompt questions down the side. The resource aims to make responses more critical through addressing Where a theme is indicative, How it is presented and Why the author chooses to include this detail, ie how does it develop characterisation, change or drive the plot and link to other themes within the text. This can be used for Shakespeare play, 20th Century play and 19th century novella (just without the context bit)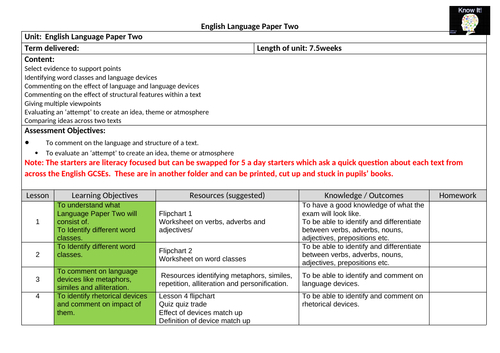 This SOW will save you a WORLD of time- READY TO USE- it has taken forever to organise and correlate and is highly scaffolded and explicit. 30 lesson SOW: Edexcel English Language Paper 2 scaffolded with resources for low and high ability includes: Overview of MTP; Lessons ordered chronologically with resources for low ability and high ability- all clearly labelled; 10 different extracts; first 9 lessons cover word classes, language techniques, identifying and commenting on rhetoric, identifying and commenting on structural technique and identifying evidence to support a given point; 6 lessons on Question 3; 6 lessons on Question 6; 5 lessons on 7a; 4 lessons on 7b; scaffolded with explicit instruction; writing frameworks and planning worksheets for essay questions; a folder of 5 a day starters that are literacy orientated.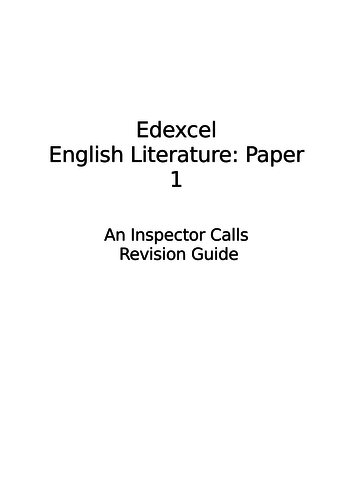 Geared towards Edexcel, but can be adapted for AQA by merging parts a and b of the question, this revision guide covers AOs, characters, themes, 8 sample questions and bullet point planning, 8 colour coded planning sheets which follow "Where? How? Why? Context?," model answers with marker commentary and writing frameworks.