The Stress Free Spanish Teacher (Formerly LaProfesoraFrida)
353Uploads
42k+Views
2k+Downloads No Prep! Just print and go! This 35 page packet contains activities to help introduce the Spanish Speaking Countries and Capitals as well as several versions of quizzes for assessment. - Tips, Hints and Strategies for teaching the Spanish-Speaking Countries - Fact Scavenger Hunt - Blank Maps of the Spanish-Speaking Countries - Spanish-Speaking Countries Word Search - Spanish-Speaking Capitals Word Search - Countries and Capitals Scramble - Matching Squares Puzzle - Current Event Articles - 4 versions of the Spanish-Speaking Countries Quiz - 2 Versions of the Spanish-Speaking Capitals Quiz - Teacher Key Engage your students in learning about Spanish-speaking countries and Hispanics in the U.S. with this fun Fact Scavenger Hunt! It's a great first day of school lesson for Spanish 1, but it's also fun to give to students who have had Spanish class in the past - to see how much they remember! It's a great weekend homework assignment, because students can bring this home and start a conversation about it with their parents. Also a wonderful item to have on hand when you have a substitute teacher!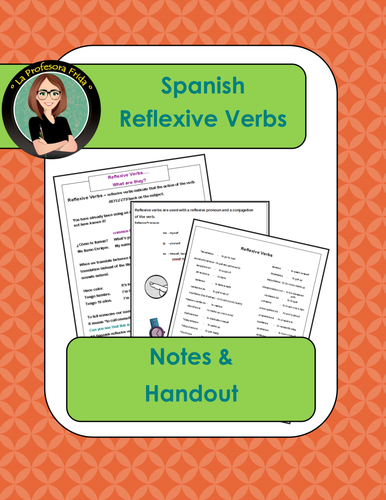 Spanish Reflexive Verbs Explanation Handout Reflexive Verbs List to use for notes This lesson is 2 pages of notes explaining Reflexive Verbs. This is a great guide to Reflexive Verbs and Supplemental Activity to help your students get more practice. There is also a handout provided for students to keep in their binders. This is a list of 28 commonly used Spanish Reflexive Verbs. A great way to help your students talk about their DAILY ROUTINES. (This lesson is part of a much bigger Reflexive Verbs Packet also available in my store!)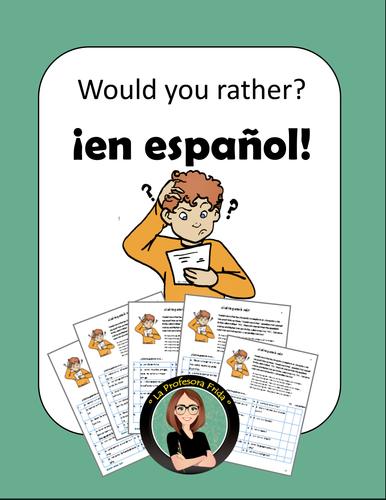 "Would you rather" questions in Spanish are so much fun and students love giving their opinions. Our goal as Spanish teachers is to help our students COMMUNICATE in the target language! This is a fun way to practice comprehension! This packet has 5 partner "Would you rather" ("Cual te gustaria mas...?") interviews with a total of 75 "would you rather" questions to help your students practice: critical thinking skills reading comprehension listening skills "Would you rather" questions can also be used as: ·.·•Writing Prompts ·.·•Classroom Management Tool to focus students' energy ·.·•Stations / Center Work ·.·•Bell Ringers to start your lesson ·.·•Exit Tickets to end your lesson Enjoy! ♥ La Profesora Frida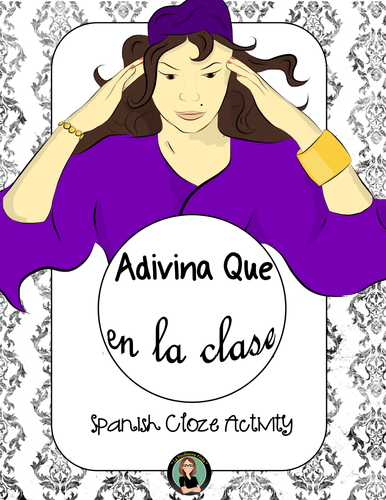 Adivina Que! (Guess What!) Classroom Objects, Spanish Vocabulary These are cloze printables that help students review vocabulary by using sentences with missing information that students must fill in (sentences and clues all in Spanish!). The classroom objects vocabulary included in this packet is vocabulary commonly found in Spanish textbooks. This particular cloze printable aligns with Realidades 1 Textbook, Chapter 2B and is a nice supplement to help reinforce vocabulary. There are two versions of the activity included so you can offer differentiation in your classes. The first version has no word bank to choose words and the second version does include the vocabulary in a word bank: ventana mochila escritorios bandera cartel sillas papelera reloj puerta sacapuntas There is also a scrambled vocabulary word that students must figure out: computadora The worksheets come with a teacher KEY, so they're also great to have on hand for when you have a SUBSTITUTE teacher! Enjoy! ♥ La Profesora Frida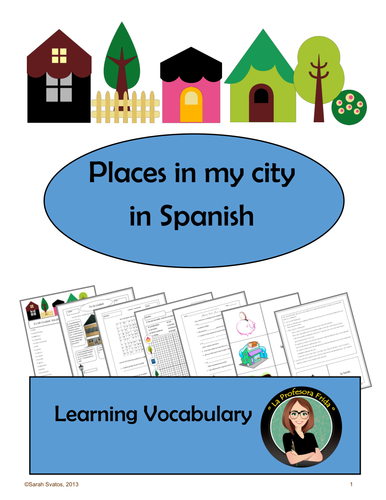 City places and objects in Spanish are the focus of this 15 page packet. This packet contains a vocabulary list of important places (el cine, la escuela, el centro commercial, etc.) in a community and important objects (street light, sidewalk, fire hydrant, etc.). 6 separate lessons are included to help students practice this new vocabulary. The lessons include hands on activities as well as reading and writing practice.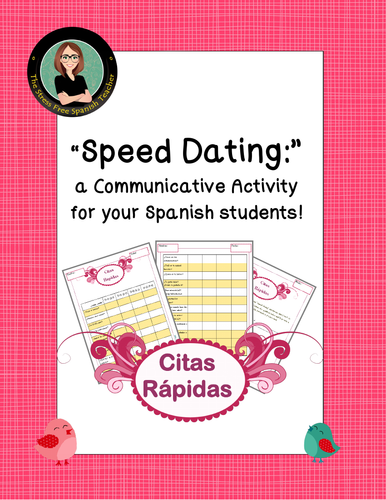 Speed Dating - Spanish class style! A FUN Communicative Activity for your students - an awesome way to get your students communicating completely in Spanish! This is a great way for students to practice a variety of skills - reading, writing, speaking and listening. It is a fun (and silly!) lesson that my students get a kick out of- I hope yours will too! Instructions are provided to help you run this activity smoothly with your students. You will also find a guided "speed dating" tracking sheets for your students to gather information from their "dates." My students often choose to take on a persona for this game-- Pretending to be someone famous! The responses they come up with are hilarious! :)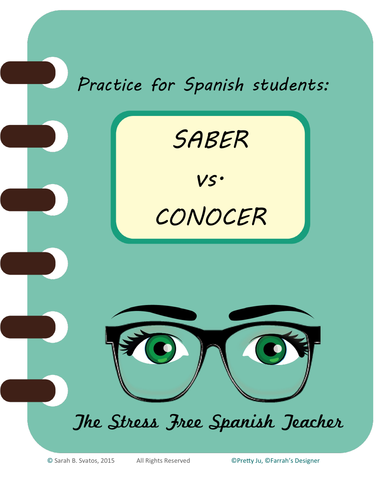 No prep! Just print and go! A ready-to-use Saber vs. Conocer worksheet with teacher key included! A quick recap of when to use SABER and CONOCER and then multiple choice questions to help students think about which verb makes more sense to use in different cases. A great review, homework, or quiz. Also good to have on hand for emergency substitute plans - the answer key is provided and students can work independently.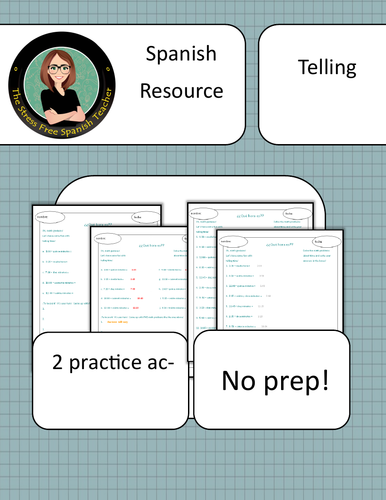 Spanish students need to master telling time in Spanish, but practicing doesn't have to be boring! These 2 worksheets will be a great supplement to your curriculum! These two time practice worksheets assess students' abilities as they practice adding and subtracting minutes from the clock. Teacher keys are provided!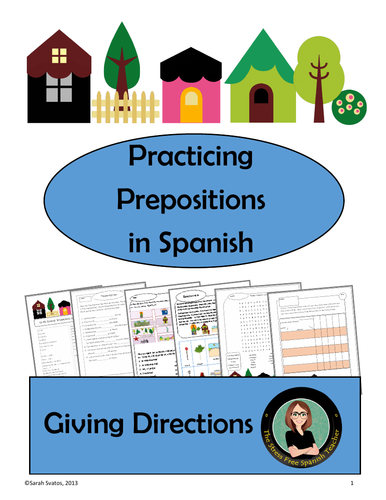 Prepositions and giving and understanding directions in Spanish are the focus of this 13 page packet. This packet contains a vocabulary list of important prepositional phrases and more ciudad vocabulary. There is a vocabulary list and 5 lessons included in this packet to help students practice, including: 1. Vocabulary List 2. Preposiciones Worksheet 3. Communicative Activity—Giving Directions 4. Firma, Por Favor (a whole class speaking activity) 5. Una Entrevista (a writing, speaking & listening activity) 6. Following Directions- Vocabulary Crossword This is "Station 2" of a 50 page Differentiated Instruction packet also found in my store. Each station is sold separately in case you don't need the whole thing.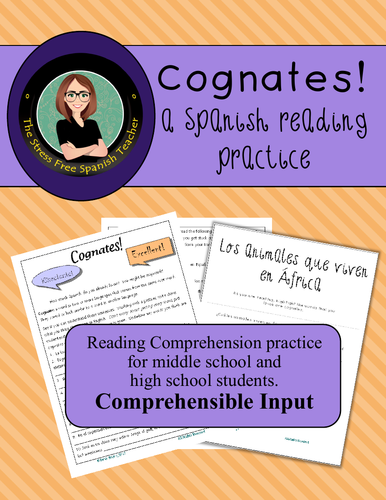 A high quality READING activity for your Spanish students that you can download and use immediately! This lesson fully covers the National Foreign Language COMPARISONS Standard 4.1. Students practice their reading comprehension abilities and keep that "Affective Filter" (Krashen) open! I wrote this handout to be chock full of COGNATES. Students GAIN CONFIDENCE in their reading abilities when they can recognize words and MAKE CONNECTIONS between English and Spanish. This assignment can be done in cooperative groups, solo, as homework or as extra credit if there isn't time during the class period.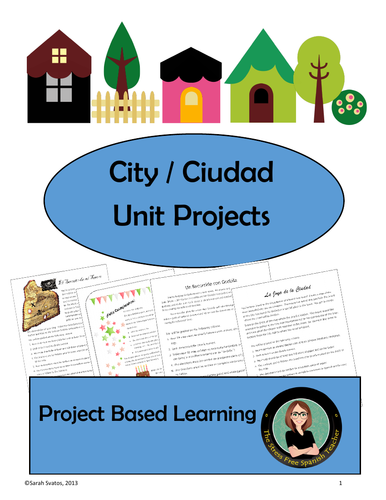 Spanish Project Based Learning. This packet contains 4 project choices for your students to design towns in a fun way.The focus of these four lessons is to allow a creative way for your students to demonstrate everything they've learned in your city / around town unit in Spanish. The project themes included are: - A hidden pirate treasure - A city planner job - A Godzilla invasion rehearsal - An invitation to a birthday party with directions on how to get to the party. Enjoy! ♥ La Profesora Frida ·.·•Recently UPDATED!•·.· Spanish Culture Project: Student Instructions and Rubrics. Creating a Poster or PowerPoint and giving a presentation. ·.·•This resource is included as both ·.·•a PDF•·.· and ·.·•a PPT.•·.· The instructions and rubrics are now ·.·•editable!•·.·⋆ You can now also easily assign specific pages digitally to your students! Hosting a culture project in your classes helps students discover the fascinating mix of things that contribute to our world societies. This culture project allows your students to take what they personally find interesting and expand their knowledge by exploring how that interest is expressed in another culture. Students will choose a topic (a list of 50+ ideas is provided!), research the topic, create a poster or PowerPoint presentation and prepare a short presentation (2-3 minutes, to allow for large class sizes) to give to the class. This is such a fun project! If research and preparation is done during class time, this can be a full week of lessons. This is a great option for a week long emergency substitute plan!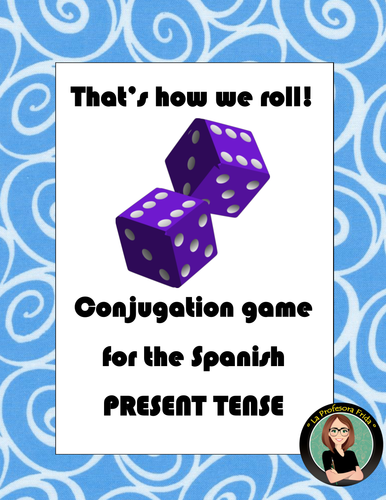 My students LOVE this game! Just print off the page of instructions and game boards and grab some DICE! Everything is ready to go! Inside the packet you'll find: 2 Instruction handouts to explain the game ~ Present Tense instructions and a blank game board! A Score sheet to copy and give to your students 10 Game boards to copy and give to your students - AR verbs game board - ER verbs game board - IR verbs game board - AR / ER game board - AR / ER / IR game board - O - UE stem changers - E - IE stem changers - E - I stem changers - Irregular YO form verbs - Mix of Irregular verbs Wahoooo! Have FUN! Enjoy! ♥ La Profesora Frida Idioms are so much fun to learn! Not only are they fun, but they are very USEFUL to know and can teach us a lot about other CULTURES. I've created this packet of activities to help teach Spanish Idioms and also to encourage students to THINK CRITICALLY about their own language. I hope you find some of the lessons included in this packet useful. Thank you so much for your purchase!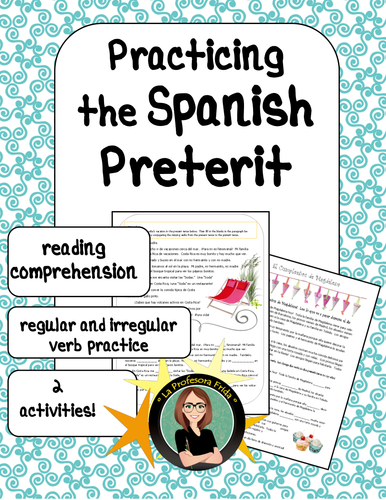 Spanish Preterit Tense Practice: Reading Comprehension and Verb Conjugation. 2 Reading Activities to help your students practice reading comprehension and Preterit Tense Verb Conjugation! "Mis vacaciones" - a verb conjugation rewrite (Teacher Key included!) "El Cumpleaños de Magdalena" - a verb conjugation rewrite (Teacher Key included!) AND as a bonus: Verb Tense Conjugation Worksheet Perfect addition to your already in place curriculum to supplement what you're teaching! Good for homework, individual work, stations, partner pairs and emergency substitute lessons. Enjoy! ~La Profesora Frida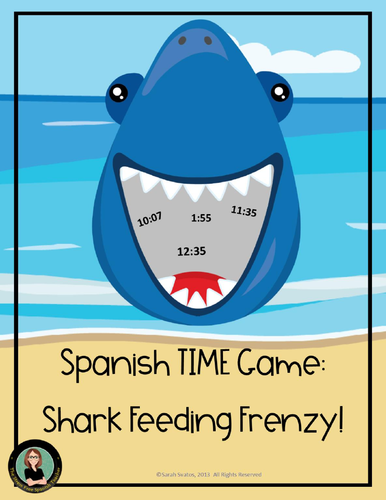 No prep! Just print and play! Spanish students need to master telling time in Spanish, but practicing doesn't have to be boring! My students love this GAME, and I'm sure yours will too! There are TWO GAME BOARDS in this packet! The teacher calls out a time in Spanish and the students race a partner to be the first to find the correct time in the shark's belly.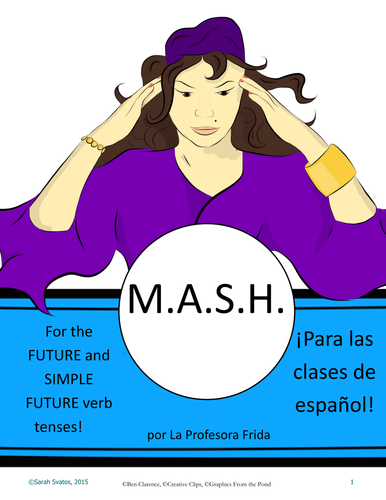 M.A.S.H. is a lot of fun and a great tool to help your students practice the Future Tense or the Simple Future Tense in Spanish! Your students are guided through a game of MASH and then prompted to write complete sentences using either The Future Tense or The Simple Future Tense (you choose what your students need to practice!). If you don't know how to play (or need a refresher), please refer to the instructions on pages 3-4. (If you are a more visual learner, I suggest watching a video on YouTube!) This is a great game to help your students review vocabulary, numbers, sentence structure and verb conjugation! This activity can be done in partners or even alone! It's also an awesome emergency substitute plan, as students can work with very little instruction.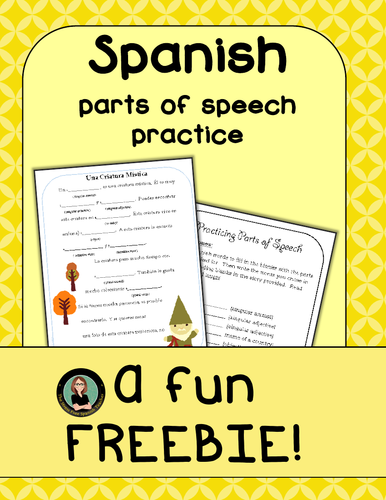 If you've ever played the game "Mad Libs," you already know how to play this game! There are several ways to use the following worksheets– just take your pick! Students are prompted to fill in blank spaces in a story with various parts of speech in Spanish. The finished stories are always silly and a lot of fun! Great for solo work, partner work, homework and emergency sub plans. A wonderful supplemental activity for your Spanish classes to help students with vocabulary memory recall. Also wonderful for reading comprehension, grammar translation and pronunciation practice. Depending on your students' ability level, this activity could last anywhere between 15 minutes (high level) to a half hour (lower level). Help facilitate easy partnering of your students with this Partner Pairs handout! Students can decide who their six partners will be. If Melissa and Stella want to be partners, they choose the same pictures on each of their Partner Pairs worksheets and write their names in the same places on both worksheets. Students will find six different people to partner with. Later, when it's time for students to work with a partner, the teacher can call out which partner pairs students will work with. If the teacher calls out "Find your Cheese and Crackers partner!" Melissa and Stella will know to find each other and work together for this activity! Enjoy! ♥ La Profesora Frida