Laura Torres's Shop
Resources for middle and high school ELA from an award-winning teacher and author.
119Uploads
10k+Views
3k+Downloads
Resources for middle and high school ELA from an award-winning teacher and author.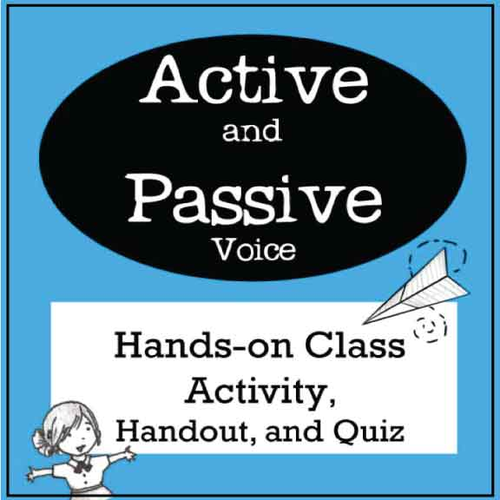 Passive voice and active voice are tricky for students. This hands-on sorting game is the best way I've used in my classroom to engage the students and help them understand passive voice. This is something different than the typical lecture and worksheets. Grammar can be fun! This zip file contains the game, instructions, informational handout, examples and quiz. There are 40 games cards, 20 active and 20 passive. Common core standards L8.1 and L8.3 You might also like: Sentence Fragment Power Point Subject Verb Agreement Power Point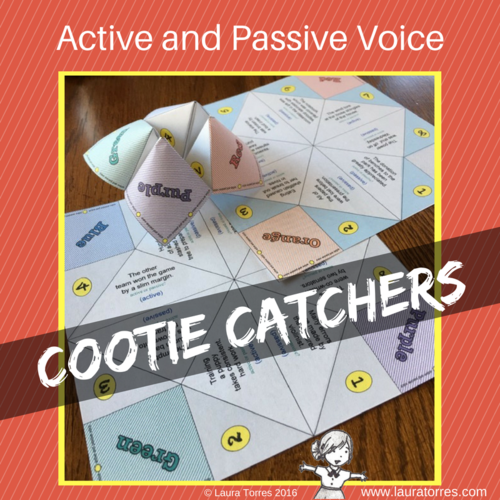 Passive voice is tricky! Review and practice with these fun cootie catchers that even older students will love. This product contains three different cootie catchers, instructions for folding and using, and ideas for activities. Take the boring out of grammar! These are color, but they also print well in black and white. Subject Verb Agreement Cootie Catchers Idiom Task Cards and Worksheets Active and Passive Voice Hands-on Class Activity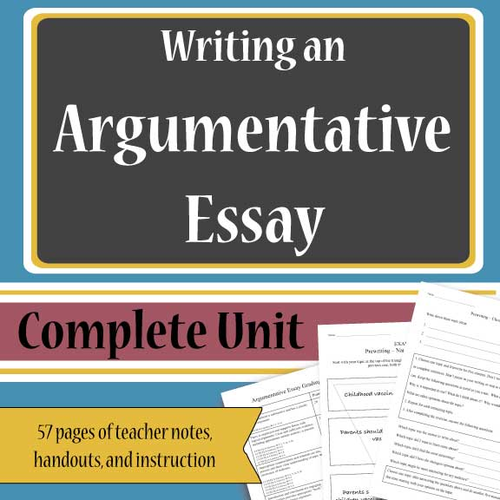 Argumentative Essays - Complete Unit. Writing an argumentative essay is an essential skill for middle school and secondary students. This unit is CCSS aligned, with grading rubrics for each grade level 7 - 12 that reflect the standards. This unit has everything you need, in a logical order, with teacher notes, handouts, assignments, instruction, grading rubrics, and supplemental material to support more advanced instruction. There are examples for each concept, and a full sample student essay. In addition to the pdf file, there is a Power Point file that includes selected pages, such as assignment sheets, writing prompts, and grading rubrics, that you can edit to suit your particular needs. Contains current MLA 8th edition guidelines These are proven resources that I've used with thousands of students over the years with great success. When the process is broken down into these logical steps, even the most reluctant writer can be successful. For the Digital version of this product (for Google Drive and MS One Drive ), click here: Argumentative Essay DIGITAL - Complete Unit -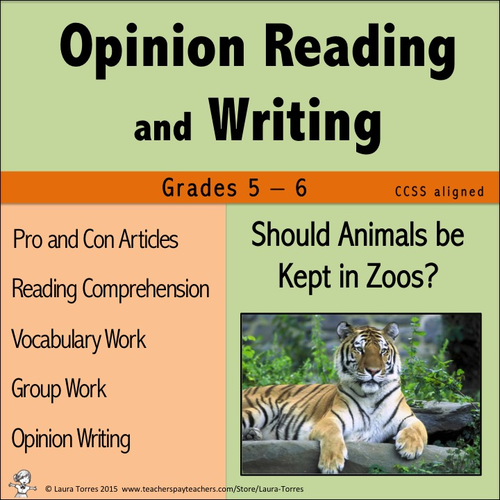 Opinion Reading Comprehension and Opinion Writing. This packet contains two original informational non-fiction articles, one pro and one con on the topic of whether animals should be kept in zoos. Multiple skills are covered, including reading, close reading, reading comprehension, analyzing two texts on the same topic, vocabulary, summarizing, and opinion writing. CCSS aligned. Answer keys included. No prep! Just print and go. Perfect substitute lesson plan. ********************************************************************************** This packet is also part of a money saving MEGA Bundle! Save 30% Opinion Reading and Writing MEGA Bundle ********************************************************************************** Included in the packet: Two non-fiction articles, one pro and one con Each is one page long. The reading level is advanced fourth grade through sixth grade. Two versions of each reading are included, one with bolded vocabulary words and one with no bolded words. Three vocabulary sheets One contains the vocabulary words with definitions to use as a handout. One contains the words only if you want to have the students look up the definitions. The third is a worksheet that helps students practice the vocabulary in context. A pro and con chart for group work A "My Opinion" worksheet This worksheet allows students to agree with one of the authors, and display close reading skills, using evidence from the text to support their opinions. Bonus pages: If you decide to assign an essay using these readings or topic, I've included: An outline template Essay assignment sheet Grading Rubrics CCSS standards included on rubrics for 5th and 6th grades, or use the generic rubrics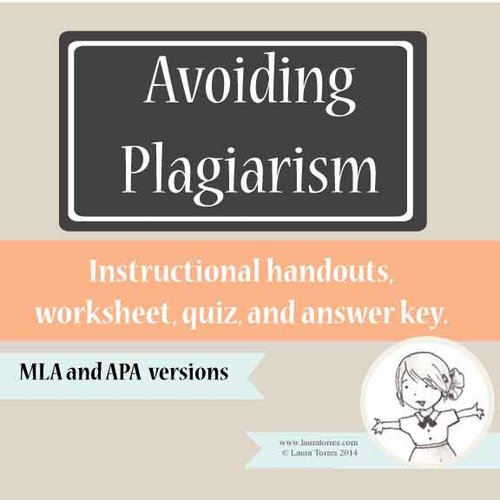 Plagiarism is a big issue in the classroom. This packet has everything you need to help students understand plagiarism and how to avoid it. The handout explains clearly what plagiarism is and gives examples of crediting quotations and paraphrase. After completing the accompanying worksheet, students will understand intentional and unintentional plagiarism. A two-page quiz demonstrates understanding. I use this with my first-year college students with great success. I find that just explaining it to them doesn't work, and by providing this lesson at the beginning of the quarter, they feel confident about what is expected, and we avoid many problems. Included: 4-page handout with examples, 1 student worksheet, 2-page quiz and answer keys. There are two version of the same material included: one in MLA format, and one in APA format. A shortened version (MLA only, no quiz) is included in my "Writing A Research Paper" unit. Writing a Research Paper - Complete Unit You might also like Writing a Great Thesis Statement Writing a Persuasive Essay - Complete Unit Quotation, Paraphrase, and Summary - Instruction and Examples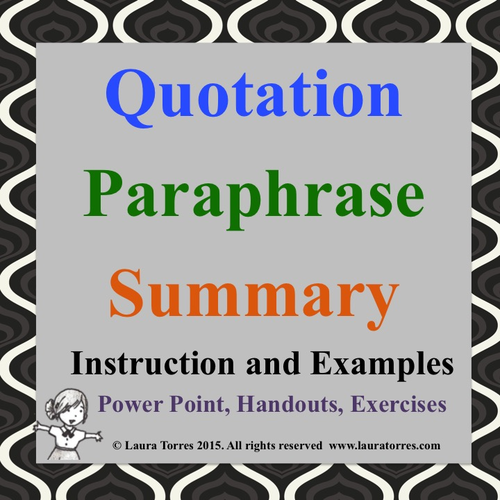 Quotation, Paraphrase, and Summary. Power Point Presentation, handouts and exercises. Learning when and how to use quotes, paraphrase, and summary is essential for writing research papers. This Power Point and coordinating handouts explain the differences and when to use each one. There are examples and exercises from famous speeches, along with a handout on how to integrate the sources into paragraphs. MLA citations included.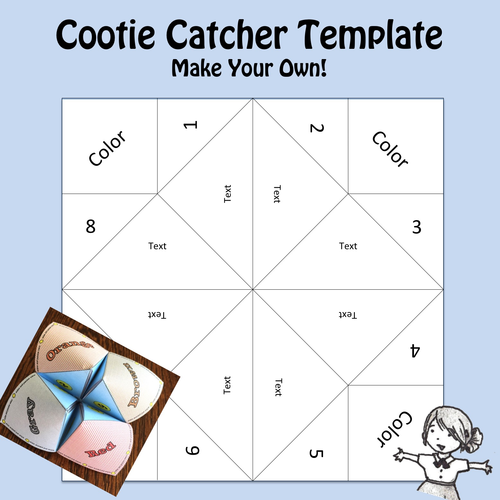 Create your own cootie catchers! These are great tools for review and to engage students in learning. Included: Blank template in Power Point for editing on the computer, PDF template for hand writing and instructions for folding and playing! You might also like: You might also like: Active and Passive Voice Cootie Catchers Subject Verb Agreement Cootie Catchers MLA 8th Edition Guidelines The MLA guidelines 8th edition came out in April 2016. Although most of the guidelines for MLA format have remained the same, there are significant changes to the Works Cited entries. The new guidelines for Works Cited entries are simpler than they were before. There is one master list of items for all sources, and the way the items are listed are more intuitive and easier to read. I've sifted through it all, and put everything you and your students need together, so you don't have to. This packet includes the basic guidelines for in-text citations and the Works Cited page. It also includes handy blank templates for students to use in creating their Works Cited entries and a chart to follow for easy in-text citation creation. It also includes how to set up a paper in MLA format and how to format a Works Cited page. The 24-slide Power Point corresponds with the handouts. Writing a research paper - complete unit in APA style. This is the APA version of my best-selling MLA research paper unit found here: Writing a Research Paper - Complete Unit The content is the same, but adjusted for APA style, with additional material covering the basics of APA style. Although it briefly covers the unique paper types in APA - experimental reports and literature reviews, this unit is meant for secondary students who are writing basic research papers. College-level style guides are not included. Everything here is classroom-tested with hundreds of students who have successfully written a research paper. There are 70 pages of teacher notes, handouts, worksheets, activities and examples, all in an easy-to-follow progression. Includes pre-writing, how to find appropriate sources, taking notes, writing body paragraphs using the "research sandwich" method, outlining, introductions and conclusions, revising, group work, APA formatting, avoiding plagiarism and group work. Also included are fun activities for something a little different. Using this unit, your students might actually enjoy writing research papers! Please see the table of contents in the preview for a complete overview. Originally written for reluctant learner high school students, I have had a lot of feedback from middle school and junior high teachers letting me know that they have used it effectively in their classrooms as well. Includes these individual products: APA Citation Guidelines Avoiding Plagiarism Pair with this companion product to generate ideas for research papers: Writing Prompts for Research Papers and Response Papers You might also like: Writing a Great Thesis Statement Revising Paragraphs in Essays Writing a Summary and Response Essay - Complete Unit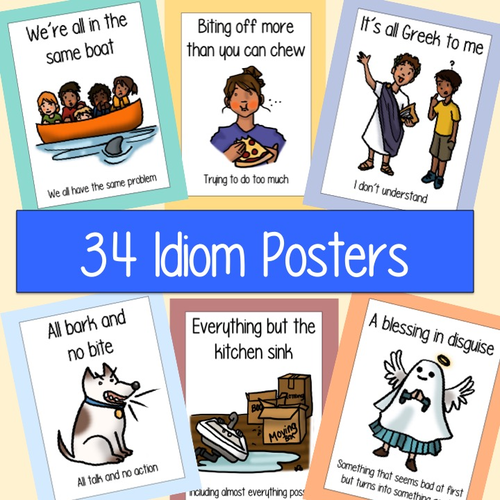 Idioms learning tool: Idiom Posters - 34 different idioms are illustrated and defined in this poster set. 8 1/2 x 11 inches, full color. Use them to decorate your room or use them for writing prompts or discussions. These idioms are a mix of basic and more advanced ideas, so check out the list to make sure they are appropriate for your students. Great for older ESL students. Watch the video in the previews section for an overview of the product! A drop in the bucket All bark and no bite Smell a rat Pull someone's leg The last straw On pins and needles Lend me your ear A taste of your own medicine Biting off more than you can chew Elvis has left the building It's all Greek to me Let the cat out of the bag On the same page High on the hog Hit the hay Pass the buck Don't cry over spilled milk Everything but the kitchen sink Don't put all your eggs in one basket It takes two to tango Don't look a gift horse in the mouth Got up on the wrong side of the bed Tie the knot A leopard can't change its spots We're all in the same boat Bend over backwards Stealing someone's thunder Hold your horses Apple of my eye Driving me up a wall A blessing in disguise Go the extra mile On the fence Sick as a dog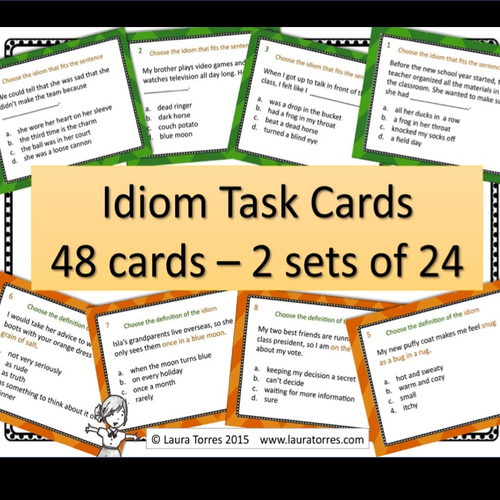 Idiom Task Cards and Worksheets. These idiom task cards and matching worksheets are meant to help students recognize and use idioms in context. There are two sets of idioms task cards. 24 cards ask students to choose the idiom that best fits in the sentence. 24 cards ask students to choose the definition of the idiom used in the sentence. Includes color coded answer sheets and answer keys. The same sets of idiom questions are also included in simple worksheet/quiz form so you have flexibility of use. A mix of basic and more advanced idioms, these are suitable for grades 3 and up, and also ESL students of all ages. You might also like: Idiom Worksheets 34 Idiom Posters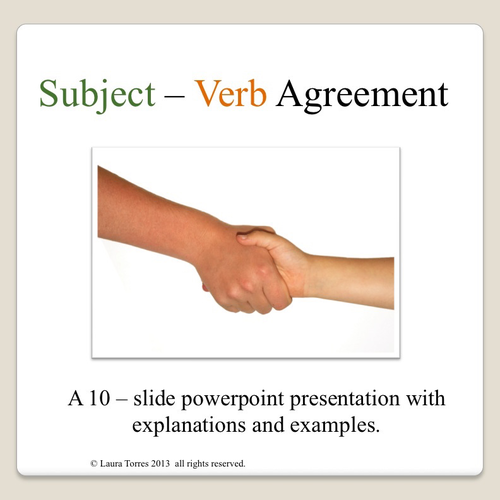 Subject-verb agreement Power Point. This subject verb agreement presentation will engage middle and high school students with its interesting fact-based sample sentences and photo illustrations. It has all the basics to master or review subject-verb agreement with clear explanations for hard-to-grasp concepts such as collective nouns, indefinite pronouns, and hidden subjects. You might also like: Run-on Sentence Power Point Semicolons Power Point Commas Power Point - Rules and Practice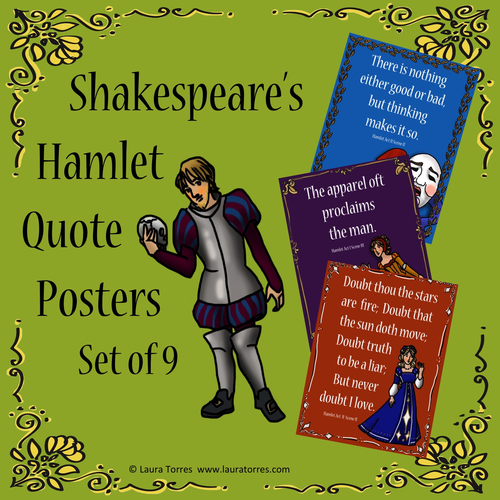 Shakespeare's Hamlet Quote Posters. Nine full-color 8 1/2 x 11" posters with quotes from Shakespeare's Hamlet and original artwork. Also included are the same posters with white backgrounds to save ink. Decorate your room with thoughts from one of Shakespeare's most famous plays, use for discussion groups or discussion starters. Sentence Fragments - Worksheets, Quizzes and Answer Keys.This packet includes an easy-to-understand explanatory worksheet for sentence fragments with examples, a worksheet with an answer key, and two quizzes with answer keys. You can use one quiz as a practice quiz, or pass out two versions. Great as a review for students who should already know correct sentence structure but need a review. This product is part of a money-saving pack bundled with 20 other great grammar and punctuation resources: You might also like: Apostrophe Mania Game, Worksheets, and Quiz Active and Passive Voice - Worksheets, Quiz, and Answer Keys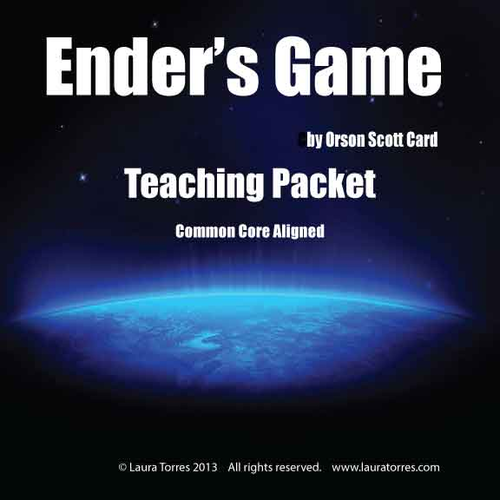 Ender's Game by Orson Scott Card is a classic novel that was made into Ender's Game the movie in the Fall of 2013. There has been a lot of excitement and renewed interest in this award-winning novel. This is one of my all-time favorites, and I have successfully taught it in the classroom using these common-core aligned materials: - 4 Quizzes and answer keys to test reading comprehension - 4 Sections of discussion questions and answer keys for higher- order thinking RL 8.10; SL 8.1 RL 9-10.10; SL 9-10.1; SL 11-12.1 - 5 Presentation topics that require outside research. (These can also be used as individual essay questions). W 8.1; W 8.7; W 8.8; W 8.9; SL 8.4; W 9-10.7; W 9-10.8; SL 9-10.1; SL 9-10.4; W 11-12.1; W 11-12.7; W 11.8; SL 11-12.1 - 10 Short essay questions for individual work or as a final exam. W 8.1; W 9-10.1; W 11-12.1 - 28 Vocabulary words from the book with context quotes and space for student definitions. RL 8.4; L 8.1; 8.4; L 9-10.4; L 11-12.4 - Blank vocabulary chart for students to fill in vocabulary words. RL 8.4; L 8.4; L 9-10.4; L 11-12.4 - Character inference graphic organizer RL 8.1; RL 9-10.1; RL 1-121.1 - Character development graphic organizer RL 8.3; RL 9-10.3; RL 11-12.3 - Theme tracker graphic organizer RL 8.2; RL 9-10.2; RL 11-12.2 - Theme development and summary graphic organizers RL 8.2; RL 9-10.2; RL 11-12.2 This is a flexible packet that you can use in many ways in the classroom. It's got all the basics you need to teach Ender's Game in your classroom!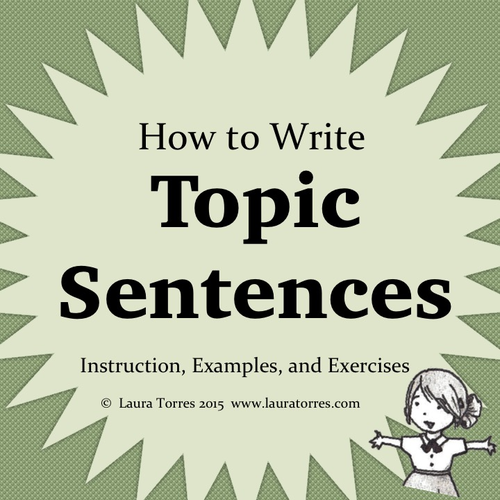 Topic Sentences Power Point Presentation - Instruction, Examples, and Exercises This Power Point presentation will help you teach your students everything they need to know about topic sentences. It is complete with instructions, examples for each point, and three exercises to check for understanding.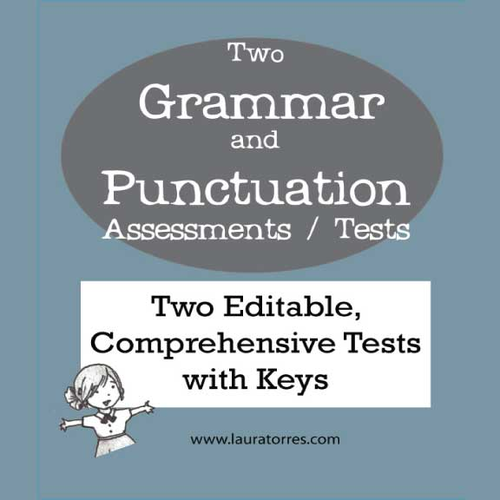 Grammar and Punctuation Assessments / Tests. This packet includes two grammar and punctuation tests. I use one for an assessment to see what my class needs to work on, and then one at the end of the quarter as a final test. You can use them any way you like. They are Word documents, so you can edit them according to your needs, or break them up in to smaller quizzes. Each assessment / test is 100 points and includes: Subject/Verb Agreement Sentence Fragments Run-on Sentences Apostrophes Pronoun Agreement Commas Semicolons Colons Capitalization Quotation Marks Passive/Active Voice Clauses Answer keys are included. You might also like: Subject-Verb Agreement Power Point Presentation Writing a Great Thesis Statement Power Point, Handouts and Worksheets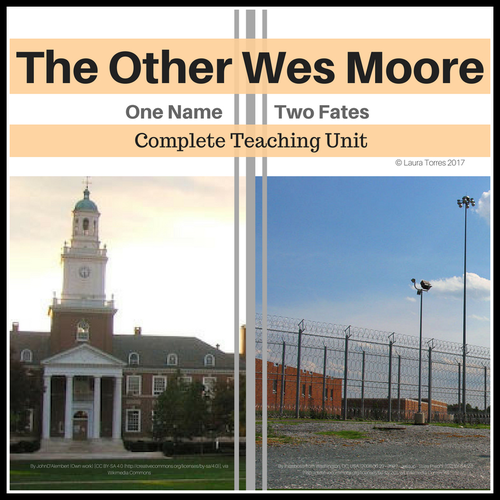 This comprehensive teaching unit for The Other Wes Moore by Wes Moore has everything you need from detailed quizzes to check for careful reading to graphic organizers for theme development. Included in the packet: - Vocabulary words from each section of the book with context quotes and space for student definitions. - Blank vocabulary charts for students to fill in vocabulary words. - Quizzes and answer keys for each section to test reading comprehension - Discussion questions for each section for class or group discussion or to use as writing prompts for higher-order thinking - Short essay questions for individual work or as a final exam. - Essay questions - Presentation or essay topics that require outside research. - Character Compare/Contrast Discussion - Character inference graphic organizer - Character development graphic organizer - Theme tracker graphic organizer - Theme development and summary graphic organizers This unit is flexible for your needs. Answer keys to quizzes included. Each section in the table of contents lists the coordinating common core standards You might also like: Ender's Game Teaching Unit The Glass Castle Resources Writing a Research Paper - Complete Unit Run-on Sentence Worksheet, Quiz, and Answer Keys. This packet includes a simple-to-understand explanation of run-on sentences, a worksheet, quiz and answer keys. The sentences are entertaining and cover the all the basics to ensure understanding. This is a great review for students who should already know correct sentence structure, but need a refresher. Included: Run-on sentence review sheet, worksheet, quiz and answer keys. You may also like: Sentence Fragment Power Point Presentation Run-on Sentences Power Point Presentation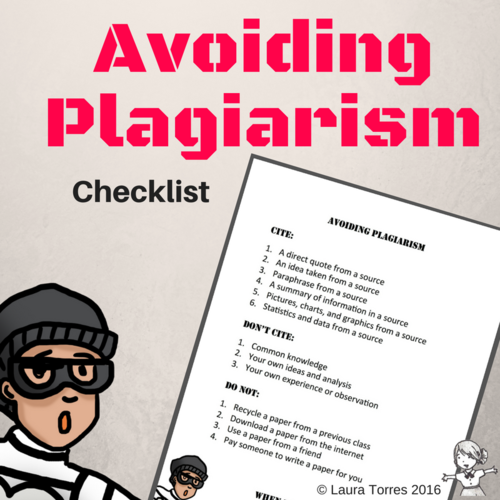 Plagiarism is a big problem, and ignorance of the rules is no excuse. Help students avoid plagiarism with this simple one-page reference sheet. You might also like: Avoiding Plagiarism Writing a Summary and Response Essay - Complete Unit Writing a Research Paper - Complete Unit