6Uploads
1k+Views
836Downloads
Matchup task worksheet EDITABLE A sheet for pupils to match up information about the characters and the windmill as symbols with images
Evaluative adverbs are great for evaluative analysis. To what extent do you agree? A set of evaluative adverbs to use as card sorts, diamond 9 activities or just as flashcards to revise evaluative adverbs.
A set of handouts on characters from Animal Farm, lifted directly from Wikipedia. Old Major Boxer Snowball Squealer Napoleon Mr Jones Benjamin Mr Pilkington Useful as handouts as part of activities or for stretch and challenge pupils.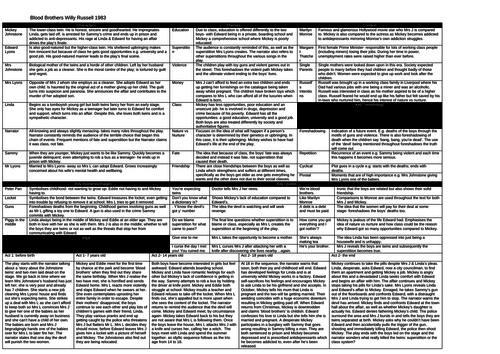 A Blood Brothers Knowledge Organiser & Retrieval Quiz designed by @J_Farmer18. See the originals here at: https://www.tes.com/teaching-resource/blood-brothers-retrieval-question-knowledge-organiser-12076245 https://www.tes.com/teaching-resource/blood-brothers-quiz-questions-and-answers-11561245 Just put them both together in one place!
CARD SORT main characters a selection of events the main themes parallel historical figures Not definitive, of course, but a start! The DOC file can be edited to include the key events, characters and other cards of your choice to match the main interests of your class. Enjoy!
Free, editable card sort based on quotes from characters in Animal Farm by George Orwell. Enjoy and share!