9Uploads
16k+Views
6k+Downloads
Dance/Drama A simple powerpoint I use with my year 10s to help revision for Still Life. I use this with my GCSE Dance students to prepare for the written paper. They fill it out whilst watching the DVD. I use this with my Year 11s before exam to give them better understanding of what to expect.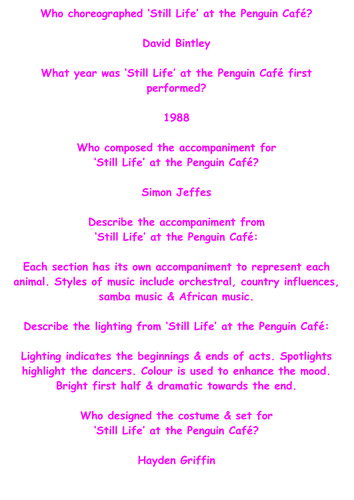 I print these out onto card, cut them up individually & muddle them up. Students have to match question to the correct answer. There are general dance questions, Swansong é Still Life. 7 x powerpoints/lessons that look at choreography from iconic music videos in the 80s,90s,00s, and 10s. Options on powerpoints for you to select music video based on your class. Final 3 powerpoints are assessment prepeation, mock assessment and final assessment. You can adapt these to your schools policy. Powerpoints guide you through lesson, all you need to do is learn the music video choreography and teach your class!