3Uploads
119Views
12Downloads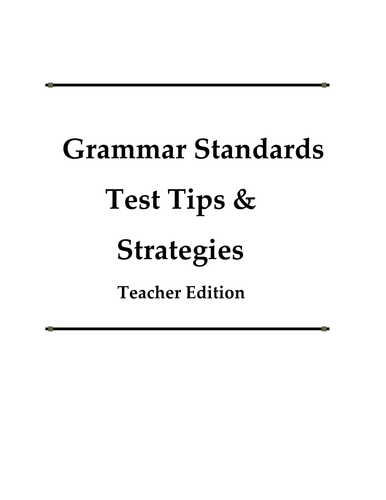 This book is the Teacher Edition of the student consumable workbook of the same title. The book is a condensed version of seven (7) specific Language and Writing common core grammar and writing style standards complete with strategies and tips structured in lessons for students to learn and understand and practice, written to prepare middle school through high school students to perform well on grammar-based test questions and writing assessments. The goal of the book is to ensure students are prepared to perform well in any grammar-based questions and writing assessments. Students can easily follow lesson information about each concept and support the new knowledge with test question examples and explanations followed by chapter-end reviews and practice questions with embedded answer keys. The writing section includes an explanation of the writing traits and writing process along with instructions and outlines for argumentative, informative, and literary analysis essays. Author Julia Mastromarino is a veteran high school Language Arts teacher and SAT & Act Testing prep expert. Additional books available from this author include SAT & Act Test Tips & Strategies and College Readiness Test Tips & Strategies.
A book written by a High School ELA teacher that includes actionable strategies, lessons, practice questions, and test tips for both the new SAT and the ACT test. The book focuses on the Reading, Grammar, and Writing sections of both tests. The book teaches reading strategies including Vocabulary strategies for SAT and ACT passages including timing strategies and guess answer strategies. The book includes grammar lessons for the Writing & Language Test in the SAT and the English test in the ACT. The book addresses the essay writing for the ACT and SAT with writing tips and essay outlines for each. The book can be used to supplement reading strategy lessons for ELA assessments. The book can be used to supplement Grammar and Writing lessons. The book can be used to private tutor students for SAT and ACT test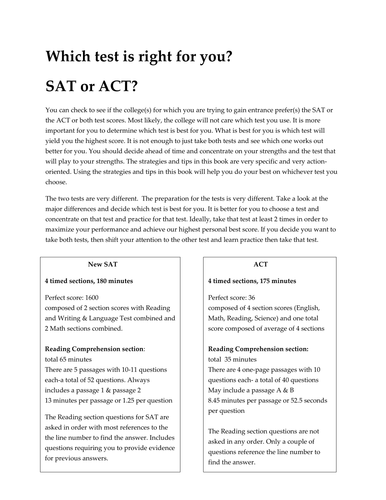 A side-by-side comparison of all the sections and make-up of the new SAT test and the ACT test. The 2-page document allows the teacher to present to students and discuss the important aspects and differences of each test in order to guide them in their efforts to achieve college-ready scores.