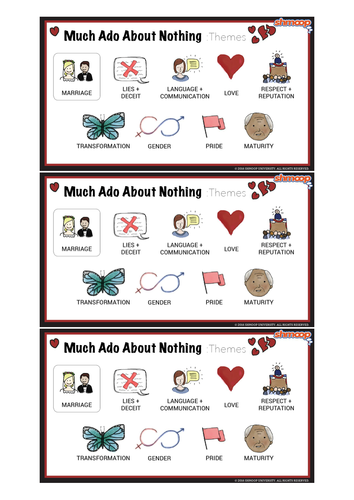 A lesson guiding students through the key themes of the play. Starts to introduce them to AQA GCSE AOs and analysis style writing. Ideal for KS3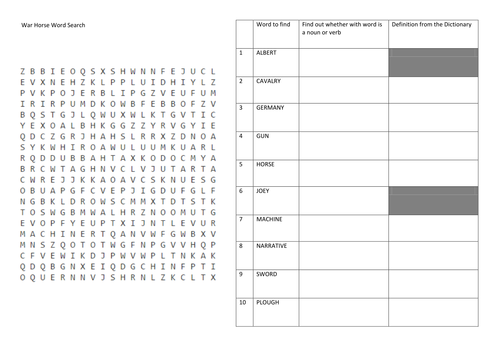 A lesson guiding students through the understanding and reading of Chapter 4. Uses the AQA GCSE specification as framework for AOs. Includes essay style analysis of language and works to evoke personal responses from students using images as well as the text itself. To make life easy I've included the extract required for the essay style question. Ideal for KS3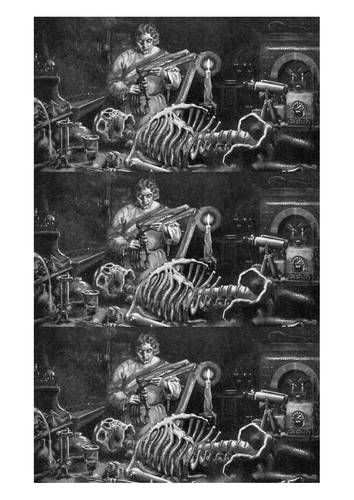 This is a series of lessons that can be delivered over several sessions encouraging creative writing and engagement with 19th century texts in accordance with the new GCSE specification. An ideal introduction to the life of Mary Shelley, her description and presentation of the monster. Focuses on personal responses in essay format and includes creative writing tasks in order to access a broad range of skills. Ideal for upper KS3, KS4 or even as revision for KS5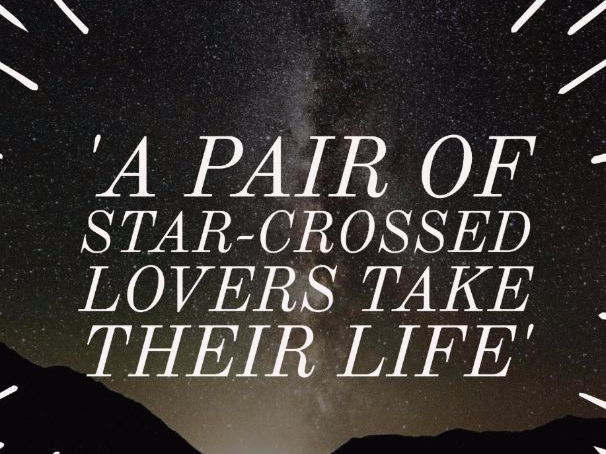 A lesson that can be conducted over 2hrs focusing on the prologue of Romeo and Juliet. Ideal of higher ability KS3 or GCSE students. Includes exam style question with analysis support, analysis work sheets and tasks which encourage direct engagement with the text and independent thought. Created with the AQA specification in mind but easily adapted to suit other SOWs
A selection of lessons based around the AQA specification analysis and exploring Shakespeare's Romeo and Juliet. Includes opportunities to write extended analytical responses,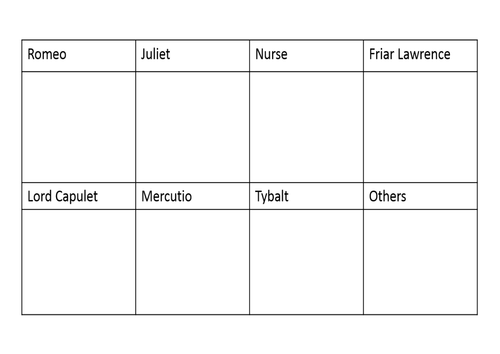 A lesson guiding KS3 students through a novelisation of the play. Aims to enrich contextual understanding through investigation of the globe theatre. Ideal for confident higher ability KS3 students or low ability KS4 as an introduction to the play.
A scheme of work designed to support the teaching of language paper one on the new AQA specification. This is aimed predominantly at lower ability groups in order to help them become familiar with the question styles. For lower ability groups there is a writing frame to help structure q4 responses and activities to support close analysis of words, phrases and language features. Also has assessment on a different HP extract to assess learning once completed Includes film clips and a section B writing to describe question.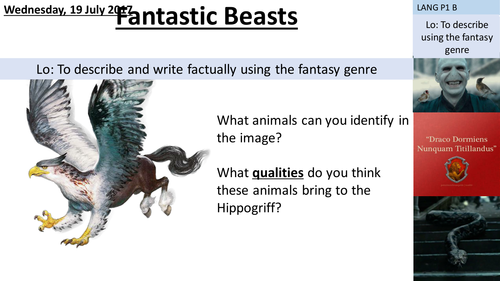 A lesson based around AQA English language skills - extracting information, writing to describe, writing to inform. Uses extracts from Fantastic Beasts textbook and suggests the use of a scene of the film to inspire creative writing. Part of a wider scheme of work looking at the fantasy genre and narrative/creative writing. Ideal for KS3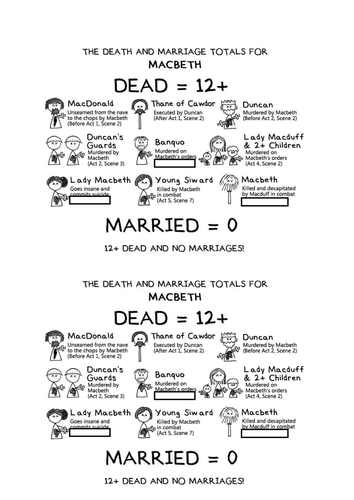 A lesson guiding students through the events of Act 5 scenes 6-9. Includes language analysis activities, reminders of key deaths, extended writing tasks and sections which encourage the use of critical thinking and recall of other elements of the play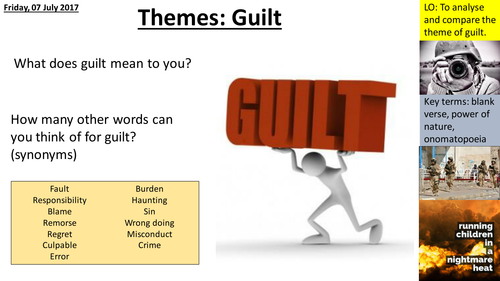 This lesson guides students through a comparison of the theme of guilt in War Photographer and Remains for AQA's power and conflict poetry. cluster Ideal as pre-assessment or exam preparation. Includes references to AOs. Success criteria for writing. A variety of tasks to promote vocabulary, engagement with the poems and confidence in essay writing technique.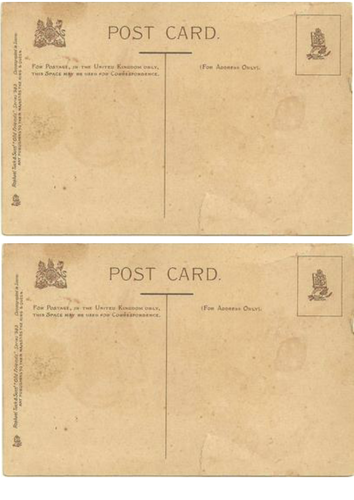 A lesson guiding students through the skills needed for letter writing. Uses real WW1 examples of letters home to help model their work. Ideal for KS3 or high ability KS2. Lesson makes reference to the GCSE AOs in order to build familiarity with assessment criteria and promote mastery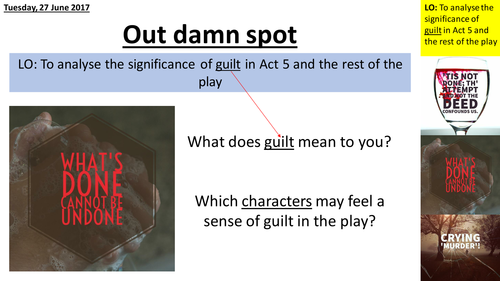 A detailed set of lessons guiding students through revision of Lady Macbeth's character and her sleep walking episode in A5S1. Includes student lead activities, revision support and essay style questions. Essay style question includes differentiated work sheet designed to support students in AO1, 2 & 3 and support them in reaching the higher grades. Ideal for mid-high ability KS4 classes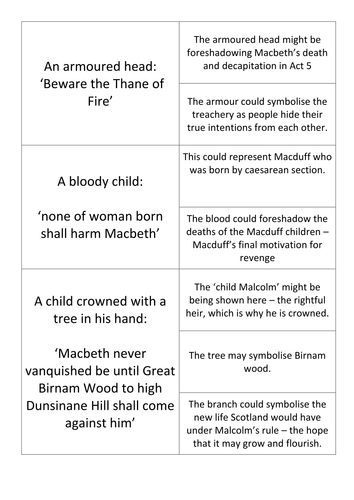 A lesson guiding students through the murder of the Macduffs. Includes language analysis, recap of previous scenes, visual quotes, themes and comparison of key events. Ideal for GCSE students studying the text for the new AQA specification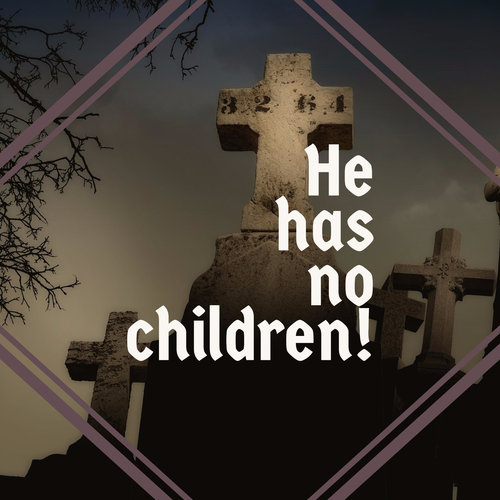 A lesson guiding students through the tricky scene of act 2 scene 2. Includes comprehension questions, homework activities, language and structure analysis, creative writing. Works well for any group studying the new GCSE AQA scheme, includes references to AOs.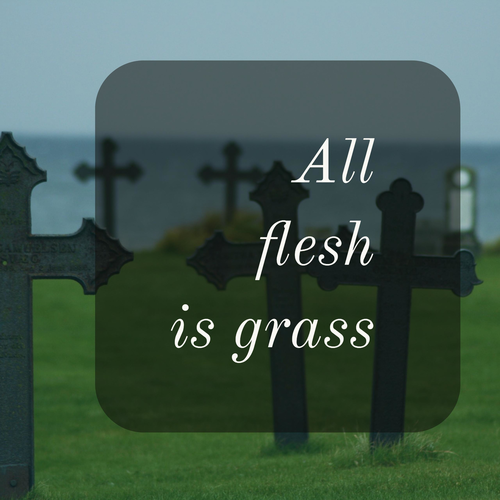 A lesson heavily using imagery to promote the learning of quotes and engagement with the text. Great as an introduction to the poem for the Power and Conflict unit. Includes exam style question to encourage critical response and familiarity with the assessment type.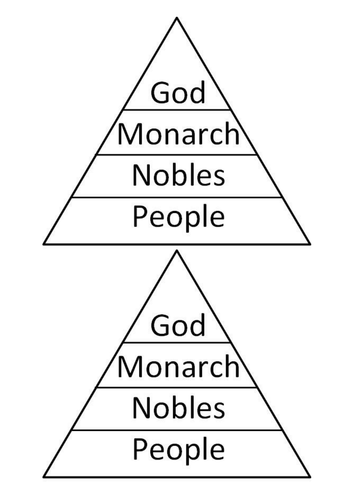 A lesson guiding students through Act 2 Scene 4 - where Macbeth is finally made King of Scotland. Includes language analysis, contextual information and essay style writing activities. Very structured and designed to evoke engagement with the text and personal responses. Aimed at KS4 students preparing for the Extract-Whole nature of the new AQA specification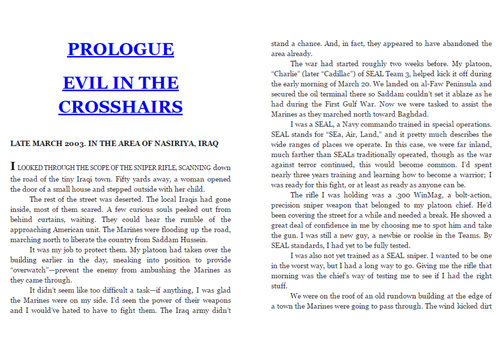 An extract and set of questions preparing students for AQA language paper one. Ideal for male KS4 students especially when used in conjunction with film clips. Includes starter questions to help students think about language features and techniques. Possibly useful for mock exams, includes a question 5/section B writing to describe task.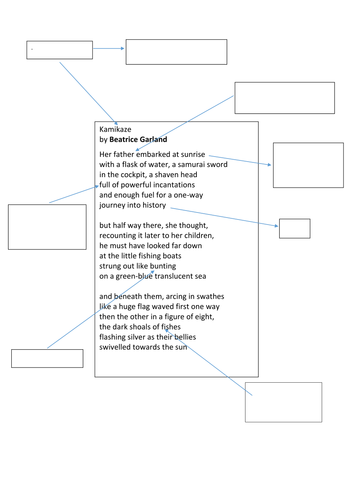 A lesson guiding students through the study of Kamikaze. Looks at language analysis, themes and structure. Aimed at KS4 preparing for the new AQA GCSE specification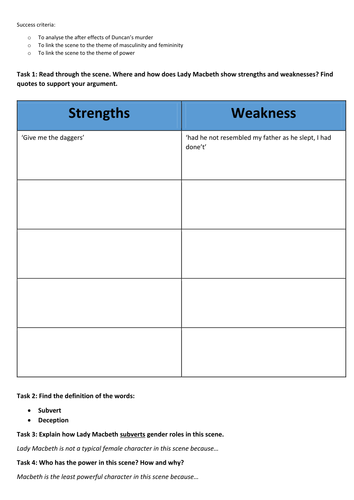 A fully resources and differentiated lesson designed to guide students through the scene. Includes: videos, homework, group tasks and work sheets. Aimed at KS4 preparing for the new AQA specification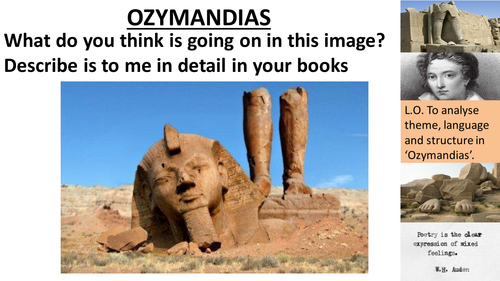 A set of lessons guiding students through the context, language and themes of Ozymandias. Includes essay style questions focusing on the theme of power. Aimed at KS4 preparing for the new AGA GSCE Literature specification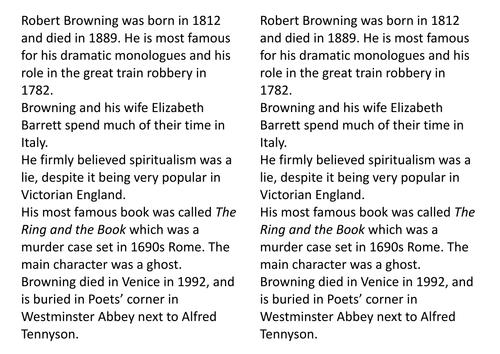 A comprehensive set of lessons analysing the context, content and structure of My Last Duchess. This is aimed at KS4 preparing for the power and conflict GCSE. Finishing with a comparative question in line with the exam specification