MollyNew1's Shop
Teacher of German, Italian, French and Spanish since 2000.
62Uploads
32k+Views
17k+Downloads
Teacher of German, Italian, French and Spanish since 2000.

A resume of the 1954 World Cup scores which I have used to support teaching of the film Das Wunder von Bern. Give students the second sheet and read the text to them. They fill in the missing info. This was useful as my class struggle whenever they hear large numbers. The football theme kept their interest.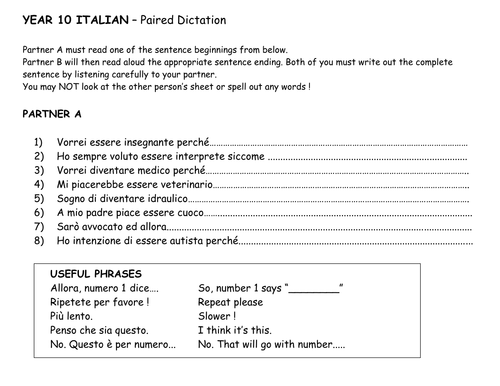 Pupils are put into pairs and must sit back to back. One pupil is given sheet A and the other B. One pupild reads the beginning of a sentence and the other must scan through the possible endings and read what they believe to be the correct one. Both must write in the missing part of the sentences. Took my class about 15 minutes. Translate and manipulate the sentences at the end.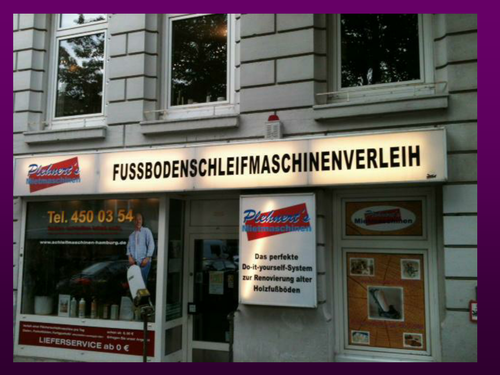 A power point which aims to introduce learners to the concept of compound nouns. This is useful for younger learners as well as KS4 pupils who may benefit from breaking down longer words when reading or translating.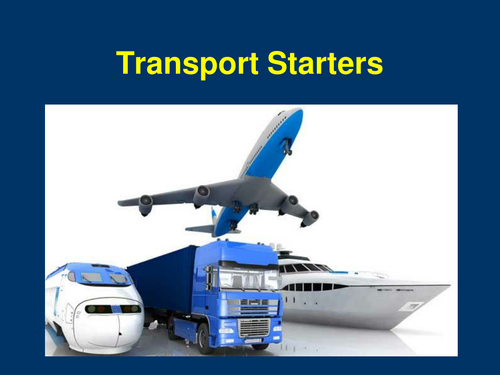 Several starter activities to reinforce transport in German. I have used these with a Year 8 class.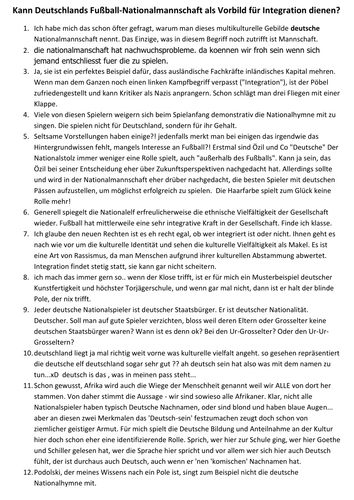 I produced these resources to get students thinking about Integration. All the German opinions are taken from Online Forums and the texts from online newspapers. Was useful to provoke discussions / elicit opinions from the students. Hope you can use it too !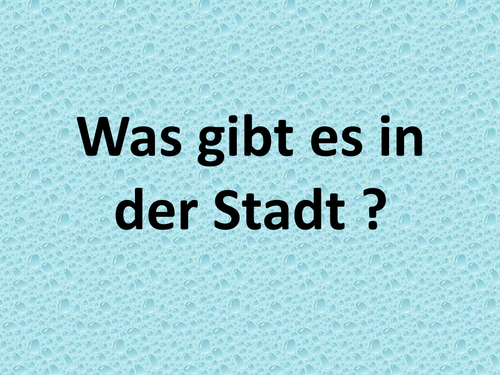 Starter/Plenary activity to promote thinking skills and revise 'Stadt' vocabulary. Pupils must study the images and work out the German word. I got mine to write out the word and awarded points with extra points for perfect spelling. The answers are on the last slide.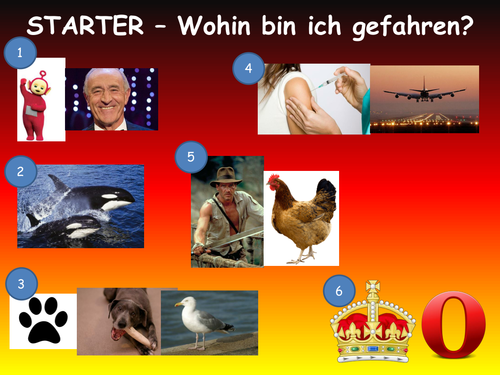 Name the 10 countries in German. The pictures provide the German word. Answers on final slide.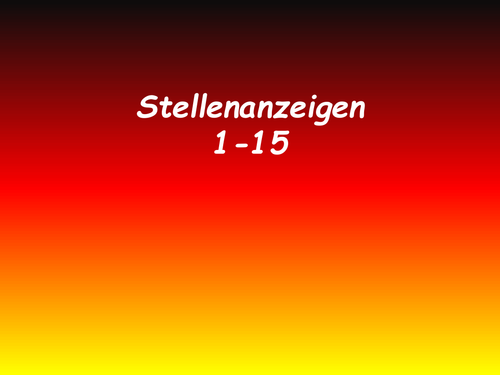 15 Job advertisements from the Internet. Name which job is being advertised in English. Quick starter / plenary. Have used with Year 9.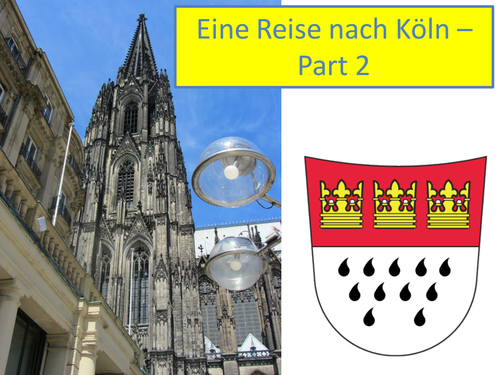 Another reading quiz using photos from this year's visit to Koeln. I have used it as a starter to Year 9/10 lessons. Hope someone else can make use of it too.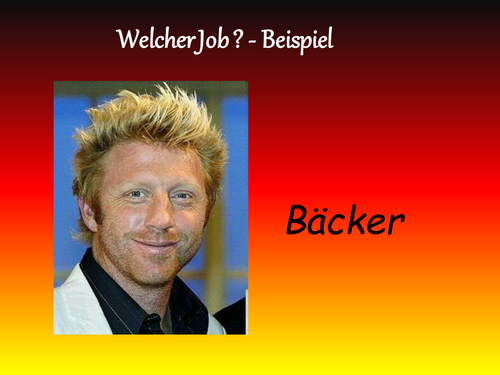 Thinking skills starter - work out the German job from the clues. Bonus points if spelling is perfect.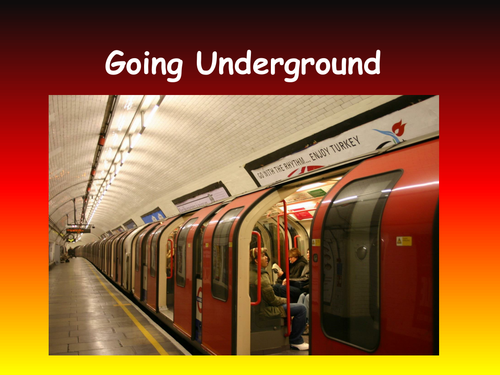 Put pupils in pairs and supply each pair with a map of the London Underground (print off from Internet) They must use their knowledge of German plus the map to work out which station is being mentioned. A 10 minute fun activity which the boys especially seem to enjoy.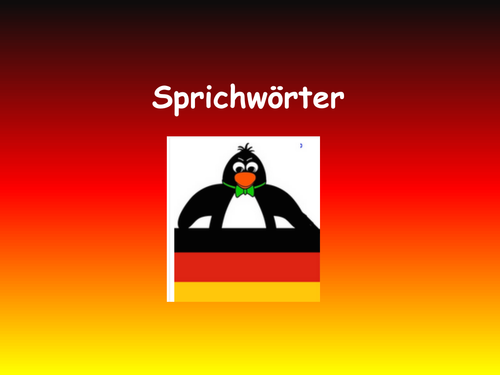 Some simple proverbs for learners to deduce. Answers provided. Once they understand them in English they can attempt to give an example in German to show when each of these could be used.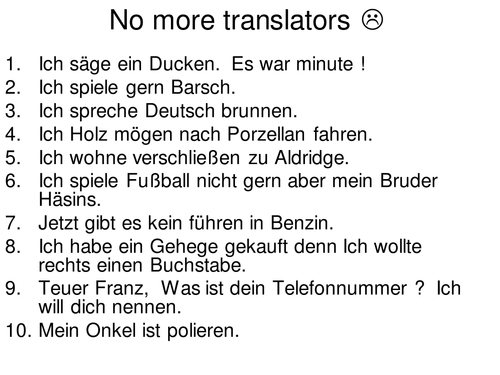 I have used this with weaker groups at the start of Year 10 (and before any wretched controlled assessments) to show pupils how translators cannot be relied upon to produce accurate language. We highlight the importance of good spelling in English and focus on choosing the correct translation where there are several available options. Sadly all of these are real examples !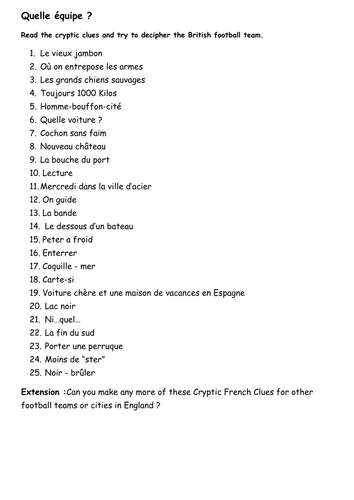 Pupils deduce the football team from the French clues. All teams are from the English league across the divisions. Answers are on the second page.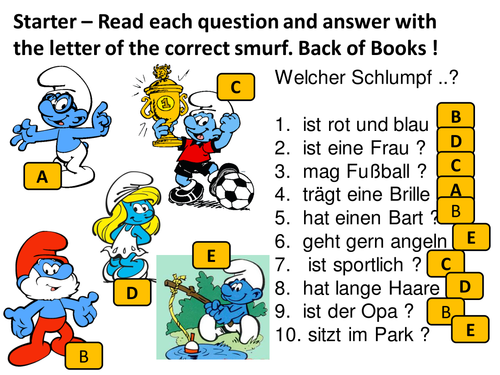 A ppt I used recently with Year 7 to teach them how to use 'weil' to justify their opinions of family members. A couple of slides borrowed from / inspired by other TES contributors. Hope it's useful !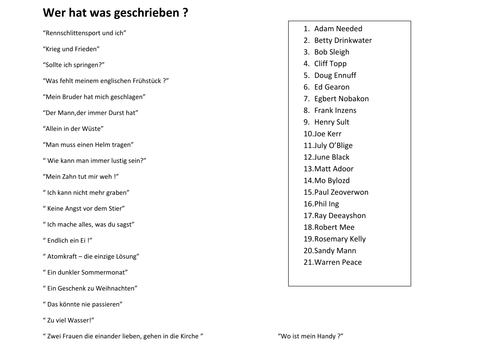 Light hearted activity. Match up the book to the author - all are made up as you will be able to tell ! Translate the German names and think ! Answers are on the second slide. Apologies for the dodgy humour. :)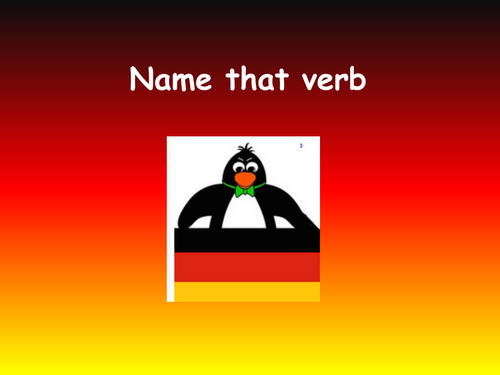 Quick starter for years 9-12. The pictures encourage them to think and the answer is a verb in the infinitive. Hope it's useful.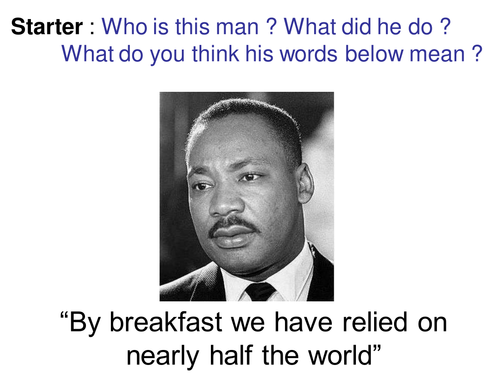 Powerpoint of facts and images to assist in delivery of a lesson about globalisation and fairtrade. While the structure and linking of ideas are my own, some of the slides may be from colleagues and other TES contributors. Hope it can be of use to others.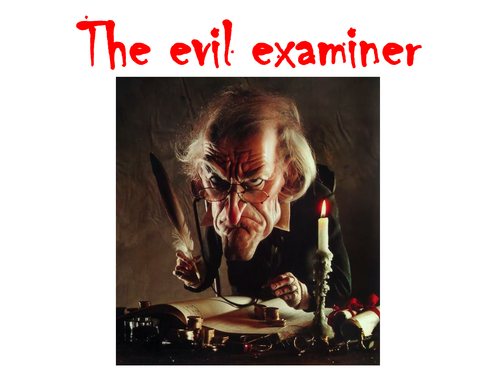 Focuses on some of the tricky things which catch students out in reading and listening assessments in Years 8/9. I have used in the run up to our end of year examinations.