MollyNew1's Shop
Teacher of German, Italian, French and Spanish since 2000.
61Uploads
36k+Views
20k+Downloads
Teacher of German, Italian, French and Spanish since 2000.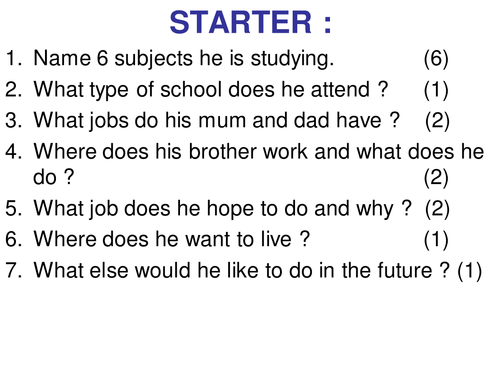 Powerpoint I recently used with Year 9 mixed ability group. Worksheet attached too. Have also used it to revise jobs with Year 10.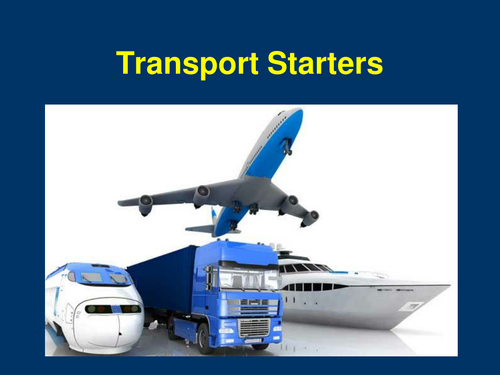 Several starter activities to reinforce transport in German. I have used these with a Year 8 class.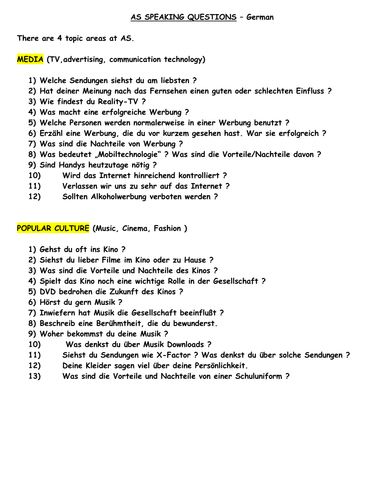 After fruitless searches for a list of useful questions to use in the AS speaking examinations I decided to make my own. They may be of use.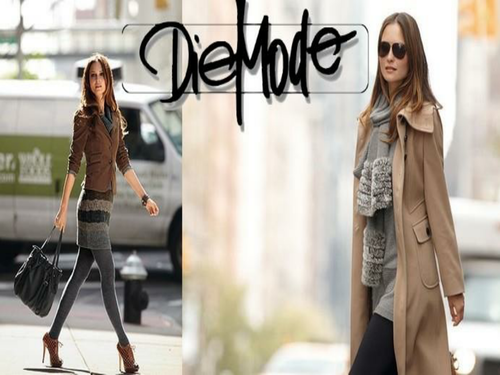 A powerpoint which I used to introduce the topic of fashion and image. It was useful to prompt discussions and to encourage the students to give their opinions on a range of issues within the topic area. Hope someone else can use it too.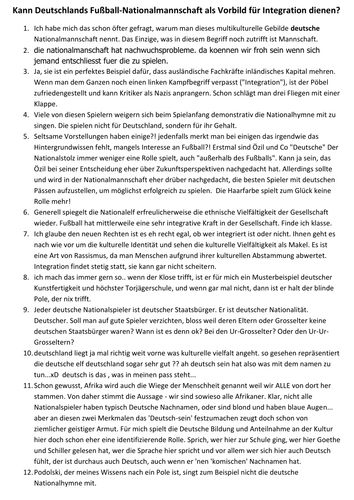 I produced these resources to get students thinking about Integration. All the German opinions are taken from Online Forums and the texts from online newspapers. Was useful to provoke discussions / elicit opinions from the students. Hope you can use it too !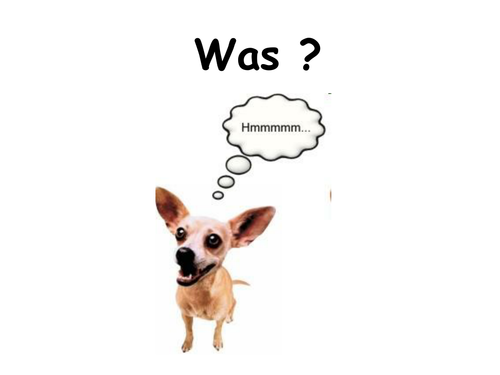 10 slides of images which (given some thought) reveal a keyword in German for this topic. Nice to have a light hearted activity for a change !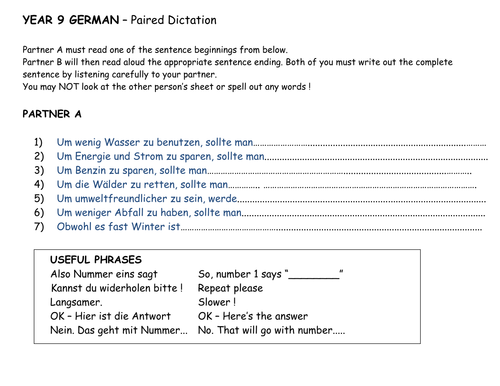 Pupils are put into pairs and must sit back to back. One pupil is given sheet A and the other B. One pupild reads the beginning of a sentence and the other must scan through the possible endings and read what they believe to be the correct one. Both must write in the missing part of the sentences. Took my class about 15 minutes. There is one extra sentence ending than start to make it a little more complex. Translate and manipulate the sentences at the end.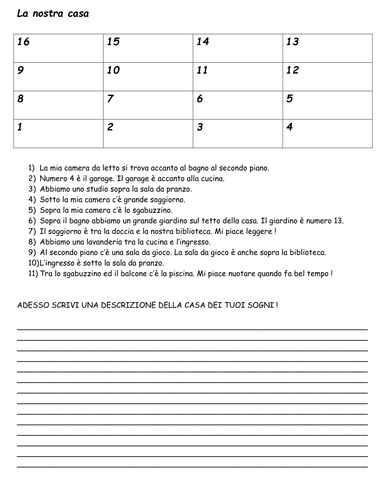 Logic Puzzle to recap rooms of the house and prepositions. Answers are below the task.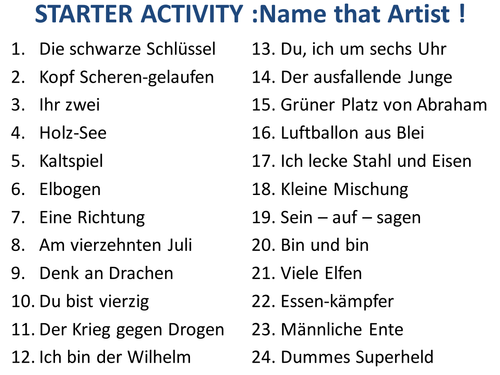 A selection of music artists translated into German for pupils to translate. A light hearted starter which my class enjoyed. Includes some recent artists to make me look cool...just wish I knew who they were.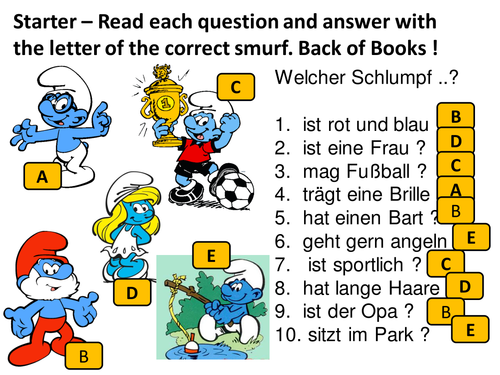 A ppt I used recently with Year 7 to teach them how to use 'weil' to justify their opinions of family members. A couple of slides borrowed from / inspired by other TES contributors. Hope it's useful !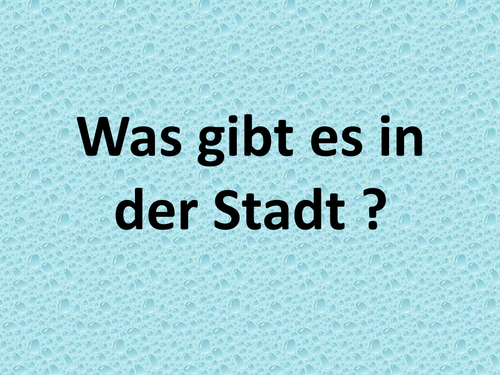 Starter/Plenary activity to promote thinking skills and revise 'Stadt' vocabulary. Pupils must study the images and work out the German word. I got mine to write out the word and awarded points with extra points for perfect spelling. The answers are on the last slide.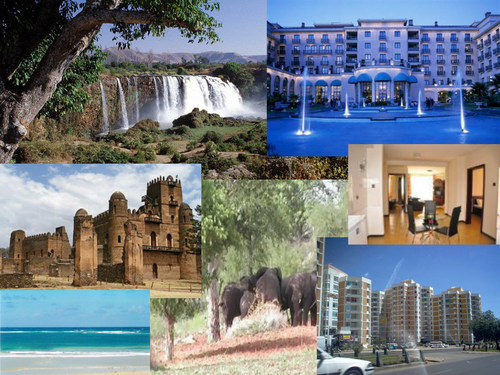 Selection of images which I have used in powerpoints on this topic. Hope they can be of use to others.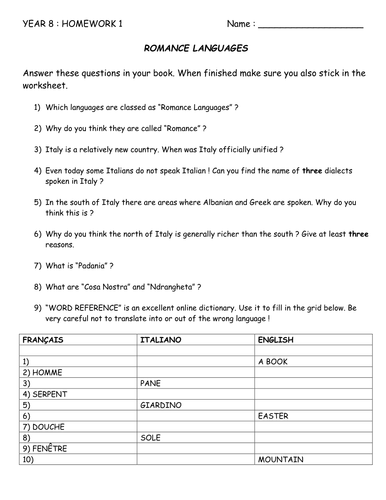 A first homework for my Year 8 class which requires them to undertake research and makes links between French and Italian.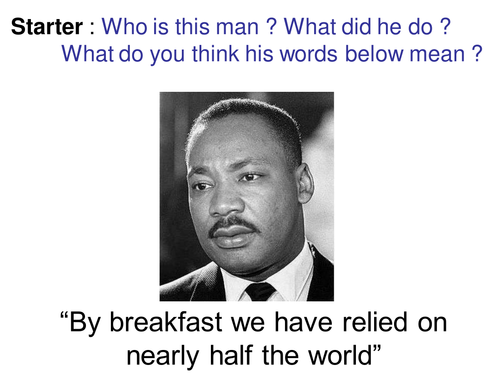 Powerpoint of facts and images to assist in delivery of a lesson about globalisation and fairtrade. While the structure and linking of ideas are my own, some of the slides may be from colleagues and other TES contributors. Hope it can be of use to others.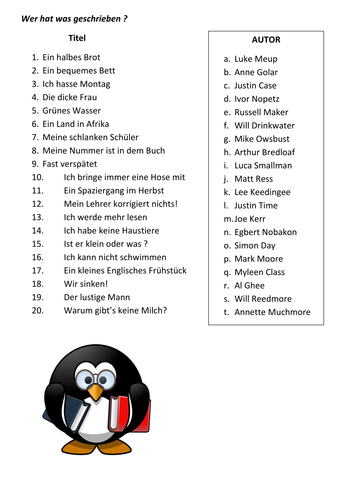 A reading starter designed for my Year 8s. Students match the book titles to the authors. It's just a bit of fun but does make them think. It took mine a few minutes to figure out what they needed to do but once they got going they were engaged. It's not often they ask me to make more of something so I took that as a success!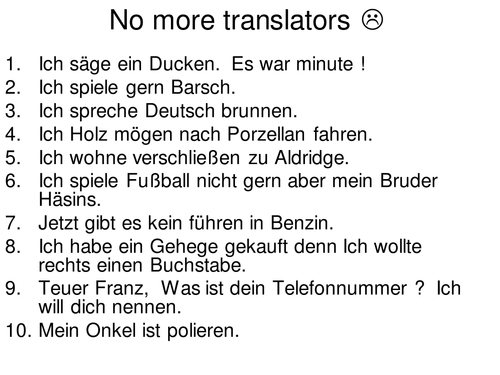 I have used this with weaker groups at the start of Year 10 (and before any wretched controlled assessments) to show pupils how translators cannot be relied upon to produce accurate language. We highlight the importance of good spelling in English and focus on choosing the correct translation where there are several available options. Sadly all of these are real examples !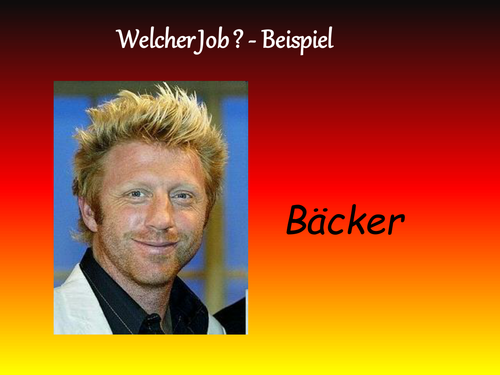 Thinking skills starter - work out the German job from the clues. Bonus points if spelling is perfect.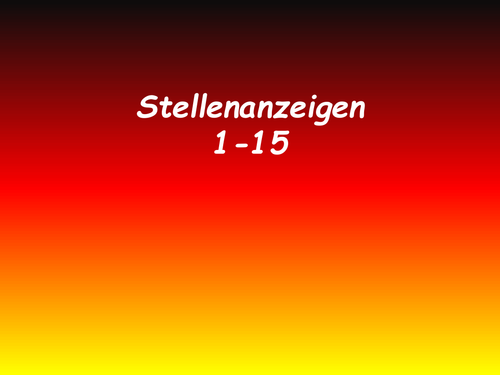 15 Job advertisements from the Internet. Name which job is being advertised in English. Quick starter / plenary. Have used with Year 9.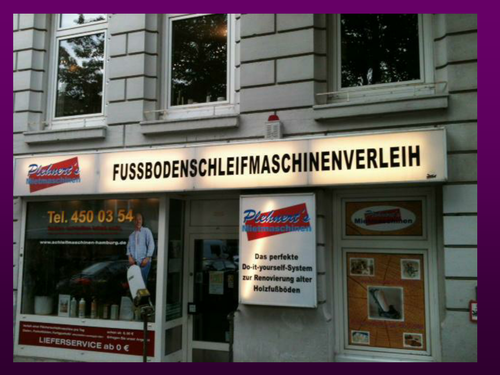 A power point which aims to introduce learners to the concept of compound nouns. This is useful for younger learners as well as KS4 pupils who may benefit from breaking down longer words when reading or translating.