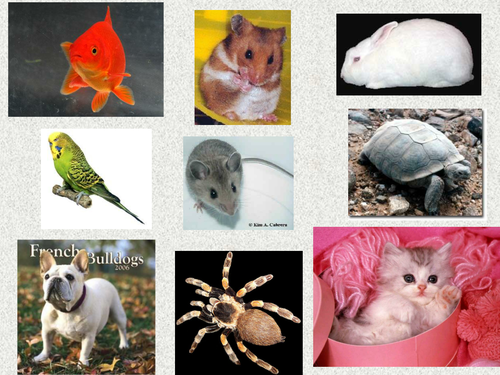 Powerpoint introducing pets in French and including games. Enough for three or four lessons. Introduction of vocabulary, speaking activities, writing tasks, match ups, games, tests. Moves on to adding adjectives, giving opinions and writing longer paragraphs.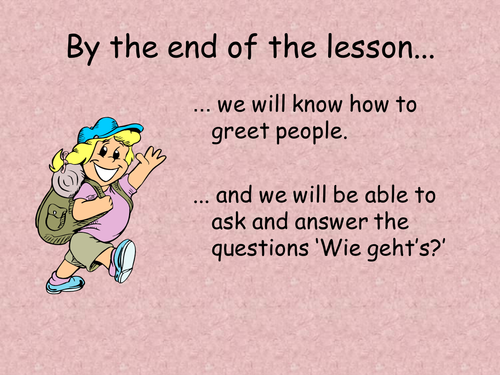 Powerpoint introducing various ways of greeting people in German and how to answer the question 'wie geht's?'. Includes listening exercise.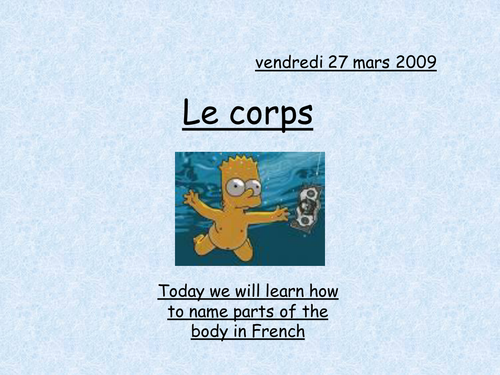 Powerpoint introducing the body parts in French using Bart Simpson - lots of activities plus labelling exercise.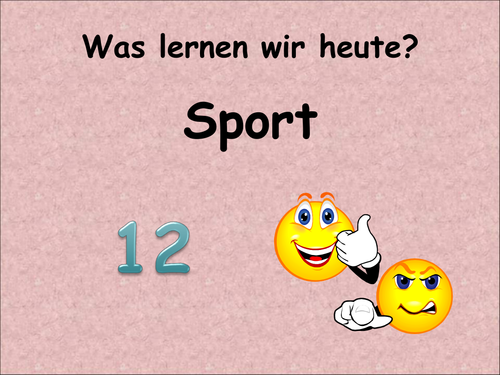 Powerpoint introducing sports in German including lots of activities such as points games and matching exercises.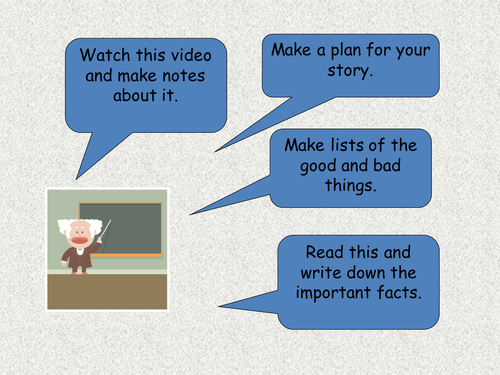 Powerpoint to introduce what is meant by note making and various ways to do this. Includes short texts which can be read aloud and pupils make notes.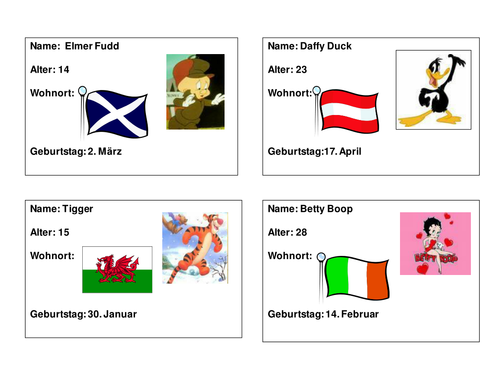 These cards can be printed and cut up. Use as speaking and listening activity. Pupils work in pairs asking and answering questions about the person on their card in German and see if they can work out who their partner is.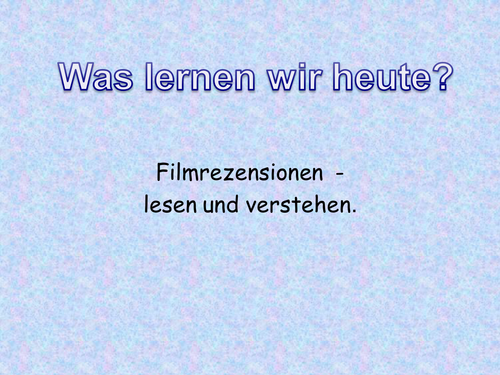 Lesson on film reviews in German. Starter activity is to guess the film from the German title (worksheet on Word Doc). Three film reviews to read (can be printed from powerpoint). Plenary is find the error slide.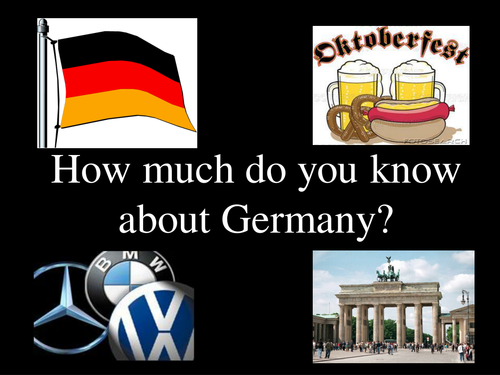 Millionnaire quiz about Germany. Great for an introductory lesson to German / Germany or as a starter / plenary activity. Can be played as a whole class or in teams / as individuals.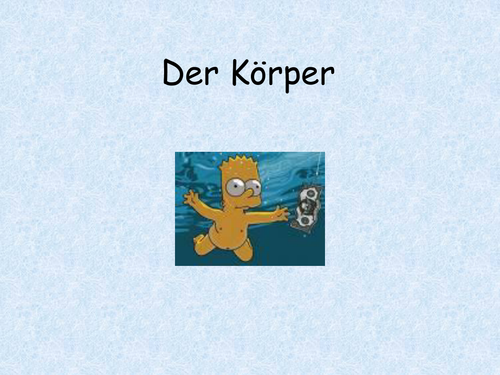 Powerpoint introduing parts of the body in German including games and 'create a monster' - pupils work in pairs throwing dice and saying the German sentences, everytime they roll that number they have to draw that body part on their monster - gives some very interesting creatures!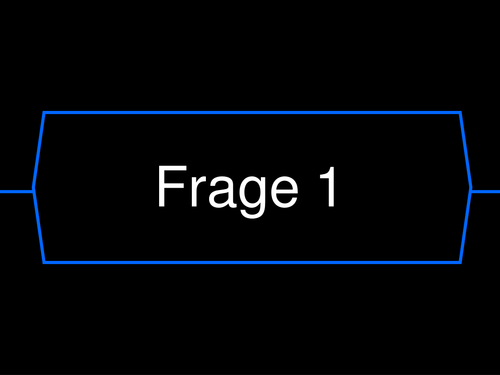 Millionaire quiz on hobbies and sports. Great end-of-topic activity. Can be played as a whole class or in teams / as individuals.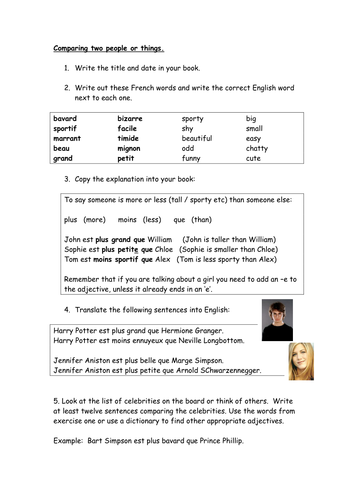 Worksheet on comparisons and superlatives in French designed for a cover lesson.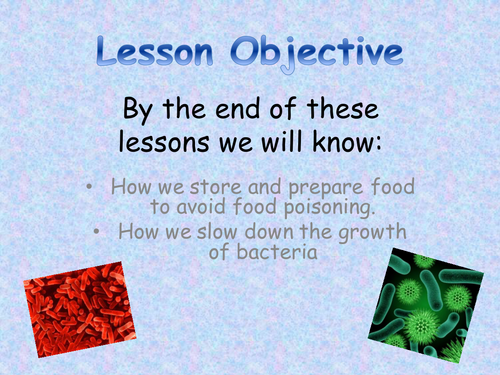 Lesson on how to prepare and store food in order to prevent food poisoning. Powerpoint to introsuce lesson. Group work - each find out about a topic and then teach the rest of the group. Millionaire quiz to finish. Did this over two lessons with a group of pupils with SEN.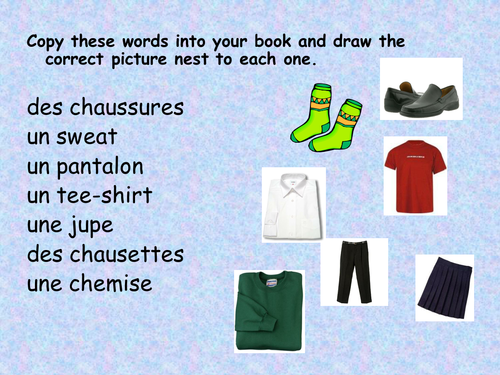 Powerpoint introducing clothes and colours in French using Simpsons characters to help and including design ideal school uniform task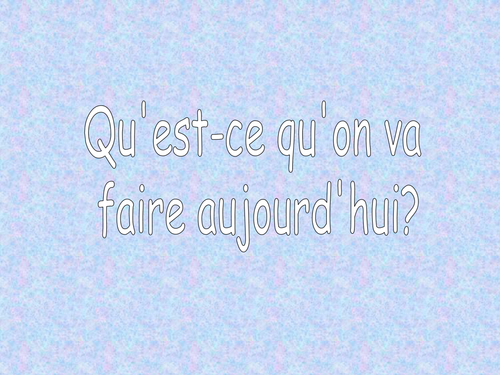 Selection of resources to enable pupils to write poems in French - powerpoint to explain, examples of french poems, acrostic and writing frame to support poetry writing.