Peace Pledge Union's Shop
5Uploads
112Views
43Downloads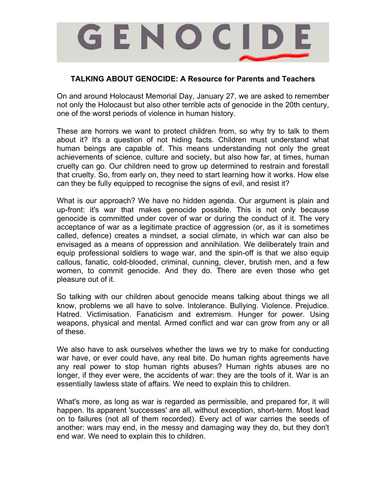 On and around Holocaust Memorial Day, January 27th, we are asked to remember not only the Holocaust but also other terrible acts of genocide. These are horrors we want to protect children from, so why try to talk to them about it? It's a question of not hiding facts. Children must understand what human beings are capable of. This means understanding not only the great achievements of science, culture and society, but also how far, at times, human cruelty can go. Our children need to grow up determined to restrain and forestall that cruelty. So, from early on, they need to start learning how it works. How else can they be fully equipped to recognise the signs of evil, and resist it?
At the Peace Pledge Union, we believe that young people should hear a range of views and perspectives on war and peace, allowing them to form their own views as they grow up. We promote an alternative approach to remembrance that focuses on remembering all victims of war, with a view to creating a more peaceful world. We believe it is important to explore diverse experiences of war, to question common assumptions and to avoid euphemistic or militaristic language. The white poppy fosters an understanding of the value of a peaceful society and alternatives to armed force. In this pack you can find activities, discussion points and resources that can be used during the remembrance period to explore how and why we remember. Our hope is that focusing on positive action and change will empower students and communities to champion alternative voices and to stand up for a more peaceful world.
This resource gives an account of the history of the red and white poppies for remembrance. It contains activities and discussion points related to remembrance.
This resource describes the No Conscription Fellowship and the Conscientious Objection movement during the First World War. It encourages students to evaluate their ideas of 'heroism' and what it meant to be a Conscientious Objector.
This worksheet provides notes for researching the perspectives and experiences of Conscientious Objectors from your local area. The Men Who Said No website holds information about the Conscientious Objectors(COs) of the First World War and their supporters, wives and partners, who laid the foundations of todays nonviolent protest movement in Britain. After the war many were at the forefront of prison reform and other progressive causes. Many more continued to campaign for the abolition of war and a just settlement of conflicts. Their voices were often marginalised and ridiculed at the time; you can use the 'The Men Who Said No' website to discover more about their perspectives and experiences.