Partington-H's Shop
English teacher working in Switzerland. Bilingual teaching, mainly Kindergarten age but sometimes older as well.
47Uploads
2k+Views
2k+Downloads
English teacher working in Switzerland. Bilingual teaching, mainly Kindergarten age but sometimes older as well.

These sheets work well as an independent task or as group work. The children can see the written number and then must count the correct number of manipulatives and place them on to the web. Great for Autumn, Halloween or mini beast project work.

The children are presented with a tally reading up to ten. The children must then place the correct number of objects on to the web. If laminated the children can also be encouraged to write down the number they have counted.

The children are presented with single dice readings to 6 and two dice readings adding to ten. The children are shown the images and are then asked to place the corrected number of objects on to the web.

In this bundle you will find; dice reading, number reading, tally reading and number sentences all up to ten. Each spider comes with his own web and number, the children can place objects on to the web to show off their counting skills, aid in number bonds to ten knowledge and show a deeper understanding of the different ways in which numbers can be represented. The cards can also be printed out 6 per page and then used for the children t match across the different representations.

This pack contains; teaching activity ideas (that are different to the work sheets provided), differentiated work sheets, footprints to cut out and place around the class room and photos of the according animals feet to see how the footprints were made. The differentiated sheets; line drawing and matching the footprint to the animal image. Matching the footprint to the animal image and the correct word. Matching the footprint to the animal and tracing over the animal name. Matching the footprint to the animal and the child then has to independently write the animal name from the word box below.

This activity allows the children to see images that start with the letter H and then trace over the word for handwriting practice.

This simple work sheets allows for the children to see the written difference between the letter B and P- a short circle the correct letter in the correct colours activity, hear it as they colour images correctly if they start with a P or a B and finally, practice their fine motor skills as they write a few of the words that stat with a P or a B.

This resource contains print outs to help focus your class on a letter of the day/ week- with an area for; you to write the letter, the children to have ago, a look at the letters around it in the alphabet and what words/images we know with that sound. The perfect interactive display to help your children learn their letters and sounds. There is also a set of colouring sheets- each letter has its own sheet with four images on it that start with that sound for the children to colour in addition to, three words to trace and independently write per letter. An alphabet booklet; each letter has its own page which contains: pencil skills practice, handwriting practice, short activity for the children to complete independently and images to reinforce the letter sound at the start of words. A great little package to help you start teaching the alphabet to the children .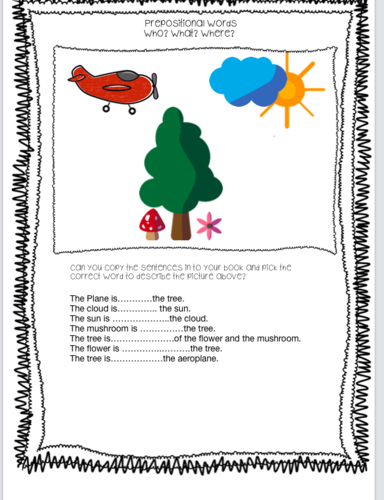 This pack contains 5 pages. Two pages that require the children to fill in the missing gaps to the sentences about the image on the page- one page has a word box and the other does not. one page that asks questions about the image in regards to where objects are. Two pages that different images on that require the children to write a descriptive passage about the image that they can then read to their friend who, then draws the image. On this page there is also a remember section that reminds the children to use prepositional words and descriptive words.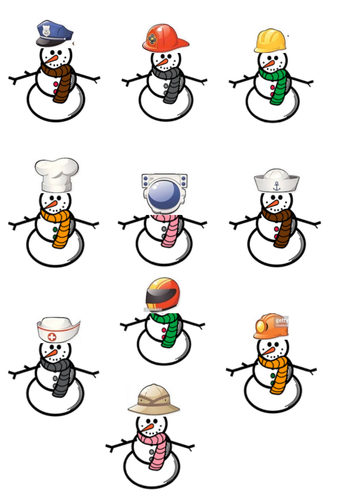 Ten snowmen with occupational hats. We are using these for out calendar but they could be used for pattern making, memory or snap.

THis activity encourages children to identify the difference between letters, words and sounds. This pack contains lesson ideas, a sheet with mixed up letters, words and sentences (and advice on how to use it) and a simple sorting sheet with subheadings. this activity is aimed at deepening the childrens knowledge of how words are made and how sentences are created.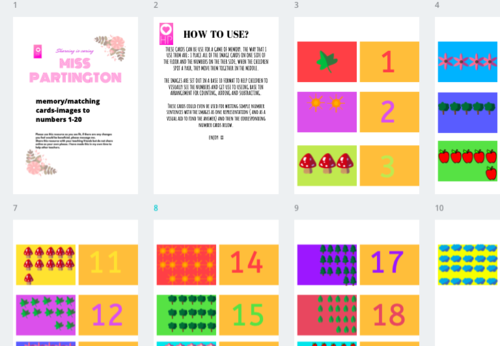 In this pack there are 20 pairs of cards. Images that match the correct number. The background to each set of images, matches the colour of the correctly corresponding number to further help the children with there number recognition. Each set of images of images is set out using the base ten method. There is also a page with how to use suggestions. The images are all nature based.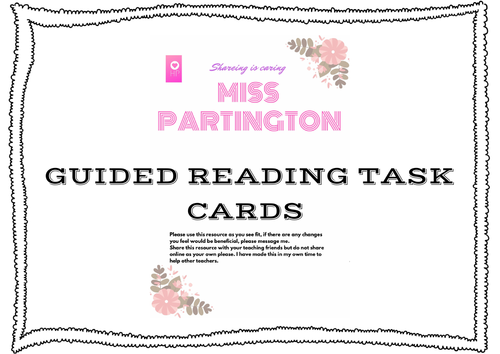 In this set you will find five A4 sheets that cover the simple guided read tasks- character information gathering, blurb writing, prediction, review and front cover drawing. There are also 20 task cards that can be given to the children to work on alone or with an adult. These task cards can be differentiated to ensure all children in the class are able to work alone but can also be used to push children in to further analyzing the text they have in front of them. Task cards include but not limited to; letter writing, adverb finding, feature hunting, sentence improving, image drawing ect There are task cards for both fiction and non-fiction texts. In addition, there are also record sheets for the teacher to use- one to note down which task a group has done and any points they might want to note down and a sheet to use when working with a group. There is also a teacher prompts sheet with key words on for those moments where you need a quick prompt of questions to ask during guided reading sessions. Also included is, the adjectives,verbs and capital letters work sheets that can be found on my page.

This pack includes 5 hand outs that the children can work through with an adult or independently. There is; a character analysis page new front cover design book review prediction about the book write a new blurb page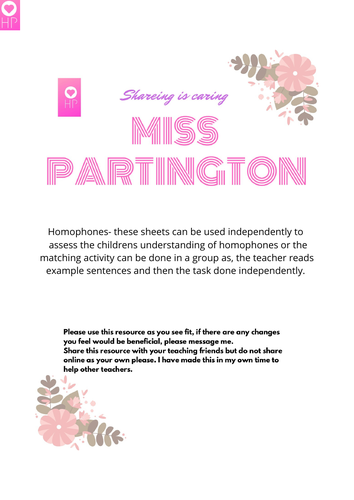 This pack contains two simple sheets with homophones written down and images that must be matched correctly. There is then a task for the children to complete- picking three pairs of homophones and writing sentences using the correct homophone. On the front page there are also teacher notes to aid how to use the sheets.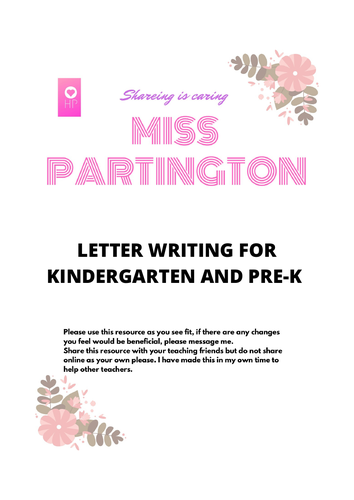 This pack contains three different templates that can be used when teaching young children about writing letters. There is a tick the question you want answered sheet, a template with blanks to fill in, a dear and from page with a blank middle section, pages with just a boarder x3 and a small sentence bank of waht the children might want to say to each other. Each page has lines to encourage the children to write appropriately sized letters and words.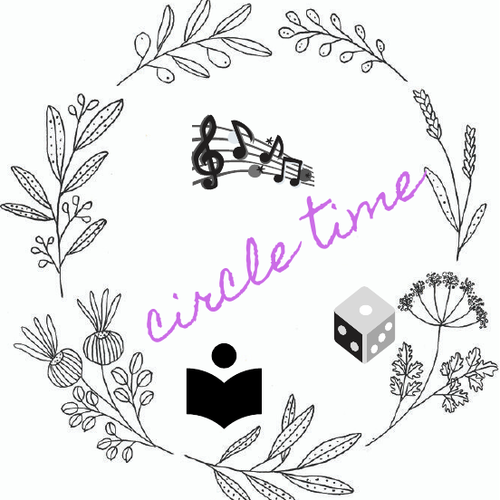 a simple sign for a box or area to signify to the children this is where circle time happens or these are the circle time toys/equipment .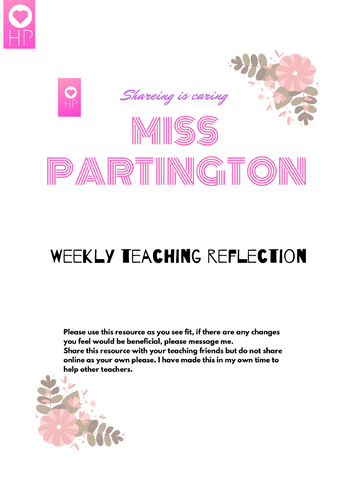 These are fun little sheets for you to reflect on your teaching- what went well, what went so well, a section to record any specifically noted difficulties a children/some children had and a notes section for you to fill as you will about your week. Hopefully these bring some joy to what might have been a difficult week :)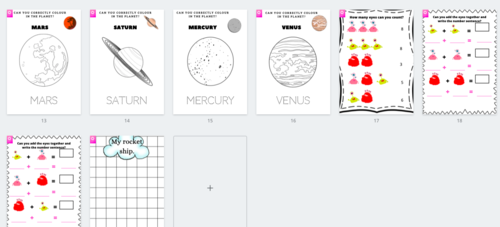 This booklet contains fine motor skills activities, copy and colouring activities, adding and a design your own rocket page. This booklet is intended as a morning work/homework/independent task booklet that the children can complete on their own at their own pace.

this booklet contains a butterfly continue and finish pattern page, a pencil practice page, easter egg design, shadow match and flower counting page. I then combined this with different crafting page ideas and colouring sheets I already had.