PearTreePages's Shop
I provide fun, informative and reliable literacy resources.
13Uploads
899Views
17Downloads
I provide fun, informative and reliable literacy resources. This worksheet can be used as a vocabulary diary to track new words and progress over a period of time. I use these during literacy lessons to encourage recognition of new vocabulary after (or during) silent reading time. It also encourages dictionary and thesaurus use (it helps to have them available on desks) and students also learn the difference between a dictionary and a thesaurus. Source citation, evaluation and and critical literacy can also be woven into the lesson (perhaps as a class discussion) with the section for students to write where they found their new word (online, on a blog, in a book - fiction or non-fiction? Was the word used in the way the dictionary recommends?). The section for antonyms encourages retention and defines boundaries of the word's meaning by teaching a student what the word DOES NOT mean. However, this box can easily be changed so that students list synonyms instead. This sheet allows students to record 2 words per page and is a simple black and white design to keep printing costs low. I use this sheet with KS3 and 4. Please contact me if you would be interested in bespoke resources. I use this sheet with my 'word journey' pack which will be uploaded soon.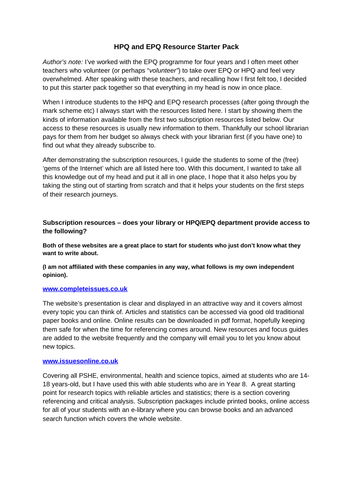 If you are taking over an HPQ or EPQ programme and you need to give students reliable and challenging research starting points, then I have put this list together. This is a list of every useful resource that I have found when involved with assisting and leading independent research projects in KS4 and KS5 for the last four years. This list is mostly free resources (only two subscription resources are mentioned and described) which are reliable and have been easily understood by my students. There are most general resources to get students started (the ones who aren't sure which topic to pick) and then more subject specific resources. Subjects listed in this document are: Art and Photography, Education, English Language, Health, Politics and Science. I have also included the best resources I have found which explain Harvard and Oxford (numerical) referencing and how to synthesise information. I have also included some tips on how to conduct advanced searching and how to use Boolean operators. This document aims to save teachers and students time and provide access to reliable information and to guide everyone to the best resources out there on the Internet. A bookmark with a list of books about cats. Publisher file, ready to print and laminate. A nice free-to-use* colour photograph of a cute black and white cat is included. *Photograph taken by me of my cat. Bookmark with cute image; a list of books about dogs. All books listed are suitable for 11 to 14 year-olds. Recommended book list: what to read after The Fault in Our Stars, displayed in a bookmark. Great for young adults and reluctant readers who have seen the film. Library shelf numbers are still present on the bookmark but this can be edited to suit your library, or just deleted. You may want to keep the shelf numbers if your library or public library uses the same system (F for fiction and then first three letters of the author's last name). Keep those teenagers reading! Attractive and brightly coloured bookmarks which list books for children and young adults to read after they have finished the Geek Girl series. A list of authors for children and young adults to try after reading Jacqueline Wilson, all arranged on a bookmark and ready to print. A bookmark which is a list of books related to the Vote 100 suffragette centenary, feminism and women's history. A mixture of fiction and non-fiction, aimed at students from Year 7 to sixth-form (KS3 - KS5). A list of epistolary novels for children and young adults in bookmark form.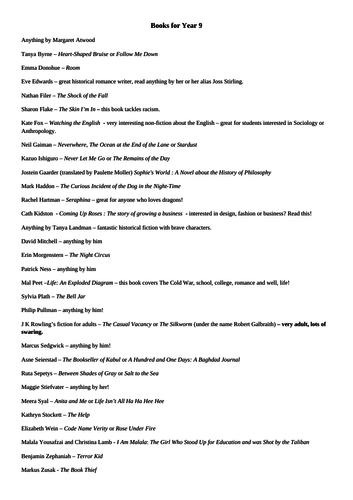 Reading lists for Year 9 and older students. Challenging yet fun books. 2 general lists of books included (fiction and non-fiction), then a page of books to read if you like The Hunger Games or Divergent (dystopian) fiction and a list of books to read for students who have enjoyed Wonder by R J Palacio. Last two pages of this document have book cover related images and are ready to print in a poster or leaflet format. At least ten different books are recommended on each page. I have read every book recommended on these lists and have tested them out on students in my school and they love them. I also make these lists into bookmarks and they are really popular. Please contact me if you would like me to make bespoke lists for you, I am an expert in modern young adult fiction Enjoyable and funny classic books for children and young adults in bookmark form. A list of books about horses and ponies, attractively displayed on a bookmark, aimed at children and teenagers. Fun and challenging books to keep horse lovers reading!