Ms Hughes Teaches
History resources to engage and educate.
11Uploads
42k+Views
15k+Downloads
History resources to engage and educate.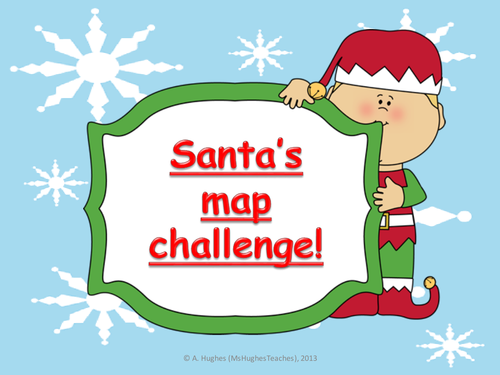 Have your students got what it takes to help save Santa this Christmas? He's lost his presents and the big day is looming. Teach your students 4-figure grid referencing in a fun way with this full animated powerpoint lesson. Go through each step of working out a grid reference on the board or it can be printed out for individual use (I've added the same slides to the end of the powerpoint but without the overlapping animation so they are easy to print out and use. Then get the class to draw their own maps and then test each other's map skills. Great for AFL and Peer assessment activities. The should take one teaching lesson but can also take up to two depending on your class's age and stage. I tend to spend the second part letting the students use their imaginations to create their own detailed maps. You'll get some great display material out of your class. Thanks for looking!

This marking rubric grid is designed to support students Assessment for Learning. The grading criteria for History, Geography and Religious Studies are broken down into skills. It allows your class to mark their own work, peer assess and also to plan how to improve on their next assignments. Teachers can also use it mark assignments easily. I laminate them for my classes as they use them regularly in lessons. They could also be printed out and stuck into the front of the students' exercise books. If you like this resource, check out my others in my store created to develop students' understanding in the humanities. Thank you for looking. TERMS OF USE: This download (free or purchased) is for your own personal use in your classroom or your home. Please do not share my resources with others unless given explicit consent by me. Please direct them to my store instead. This download MAY NOT be used in whole or in part on any distance learning course platforms including, but not exclusive to, Outschool or Udemy. You may not share this download. You may not alter any item in this download, resell and claim as your own work. Similarly, you may not sell or share these resources with anyone and you may not use the contents of this download to create anything for commercial purposes or other commercial products. If you are an education board or school and would like to use my resources district wide, please contact me about licensing. ©Amy Hughes (MsHughesTeaches) All rights reserved.

Learn how to work out 4-figure grid references and devise a map to test each other. This lesson is fully interactive and the PowerPoint is animated with sound effects. NO PREP CUTTING AND LAMINATING! Just print out the provided grid and go! I've also added plainer versions of the fully animated slides in case you would like to print them out and have the children work on them individually and not as a whole class while the teacher goes through on the whiteboard. It explains the method students should use to work out 4-figure grid references on maps. I have created two animated examples to show the students how to work them out. (The preview is a PDF of just two slides to give you an idea of the themes but the real download is fully customisable and animated and the animated parts disappear out of the way when not needed.) Students have to design their own treasure island using the grid outline provided. They then swap with a partner who has to state where certain things are using 4-figure grid references. I have always encouraged my classes to be as imaginative as they like with this activity resulting in some really interesting magical islands! The lesson could take a one hour period but it would be better over two hours to give students time to fully realise their own designs! **Contains: 10 slide powerpoint with animated explanations Grid proformer for drawing a treasure map (best blown up to A3 size) Symbols that can be used by students in their design. Full lesson plan I hope your students find this as fun and informative as mine have. Thanks for looking. Some graphics from: www.mycutegraphics.com** TERMS OF USE: This download (free or purchased) is for your own personal use in your classroom or your home. Please do not share my resources with others unless given explicit consent by me. Please direct them to my store instead. This download MAY NOT be used in whole or in part on any distance learning course platforms including, but not exclusive to, Outschool or Udemy. You may not share this download. You may not alter any item in this download, resell and claim as your own work. Similarly, you may not sell or share these resources with anyone and you may not use the contents of this download to create anything for commercial purposes or other commercial products. If you are an education board or school and would like to use my resources district wide, please contact me about licensing. © A. Hughes (MsHughesTeaches)

***Can your students beat the puzzle code and find out about the first people to populate America? *** This word code puzzle is about how Native Americans travelled across the Bering Straits in the last ice age. It is an interesting topic and this task works well as an introduction to the Native American cultures or as a bellringer. I have particular success with my classes as a home work task. You could also set this as a brain teaser for any lesson including morning registration to get those brain cells working! Students have to work out the letter/number code and fill in the paragraph accordingly. Five letters have been given already to help start them off. I introduce an element of competition to keep my classes focused. Not only do they have to fill in the paragraph they must pick out at least 3 key facts and be the first to tell me. This keeps the students heads down and learning! TERMS OF USE: This download (free or purchased) is for your own personal use in your classroom or your home. Please do not share my resources with others unless given explicit consent by me. Please direct them to my store instead. This download MAY NOT be used in whole or in part on any distance learning course platforms including, but not exclusive to, Outschool or Udemy. You may not share this download. You may not alter any item in this download, resell and claim as your own work. Similarly, you may not sell or share these resources with anyone and you may not use the contents of this download to create anything for commercial purposes or other commercial products. If you are an education board or school and would like to use my resources district wide, please contact me about licensing. Copyright Amy Hughes (MsHughesTeaches) All rights reserved.

***Are your students budding travel agents? Can they plan a bespoke vacation for their teacher to the capital city of England, London? This lesson contains all they need to do just that! Using the extensive information and maps provided they have to make a 'mood board' on A1 paper of a proposed itinerary. (They can of course present in anyway you see fit) The information slides contain facts about attractions and places to visit as well as opening time, costs and how to get there. These slides on the PowerPoint should be printed off and given to the students - the photos can be cut out and used on their boards. This can be a group project but also works perfectly as a distance learning activity. Everything that they need is on the PowerPoint! I've used the conceit of planning their teachers trip because I feel it encourages the students to engage even more fully with the task. The PowerPoint is fully editable so you could put yourself into it rather than have your class plan a random person's visit! If they want to, the students can also research other attractions you might like personally. Lesson contains a 23 slide PowerPoint with information on and photos of: The London Eye The Cutty Sark The Natural History Museum The National Gallery Hamleys Toy Store Thames River Cruise An open top bus tour. Shakespeares Globe Harrods Department Store A West End Theatre Production China Town Buckingham Palace and the Changing of the Guard Trafalgar Square The Tower Of London London Zoo As a London native myself I have been to every one of these attractions and can attest that any trip that includes even some of these places would be a trip to remember! I hope your students find it as interesting as my class did. When I go into London after teaching this unit I always take photos of myself at the places they have suggested so that they can see I have 'taken their advice' - they love the power! TERMS OF USE: This download (free or purchased) is for your own personal use in your classroom or your home. Please do not share my resources with others unless given explicit consent by me. Please direct them to my store instead. This download MAY NOT be used in whole or in part on any distance learning course platforms including, but not exclusive to, Outschool or Udemy. You may not share this download. You may not alter any item in this download, resell and claim as your own work. Similarly, you may not sell or share these resources with anyone and you may not use the contents of this download to create anything for commercial purposes or other commercial products. If you are an education board or school and would like to use my resources district wide, please contact me about licensing. © Amy Hughes (MsHughesTeaches) All rights reserved.